Mark Hix is striding across the dining room of Tramshed, his sixth London restaurant, palms outstretched towards the heavens. We are waiting for his long-term collaborator, the food photographer Jason Lowe, and in the meantime Hix, palms and all, is explaining how the room, a former power station turbine hall, came to be dominated by a cock and a bull.
"The architect wanted to put a mezzanine right there," he says, poking the air in the middle of the room. "But it would've looked crap. So I texted Damien [Hirst] to see if he'd do me a sculpture. I told him it was a beef and chicken place, and by the next day he'd already planned it all."
The result of that text message is a bloody great formaldehyde tank balanced on a plinth 15 foot in the air and containing a cockerel astride a bull. It's massive, I offer, rather lamely. "It's also probably one of his best," says Hix airily, as we head towards his private library-cum-cooking space above the restaurant.
The serial restaurateur and chef is better placed than most to judge, given he has a collection of YBA art to make Saatchi green. Upstairs alone, I count two Emins and a Banksy canvas, which, in true Hix style, is lent upright against a table leg on the floor (he gives favoured artists a dinner tab in exchange for having their work to display in his restaurants: "they like the PR, and I get an interesting crowd in," he says).
Maybe it's natural then, that when he came to write his latest cookbook, The Collection, a sort of 'best of' book, containing 300 recipes celebrating the finest in British cooking, he chose to illustrate it with work from the biggest names in British contemporary art (Tracey Emin, Sarah Lucas, Michael Craig-Martin all loom large).
"When you've done seven cookbooks…" he starts to explain, before being interrupted by Jason Lowe, who is now surging up the stairs, reminding him at the top of his lungs that it is actually eight. "Eight cookbooks then," says Hix, his face unfolding into a smirk, "you want to do something different with the design."
One thing that hasn't changed, though, not for the past 11 years, since they were introduced by The Independent Magazine's then editor, is the partnership between Hix and Lowe. "I'd been doing the photography for Hix's predecessor at the Indy, Simon Hopkinson, and was summoned to meet Hix at Nobu in Canary Wharf just before he started," says Lowe, who has won two Glenfiddich awards for his food photography and directed scores of food commercials and TV programmes, including Hopkinson's latest. "I was pretty flattered when I was asked to stay on."
Since then, their "marriage", as they jokingly refer to it, has begat half a dozen books, 2,200 recipes for this magazine, and weathered the complete transformation of the British food scene. It is clear, about 10 minutes in, why they get on so well. Both have a dry, impish, sense of humour; both also seem to be in a constant hurry, whirling around each other like dervishes. "We're both spontaneous and don't mess about," says Lowe, "I have a reputation for being a bit of a grump, to be honest, but we very rarely snap at each other – because we both know what the other needs." Hix looks up from the pan in which he is frying a jalapeño pepper stuffed with crab and nods vigorously.
There is something else, though, aside from personality, which makes theirs such an enduring partnership: they both care about well-sourced, simply-cooked food. That phrase – 'well-sourced, simply-cooked' – may now be the cliché equivalent of a poke in the eye with a fork, but 11 years ago, as a culinary credo, it was almost revolutionary.
"Hix is a man who really pushed British food. When we did our book British Regional Food, we travelled all around the country finding the best producers, eating half the coastline, finding the best people making the best stuff – no one did that then, and now everyone does," say Lowe.
Hix, shyer in person than you might anticipate, deflects such praise on to the producers he champions, so much so that he sometimes seems to be playing the role of their PR man. "I ask Julian Temperley [whose Dorset cider and brandy Hix stocks] if he's got a marketing person yet and he always says the same thing: 'Don't you do that for me?'."
He may be modest about his own achievements but he is fulsome in his praise for Lowe's. "I have a hard and fast rule that you should have no more than three ingredients on a plate, or else things get lost. Jason gets that and it comes through – his pictures are unfussy and show off the food to its best advantage," he says.
To Lowe's mind, that's what good food photography is: a straightforward reflection of what a chef orf cook has created. "It is not about me imposing my creative will," he says. "Everyone thinks they are a food photographer nowadays, but it takes more than pointing a camera at a plate to be a success. You need to love food, treat it with integrity and have a deep knowledge of it – if you've never had a good risotto, don't know what one looks like, you are never going to be able to take a good photograph of it. You end up with something wishy-washy, flat."
Does Hix mind punters coming into his restaurants Instagraming every last bit of salsify and bone marrow on their plates? "Nah, not really – you have to see it is a compliment. I had one of Jason's friends in the other day and she was doing it all the way through a demo, but you get used to it," he says looking up from the pile of chocolate truffles he is building on a plate.
Do they ever get bored of creating all these recipes (four a week for The Independent, more for Esquire)? "Nah, not really," Hix scoffs. And Lowe? "I prefer doing this than any TV stuff I do. There are things I don't like shooting, of course – take these chocolate truffles, for instance. A nightmare; brown things are an absolute nightmare. But you make it work in the end."
They are an amusing double act, brimming with bonhomie . They could, I suspect, be brothers separated at birth. In fact, by the end of the interview I find myself actively trying to see if there is any topic on which they might, just possibly, disagree.
And then, as hope fades, and Hix busies himself with the spicy corn soup he's making for the shoot, Lowe and I begin chatting about Damien Hirst: "Hmm," he says sagely, "I'm not so sure about his, er, formaldehyde stuff. But don't tell Hix I said that."
Whole roast chicken
Serves 2-3
This dish was inspired by several visits to L'Ami Louis in Paris, where the food is simple and honest, respecting the quality ingredients used.
1 free-range chicken, about 1.5kg, with livers
Sea salt and freshly ground black pepper
A few sprigs each of thyme and rosemary
A few generous knobs of butter
For the stuffing
60g butter
1 medium onion, peeled and finely chopped
100g chicken livers, chopped
2tsp chopped thyme leaves
80-100g fresh white breadcrumbs
2tbsp chopped flat-leaf parsley, plus extra to serve
Preheat the oven to 200C/gas mark 6. Season the chicken inside and out with salt and pepper. Put the herbs into the cavity. Rub butter all over the breast and legs.
For the stuffing, melt the butter in a pan. Add the onion, livers and thyme, season and cook over a medium heat for 2-3 minutes. Off the heat, mix in the breadcrumbs, parsley and seasoning.
Either use it to stuff your bird or cook separately in an ovenproof dish wrapped in foil for the last 30-40 minutes.
Put the chicken into a large roasting tin and roast in the oven, basting regularly and adding the livers to the roasting tin for the last 6 minutes or so.
Test the chicken after 1¼ hours by inserting a skewer into the thickest part of the thigh. The juices should run clear; if not, roast for a little longer.
Lift the chicken on to a warmed platter and rest in a warm place for 15 minutes.
Sprinkle with some more chopped parsley and serve with the roasted livers, stuffing, garlic sauce and straw potatoes (see below).
Baked new season garlic sauce
Makes enough for 4
4 heads of new season garlic
A few sprigs of curly parsley
½tbsp Dijon mustard
70g fresh white breadcrumbs
2-3tbsp duck fat, warmed, or the pan juices from the roast chicken
A little milk, to mix
Sea salt and freshly ground black pepper
Preheat the oven to 200C/gas mark 6. Wrap the garlic bulbs in foil and bake them in the oven for 1 hour. Unwrap and leave until cool enough to handle, then peel away any tough outer skin.
Put the garlic into a blender with the parsley, mustard, breadcrumbs and warm duck fat or chicken juices and blend until smooth. Add enough milk to give the sauce a thick pouring consistency and season with salt and pepper to taste. Serve with roast chicken.
Straw potatoes
Serves 4
4 large chipping potatoes, such as Yukon Gold, Spunta or Maris Piper, peeled
Vegetable or corn oil, for deep-frying
10 garlic cloves, peeled and thinly sliced
Sea salt
Using a mandolin with a shredding attachment or a sharp knife, cut the potatoes into long matchsticks, about 3mm thick. Wash them well in a couple of changes of cold water to remove the excess starch, then drain and pat dry on some kitchen paper.
Heat an 8cm-depth of oil in a deep-fat fryer or deep, heavy pan to 120-140C. Deep-fry the potatoes in manageable batches (a couple of handfuls at a time) for 2-3 minutes, then remove with a slotted spoon and drain in a colander.
Increase the temperature of the oil to 160-180C and re-fry the potatoes with the garlic slices in batches, moving them around in the pan, until golden and crisp. Remove with a slotted spoon and drain on kitchen paper. Sprinkle with sea salt and serve immediately.
Alternatively, you can keep the straw potatoes warm, uncovered, on a baking tray in a low oven until ready to serve. They should stay crisp but, if not, you can briefly re-fry them in hot oil.
Broad bean, pea and girolle salad
Serves 4
This is a really simple, fresh-tasting salad.
1 garlic clove, peeled and sliced
4tbsp cold-pressed rapeseed oil
A few sprigs of tarragon, leaves removed and stalks reserved
Sea salt and freshly ground black pepper
200-250g girolles, cleaned
200g podded peas
200g podded broad beans
A pinch of caster sugar
1tbsp cider vinegar
A handful of pea shoots (optional)
Put the garlic, oil and tarragon stalks into a wide saucepan with about 3 tablespoons of water. Season well and bring to the boil. Add the girolles, cover with a lid and cook over a low heat for 3-4 minutes, turning them every so often. Take off the heat, remove the lid and leave to cool a little.
Cook the peas and broad beans separately in boiling, salted water for a few minutes until just tender, adding a little caster sugar to the cooking water for the peas. Drain and remove the tough skins from any larger beans; leave small ones as they are.
Remove the girolles from their liquid with a slotted spoon and set aside on a plate.
To make the dressing, carefully pour off the oily part of the girolle cooking liquid into a bowl, leaving the watery liquid behind in the pan. Whisk the cider vinegar into the oil. Chop the tarragon leaves and stir these in, too. Check the seasoning.
Toss the peas and broad beans in the dressing, then spoon on to serving plates. Scatter the girolles on top, along with a few pea shoots, if using. Spoon a little more dressing over the salad and serve.

Peatini
Makes 2
The idea for this came after a pea-shoot lunch we held at Hix Oyster & Chop House a few years ago.
A couple of handfuls of pea shoots, washed
50ml Plymouth gin
20ml sugar syrup
The juice of ½ a lemon
2 pea pods, to serve
Place the pea shoots in a liquidiser with 2 tablespoons of water and blend to make a smooth purée.
Half fill a cocktail shaker with ice cubes. Add the gin, pea shoot purée, sugar syrup and lemon juice and shake for 10-15 seconds.
Strain into 2 chilled martini or coupé glasses. Split the peas in their pods and push on to the side of the glasses to serve.
Hix fix
Makes 2
This has been the biggest-selling cocktail in all of the restaurants. Keith Floyd had a couple during his last lunch at the Fish House in Lyme Regis before he sadly passed away.
2 morello cherries in Somerset eau de vie
250ml sparkling wine
Place a cherry with a teaspoon or two of the cherry liqueur in the bottom of 2 champagne glasses, preferably saucers.
Top up with 125ml of sparkling wine or Champagne.
Fillet of pike with sauce Nantua
Serves 4
This is a classic French dish in which both main ingredients – pike and crayfish – come from fresh water. Pike has an unusual bone structure.
4 skinned pike fillets, each about 160-180g
Sea salt and freshly ground white pepper
16-20 live crayfish
Olive oil, for frying or roasting
A small knob of butter (optional)
Sauce Nantua (see below)
½tbsp chopped tarragon
Season the pike fillets with salt and pepper and steam for about 10 minutes. If you haven't got a steamer, preheat the oven to 190C/gas mark 5, lay the fillets in a roasting tray with about 2cm of hot water, cover with foil and cook in the oven for 15 minutes. This steaming causes the flesh to shrink a little, leaving the bones protruding so they can be pulled out with a pair of pliers or tweezers. There are lots, so be patient – it's worth it.
Cook the crayfish in simmering, salted water for 5 minutes, then plunge them into cold water. Remove the meat from the shells and the claws if they are big enough. Break the shells up a little with a heavy knife and use to make the sauce Nantua.
Cook the pike fillets again. Either fry them in olive oil for 2-3 minutes on each side, then add a small knob of butter and continue to fry them until lightly browned; or preheat the oven to 200C/gas mark 6, heat a couple of tablespoons of olive oil in a roasting pan and roast them for 10-12 minutes or until lightly coloured.
Meanwhile, if necessary, simmer the sauce until it is coating consistency, stir in the tarragon and drop in the peeled crayfish for a minute to reheat them. To serve, spoon the sauce over the fish fillets.
Sauce Nantua
Serves 4
Shells of 20-24 crayfish tails
4 shallots, peeled and roughly chopped
1 garlic clove, peeled and chopped
Vegetable oil, for frying
1tbsp plain flour
>A good pinch of saffron strands
A few sprigs of tarragon
1-2tbsp tomato purée
4tbsp white wine
300ml fish stock
350ml double cream
In a large pan, fry the shells, shallots and garlic in oil for 6-7 minutes, until lightly coloured. Add the flour and stir. Add the saffron, tarragon and purée; stir well. Gradually stir in the wine and stock, bring to the boil and simmer for 10 minutes until reduced by half.
Add the cream, bring to the boil and simmer for 30 minutes until reduced by half and a thick consistency.
Strain through a colander into a bowl. Remove about half a cupful of shells and blend with the sauce in a liquidiser. Use a fine-meshed sieve to strain.
Strawberry and sparkling wine jelly
Serves 4
This is a pretty posh jelly and not that cheap to make, but if you pick or buy wild or homegrown strawberries, then it's worth splashing out on Champagne or, better still, Nyetimber – the best sparkling wine produced in the UK. For a non-alcoholic version, use elderflower cordial, diluted with water or apple juice.
12g leaf gelatine (4 sheets)
700ml fine-quality sparkling wine or Champagne
50g caster sugar
120g strawberries, hulled
Thick Jersey cream, to serve
Soak the gelatine leaves in a bowl of cold water for a few minutes to soften. Meanwhile, pour 200ml of the sparkling wine into a saucepan, add the sugar and bring to the boil over a medium to low heat, stirring occasionally to encourage the sugar to dissolve. Take off the heat.
Squeeze the gelatine to remove the excess water, then add to the wine syrup and stir until fully dissolved. Now stir in the rest of the wine. Leave to cool until barely warm, but don't allow to set.
Divide half of the strawberries between individual jelly moulds or attractive Martini glasses, then carefully pour in half of the cooled jelly, ensuring the berries are evenly distributed. Place in the fridge for an hour or so until set. Keep the rest of the jelly at room temperature, making sure it does not set.
Once the refrigerated jellies have set, arrange the rest of the strawberries on top and pour on the rest of the jelly. (Setting the jelly in two stages allows the berries to stay suspended so that they don't float to the surface.) Return the jellies to the fridge to set.
To serve, briefly dip the pudding moulds, if using, in hot water, then invert on to serving plates and shake gently to turn out. Or set the Martini glasses on plates. Serve with thick Jersey cream.
Manx Queenies with Cucumber & Wild Fennel
Serves 4
24 - 32 very fresh queenies, prepared and left in the half-shell
For the dressing:
2 shallots, peeled and finely chopped
2 tbsp cider vinegar
1/3 cucumber
1 tbsp cold-pressed rapeseed oil
1/2 tbsp chopped wild fennel
Juice of 1/2 lemon
Salt and freshly ground pepper
For the dressing, place the shallots and cider vinegar in a small pan, bring to the boil, then tip into a bowl.
Cut the cucumber in half lengthways and scoop out the seeds with a teaspoon. Finely chop the cucumber into 5mm dice, then add to the shallots.
Add the rapeseed oil, fennel and lemon juice, toss to combine and season well. Leave to stand for about 20 minutes.
Spoon the marinated cucumber onto the queenies and serve.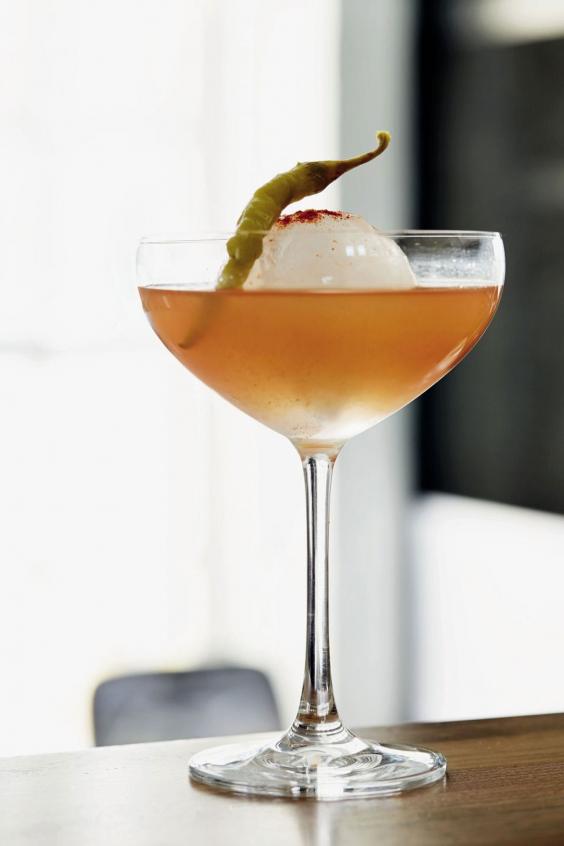 Bloody Hot Black Cow
Serves 4
I don't really like messing with classic drinks like a Bloody Mary but sometimes a pre-dinner drink requires a lighter touch so you can fit a second one in! How much heat you want in this drink is up to you, so feel free to spice it up with more chillies and Tabasco.
400-500ml good-quality canned or chilled tomato juice
6 whole pickled chillies (guindillas are best)
150-250ml Black Cow vodka
A few drops of Tabasco sauce
A couple of good pinches of sweet Spanish paprika
Pour the tomato juice into a muslin-lined sieve set over a large bowl or a jelly bag. Transfer to the fridge and leave overnight to strain and extract a clear juice. Gently squeeze the sieve if you want to add a little of the pulps colour to the clear juice.
Use a pestle and mortar or the end of a rolling pin to bash up two of the chillies, then add to a jug with the vodka, Tabasco and strained tomato juice and mix together well.
Place one ice sphere or cube into 4 chilled martini glasses and sprinkle the ice with the paprika. Strain the liquid into the glasses, garnish each with a whole chilli and serve.

Beef and oyster pie
Serves 4
Pies are a great way to use the less expensive, yet full-flavoured meat cuts, such as flank and shin of beef, mutton shoulder and neck, and ox cheeks. Tucking in a few oysters adds a touch of luxury.
1kg trimmed flank or shin of beef
3 tbsp plain flour, plus extra for dusting
Sea salt and freshly ground black pepper
Vegetable oil, for frying
30g butter
1 medium onion, peeled and finely chopped
1 garlic clove, peeled and crushed
1 tsp tomato puree
200ml dark ale, such as Hix Oyster Ale or Guinness
1.5 litres dark meat stock
1 tsp chopped thyme leaves
1 small bay leaf
1-2 tsp cornflour (optional)
12 large oysters, 8 shucked, 4 left in the half-shell
For the pastry
225g self-raising flour, plus extra for dusting
1 tps salt
85g shredded beef suet
60g butter, chilled and coarsely grated
1 medium egg, beaten
For the parsley crust
A generous knob of butter
2 tbsp fresh white breadcrumbs
1 tbsp chopped flat-leaf parsley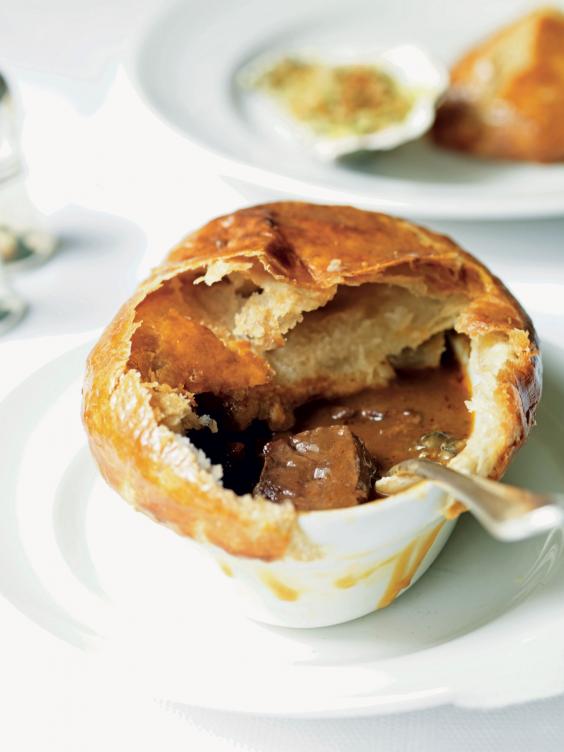 Cut the meat roughly into 3cm cubes. Season half of the flour with salt and pepper and use to lightly flour the meat. Heat a little oil in a large, heavy-based frying pan and fry the meat in 2 or 3 batches over a high heat until nicely browned. Set aside on a plate.
Melt the butter in a large, heavy-based pan or flameproof casserole and fry the onion and garlic for a few minutes until lightly coloured. Add the remaining flour and tomato puree. Stir over a low heat for a minute or so, then slowly add the ale and stock, stirring to avoid lumps from forming.
Add the beef with the thyme and bay leaf. Bring back to a simmer, cover and simmer very gently (ideally using a heat-diffuser mat or a simmer plate) for about 2 hours until the meat is tender. When the meat is cooked, the sauce should have thickened to a gravy-like consistency. If not, mix the cornflour to a paste with 1 tbsp water, stir into the sauce and simmer, stirring, for a few minutes. Leave to cool.
To make the pastry, mix the flour, salt, suet and butter together in a large bowl and make a well in the centre. Mix in enough water (about 150ml) to form a smooth dough and knead for a minute.
Spoon the cooled filling into 4 individual pie dishes (or 1 large dish) to about 1cm from the rim. Roll the pastry out on a floured surface to a 7-8mm thickness. Cut out 4 discs to make pie lids (or one large lid for a big pie), about 2cm larger all the way around the pie dish(es). Brush the edges of the pastry with a little of the beaten egg.
Lay the pastry over the filling, pressing the egg-washed sides onto the rim of the dish(es). Cut a 2cm circle in the centre but leave in position on top of the pie(s). Let rest in a cool place for 30 minutes.
Preheat the oven to 200C/gas mark 6. Brush the pie(s) with beaten egg and bake for 30-35 minutes (or 40-50 minutes for a large one) until the pastry is golden. Meanwhile, for the parsley crust, melt the butter in a pan, mix in the breadcrumbs and parsley, and season with salt and pepper.
Once the pie(s) are ready, remove the pastry circle(s) in the centre and pop in the shucked oysters. Return to the oven for 10 minutes. In the meantime, heat the grill. Scatter the parsley crust over the oysters in their half-shell and grill until golden.  Place over the hole in the pie and serve.
Recipes: 'Mark Hix: The Collection', is published by Quadrille, £25
Reuse content