A week dedicated to drinking? Shurely some mhishtake. Nope, not a bit of it. London Cocktail Week is a thing and a jolly good one at that.
In case you haven't heard, it's been a fixture on the calendar for the past four years – today marks its fifth birthday. Here's the deal. You buy a wristband (they were £10 for advance bookings but are £15 from now on). Okay, you pay £5 more but when you consider said wristband gives you access to fancy London-priced cocktails for £4 a-pop, that's pretty good going, particularly as you can choose from more than 200 participating bars dotted around the capital.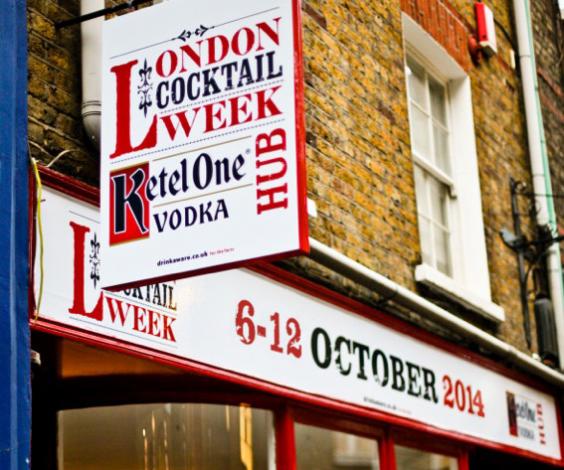 There are events too – some out-and-out fun like drinks from the Hendrick's Boneshaker Cocktail Bar, the world's first pedal-powered cocktail making machine (9th-12th Oct), and Trouserless Tuesday at NOLA (7th Oct) – hey, don't judge, they may go trouser less (only on Tuesdays mind) but they serve the most excellent drinks.
If you prefer some thinking with your drinking, there's plenty of choice: go behind the scenes at London's distilleries including Sipsmith, the London Distillery and recently opened East London  Liquor Company; learn all about your favourite spirits with tutored tastings from brands including  Tanqueray Gin (6th-12th Oct); Zubrówka Vodka (8th Oct), El Dorado Rum (9th Oct) and Cointreau (11th Oct); you can even elevate the experience with a Sonic Tasting with Ketel One Vodka (9th Oct).
Classic cocktails: in pictures
Classic cocktails: in pictures
1/9 Daiquiri

The daiquiri is one of the most important classic cocktails as it demonstrates the perfect balance between sweet and sour, strong and weak. For a recipe, visit http://ind.pn/10E9sh6

2/9 Tom Collins

In England, this drink is traditionally credited to John Collins, a bartender who worked at Limmer's Hotel, Conduit Street, London. For a recipe, visit http://ind.pn/1n99NlU

Corbis

3/9 Sweet Manhattan

There are a number of origins suggested for this drink, most dating back to the 19th Century. Try a cherry, chocolate or orange bitter for subtle flavour differences in your Sweet Manhattan. For a recipe, visit http://ind.pn/1sYUeQx

4/9 Classic Vodka Martini

Shaken or stirred, wet or dry, garnished with an olive or twist the possibilities are seemingly endless. For a recipe, visit http://ind.pn/1EjMaga

5/9 Bloody Mary

The idea of a perfect Bloody Mary can be as personal as the Martini. Number one, experiment with spices! For a recipe, visit http://ind.pn/1urTnX8

6/9 French '75

Although The Bellini might be the best-known champagne cocktail, the French '75 is an all-time classic – and some would argue more delicious. For a recipe, visit http://ind.pn/1vGBmTt

7/9 Margarita

Delicious on the rocks or frozen or even shaken up with fig puree, egg white and lime (the Autumnal Tradicional Sour) there is always one to suit everyone. For a recipe, visit http://ind.pn/1yGWVZn

8/9 Mojito

The Mojito is one of the archetypal iconic cocktails. Its history lays in Havana which is the Godfather of Spanish Style rum and the birthplace of many great cocktails. For a recipe, visit http://ind.pn/1uQ0Dxo

9/9 Pina Colada

With its exotic ingredients, indulgent nature, together with tropical heat refreshment, it's no wonder it's become a holiday makers staple. For a recipe, visit http://ind.pn/1q22FTm
Talk about a varied programme – Angostura Rum have recreated a walk-in Butterfly House to bring their story to life as guests are invited to press their own sugar cane juice to make cocktails (9th-12th Oct); Jamie Oliver's Drinks Tube channel will be live and kicking it in Shoreditch (9th-11th Oct); the Tipple Taxi makes its debut in Camden; winners of the Monkey Shoulder competition get to host their own pop-up bar; and guest bartenders from Paris bring some French flair to London Bridge with Grand Marnier – all running throughout the week.
There's even a chance to be a record-breaker at the World's Largest Rum Tasting event (9th Oct). But it's not all about consumers, if you're in the drinks trade, be sure to check out the excellent programme of fun but very informative talks in the Bacardi Training Team hub located in Seven Dials.
And before you go tut-tutting about this all being an excuse for irresponsible boozing – it's not. It's a week dedicated to teaching people about the quality, not quantity of what they consume. Not convinced? Then Belvedere Presents: Drink, Eat, Live should put you right. The three-day pop-up (8th-10th Oct) will be presenting workshops and talks on positive drinking as well as serving cold-pressed juices, low alcohol and low and/or sucrose-free Belvedere Vodka cocktails. We'll certainly drink to that.
London Cocktail Week runs from 6th-12th October. For more information and to sign up for wristbands, see www.londoncocktailweek.com
The Cocktail Lovers www.thecocktaillovers.com @cocktaillovers
Reuse content