If you've successfully made your way through January without touching a drop of booze – has anyone not been doing 'Dry January' this year? – then why not ease yourself back in in the nicest way possible: with some dishes cooked entirely in alcohol.
From medieval banquets to sophisticated modern-day marinades for low-temperature cooking – boozy cooking has always been around.
The important thing is that you don't use booze willy-nilly. You don't want to throw a bottle of corked wine into a stew and hope for the best. Like any sort of cooking, it requires finesse.
Cider brandy babas
Serves 6-8
The classic rum baba hasn't been seen on restaurant menus for so long I am thinking of sending out a search party.
I am not sure why this is because, when it is made well, it's a top-notch dessert. Is it time for a reappearance?
I hope so.
Here, I've even changed the rum into Somerset cider brandy, to give it a little West Country touch.
2tsp dried yeast
3tbsp warm water
225g plain flour
1tsp salt
3 medium free-range eggs, beaten
1tbsp caster sugar
100g butter, softened, plus a little extra for greasing the moulds
For the syrup
500g granulated sugar
600ml water
200ml cider brandy
Mix the dried yeast and water together until dissolved. Sift the flour and salt into a bowl and make a well in the centre.
Add the yeast mixture, eggs and sugar, then mix everything together with your hands to form a smooth dough, then knead for a couple of minutes in the bowl until you have a smooth, elastic dough.
Cover the dough with small pieces of butter, then cover with a damp tea towel and leave in a warm place such as an airing cupboard or near a warm radiator for about an hour, until the mixture has doubled in volume.
Now, knead the butter into the dough for a minute or so until it becomes smooth and glossy.
Preheat the oven to 200C/gas mark 6. Meanwhile, butter 8 dariole or similar moulds and chill them in the freezer for 10-15 minutes; then repeat with another layer of butter.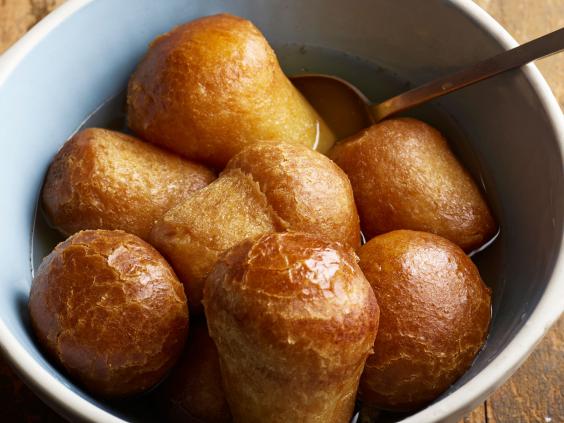 Spoon the mixture into the moulds so they are two-thirds full. Then place the moulds on a tray, cover with a damp tea towel. Leave the dough to prove again in a warm place for about 20 minutes, until the mixture has risen to the tops of the moulds.
Bake the babas for about 15-20 minutes, or until golden, then carefully turn them out, using a small knife if you need to, and transfer to a cooling tray.
Meanwhile, make the syrup: dissolve the sugar in the water in a large saucepan and boil rapidly for a few minutes to make a clear syrup.
Stir in the cider brandy, then add the babas, leaving them to soak for about 5-10 minutes and turning them with a spoon every so often, so they absorb as much of the liquid as possible; then transfer to a serving dish.
Serve with a jug of extra rum and thick cream or sweetened whipped cream.
Neck of pork cooked in sake
Serves 4
Most good butchers should be able to cut you neck of pork fillet, which normally gets cut into chops or minced. If they can't do neck fillet, then the next best thing would be cheek or a single shoulder muscle.
500-600g neck of pork , cut into 4-5cm chunks
1tbsp vegetable oil
60g butter
2 medium onions, peeled, halved and roughly chopped
60g root ginger, scraped and chopped
Salt and freshly ground black pepper
30g flour, plus some for dusting
2tbsp light soy sauce
250ml sake
1ltr chicken stock
To serve
8 medium-sized spring onions, trimmed
A few sprigs of coriander
Season and lightly flour the pork. Heat a frying pan with a tablespoon or so of vegetable oil and fry the meat on a high heat for a few minutes, browning them on all sides, then drain on kitchen paper.
Meanwhile, melt the butter in a heavy-based saucepan and gently cook the onion and ginger for 2-3 minutes until soft; then add the flour and cook on a low heat for a minute, gradually adding the sake, soy and stock, stirring carefully to avoid lumps forming; bring to the boil, add the pork, season and simmer gently for about 1-1½ hours or until the pork is tender.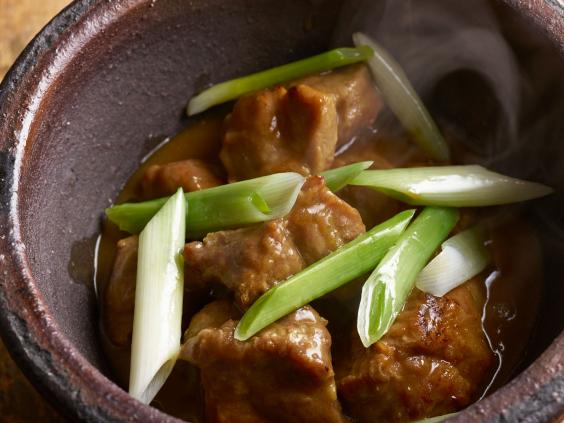 The sauce should have reduced and thickened by now. If not, remove the pork and simmer the sauce until it's thickened, then strain the sauce into a clean pan, return the pork and gently reheat.
Cut the spring onions into 3-4cm lozenges and blanch in boiling salted water for 30 seconds and drain.
Serve in a warmed sharing dish or individual plates scattered with the spring onions and a few sprigs of coriander.
Ox cheeks braised in Hix oyster ale
Serves 4
Your butcher should be able to get you ox cheeks, given enough advance notice. If he can't, then you could use feather blade, shin or even oxtail. I've used my own beer here – of course I would – but you could use a stout or Guinness.
4 x 220-250g pieces of ox cheek or flank or feather blade
1 glass red wine
100ml Hix oyster ale, stout or Guinness
1 clove of garlic, peeled and crushed
1tsp chopped thyme
1 bay leaf
Vegetable oil for frying
30g butter
1 small onion, peeled and finely chopped
1½tbsp plain flour
1tsp tomato purée
1½ltrs beef stock (a good cube will do)
Salt and freshly ground black pepper
Put the pieces of beef into a stainless steel bowl (not aluminum) or similar with the red wine and beer, garlic, thyme and bay leaf. Cover with clingfilm and marinate in the fridge for two days.
Drain the meat in a colander, reserving the marinade, and dry the pieces on some kitchen paper. Heat the vegetable oil in a heavy frying pan, lightly flour the meat with ½tbsp of the flour, season with salt and pepper and fry the meat on a high heat until nicely browned.
Heat the butter in a large heavy- bottomed saucepan and gently fry the onions for a few minutes until soft. Add the flour and tomato purée and stir over a low heat for a minute.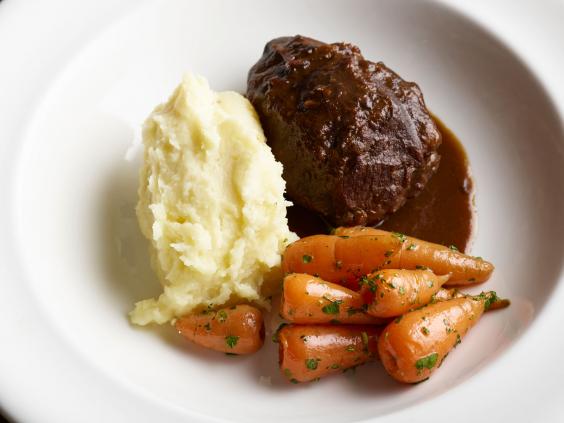 Now slowly add the marinade, stirring constantly to avoid lumps forming. Bring to the boil and simmer until it has reduced by half.
Then add the beef stock and the pieces of beef, bring back to the boil, cover with a lid and simmer gently for about 2-2½ hours until the meat is tender (it is difficult to put an exact time on braised meats, sometimes an extra half an hour may be required, depending on the meat itself. The best way to check is by tasting the meat).
Once the meat is cooked, the sauce should have thickened to a gravy-like consistency; if not, dilute a little cornflour in some water and stir into the sauce and simmer for a few minutes.
Raw scallops with Tequila, green chilli and cucumber
Serves 4
I must say I prefer raw scallops to cooked ones – when the raw product is super fresh, that is, which of course they always should be. They have one of the sweetest and best flavours of all fish served raw.
Ask your fishmonger to order large dived scallops and get him to prepare them for you.
4 large or 8 medium scallops, cleaned
2-3 large green chillies, stalk removed, halved and finely diced
¼ cucumber, halved, seeds scooped out and the flesh finely diced
2-3tbsp tequila
Sea salt
Sprigs of coriander and lime wedges to serve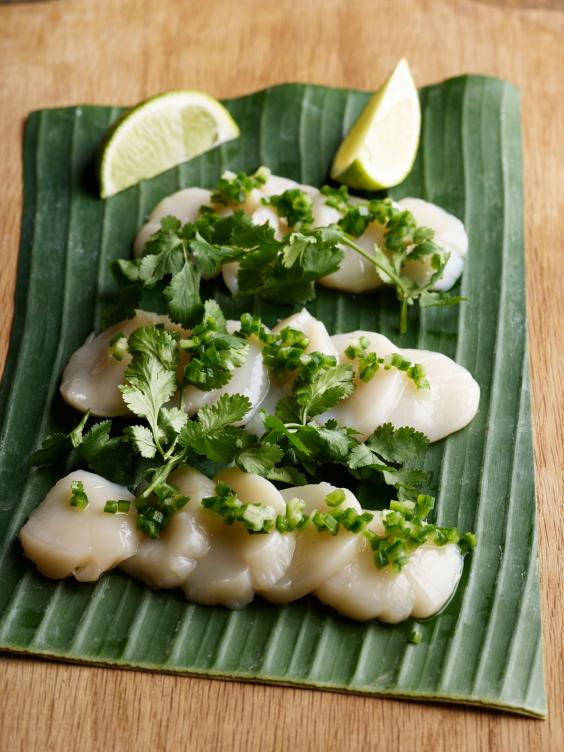 Thinly slice the scallops into 4-5 pieces with a sharp knife, sprinkle the sea salt over them, and arrange on a serving dish or banana leaf (either will do).
Mix the cucumber, chilli and tequila together and spoon over the scallops.
Garnish with the limes and coriander and serve.
Reuse content