Don't be afraid of a bit of heat, especially when it comes in the form of a chilli pepper. Round, long, thin, bell-shaped…
I tend to experiment and grow different chillies every year – it's fun just having them on tap to use as and when. They also make great gifts to give away in jars or preserved in the form of a chutney. You can even blend them up and make your own harissa. There really is no end to the things you can do with a decent chilli pepper…
Soft polenta with duck livers and padrón peppers
Serves 4
Spanish padrón peppers are becoming more popular these days and can be bought in good supermarkets and markets. It is said that about one in 10 will have a bit of a kick, so think of them as chilli-pepper Russian roulette.
You can make the polenta a couple of hours in advance if you wish, but if you do, make it a tad thinner than you need it and cover the surface with clingfilm.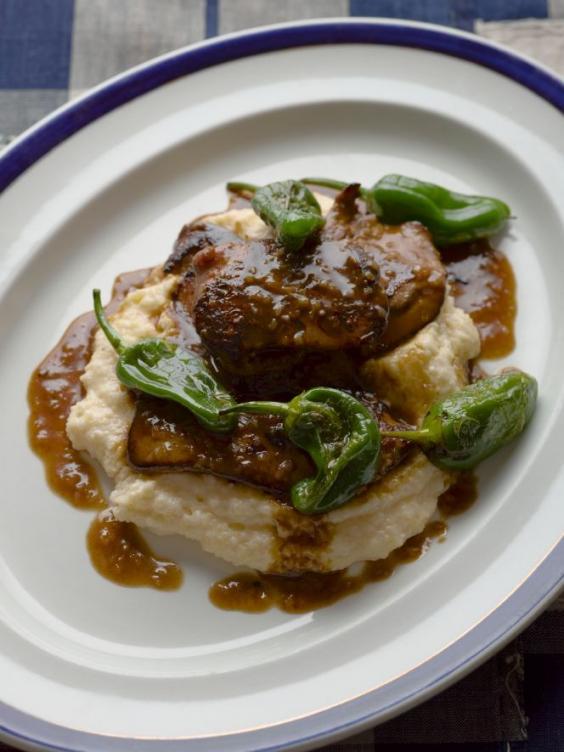 250-300g fresh duck livers, cleaned
100g unsalted butter
1-2 tbsp olive oil
70-80g padrón peppers
For the polenta
750ml milk
1 clove of garlic, peeled and crushed
1 bay leaf
Salt and freshly ground white pepper
A pinch of nutmeg
75g quick-cooking polenta
100ml double cream
75g freshly grated parmesan
First make the polenta: bring the milk to the boil in a thick-bottomed pan, then add the garlic, bay leaf, salt and pepper and nutmeg. Simmer for 5 minutes then whisk in the polenta.
Cook on a low heat for about 10 minutes, stirring every so often so that it doesn't stick to the bottom of the pan. Add the cream and parmesan and cook for a further 5 minutes. Remove from the heat and cover to keep warm.
Heat two heavy based or non-stick frying pans. Heat the butter in one pan and the olive oil in another. Cook the peppers in the oil on a fairly low heat for 2-3 minutes, turning them as they are cooking, until just cooked. Then season the livers, and cook them in the butter on a high heat for a minute or so on each side, turning them as they are cooking. Mix with the peppers.
To serve, spoon the polenta on to warmed serving plates and spoon the livers and peppers over.
Meatballs Mcilhenny
Serves 4
A few years ago I visited Avery Island outside New Orleans, the site of the McIlhenny Company pepper fields. I came back with a little bag of the mulch that's left after they have pressed the peppers to make their famous Tabasco sauce. This precious mulch is not available to the general public, so you will just have to make do with a few drops of Tabasco or even some harissa to heat your own version of this sauce up.
For the sauce
1 onion, peeled,  halved and finely chopped
2 cloves of garlic, peeled and crushed
1tbsp olive oil
A good knob of butter
1tbsp flour
100ml red wine
500ml beef stock
As many drops of Tabasco as you dare or a couple of spoonfuls of harissa or any chilli paste of your choosing
1 x 400g can of chopped tomatoes
For the meatballs
1 medium onion,  peeled, halved and finely chopped
2 cloves of garlic, peeled and crushed
1tsp chopped marjoram  or oregano leaves
1tbsp olive oil
500g minced beef
5-6tbsp fresh white breadcrumbs
Salt and freshly ground black pepper
2tbsp flour
2tbsp vegetable oil
To serve
2-3tbsp sour cream (optional)
A handful of chopped chives (optional)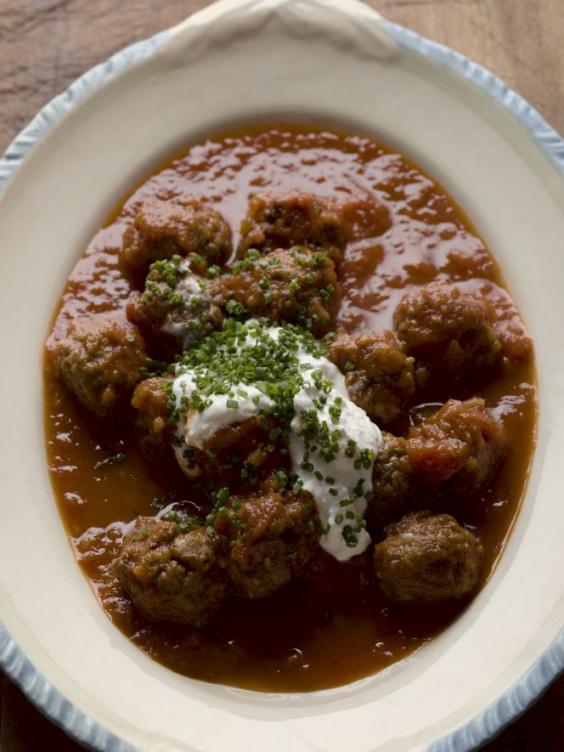 First, make the sauce. Gently cook the onion and garlic in the olive oil and butter for a couple of minutes until they are soft. Stir in the flour and then slowly add the red wine and beef stock, stirring constantly to avoid lumps forming.
Add the tomatoes, bring to the boil, season and add some Tabasco. Simmer gently for 45 minutes.
Meanwhile, make the meatballs. Gently cook the onion, garlic and marjoram in the olive oil for a couple of minutes until soft, then remove from the heat and leave to cool. Mix the onion mixture with the minced beef and breadcrumbs and season well. Mould into about 28-32 balls, then refrigerate for 30 minutes.
Heat the vegetable oil in a heavy frying pan, lightly flour the meatballs and brown them evenly in the oil; you'll need to do this in a few batches. Drain on some kitchen paper and then add them to the sauce and continue simmering for about 15 minutes, topping up with water if the sauce is getting dry.
Serve with the sour cream spooned over and a scattering of the chopped chives if you like.
Grilled Tiger prawns with chilli and red-onion chutney
Serves 4
Buy the best-quality sea-water prawns for this – most fishmongers tend to have good quality prawns and a fair selection from around the world these days.
You may as well make a good old batch of this chutney and store it.
12-16 large tiger prawns (heads on)
Salt and freshly ground black pepper
A little vegetable or corn oil for brushing
For the chilli chutney
100ml vegetable or corn oil
200g small red or green chillies (or a mixture of the two), sliced
1 large red onion, peeled,  halved and finely chopped
2tsp cumin seeds
2tbsp black mustard seeds
2tsp fenugreek seeds
1tbsp tamarind paste
30g caster sugar
50ml white-wine vinegar
100ml water
2tsp salt
1tsp cornflour, dissolved  in a little cold water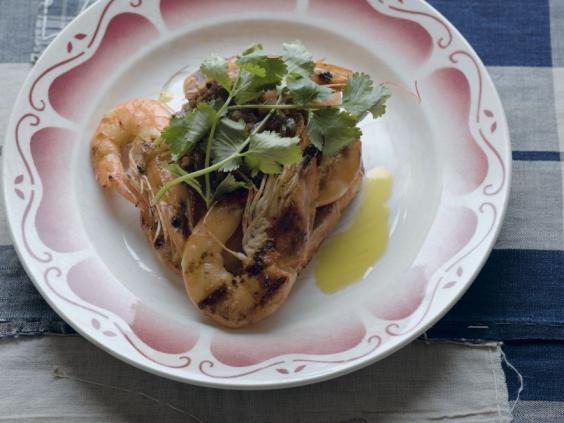 First make the chutney: heat the oil in a heavy-based saucepan and gently cook the chillies, red onion and the spices on a low heat with a lid on for 4-5 minutes. Add the tamarind, sugar, vinegar, water and salt. Bring to the boil and simmer gently for 20-30 minutes. Dilute the cornflour in a little water and continue simmering for another 15 minutes, adding a little more water if the mixture is getting dry. Transfer to an airtight preserving jar, seal the lid and then leave to cool. You can store this in the refrigerator for up to six months.
To serve, heat a ribbed griddle or barbecue, season and lightly oil the prawns and cook on a high heat for 2-3 minutes on each side. Transfer to a warmed serving dish. Serve with the chutney on the top of the prawns or alongside.
Roast tomatoes with chilli
Serves 4
This is a simple dish that makes a great starter or side dish and can also be served as part of a buffet or antipasto platter. There are various varieties of large tomatoes on the market many of which seem to have names related to cows – such as beef and oxheart. Any of these will work perfectly for this dish, although you can, if you prefer, make a smaller version with tomatoes of any size.
4 large beef type tomatoes, halved
1-2 large green chillies, finely chopped
Salt and freshly ground black pepper
4-5tbsp extra-virgin olive oil
Preheat the oven to 220º/Gas mark 7.
Put the tomatoes on a baking tray, season, scatter with the chopped chilli and spoon over a little olive oil. Bake for about 15 minutes or so or until the tomatoes have softened.
Transfer to warmed serving plates, spoon over the rest of the extra-virgin olive oil and serve.
Reuse content