I reckon corn acquired a rather bad name for itself in the days of the Jolly Green Giant. In fact, there's nothing wrong at all with canned corn. It's probably one of the best tinned foods there is. I always have a can or three in my larder for making breakfast drop scones or my favourite chilli cheddar cornbread.
Quite often the tinned stuff actually tastes better than corn on the cob that's been hanging around for too long and so is a bit on the dry side. So if you use the cobbed stuff, as I've done with these recipes, make sure it's as fresh as you can get – which shouldn't be too hard as it's now in season. Either way, corn is such a flexible ingredient and can bring flavour and sweetness to anything from snacks and breads to vegetable side dishes – you even seen it on pizzas. Not sure about that last one though, to be honest – but each to his own.
Grouse with polenta and corn
Serves 4
This is a great way to get the most out of a couple of grouse. It can be a starter with a soup, or you can double it up as a main. Grouse have been in short supply this year in some parts of Scotland although where I shot recently, in Invercauld, they were certainly plentiful. If you can't get hold of grouse then pigeon or another game bird would be just fine.
2 corn cobs with the outer leaves removed and cooked
For the polenta
250ml milk
1 small clove of garlic, peeled and crushed
½ bay leaf
Salt and freshly ground white pepper
A pinch of nutmeg
40g quick-cooking polenta, plus a little extra for dusting
2tbsp double cream
30g freshly grated parmesan 2 oven-ready grouse
A little vegetable or corn oil
A couple of knobs of butter
2tbsp redcurrant jelly With a sharp knife, cut away the corn from the cobs. Cook the kernels in lightly salted water for about 8-10 minutes, then drain. Put half to one side and chop through the other half to add to the polenta.
Bring the milk to the boil in a thick-bottomed pan, then add the garlic, bay leaf, salt, pepper and nutmeg. Simmer for 5 minutes then whisk in the polenta and the chopped corn, and cook on a very low heat for about 10 minutes, stirring every so often so that it doesn't stick to the bottom of the pan. Add the cream and parmesan and cook for a further 5 minutes, then remove from the heat. Line a small rectangular container with cling film and pour in the polenta. Leave to cool then refrigerate overnight.
Preheat the oven to 220C/gas mark 7. Season the grouse inside and out and rub the breasts with butter. Roast for about 15 minutes, for medium rare, basting every so often. While the grouse is cooking, turn out the polenta and cut into 1 cm thick slices just slightly larger than the actual grouse breast. Heat a little vegetable oil in a heavy frying pan and cook the slices of polenta on a medium heat for 2-3 minutes on each side until golden, dropping a knob of butter into the pan when they are almost cooked.
To serve, heat the redcurrant jelly in a small pan. Heat some butter in a frying pan and fry the kernels for a couple of minutes on a high heat until they begin to colour. With a sharp knife, remove the breasts from the grouse, cut them in to 5 or 6 slices, and arrange on top of the polenta. Place on to warmed serving plates, spoon the melted jelly around then scatter the reserved corn kernels over. You can use the remaining carcass and legs to make a broth.
Fish baked in corn husk with salsa
Serves 4
In countries like Mexico, food cooked in corn husks is a traditional delicacy; the tasty parcels are called tamales. Often you will find the husk is still on corn sold at markets, so this dish is a good way to use all of the cob. You can use any white fish for this really: cod, hake, bass or mullet will all work well.
4 corn cobs with the husks on
Sea salt and freshly ground black pepper
A couple good knobs of butter For the salsa
2tbsp olive oil
1 red onion, peeled, and finely chopped
1 small red pepper, halved, seeded and finely chopped
1 green chilli, trimmed and finely chopped
1-2tbsp chopped coriander For the seasoning mix
1tsp onion salt
1tsp ground cumin
1tsp ground white pepper 4 x 160-180g fillets of white fish, boned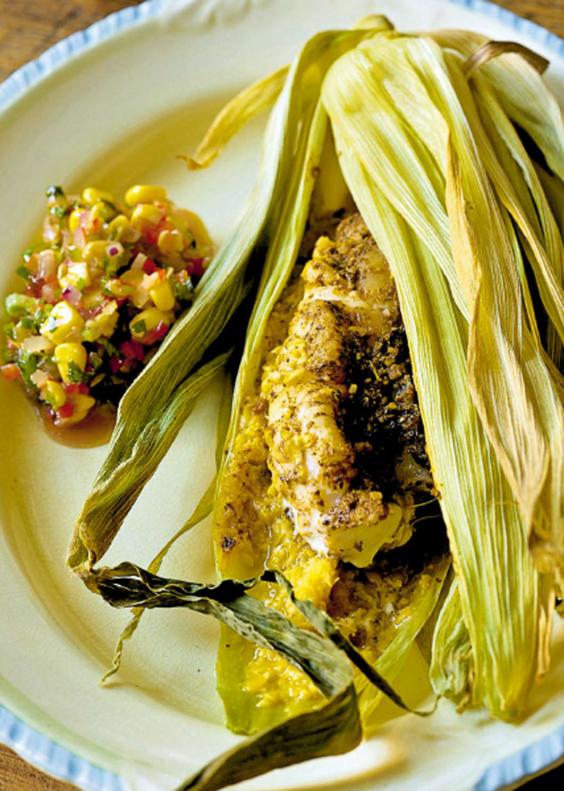 Cook the corn with the husks on in boiling salted water for about 15 minutes, then drain. Once cool, trim the ends off with a serrated knife so you can then easily remove the husks in one piece, by making a slit all the way down, carefully peeling the husk away from the corn and then removing the strands. Reserve a cupful of the water.
Cut the kernels away from the cob with a sharp knife. Blend half of them in a liquidiser or Nutribullet with a knob of butter and enough of the water to make a coarse purée. Season and put aside.
To make the salsa, heat the oil in a small saucepan and gently cook the onion, pepper and chilli for a minute on a medium heat, then remove from the stove. Chop through the remainder of the corn and stir into the pepper mixture, then add the coriander and season.
Preheat the oven to 180C/gas mark 4. Mix all of the ingredients for the seasoning and coat the top of the fish. Place a spoonful of the corn purée on the centre of one of the corn husks, put a fish fillet on top, and fold the husk over, tucking underneath to make a small parcel. Repeat with the other three, then bake for about 12-15 mins. Cut the top off the husk with scissors to reveal the fish, and transfer to warmed plates. Spoon the salsa over and serve.
Crab and corn fritters with spiced crab mayonnaise
Serves 6-8 as snacks
These make great little snacks to serve with drinks or as a starter. You could get away with buying dressed crab for this, so you have both brown and white meat.
For the spiced crab mayonnaise
60-70g brown crab meat
3tbsp good quality mayonnaise
1 red chilli, finely chopped
For the fritters
150g cooked sweetcorn kernels, chopped
3tbsp chopped chives
120g Doves Farm gluten-free self-raising flour, or equivalent
About 120-150ml chilled sparkling water
Salt and freshly ground black pepper
100-120g fresh white crab meat
Vegetable or corn oil for deep frying
First make the mayonnaise. As it's such a small quantity a good liquidiser should do the trick. Blend the brown crab, mayonnaise and chilli until smooth, then transfer to a small dish.
Mix the sweetcorn, chives and flour together, then add enough sparkling water to make a thick batter. Season, fold in the white crab meat, and leave to rest for 10-15 minutes.
Heat about 8cm of oil to 160-180C in a large thick-bottomed saucepan or electric deep-fat fryer. Drop a teaspoon of the mixture into the hot fat and cook for a minute or so until golden, turning with a slotted spoon as it's cooking, and drain on some kitchen paper. Repeat with the rest of the batter, checking the seasoning and texture as you go; if the mixture seems a little stodgy, then you can just dilute with some more sparkling water.
If you want to make them in advance, cook the fritters in a few batches without colouring them completely; then just return them to the hot fat when required. Serve with the crab mayonnaise.
Reuse content