Deciding what to serve at a drinks party at home can some times be a little trying. But canapés and snacks don't have to be fiddly and time- consuming: often the simplest ones end up being the best.
Canapés need to be memorable flavour-wise, in fact, they need to pack a punch and be properly seasoned.
You can get away with using bought-in, good-quality tart cases like I have below, and ready-rolled puff pastry. So don't feel that you are cheating, you are just making life a bit easier for yourself.
Crab tarts
Makes 20
You can buy these handy little tarts cases from Waitrose and some delis.
They are always useful to keep in your larder as the basis of a decent snack – you can fill them with all sorts of hot and cold fillings.
20 small pre-made tartlets
1 shallot, peeled, halved, finely chopped
A small knob of butter
1tbsp white wine
¼tsp English mustard
50-60g brown crab meat
60ml double cream
Salt and freshly ground black pepper
20g Cheddar, grated
50g freshly picked white crab meat For the topping
1tbsp fresh white breadcrumbs
A few sprigs of parsley, chopped
A very small knob of butter, melted
Gently cook the shallot in the butter for 20-30 seconds, add the wine and mustard and simmer until the wine has evaporated.
Add the brown crab meat and cream and season. Bring to the boil and simmer for a minute. The mixture should be thick; if not, simmer for a little longer.
Stir in the white crab and cheese, then spoon into the tartlets and place on a baking sheet.
Mix the breadcrumbs, parsley and melted butter together and spoon on top of the tartlets. Lightly colour under a medium grill or in a moderate oven.
Serve warm.
Creamed sprout and bacon galettes
Makes 20
A great way to use up excess Brussels sprouts, be they cooked or raw.
200-250g ready-rolled butter puff pastry
A couple of good knobs of butter
150-200g Brussels sprouts, shredded (cooked or raw)
4-5 rashers of rindless streaky bacon, finely chopped
150ml double cream
Salt and freshly ground black pepper
30-40g fresh white breadcrumbs
2tbsp finely grated Parmesan or Pecorino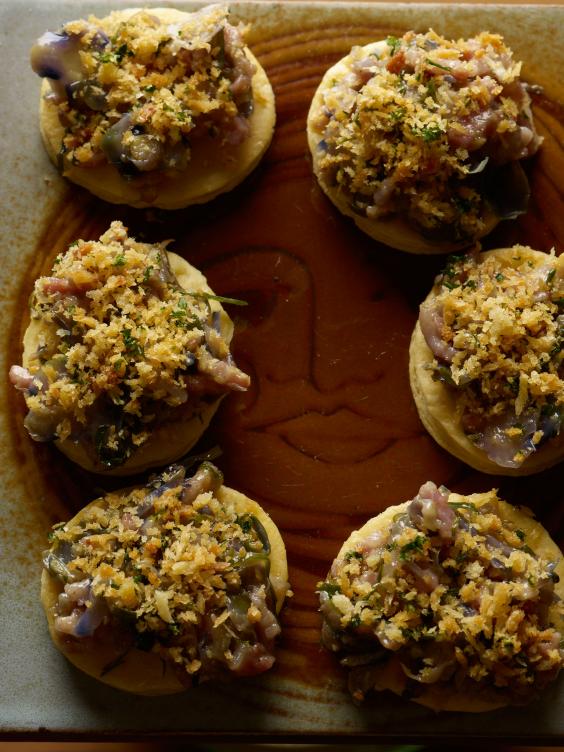 Melt the butter in a heavy-based saucepan, add the Brussels sprouts and bacon, season and gently cook on a low heat for 3-4 minutes with a lid on, giving it the occasional stir.
Add the cream and simmer very gently, stirring occasionally until the cream has completely reduced and is just coating the sprouts. Transfer to a tray or bowl to cool.
Preheat the oven to 200C/gas mark 6.
Lay the puff pastry on the work top and prick it all over with a fork to prevent it rising, then cut it into 3cm discs with a pastry cutter and place on a baking tray.
Bake for 5 minutes, then flip them over with a spatula and bake for another 5 minutes, until golden and crisp.
If they are rising too much, just flatten them with the back of a spatula.
To serve, spoon the Brussels sprout mixture on the tarts, mix the breadcrumbs and cheese together and scatter on top, then bake for another 4-5 minutes, or until the crumb topping is golden.
Pani puri with duck livers
Makes 20
You can buy good-quality ready-to- go pani puri from Asian supermarkets and they are great to keep in the cupboard as a snack to fill with everything from curry to pickles. You can also have fun creating your own – and at this time of year there is plenty of opportunity to do that with Christmas leftovers.
20 good-quality pani puri
300-400g good-quality fresh duck livers, cleaned and cut into rough 1cm pieces
Salt and freshly ground black pepper
1tbsp ghee or vegetable oil, plus a little extra for frying
1tsp ground cumin
1tsp cumin seeds
1tsp black mustard seeds
½tsp ground turmeric
½tsp fenugreek seeds
20 or so curry leaves
1 small onion, peeled, halved and finely chopped
5 cloves of garlic, peeled and crushed
A small piece of root ginger(30-40g) scraped and finely grated
2 medium red chillies, sliced
1tsp tomato purée
250ml chicken stock
2tbsp chopped coriander
A few washed sprigs of coriander to garnish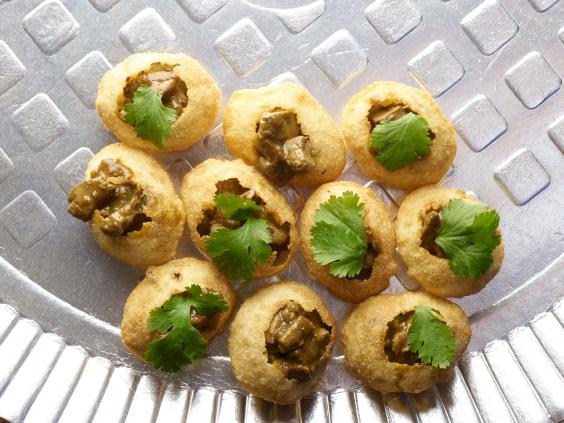 Heat the ghee in a heavy-based saucepan and fry all of the dry spices on a low heat for a minute or so, until the seeds begin to pop.
Add the onion, garlic, ginger and chilli and continue cooking for a couple of minutes, stirring every so often.
Add the tomato purée and stock, bring to the boil, season lightly and simmer very gently for about 30 minutes or until the sauce has reduced and very thick.
Add the chopped coriander and remove from the heat.
Meanwhile, season the livers, heat a little ghee or vegetable oil in frying pan and briefly fry the livers on a high heat for a minute.
Transfer to the sauce, then reheat the sauce for 30 seconds or so.
To serve, carefully push your finger or thumb through the top of the pani puris, fill them with the liver mixture and garnish with a small sprig of coriander.
Stilton cigars
Makes about 20
A great little snack that you can put left-over Stilton in. You could serve this with apple sauce, cranberry sauce, or on their own, just as they are.
They are incredibly handy as you can make them, freeze them flat on a tray, and then store them in a plastic container. Then, you can just warm them through when you have unexpected guests.
40g butter, melted
1tsp icing sugar mixed with 1tsp ground cinnamon
10 sheets of filo pastry measuring 15cm x 15cm
200g Stilton or blue cheese softened to room temperature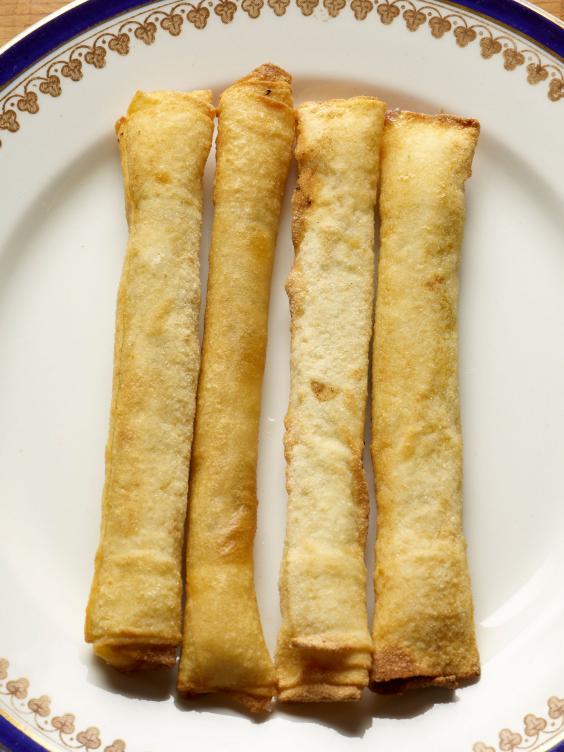 Have the filo pastry sheets covered with a clean tea towel, otherwise, being pastry made without fat, they'll dry out.
Load the softened cheese into a piping bag.
Preheat the oven to 200C/gas mark 6.
Lay a sheet of filo on a flat surface and pipe a line of cheese along the edge of the pastry nearest to you, leaving about 1cm at either side.
Fold these ends over to form a hem down each side, then brush all the pastry right to the edges with melted butter.
Now roll the pastry up as tightly as you can into a cigar shape and put it on to a buttered baking tray with the joint facing down.
Repeat with the other sheets of pastry and the rest of the mixture.
Space the cigars out, leaving 3-4cm between them on the tray, then brush them with melted butter.
Bake for about 10-12 minutes until golden, then leave to cool on the tray for about 5-10 minutes so that the cigars crisp a little.
Reuse content