We don't see that many Asian dishes on our breakfast menus, but their spicy tang lend themselves well to the morning meal. When in Tokyo I always order the breakfast tray: miso broth with fermented vegetables, pickles and barbecued fish. Equally delicious are morning market noodles, found across south-east Asia. As the name suggests, these are prepared by food-sellers using whatever ingredients they are vending that day tossed into a seasoned broth with rice noodles.
Eggs are great with a bit of spice, too. Masala omelette, previously in this column, makes a great breakfast, or simply add chilli to your poached egg on toast.
Crispy fried goose egg with black beans
Serves 2
Goose eggs are pretty big and have a slightly different texture to hens' eggs. The white is much firmer and can take a higher heat, so can be made wonderfully crispy for dishes like this. You could add some Asian mushrooms to this or just keep it simple. Chinese black beans can be widely found in Asian supermarkets; they don't take much soaking to soften up and often come mixed with ginger.
2 goose eggs
Vegetable or corn oil for frying
1-2 spring onions sliced finely on the angle
A few sprigs of coriander, chopped
For the sauce
100ml/3fl oz chicken stock
2tsp light soy sauce
1tbsp Chinese black beans soaked in warm water for a couple hours, then rinsed off
1tsp cornflour diluted in a little water
To make the sauce, bring the stock and soy to the boil and simmer for 30 seconds or so, add the drained black beans and stir in enough of the diluted cornflour to thicken. Continue simmering very gently for a minute. Remove from the heat and stir in the coriander.
Meanwhile heat the oil in a non-stick frying pan, and cook the eggs on a medium to high heat for about a minute and a half on each side until crispy. Transfer to warmed serving plates, spoon the sauce around and scatter over the spring onions and coriander.
Asian Breakfast broth
Serves 4
We don't really have a breakfast soup eating culture over here, but a fragrant broth like this, poured over poached duck or hens' eggs, makes a delicious pick-me-up breakfast or brunch.
700-800ml/1½ pint vegetable or chicken stock
10g/½oz black fungus, soaked overnight and finely shredded
1 small red or green chilli, thinly sliced
A small piece of root ginger (about 30g/1oz) scraped, sliced then finely shredded
2 spring onions, finely sliced on the angle
4 medium duck or hens' eggs
A few sprigs of coriander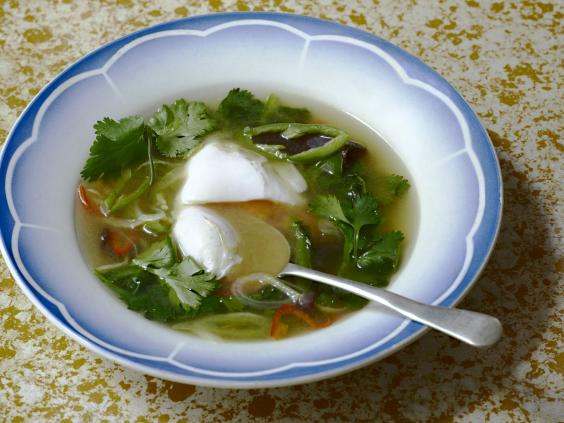 Simmer the black fungus in the stock for about 5 minutes, then add the chilli and ginger and simmer for 30 seconds. Add the spring onions and remove from the heat. Meanwhile poach the eggs and place them in the bottom of warmed soup bowls. Poor the broth on top and scatter over the coriander.
Breakfast noodles
Serves 4
You can make all sorts of variations of this: you could use prawns, chicken or a mixture, or keep it vegetarian by using some Asian mushrooms such as sliced shiitake, enoki, and so on. You can cook the pork mixture and even the noodles the day before, and just warm it all up at the last minute for a quick breakfast or brunch.
3tbsp vegetable or corn oil
250g/10oz minced pork
4 cloves of garlic, peeled and crushed
A small piece of root ginger (30-40g/1oz) peeled and finely grated
2tbsp soy sauce
1tsp granulated sugar
6 spring onions, finely chopped
150g/5oz flat rice noodles, cooked and rinsed under cold water
1tbsp toasted sesame oil
2tbsp chopped coriander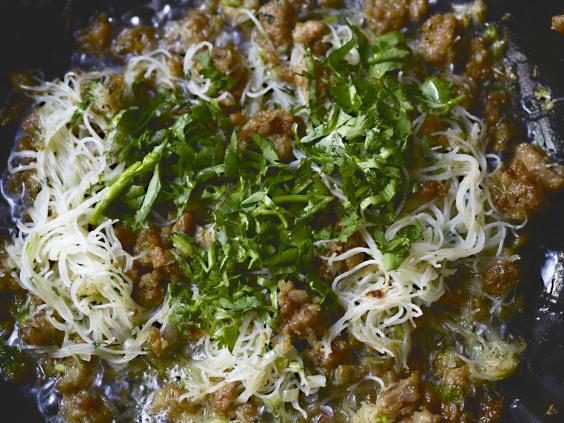 Heat a large frying pan or wok over a high heat until it begins to smoke, add the oil, then fry the pork with the garlic and ginger on a fairly high heat for 8-10 minutes, stirring and breaking up the pork as it's cooking, until nicely coloured.
Add the soy sauce and sugar and cook for another minute or so. Add the spring onions, noodles and sesame oil and cook for a further minute or so, tossing the noodles as they are cooking. Remove from heat, scatter the coriander over and serve immediately.
Reuse content