If I had to choose one thing whose arrival each year always has my mouth watering, summer beans would figure high on the list of choices. They are such a winning ingredient – the possibilities they offer are never-ending, being as good thrown casually into a quick lunch as they are lovingly prepared for a dinner party. You can vary the beans I use in the recipes to follow – if you grow your own and have a bumper crop you need to use up, by all means substitute them in.
Broad bean hummus
Serves 4-6
This is a great alternative to the traditional hummus most people buy from the supermarket. You can make this with frozen broad beans, which will cut down the preparation time, and, to be perfectly honest with you, you won't know the difference.
500g broad beans (podded weight)
5 cloves of garlic, peeled and sliced
150ml olive or rapeseed oil
Salt and freshly ground black pepper
For the relish
1 large spring onion, trimmed and finely chopped
1 small red chilli, finely chopped
50ml olive or rapeseed oil
A handful of coriander leaves, washed
Cook the broad beans in boiling salted water for 4-5 minutes, then drain in a colander over a bowl, putting the liquid to one side. Remove about 150g of peas and put to one side for the relish. Mix the rest of the broad beans with the sliced garlic and about 200ml of the hot cooking liquid, and discard the rest.
Transfer the broad beans, sliced garlic and cooking liquid into a food processor, season and blend on a high speed until smooth, trickling in the oil as it is blending. The mixture needs to be as smooth as possible. You can finish it off in a liquidiser if you have one and the food processor isn't doing the job. Transfer to a bowl and cover the surface with clingfilm until required.
To make the relish: remove the outer skins from the broad beans, put them in a bowl with the spring onion, chilli and oil, season and mix well. Chop about three quarters of the coriander and mix with the relish.
To serve, spoon the broad bean purée on to serving plates, spoon the relish over and scatter the remaining coriander on top.
Summer vegetable samosas
Makes about 20
You can serve these as a starter or as canapés. You can use whatever summer beans are available.
1 medium onion, peeled, halved and finely chopped
3 cloves of garlic, peeled and crushed
2tbsp vegetable or corn oil
1tsp ground cumin
½tsp cumin seeds
½tsp ground turmeric
½tsp chilli powder
1tsp black or brown mustard seeds
1tsp ground fenugreek
1tsp tomato purée
250ml vegetable stock
100g cooked peas
100g cooked green beans, chopped into small pieces
100g other beans, runner, broad, sugar snaps, mange tout, chopped
3tbsp chopped coriander
6-8 sheets of filo pastry
50g butter, melted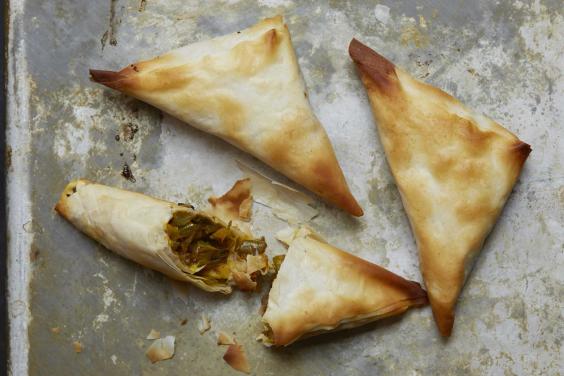 Gently cook the onion, garlic and spices in the vegetable oil for 4-5 minutes with the lid on, stirring every so often. Add the tomato purée and stock and simmer gently for another 15-20 minutes or until the liquid has evaporated, then stir in the vegetables and put to one side. Preheat the oven to 200C/gas mark 6.
Cut the filo into 8cm-wide strips down the shortest side and stack them up; cover with a tea towel. Lay one piece on your work surface, brush with butter and place another piece on top. Put two teaspoons of the vegetable mixture at one end, then fold the end over to make a triangle, then continue folding it all of the way down the sheet, keeping each fold a tight triangle, until you reach the end. Lay on a baking tray, brush with butter and continue with the rest of the mixture and pastry. You can keep these in the fridge until required.
Now bake the samosas for about 10-15 minutes, until nicely coloured; serve hot.
Prawn and green bean salad
Serves 4
This is a dead-simple salad to prepare. It is also very low-waste, because you use the prawn shells and heads to flavour the oil for the dressing. Of course, as ever, you don't have to if you don't want to, but the salad will certainly benefit from such a taut infusion.
16-20 medium to large raw, seawater prawns with the heads and shells on
150-180g green beans, topped and tailed
Salt and freshly ground black pepper
For the oil infusion
The shells and heads from the prawns
1tsp tomato purée
A good pinch of saffron
A couple of sprigs of thyme
10 black peppercorns
½tsp fennel seeds
500ml vegetable or corn oil
For the dressing
2 shallots, peeled, halved and finely chopped
150ml prawn oil (as above)
2tbsp cider or good-quality white wine vinegar
1tsp Tewkesbury or Dijon mustard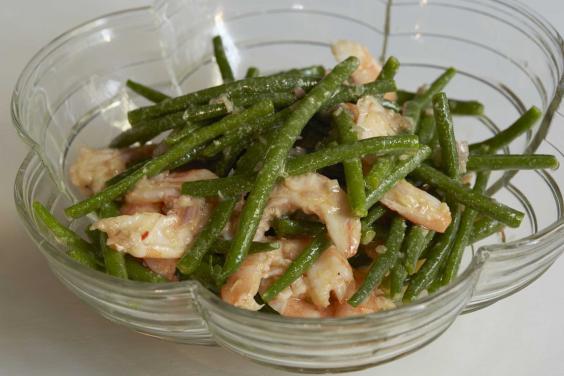 First, make the oil infusion: remove the heads and shells of the prawns and then put them in a saucepan with all of the other ingredients for the infusion.
Gently heat the oil to about 80C and keep it at that heat for about 8-10 minutes; a simmer plate is great for this. Remove from the heat and leave to infuse and cool for a couple of hours, or preferably overnight.
Strain the oil through a fine-meshed sieve. There will be too much oil for the salad, so keep the rest in the fridge in a sterilised, air-tight jar for use at a later date.
Halve the prawns down the middle of the tail and put them in a pan with a couple of tablespoons of water, or white wine, and a good pinch of salt.
Cover with a lid, bring to the boil and remove from the heat and leave to cool.
Cook the beans in boiling salted water for 2-3 minutes, then drain.
To serve, whisk all of the ingredients together for the dressing and season.
Toss the prawns, beans and dressing together and season to taste.
Summer pasta fagioli
Serves 4
This is a summery, meaty version of the classic Italian pasta dish that normally uses cannellini or borlotti.
There are many ways of making a meat variant of pasta e fagioli; I've used bacon here, but you could also use pork rind, cooked pig's trotter, or even cotechino sausage.
You can use whatever summer beans are available, even using the traditional beans above as part of the mixture.
1 medium onion, peeled, halved and finely chopped
2 sticks of celery, peeled and cut into 1cm dice
2 cloves of garlic, peeled and crushed
4 rashers of unsmoked streaky bacon or slices of ham, finely chopped
2tbsp olive oil
80g peas
80g podded weight of broad beans, cooked
80g green beans, cooked and cut into ½-1cm pieces
Any other seasonal beans such as mange tout or runner beans, cut into small pieces
500ml-600ml vegetable stock
60g small pasta shapes, such as tubetti, ditalini, rigati
1tbsp of chopped flat-leaf parsley
Salt and freshly ground black pepper
Freshly grated Parmesan, to serve
A little extra olive oil to serve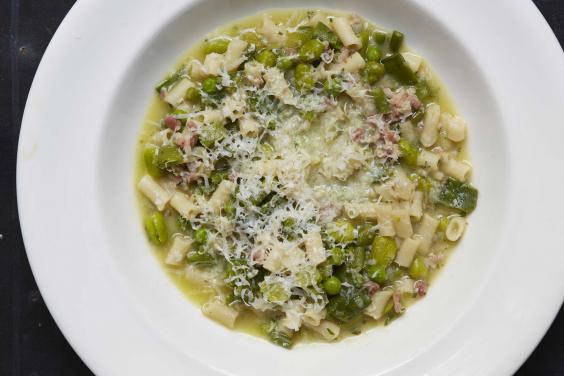 Gently cook the onion, celery, garlic and bacon in the olive oil for a few minutes until the vegetables are soft, then add the stock and simmer gently for 10 minutes; add the pasta, season, cover with a lid and continue simmering until the pasta is almost cooked – this will depend on the size and type of pasta.
Add all of the beans and parsley and simmer gently for 5 minutes, or until the pasta is cooked. The mixture should have a slightly thick, soup-like consistency; add a little more water or stock if necessary.
Season with salt and freshly ground black pepper and serve with freshly grated Parmesan and a drizzle of olive oil, if you like.
Reuse content