As usual, we've had asparagus on our menus for some weeks now. We bought ours from the Chinn family down in the Wye Valley. They get better every year at getting their early crop ready. That's great for us punters, as it means less need to turn to the imported stuff. Asparagus is a true British success story and we ought to celebrate it at every opportunity.
Halibut with rapeseed oil and asparagus
Serves 4
Cooking fish in oil at a low temperature is rather like poaching it in a court bouillon – except, doing it this way means you get more flavour. The oil that you have used can be made into a simple dressing that can be kept in the fridge for use next time, or added to egg yolks to make a hollandaise or mayonnaise. Or else it can be thrown into mashed potato instead of butter.
I've added a few scarlet elf cup mushrooms here – but you could use any small, wild or cultivated mushroom, such as the Japanese enoki or shimeji.
4 portions of halibut or another white fish weighing about 150-160g each, boned and skinned
250-300ml rapeseed oil
1tsp fennel seeds
A couple of sprigs of thyme
10 black peppercorns
1tsp flaky sea salt
8 or so spears of asparagus, with the woody ends removed
100-150g small wild mushrooms, cleaned
Put the rapeseed oil into a saucepan which is large enough to hold the halibut fillets. Add the fennel seeds, thyme, peppercorns and salt. Put the pan on a low heat for 4-5 minutes.
Now add the halibut fillets and cover with a lid and remove from the heat.
Cook the asparagus separately in boiling, salted water for 4-5 minutes, or until tender – then drain in a colander.
Cut the asparagus into 3 pieces on the angle and put to one side. Place the mushrooms in a saucepan with 2 or 3 tablespoons of cooking oil and cook for a minute or so until tender, then toss in the asparagus.
To serve, transfer the fish to warmed serving plates and scatter the asparagus and mushrooms on top.
Asparagus tempura
Serves 4
Deep-frying asparagus in a light, crisp batter makes a delicious snack, starter or canapé.
You can vary the sauces you serve this with – from a classic Japanese number to Vietnamese nuoc cham, or even a wasabi-flavoured mayonnaise.
300-400g asparagus, with the woody stems removed
Vegetable or corn oil for deep frying
For the batter
100g tempura flour
Chilled sparkling water to mix
Salt and freshly ground black pepper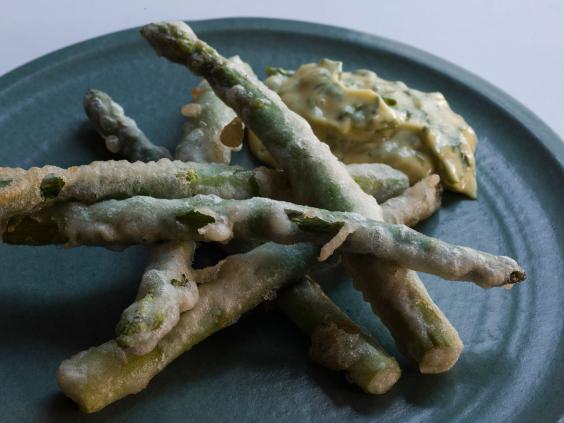 First, make the batter: mix the tempura flour with enough water to make a batter; then season.
Preheat about 8cm of oil to 160-180C in a large, thick-bottomed saucepan or electric deep-fat fryer.
Dip the asparagus in the batter a few pieces at a time, drop into the oil and cook for 2-3 minutes, turning with a slotted spoon until lightly golden, then remove and drain on some kitchen paper and sprinkle lightly with sea salt.
Serve with a sauce of your choice on the plate or in little dishes.
Gnocchi alla romana with asparagus and shaved cheese
Serves 4
I remember making gnocchi alla romana at catering college. It was a tad less rich and a bit more pedestrian in those days. The River Café do a particularly good one.
For the gnocchi
1ltr milk
200g fine semolina
120g parmesan, finely grated
2 egg yolks
100g butter
Salt and freshly ground white pepper
To serve
6-8 asparagus spears, trimmed
50g finely-grated parmesan
Extra virgin olive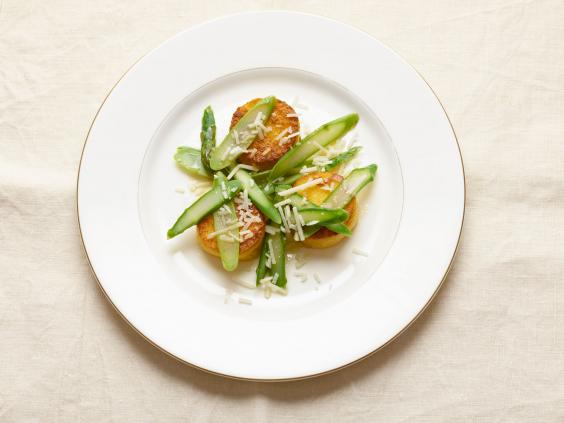 First make the gnocchi: bring the milk to a simmer on a medium heat. Turn the heat down and very slowly start whisking in the semolina in a steady stream; season and cook on a low heat for about 10 minutes, giving it an occasional whisk (a simmer plate is good for this). Remove from the heat. Now stir in 100g of the parmesan, the yolks and 50g of the butter and give a final whisk.
Line a shallow-sided baking tray with greaseproof paper and dampen it slightly with cold water. Spread the semolina mix over the paper to a thickness of about 1½-2cm. Leave to cool completely for at least 30 minutes or refrigerate until required.
Preheat the oven to 200C/gas mark 6. Remove the paper and semolina mix from the tray and place on to the work surface.
Line the baking tray again with greaseproof or silicone paper and butter it generously. You could use a good non-stick tray where you wouldn't need to line it with paper.
Using a 3cm-wide pastry or biscuit cutter, cut the cooled semolina in to rounds, wetting the cutter with water to prevent it sticking. Transfer the rounds to the tray, dot with the remaining butter and sprinkle over the remaining parmesan. Place in the oven for 10-15 minutes or until it becomes a light golden colour.
Meanwhile, thinly slice the asparagus on the angle and cook in boiling salted water for a minute, or until you think they are done. Arrange the gnocchi on warmed plates, scatter over the asparagus, spoon over some olive oil and scatter with the parmesan.
Shaved asparagus with fennel, anchovies, capers
Serves 4
This is based on the classic Italian dish that uses puntarelle, which is a member of the chicory family.
8 thick asparagus spears, trimmed
1 bulb of fennel, trimmed and halved lengthways
8 canned anchovy fillets, drained and finely chopped (you can use the oil in the dressing)
2tbsp large capers, drained and rinsed
For the dressing
2 shallots, peeled, halved and finely chopped
2tbsp red wine vinegar
2tbsp olive oil
2tbsp corn or ground nut oil
Salt and freshly ground black pepper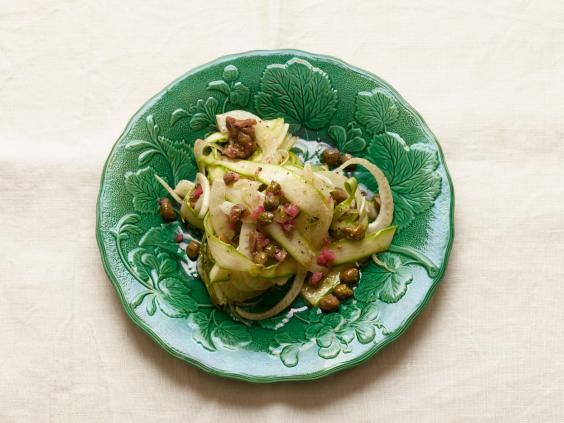 With a mandolin or sharp knife, shave the asparagus and fennel as thinly as possible.
Mix all of the ingredients together for the dressing and lightly season.
Toss all of the ingredients together with the dressing and re-season if necessary, then serve on individual serving plates or a larger sharing one.