Garlic farms are a bit of a rarity in this country, but I'm lucky enough to have one of them just around the corner from my Charmouth home in Dorset. For 17 years, South West Garlic Farm, near Bridport, has been selling not only several different varieties of garlic, but specialities such as scapes – the stalks of garlic plants, with buds which grow above the ground before the bulbs themselves are mature enough to harvest.
They also sell black garlic; this has a sublime sweet-but-savoury flavour and is now a much sought-after ingredient and a bit of a trade secret among chefs. When I visited recently, farmer Mark Botwright and I knocked up a few dishes with the garlic scapes in the field, camp-style.
Black garlic and bone marrow toasts
Serves 4
Mark developed his recipe for black garlic from an ancient Korean recipe, but beyond the fact that it involves slow- cooking at a warming-cupboard kind of temperature, he won't let on what else is involved! The bone marrow will need to be ordered from your butcher in advance; he may well expect you to buy the bones as well, in which case you will need to scoop the marrow out with the end of a teaspoon.
4 slices of sourdough
1 onion, finely chopped
60-70g butter
120-150g bone marrow cut into rough 1cm pieces
60-70g fresh white breadcrumbs
6-8 cloves of black garlic, peeled and thinly sliced
A couple of handfuls of parsley, washed and finely chopped
Salt and freshly ground black pepper
To serve
A handful of flat leaf parsley leaves, washed and dried
2 shallots, thinly sliced
1tbsp rapeseed or olive oil
½tbsp cider vinegar
Heat the butter in a heavy-based saucepan and gently cook the onion for 2-3 minutes without colouring. Add the bone marrow, black garlic and parsley and cook on a medium heat for another 2-3 minutes, then stir in the breadcrumbs, season to taste and remove from the heat.
Toss the parsley and shallots in the oil and vinegar and season. To serve, toast the bread, spoon the bone marrow on top, then pop under the grill for another minute or so. Serve with the shallot mixture on the side.
Veal chop with roasted new season Elephant garlic
Serves 4
I love a good veal chop, and there are a handful of British producers rearing very good veal at the moment. Elephant garlic comes – as you might guess from the name – in much bigger bulbs than the regular kind, and is one of the varieties grown at South West Garlic Farm. I've served this with some wild garlic purée that I make every year, while the leaves are abundant. But salsa verde or just good old mustard would do just as well.
4 veal chops of about 350-400g each
Salt and freshly ground black pepper
2-3tbsp olive or rapeseed oil
50-60g butter
2 large bulbs of new season elephant garlic, each cut into 6 wedges
2tbsp chopped parsley
For the wild garlic purée
2-3 handfuls of wild garlic leaves and stems, washed and dried
120-150ml rapeseed oil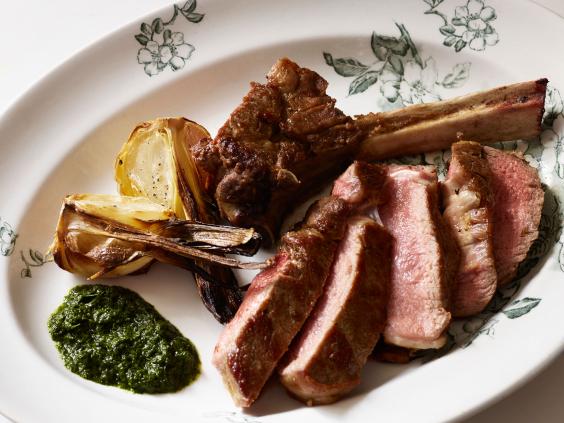 Simply blend the wild garlic in a liquidiser with the rapeseed oil, until smooth (this can be stored in a sterilised preserving jar in the fridge for up to six months).
Preheat the oven to 200C/gas mark 6. Put the garlic in a roasting tray, season and spoon over some of the olive oil. Roast for about 30 minutes, turning during cooking until it's lightly coloured.
Meanwhile, preheat a ribbed griddle pan, barbecue or heavy frying pan. Season the chops and lightly oil them. Grill for about 5-6 minutes on each side, more or less, depending on the thickness, but keeping them pink.
Melt the butter, stir in the parsley, and toss the garlic in it briefly. To serve, place the chops on warmed serving plates with the garlic scattered on top or in a pile on the side.
Blackened plaice with tomato and coriander salsa
Serves 4
Plaice is a perfect fish for cooking with blackening spices; it may have softer flesh than other flat fish but with the skin left on, the flesh holds together nicely with the spices. Mark Botwright recently made some powder out of the dried garlic scapes which automatically made me think of incorporating it into a blackening spice to use with local fish. You could dry some green garlic tops yourself if you grow your own, or buy dried garlic powder.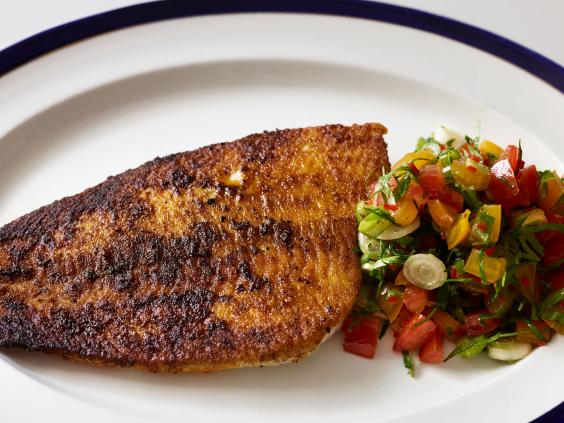 The top fillets from a couple of 1kg plaice
Vegetable or rapeseed oil for frying
For the salsa
4 firm red or mixed-coloured tomatoes
1 large spring onion, finely chopped
A handful of coriander, chopped
2-3tbsp olive or rapeseed oil
The juice and grated zest of 1 lime
Salt and freshly ground black pepper
For the blackening spices
1tsp paprika
1tsp ground dried thyme
1tsp cayenne pepper
1tsp finely ground black pepper
1tsp finely ground white pepper
1tsp garlic powder
First, make the salsa: mix all the ingredients together and season to taste.
Next, mix all the ingredients for the blackening spices together and transfer to a plate. In a non-stick or reliable frying pan, heat the oil, then dip the flesh side of the fillets in the spices to coat, and fry for about 2-3 minutes on the spiced side on a high heat until the fish blackens. Then turn them over and cook for another minute or so, depending on the thickness of the fillets.
To serve, place the fish on warmed plates with the salsa.
Razor clams with bath chaps and garlic scapes
Serves 4
I've always loved the combination of razor clams with cured pork, in the form of bacon, a spicy sausage such as chorizo, or Bath chaps, which is the cured jowel. The garlic scapes add not only flavour, but a vibrant green colour and asparagus-like texture.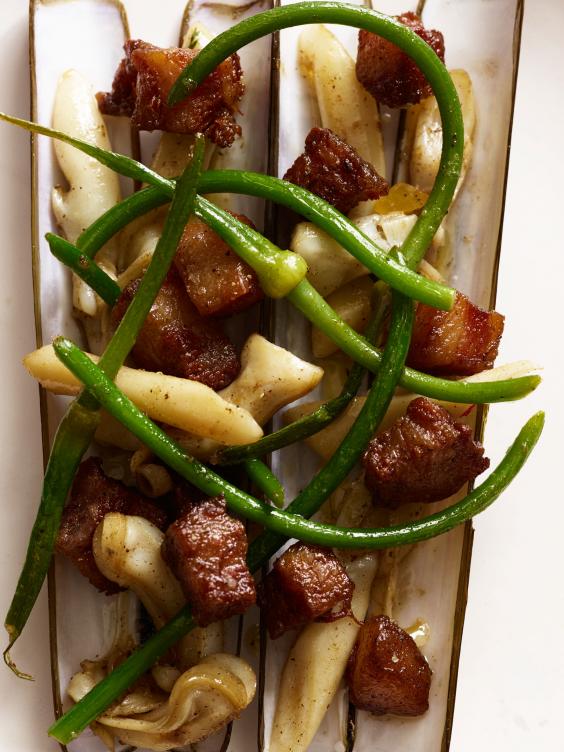 12 or so large razor clams
½ glass of white wine
120-150g Bath chaps or a piece of streaky bacon, cut into rough 1cm squares
70-80g unsalted butter
12 or so pieces of garlic scapes
Salt and freshly ground black pepper
Rinse the razor clams in cold water, then place in a large saucepan with the wine and cover with a tight-fitting lid. Place on a high heat for about a minute, or until they are just opened, then take off the stove. Remove the meat from the razors, cut away the dark sack in the centre and give them a quick rinse where the sack was to remove any sand; cut the razors into three pieces.
Heat the butter in a large frying pan and cook the Bath chaps for 2-3 minutes on a medium heat, add the garlic scapes and continue cooking for a couple more minutes, turning them while they are cooking, until tender. Add the razor clam meat, season and cook on a low heat for a minute or so until hot. Heat the shells briefly under a warm grill and spoon the clams, Bath chaps and garlic scapes into the shells.
Reuse content