I've never been a great fan of regular broccoli. In fact, I hardly ever use it in my restaurants. There are so many better varieties you can get these days. Sprouting broccoli, for instance, which is readily available in golden form these days. Or Romanesco, the pointed heads of Italian broccoli, which look like they don't belong on Earth, but do make for an interesting vegetable salad.
What has really caught my attention this year, though, is rape broccoli. These are the heads of the rape plant which are harvested just before flowering and make for a tasty alternative to the sprouting stuff.
Broccoli soup
Serves 4-6
You can make this with any kind of broccoli. If you are using the Romanesco broccoli, throw in the leaves and excess stalks, too. I've used a mixture of varieties and some diced stalks to garnish here.
1 leek, roughly chopped and washed
60g butter
300g broccoli stalks and trimmings, roughly chopped
30g plain flour
1.5ltrs hot vegetable stock
Salt and freshly ground black pepper
To garnish
A few florets of any broccoli and some diced or sliced stalks, cooked in boiling salted water
Remove the green heads and leaves from the broccoli and put aside to use at the end. In a heavy-based saucepan, cook the leek and broccoli stalks in the butter for 2-3 minutes with a lid on, removing from the heat before they colour.
Stir in the flour, then gradually stir in the stock to avoid lumps forming. Bring to the boil, season and simmer gently for 15 minutes. Add any excess green bits of broccoli and simmer for another 10 minutes, then remove from the heat.
Blend in a liquidiser until smooth and strain through a sieve if necessary. To serve, reheat the soup and add the garnish.
Sprouting broccoli with Gorgonzola and pine nuts
Serves 4
This makes a great, simple starter or a nice side dish. If you can find golden sprouting broccoli, that will work nicely, too. Or, if you like, use a mixture of both.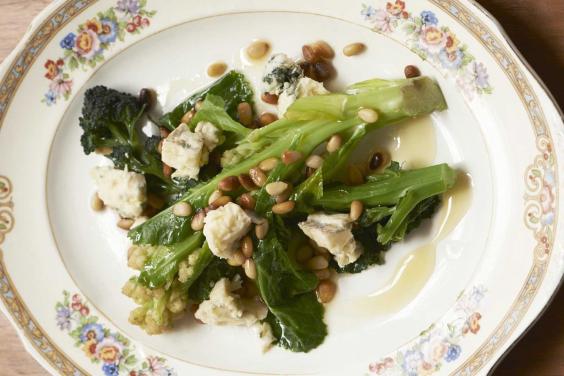 400-500g sprouting broccoli, trimmed of any wooden ends
120-150g Gorgonzola or another creamy blue cheese, at room temperature
2tbsp pine nuts, lightly toasted
Salt and freshly ground black pepper
3-4tbsp extra virgin olive oil
Cook the broccoli in boiling salted water for 3-4 minutes or until tender, then drain in a colander. Arrange on serving plates and season. Break the Gorgonzola into small pieces and scatter over the broccoli along with the pine nuts. Now spoon over the olive oil.
Romanesco and squid salad
Serves 4
You quite often see Romanesco broccoli in good greengrocers and supermarkets these days. It is easy to spot because its pointed florets give it a space-age look. If you can't find it, you can always use sprouting broccoli or a mixture of other types of broccoli.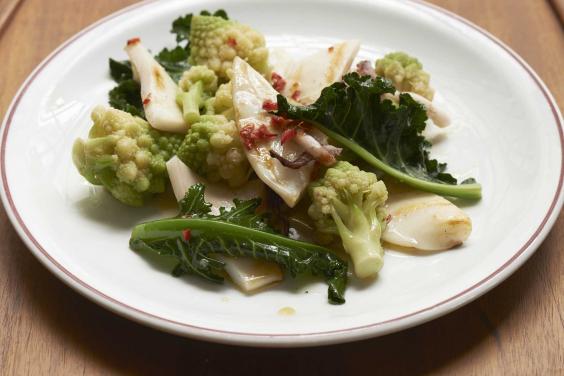 1 head of Romanesco, trimmed into florets and any good small leaves kept (use trimmings for the soup)
300-400g squid, cleaned
3-4tbsp olive oil
1 small chilli, trimmed and finely chopped
1 clove of garlic, thinly sliced
Salt and freshly ground black pepper
The juice of 1 lemon
Preheat a ribbed griddle pan, season the squid and brush with oil. Grill for a minute or two on each side and remove from the heat.
Meanwhile, cook the Romanesco in boiling, salted water for 3-4 minutes, until tender, then drain in a colander.
While the squid and Romanesco are cooking, heat the rest of the olive oil gently in a separate pan and then add the chilli and garlic; remove from the heat and transfer to a bowl.
Cut the squid head and tentacles into rough 2-3 cm squares. Mix the squid and Romanesco with the oil, season and add enough lemon juice to taste. Serve at room temperature.
Scrambled eggs with chilli and rape greens
Serves 4
I was in Gloucestershire last week and came across a field of rape which was at the point where it perfectly sprouts. Now, at this stage, it's as good as any sprouting broccoli you can get your hands on, so I sneaked in and started harvesting a few heads. Along came the farmer in his truck and quizzed me about what I was up to. He had it in mind that I thought it was sprouting broccoli. When I told him I pay £15 per kilo for rape greens in London, his eyes wandered across his acres and off he went to get his scissors.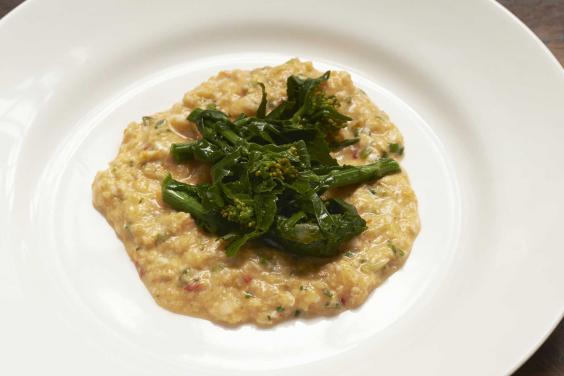 8 medium-sized free-range eggs, beaten
80g butter
50ml double cream
Salt and freshly ground black pepper
1 red chilli, trimmed and finely chopped
2 spring onions, trimmed and finely chopped
100-150g rape broccoli or sprouting broccoli, trimmed
Melt half the butter in a heavy-bottomed pan. Add the cream and eggs, then season with salt and freshly ground white pepper. Stir over a low heat until the eggs are just cooked but still on the runny side, then stir in the chilli and spring onion; remove the pan from the heat.
Meanwhile, cook the broccoli in boiling salted water for a couple of minutes, then drain and toss in the remaining butter. To serve, spoon the eggs on to a warmed serving plate and lay the broccoli on top of it.