I must say, right from the outset, I am not a great fan of edible flowers. They were quite the thing in the 1980s, of course, but they never quite did it for me. To my mind, flowering herbs or vegetables are much the better option. I often end up making infusions for cocktails with blooms snipped from fennel or thyme plants. They are by no means the only flowers that should be on your radar, however. When I'm gardening, I often put my shears to work on the chives or rosemary – to toss them into a salad or even scatter over simple grilled fish or meat is to taste summer. Courgette or squash flowers are also favourites. They make for fantastic, light fritters which I serve as a starter with a little Parmesan added into the batter.
Bean, cucumber, radish and their flowers salad
Serves 4
When you are picking seasonal vegetables in your garden, don't be afraid to snip a few flowers, too – throw them into the mix and you'll improve a salad no end. I've used the vinegar from my pickled chive buds for the dressing, but you could use cider or wine vinegar.
6-8 radishes, sliced
½ a cucumber, halved lengthways, seeds scooped out and cut into 4-5cm batons
20 or so green beans, trimmed and blanched
A handful of vegetable or herb flowers
For the dressing
2tbsp vinegar (see above)
3tbsp rapeseed oil
3tbsp vegetable or corn oil
A few sprigs of tarragon
Salt and freshly ground black pepper
Whisk all of the ingredients together for the dressing, season to taste, then leave to infuse for an hour. To serve, arrange the flowers, cucumber, beans and radishes on a large serving dish or several individual plates; lightly season, then spoon over the dressing.
Flower fritters
Serves 4
Depending what part of the country you live in, your wild garlic may have well flowered already – or, with any luck, be just coming into bloom.
If you've missed the boat, you can use elderflowers. Simply dust them with icing sugar before serving. Feel free to add in other flowers such as chives, rosemary or thyme.
Serve the fritters as a snack with drinks or as a garnish on another dish.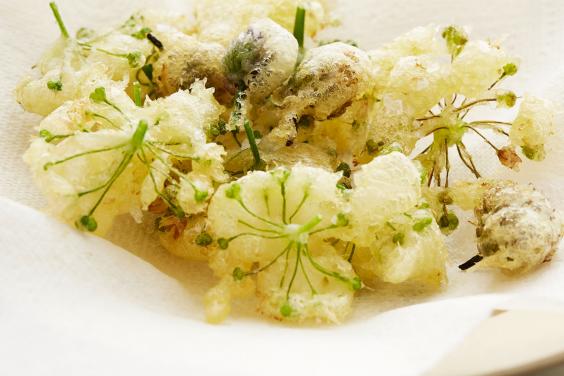 12 or so wild garlic flowers
80g gluten-free self-raising flour
Enough sparkling mineral water or cider to make a batter
Salt and freshly ground black pepper (or a couple of teaspoons of caster sugar if using elderflower)
Preheat about 8cm of oil to 160-180C in a large, thick-bottomed saucepan or an electric deep-fat fryer.
Put the flour into a mixing bowl, add salt and pepper if using the garlic or sugar if using elderflower. Then whisk in enough mineral water, or cider, to make a batter. Dip the flowers into the batter and fry them a few at a time, turning them in the oil with a slotted spoon until lightly coloured and crisp. Then drain on some kitchen paper.
Pickled chive buds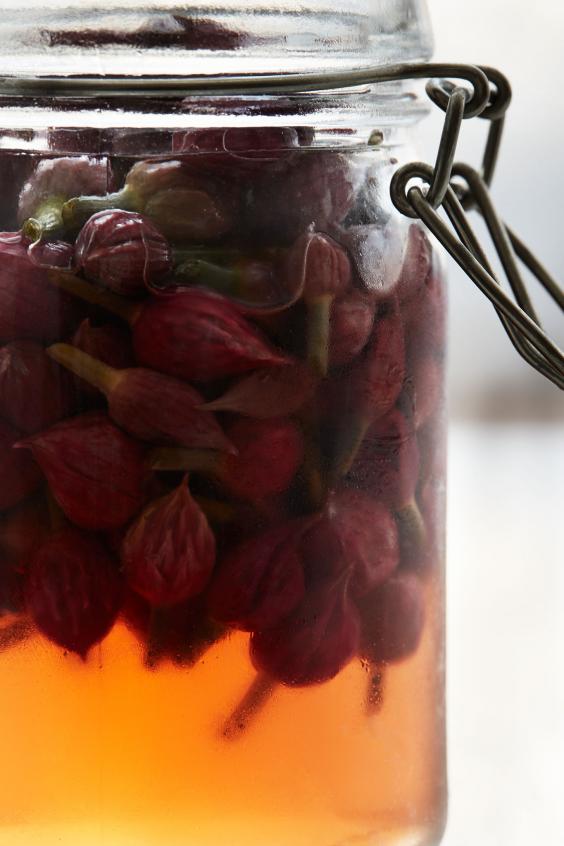 This year my chives seem to be flowering like crazy, new blooms seem to sprout all the time. During their budding stage I experimented with pickling them in cider vinegar – so I'd have my own caper-like pickles. They worked a treat and managed to keep that pink tinge once pickled. Once you've got some on the go in a jar, you can just keep harvesting more and adding them to the mix – or use very small jars and have different batches with different vinegars, even.
I've used them on fish, meat and even on a fried egg for breakfast with some lardons of bacon, or bits of smoked haddock.

20-30 chive buds, or as many as you can harvest
Enough cider or white wine vinegar to cover the buds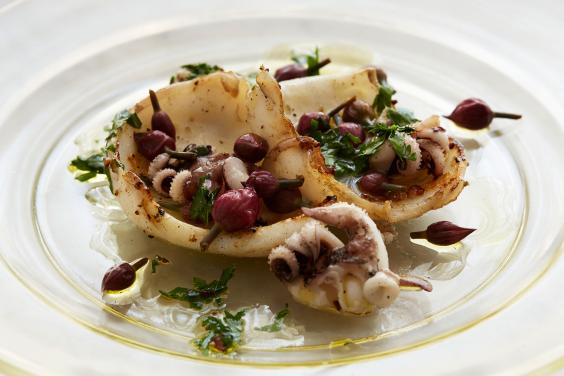 Sterilise baby Kilner or small clean jars with boiling water, then leave to cool. Fill them two-thirds with the chive buds, cover with vinegar and seal the lid. Leave to pickle for about a month at the very least before using.
You can use the buds with lots of things, but I am particularly fond of scattering them over barbecued cuttlefish, as per the picture above.
Sweet cicely and raspberry jelly
Serves 4
Sweet cicely is a herb that's not used a lot these days. You may well have it in your garden but have never even given it a second glance, yet it has a great taste and pleasing aroma that makes it perfect for desserts. You can make a simple purée to serve this with by simply blending some raspberries in a liquidiser.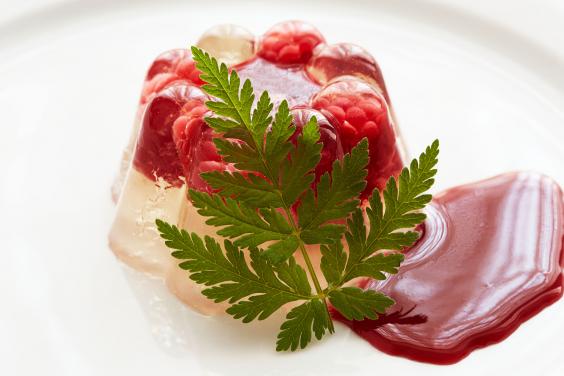 400ml water
200g caster sugar
A handful of sweet cicely, plus some leaves for garnish if you wish
100ml Sauternes or a good dessert wine
Juice of ½ a lemon
15g leaf gelatine (5 sheets)
100g raspberries
Bring the water, sugar and sweet cicely to the boil, then remove from the heat and leave to infuse for an hour. Meanwhile, soak the gelatine leaves in a shallow bowl of cold water for a minute, or until soft. Squeeze out the water, add to the infusion while it's still warm, and stir until dissolved. Once cool, add the Sauternes, then put the jelly somewhere cool – but do not let it set.
Fill some individual jelly moulds with half of the raspberries, then pour in half of the cooled jelly. Put in the fridge for an hour or so to set, then top up the moulds with the rest of the raspberries and the unset jelly. This allows you to suspend the raspberries in the jelly and ensure that they do not float to the top. Return them to the fridge. To serve, turn out the jellies and serve with organic cream and the puréed raspberries.