I'm currently gearing up for our annual Lyme Regis Food Rocks festival, so my mind is full of the names of all the different chefs and foodies giving talks and demonstrations.
But more than that, I am also thinking about some of the less serious events we'll be running at this September's festival, like our Dorset Knob-tossing game and, my favourite, the Black Cow cheese rolling competition. If you remember the original, long-established Gloucestershire cheese rolling – with those giant wheels of cheese that were often want to crush the odd spectator – you may be worrying for our attendees.
Fear not, though, we are using child-friendly 200g truckles – and the only place they'll be rolling is along the communal gardens; after all, this cheese is too good to waste.
I've long championed Black Cow, and quite often collaborate with them. Tom Barbour, the west Dorset farmer who founded the brand, makes the most wonderful Black Cow vodka, which is made entirely from milk, and his cheese is equally as good, too. Here are my favourite ways to use Barbour's lovely products. Don't worry if you can't get his cheese, though – use cheddar instead.
Black Cow fondue with Dorset knobs
Serves 4
I get the distinct feeling fondue is catching on again. We always try to have a fondue of some description on the menu. Anything from Welsh rabbit fondue to chocolate fondue with marshmallows – with this dish, the possibilities are endless.
250ml double cream
200g Black Cow cheese, grated
80-100ml Black Cow vodka, more if you wish
Salt and freshly ground black pepper
6-8 Dorset Knobs (a hard, savoury, biscuit), carefully cut into four pieces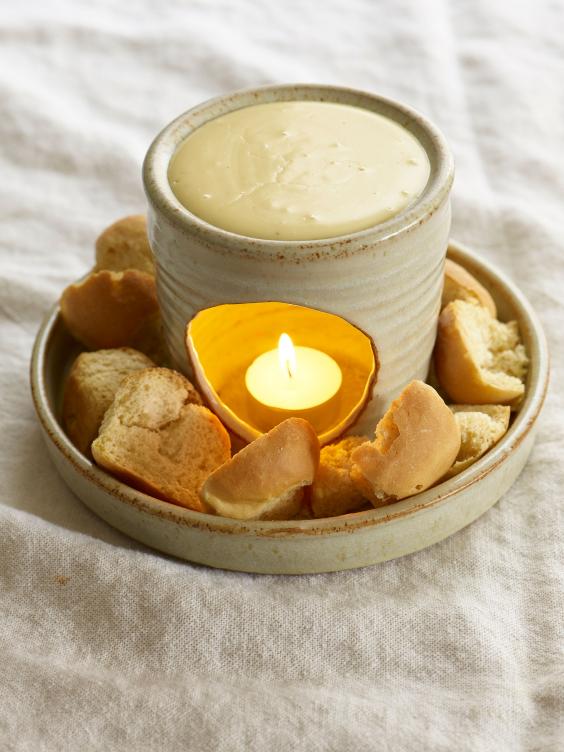 Put the cream, cheese and vodka into a bowl over a pan of simmering water, stir every so often, until the cheese has melted and the mixture is a thick sauce-like consistency that has reduced by half. If you have a fondue set, then simply put the ingredients into the pot, light the burner and stir every so often. Season to taste and add more vodka if you wish. To serve, carefully skewer each piece of Dorset Knob on to a fondue skewer or wooden kebab stick and get stuck in.
Dorset Black Cow salad
Serves 4
This is a take on a Greek salad; you can vary the ingredients according to what's around.
4 cucumbers, quartered lengthways, seeds removed and cut into 1-2cm chunks
1 large red onion, peeled, halved and chopped into rough 1cm dice
A handful or two of cooked broad beans
40-50 stoned black olives
20 tomatoes, cut into chunks
A couple of handfuls of mint leaves, torn
4-6 leaves of cos lettuce, cut into rough 2cm squares
1x 200g Black Cow cheese, cut into rough 1cm chunks
250ml olive oil
The juice of 3 lemons
Salt and freshly ground black pepper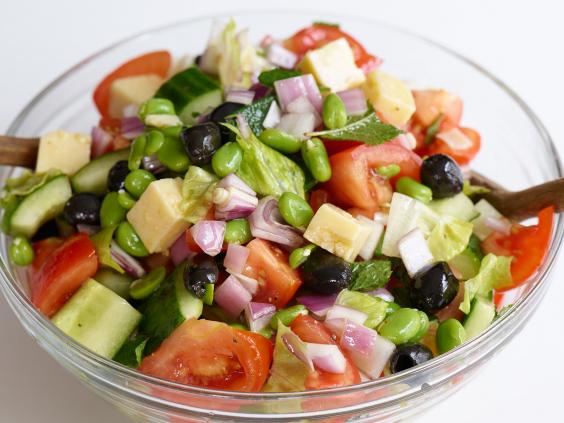 Mix the olive oil and lemon juice together and season well. Mix all of the other ingredients together. Now toss some of the cheese into the salad and season.
Quinoa, summer herb and Black Cow salad
Serves 4
It is often mistaken for a grain, but quinoa is actually a cereal seed – and one of great versatility, too. It serves as a good replacement for couscous or rice. It's only really been a staple of mine for a year, but it's certainly a popular item in the Hix household.
60g quinoa, soaked in cold water for an hour
80g peas, cooked
80g broad beans, cooked
10-12 green beans, cooked
4 spring onions, trimmed and finely chopped
A couple of good handfuls of parsley, chopped
A couple of good handfuls of mint, chopped
100ml olive or rapeseed oil
The juice of 1 lemon
Salt and freshly ground black pepper
1x 200g Black Cow cheese, cut into rough 1cm cubes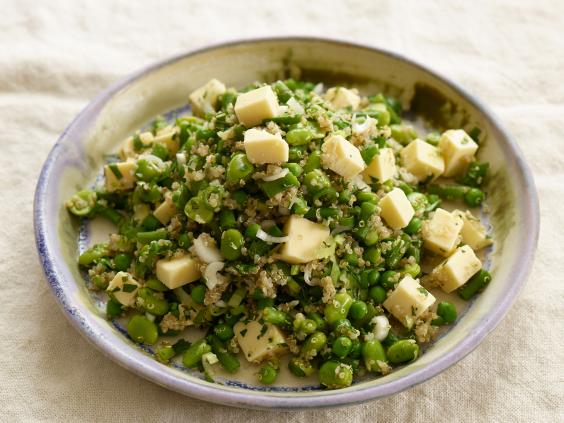 Cook the quinoa in simmering, lightly salted water for about 20 minutes, or until the seeds open up and are tender. Drain in a sieve and leave to cool. Meanwhile, cut the green beans into rough ½cm pieces and remove the tough outer skins of the larger broad beans if you wish.
Once the quinoa has cooled, mix it with the beans, chopped onions and all the other ingredients and season.
Summer bean salad with Black Cow fritters
Serves 4
Deep-frying little nuggets of cheese gives a salad a great texture – they end up playing a similar role to croutons, but are much tastier. You can use as many types of bean as you wish, even yellow wax beans, if you can get your hands on them.
150-200 mixed beans, broad, runner, bobby
1 x 200g Black Cow cheese, cut into rough 2cm cubes
2tbsp flour for dusting, seasoned
1 egg, beaten
3-4tbsp fresh white breadcrumbs
Vegetable or corn oil for deep frying
A couple of handfuls of small salad leaves like rocket, land cress, red mustard leaf, bulls blood
A few sticks of fine chives, cut into 3-4cm lengths
For the dressing
1tbsp tarragon vinegar
2tsp Tewkesbury mustard
1 clove of garlic, peeled
2tbsp rapeseed oil
3tbsp vegetable or corn oil
Salt and freshly ground black pepper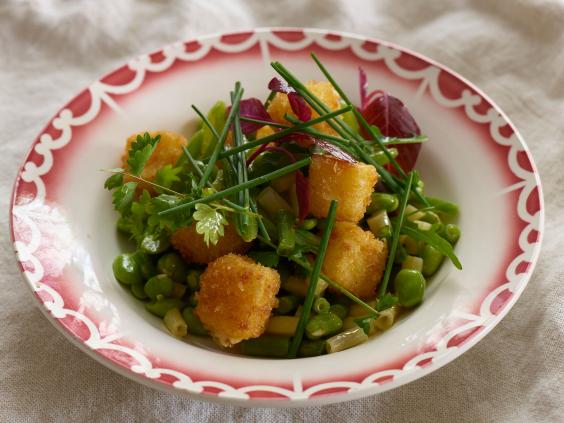 First, make the dressing. Put all of the ingredients into a clean bottle or jar. Give them a good shake and leave to infuse for an hour or so, or overnight at room temperature.
Now prepare the beans: thinly slice runners on the angle, if you are using them, otherwise cut as you wish.
Cook in boiling salted water for a few minutes until tender and then refresh in cold water.
Preheat about 8cm of oil to 160-180C in a large thick-bottomed saucepan or electric deep-fat fryer.
Carefully roll the cheese in the flour, shaking off any excess, then pass through the egg, again shaking off any excess, and finally through the crumbs.
Fry the cheese in a couple of batches for about a minute, or until the crumbs are golden, then remove with a slotted spoon and drain on some kitchen paper.
To assemble the salad, toss the beans with the salad leaves, cheese and dressing and season. Now scatter on the chives and serve.
Black Cow and ham crumpets with a fried duck egg
Serves 4
This makes a great breakfast, brunch or snack. You can use any egg really, but a duck egg tends to have a larger yolk, so makes for a richer dish.
4 crumpets, cut in half vertically
4 thick slices of good-quality cooked ham
4 x ½cm-thick slices of Black Cow cheese, cut vertically
5 ducks' eggs
A little rapeseed oil for cooking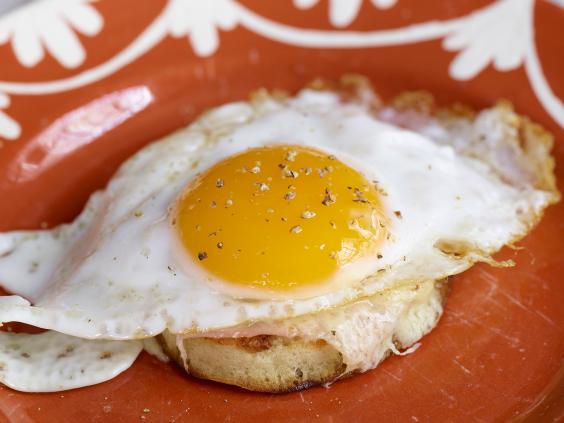 Toast the crumpets on what was the outer side. Preheat the oven to 180C.
Put the ham and cheese on the bottom layer of the crumpets, place the tops on and warm through in the oven for about 8-10 minutes, or until the cheese melts.
Meanwhile, fry the ducks' eggs in the oil, lightly seasoning them as they are cooking. Serve the crumpets immediately with an egg on top.
Food Rocks 2014 takes place on 6 and 7 September at the Lyme Regis Marine Parade Shelters. For more details visit hixrestaurants.co.uk and Twitter: @foodrocks2014
Reuse content