A few weeks back I was staying up on Alex James's farm in Kingham, Oxfordshire, and he had a fresh delivery of a fallow deer from the Cornbury estate, where we do the Wilderness Festival every year. It wasn't too big a beast, so I cut it in half with a sharp, heavy butcher's knife, and then split that down further into shoulder, leg, cutlets and loin fillet. I then used the bits and bobs as mince and to make a stock.
Now, if you eat meat, and that makes you squeamish – well, it shouldn't. Not only is the process of preparing an animal like this satisfying, it is also important, because by doing this yourself, you make sure you get the absolute most from the animal. A good butcher may well help you out with part, or indeed most of this, but either way, if you are going to eat an animal, you shouldn't waste any of it.
Deer Curry
Serves 4-6
Try to use a single cut for this, or a single muscle, as a mixture of all different cuts and muscles means you end up with a curry with some meat that is cooked, and some that is under- or overcooked, as different cuts take different times to cook.
For the roasted curry powder (makes about 100g)
The seeds from 15 green cardamom pods
1tbsp fenugreek seeds
1tbsp fennel seeds
1tbsp fenugreek leaves
1tbsp cumin seeds
1tsp ground cinnamon
1tbsp dried chillies
½tbsp caraway seeds
½tbsp nigella seeds
1tbsp ground or freshly grated turmeric
4 cloves
6 juniper berries
1tbsp ground coriander
1tbsp black or yellow mustard seeds
1tbsp ground cumin
Grind the juniper berries and all the spices, except the ground cumin, cinnamon and coriander, in a grinder or with a mortar and pestle.
Now mix them with the shop-bought, pre-ground spices and sprinkle into a heavy-bottomed frying pan.
Cook the mixture on a medium heat, stirring constantly and not letting them burn, until they turn dark brown. Transfer to a plate and leave to cool, then store in a sealed jar.
For the curry
500g shoulder or single muscle of deer meat, cut into rough 3cm dice
2 medium red onions, peeled, halved and finely chopped
5 medium cloves of garlic, peeled and crushed
2 black cardamom pods
30-40g root ginger, scraped and finely grated
A good pinch of saffron
2-3tbsp curry leaves
50g ghee
3tbsp roasted curry powder (see above)
1tbsp tomato purée
1ltr lamb or beef stock,
4 dried red chillies
5-6tbsp chopped coriander
Season the meat, heat a heavy frying pan and brown the meat on all sides.
Meanwhile, make the sauce: gently cook the onion, garlic, ginger, saffron, curry leaves, fenugreek and black cardamom in the ghee for 3-4 minutes, until soft. Add the curry powder and tomato purée and stir well. Add the stock, deer meat and dried chillies, bring to the boil and simmer gently for about an hour or until the meat is tender.
Now stir in the coriander and serve.
Deer Keema
Serves 4-6
This is a great way to use up all of the belly and off-cuts of deer.
It makes for a great sharing starter or main. You can serve this with flat bread or even poppadoms. Or, do as I do, and keep some frozen puris to hand so you can just cook them as you need them.
500g coarsely-minced deer meat
1tbsp vegetable or corn oil for frying
2tbsp ghee
2 medium onions, peeled, halved and finely chopped
4 cloves of garlic, peeled and finely grated or crushed
30g root ginger, scraped and finely grated or chopped
2 medium green or red chillies, trimmed and finely chopped
1tbsp tomato purée
1ltr lamb or beef stock
Salt and freshly ground black pepper
The spices
2tsp ground cumin
1tsp cumin seeds
1tsp fenugreek seeds
1tsp ground turmeric
1tsp black or yellow mustard seeds
1tsp ground coriander
The black seeds from 10 green cardamom pods
1 black cardamom pod (optional)
2-3tbsp curry leaves
2tbsp fenugreek leaves
3-4tbsp chopped coriander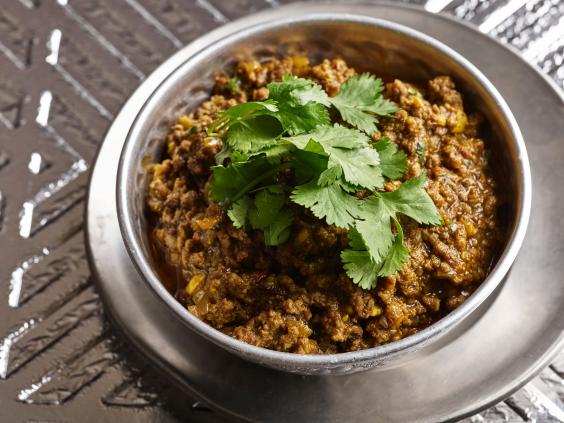 Heat the oil in a large frying pan, season the deer meat and fry on a high heat, breaking it down as it's cooking, then transfer to a bowl.
Meanwhile, put the spices in a heavy-based saucepan and dry-fry them for a couple of minutes on a medium heat, stirring so they don't burn. Add the ghee, onions, garlic, ginger and chilli and continue cooking for 3-4 minutes, with a lid on, stirring every so often.
Add the meat, tomato purée and stock, bring to the boil, season and simmer gently for an hour, giving the occasional stir. Check the tenderness of the meat and continue cooking if needs be (adding more water if it's getting too dry). The end result should be a fairly dry mixture. Stir in the coriander and serve.
Deer broth
Serves 6-8
You can garnish this with what's in season, from root vegetables to wild mushrooms.
For the game stock
A kilo or two of deer bones, chopped into pieces, plus any meat trimmings
1 medium carrot, peeled and roughly chopped
2 juniper berries
A few sprigs of thyme
1 bay leaf
Beef or chicken stock to cover (2-3 good cubes will do)
2 onions, peeled and quartered
4 sticks of celery, roughly chopped
4 medium carrots, roughly chopped
1 large leek, roughly chopped and washed
For the broth
1 small carrot, peeled, cut into ½cm dice
1 small leek, cut into ½cm dice, washed
1-2 sticks of celery, peeled if necessary and cut into ½cm dice
30g spelt or pearl barley, soaked for 2 hours
1tbsp sherry
A few leaves of savoy cabbage, cut into 1cm dice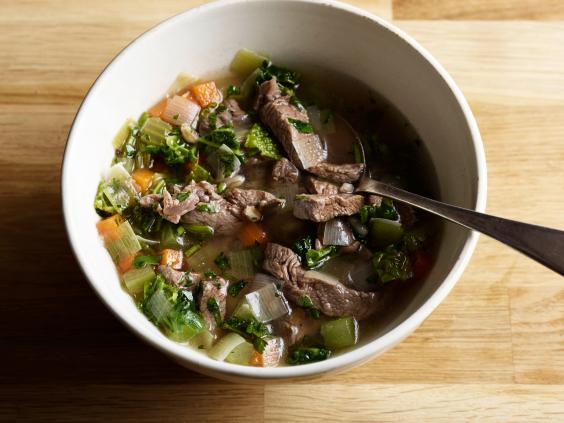 To make the stock, put all of the ingredients in a large saucepan, cover with the stock, bring to the boil and simmer gently for 1½hours, skimming occasionally.
Strain the stock through a fine-meshed sieve and put to one side. Reserve the bones and once they are cool enough to handle, strip off any meat to garnish the soup and chop into small pieces.
Meanwhile, cook the spelt or the pearl barley in lightly salted water for about 30 minutes. Add the vegetables (not the cabbage) and the sherry to the stock and simmer for about 5 minutes, then add the cabbage, pieces of deer and spelt and continue simmering for another 5 minutes or until the cabbage is cooked. Season to taste and serve.
Reuse content