The time has come, spring has well and truly arrived. Interesting vegetables have finally started to arrive in the shops and farmers' markets, and there is no better time to throw a dinner party.
I know you can buy most of what's coming into season all the year round these days but, to my mind and hopefully yours, part of the the fun of cooking is waiting for British ingredients to arrive fresh into the shops. So here are a few recipes to get the taste buds going.
Pea shoot and quail salad
Serves 4
If you grow peas, sugar snaps or snow peas at home, you can harvest the tendrils and pick a few peas to use in this salad. If you don't want to use quail, rabbit or chicken fillets will do just as well.
4 oven-ready quails
Oil for brushing
Salt and freshly ground black pepper
A couple of handfuls of pea shoots, washed
10-12 pieces of sugar snaps or mange tout, shredded
Some cooked peas (optional)
For the dressing
2tbsp cider vinegar
2tsp Tewkesbury or Dijon mustard
3tbsp rapeseed or olive oil
3tbsp vegetable or corn oil
Preheat the oven to 220C/gas mark 7. Season the quails and brush with some oil, then roast for 15 minutes. To serve, whisk all of the ingredients together for the dressing and season. Remove the legs and breast from the quail, cut away all of the meat from the legs, or leave whole and slice the breasts. Toss the pea shoots, shredded mange tout and dressing together and season. Arrange on plates with the quail meat and spoon over a little more dressing if necessary.
Vinaigrette of spring vegetables
Serves 4
You can use any vegetables for this, depending on what's available. I must say, although I don't grow any spring vegetables – just leaves and herbs – there is something satisfying about harvesting, cooking and serving something so simple with a tasty vinaigrette.
You can serve this hot, cold or at room temperature, as a starter or as a vegetable side dish – up to you.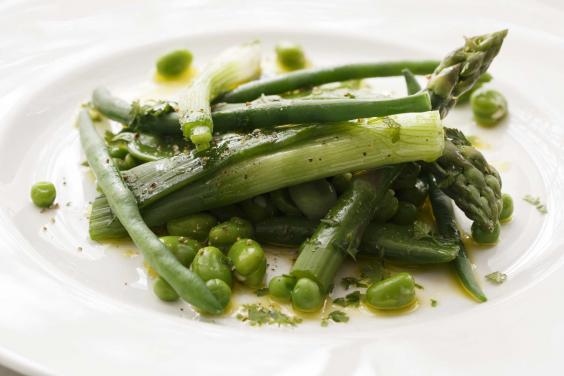 80g podded weight of fresh peas
100g podded weight of fresh broad beans
8-10 young or baby leeks, trimmed
Any other seasonal vegetables such as asparagus, runner beans, etc
1tbsp chopped chervil
For the vinaigrette
1tbsp good-quality tarragon vinegar
2tsp Tewkesbury or Dijon mustard
2tbsp rapeseed or olive oil
2tbsp vegetable or corn oil
Salt and freshly ground black pepper
For the vinaigrette, put all of the ingredients into a clean bottle or jar. Give them a good shake and leave to infuse. Cook the peas in boiling salted water with a little sugar for 3-4 minutes or until tender. Cook the broad beans in boiling salted water for 2-3 minutes until tender; > drain. Cook any other vegetables for as long as it takes them to become tender, but still with a little crunch, and drain them.
Mix all of the vegetables, chervil and vinaigrette while they are still warm and season with salt and pepper. Serve with some good crusty bread and butter.
Goyza pea dumplings in broth with peas, pea shoots and sliced beans
Serves 4
This is a great way to use different types of peas and their shoots – think sugar snaps, mange tout, and even asparagus peas.
Not much point in using fresh peas for the dumplings, however – frozen ones are convenient and will do the job nicely. You can buy goyza or wonton wrappers in most Asian supermarkets.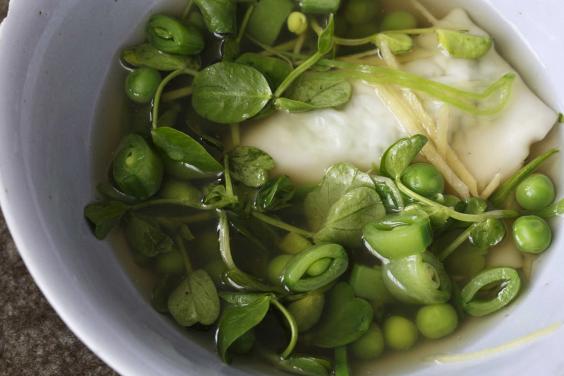 For the broth
1.5ltrs vegetable stock
The peelings from root ginger (see below)
1 small leek, roughly chopped and washed
1 stick of celery, roughly chopped
2 cloves of garlic, halved
For the dumplings
120-150g frozen peas
100ml vegetable stock
Salt and pepper
8-12 goyza or wonton wrappers
To serve
30g root ginger, peeled and finely shredded (use peelings in broth)
A handful of pea shoots
2-3 spring onions, thinly sliced on the angle
12-14 pieces of sugar snap and/or mange tout, thinly shredded
To make the broth, put all of the ingredients into a saucepan, bring to the boil and simmer very gently for about 40 minutes, then strain through a fine-meshed sieve. Season to taste if necessary.
To make the filling for the dumplings, put the peas and vegetable stock into a saucepan, season and simmer for 5-6 minutes, then remove from the heat.
Blend in a food processor with enough of the vegetable stock to make a fairly smooth purée. Check and correct the seasoning and leave to cool.
To make the dumplings, lay the wonton or goyza wrappers on a flat work surface, brush the edges with water and place a teaspoon of the pea purée in the centre.
Next, fold over and press the edges with your fingers, and place on a plate > or tray in the fridge until required; make sure to cover with clingfilm.
To serve, simmer the dumplings in boiling salted water for a couple of minutes, if using wontons, or you can drop the goyza straight into the broth.
Bring the stock to a simmer, add the vegetables and dumplings, simmer for 30 seconds and serve immediately.
Spiced spring vegetable fritters
Serves 4-6 as a starter or snack
You can use any cooked spring vegetables for this dish. Serve with mint yogurt or a good-quality Indian pickle or chutney.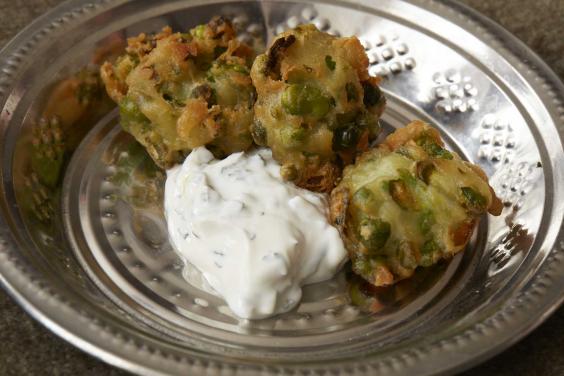 60-70 podded weight of peas (cooked)
60-70g podded weight of broad beans (cooked)
60g runner beans or mange tout or sugar snaps, shredded and blanched
3 spring onions, finely shredded
½tsp paprika
1tsp ground cumin
1tsp black mustard seeds
½tsp cumin seeds
½tsp ground turmeric
2tbsp chopped coriander
Salt and freshly ground black pepper
3tbsp gluten-free, self-raising flour (or the usual kind)
About 120-150ml sparkling water
Salt and freshly ground black pepper
Preheat 8cm of oil to 160-180C in a large thick-bottomed saucepan or an electric deep-fat fryer.
Mix all the vegetables and spices together in a seperate bowl, then stir in the flour and mix in enough water to form a light batter that coats the vegetables.
Add a tad more flour or water if you wish, to adjust the consistency.
Carefully, with a dessert or teaspoon, drop the mixture into the oil, a few bits at a time, turning them with a slotted spoon for a couple of minutes until golden; then remove and drain on some kitchen paper.
Serve immediately, or you can lightly colour them and drop them back into hot oil later if you have a large batch to do.
Reuse content