It's never too late for a picnic, in my book. September can be a great month weather-wise and a great time for a grown-up picnic when the children have gone back to school. I often take one out on the boat if I'm fishing.
When the fish aren't feeding and the fishermen need to, I find some slack water and have a little break. More often than not, you don't need to strain your creativity when it comes to picnics, but I find that if I do an hour of prep on land, the rewards are bountiful come lunchtime.
Roasted Squash and amaretti salad
Serves 4
Amaretti and squash are quite often partnered in Italian cooking – and with good reason. Ideally a selection of different squashes is the thing you want for this dish, but you could just use one type, maybe butternut, if you have trouble sourcing enough.
1.5kg of mixed squashes, peeled, seeded and cut into large, rough 4cm pieces
Olive oil for roasting
Salt and pepper
For the amaretti crust
30g pumpkin seeds, toasted and crushed
30g amaretti biscuits, crushed
30g fresh white breadcrumbs, lightly browned under the grill
1tbsp chopped parsley
40g butter, melted
Preheat the oven to 230C/gas mark 8. Heat a roasting tray in the oven with a couple of tablespoons of olive oil for 5 minutes.
Add the pieces of squash and lightly season with salt and pepper. Cook for 20-30 minutes until nicely coloured and cooked throughout.
Meanwhile, mix the ingredients for the crust. To serve, put the squash into a serving dish and sprinkle with the amaretti crust.
Green bean and anchovy salad
Serves 4-6
This is a great simple and tasty salad, which can be served as a full dish, as a starter, or as part of a buffet.
You can use a single variety or colour of bean, or a mixture – up to you.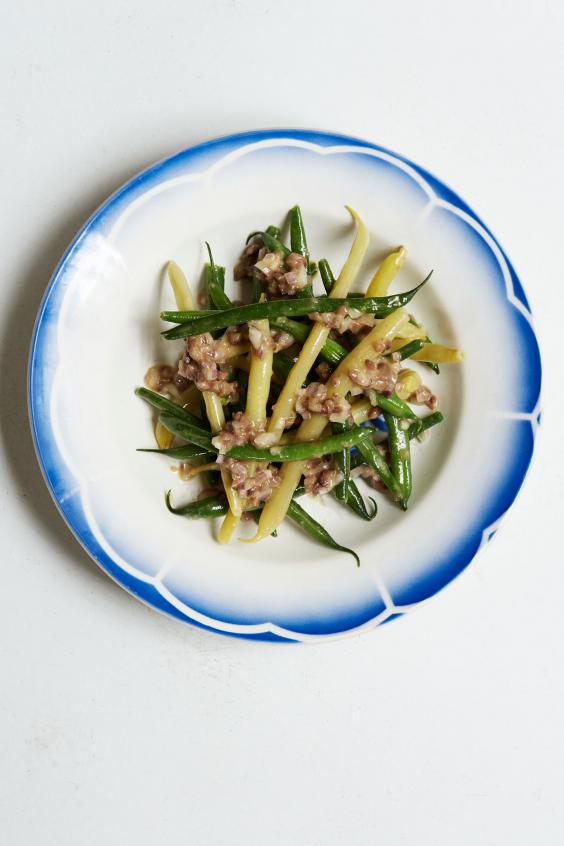 250-300g green beans, trimmed
4 small or 2 large shallots, peeled, halved and finely chopped
1x 60-100g can or jar of anchovies in olive oil, drained and the oil reserved
Salt and freshly ground black pepper
For the dressing
1.5tbsp white wine or cider vinegar
2tsp Dijon mustard
2tbsp vegetable or corn oil
The oil from the drained anchovies
1tbsp olive oil
Cook the beans in boiling salted water for 2-4 minutes, until tender, then drain. Meanwhile, chop the anchovies finely and whisk together with all of the other ingredients; season. Toss the dressing with the beans and serve.
If you are travelling or having a picnic, then just put the dressing in a bottle and dress the beans at your leisure.
Grilled Lamb, merguez and chickpea salad
Serves 4
I love a merguez sausage – they have just that right amount of spice to them. It's odd that you don't see them often in supermarkets but, still, good Mediterranean and North African butchers always sell them. I normally buy up a kilo and freeze them on a tray, then pop them into individual bags so I can take out only those I need.
You don't need a big fancy barbecue for this, a decent disposable number will suffice, if necessary.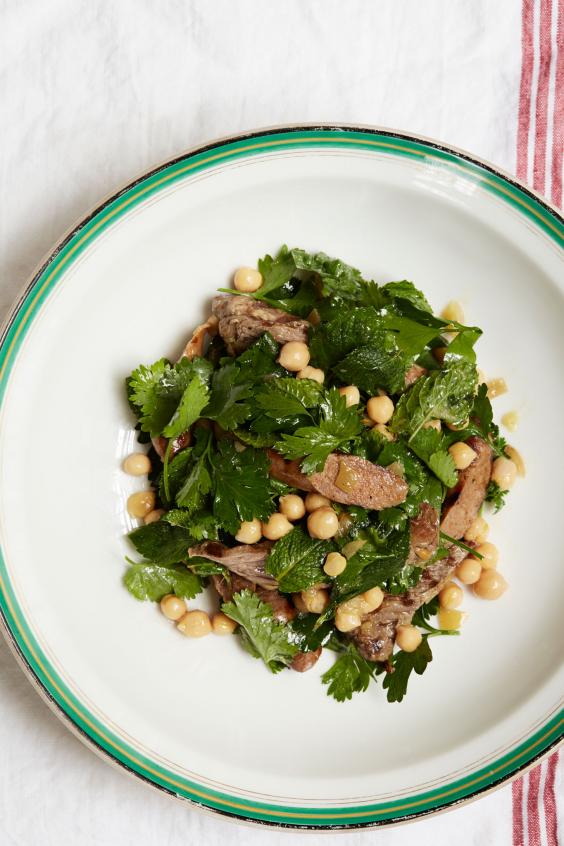 4 lamb under fillets (sometimes called pencil fillets)
4-6 merguez sausages
A little oil for brushing
A handful of coriander leaves, washed and dried
A handful of flat parsley leaves, washed and dried
A handful of mint leaves, washed
120-150g cooked chickpeas, rinsed
For the dressing
1 small pickled lemon, finely chopped
1tbsp white wine vinegar
2tbsp olive oil
2tbsp vegetable or corn oil
Salt and freshly ground black pepper
Preheat your barbecue, season the lamb fillets and lightly oil them, cook them on the barbecue with the merguez for 3-4 minutes, turning them as they cook and keeping the fillets nice and pink.
Meanwhile, mix all of the ingredients together for the dressing and season to taste (this can be done in advance and the dressing saved in a jar).
To serve, cut the fillets into 3-4 slices on the angle, and the merguez into 2-3 pieces. Toss all of the ingredients with the dressing and serve in a bowl.
Spinach with raisins and pine nuts
Serves 4-6
This is an incredibly simple dish that you can eat either hot in your kitchen or cold outside. Team it with a chunk of crusty bread and it goes from snack to a full meal. Sometimes, I serve it on toast with a spoon of goat's cheese on top – fabulous.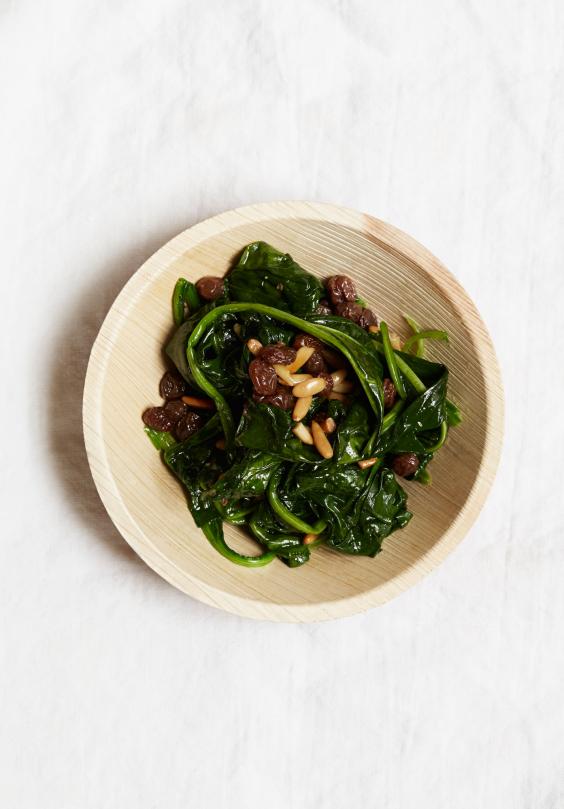 300-400g baby spinach, washed and dried
70-80ml olive oil
40g raisins, soaked overnight in warm water
40g pine nuts, lightly toasted
Salt and freshly ground black pepper
Gently heat the olive oil in a large frying pan or heavy-based saucepan and gently cook the spinach on a low heat for 2-3 minutes, stirring as it's cooking until it's just wilted but not coloured. Season to taste and stir in the pine nuts and drained raisins.
Reuse content