We have just held our second annual mackerel festival in Lyme Regis which is a great weekend event, rather like the crab festival last month. We hosted a mackerel feast in the Marine Theatre, raising more money for their roof and the fishermen's mission.
Mackerel is so abundant along our shores that we should be encouraged to catch, cook and eat them – which will also take a bit of pressure off the less abundant species.
Mackerel ceviche with cucumber and sweet potato crisps
Serves 4
Ceviche is a great fresh starter and perfect for sharing. It's not strictly a Mexican creation: Peru and Columbia would also claim to have invented it, but the main ingredients are commonly found in Mexico.
Sweet potatoes, or plantain, cut thinly like crisps, are a nice addition with which to scoop up the diced, briefly-marinated fish. I quite like to serve all of the accompaniments on the side so that you can mix in as much, or as little, as you like, to taste.
250-300g mackerel, skinned, boned and cut into approximate 1cm cubes
Juice of 3 limes
1tbsp of soda or sparkling mineral water
1-2tbsp olive oil
Salt and freshly ground white pepper
1 small red onion, very finely diced
1 large green chilli, seeded and finely chopped
2-3tbsp chopped fresh coriander
¼ cucumber, halved lengthways then cut into small dice
To serve
2 sweet potatoes, washed
Vegetable or corn oil for deep frying
Preheat about 8cm of oil to 160-180C in a large thick-bottomed saucepan or electric deep-fat fryer.
Meanwhile, slice the sweet potato lengthways, with the skin on, using a mandolin, to the thickness of about one-fifth of a centimetre. Deep fry for 3-4 minutes, or until crisp, turning in the oil with a slotted spoon during cooking, then transfer on to kitchen paper and scatter with a little salt.
Mix all of the ingredients with the mackerel and season to taste.
You can serve the ceviche directly on the sweet potato crisps, or simply put it in a bowl and let your guests help themselves.
Crispy mackerel, broad bean and tomato salad
Serves 4
This is a nice fresh summery salad you can serve as a starter or a main course. You can add other beans if you wish, such as green beans or runners.
A couple of medium-sized mackerel, filleted and boned
100ml milk
100-150g gluten-free self-raising flour
Vegetable or corn oil for deep frying
100g podded weight of broad beans, cooked lightly in boiling salted water for 2 minutes
2-3 tomatoes, different varieties if you like
A couple of handfuls of small salad leaves and herbs, washed and dried
Salt and freshly ground black pepper
For the dressing
1½tbsp cider vinegar
2tsp Tewkesbury mustard
2tbsp rapeseed oil
2tbsp vegetable or corn oil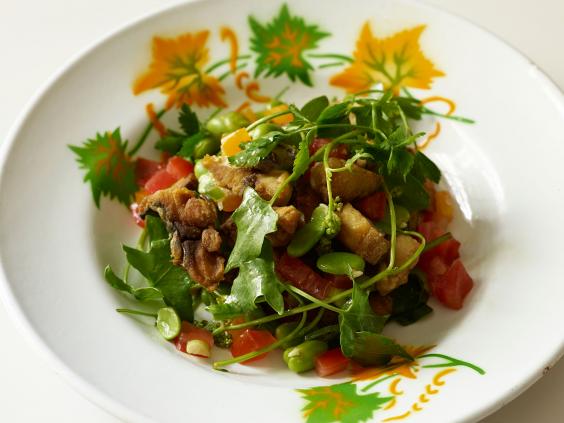 If the broad beans are large you can remove the outer skins if you wish but I tend to leave small ones whole. Cut the tomatoes into rough 2cm chunks. Whisk all of the ingredients together for the dressing and season to taste.
Preheat about 8cm of oil to 160-180C in a large, thick-bottomed saucepan or deep-fat fryer. Cut the mackerel into rough 2cm-wide strips. Season them, then pass through the flour, shaking off any excess. Next pass it through the milk, and then again through the flour. Deep fry for 2-4 minutes, turning the fish with a slotted spoon as it cooks, until crisp and golden. Remove from the oil and drain on some kitchen paper.
To serve, toss the leaves, tomatoes and broad beans in a little dressing and season. Arrange on serving plates with the crispy mackerel and spoon a little more dressing over.
Mackerel piri piri
Serves 4
Piri piri is an Angolan name for a type of small hot chilli, and the term came to be used all over the Portuguese empire for hot dishes, usually of fish and meat, prepared this way. You can make it as hot as you like by using different kinds of chillies, or even adding some dried chillies as the shop ones often aren't that fiery.
4 large or 8 small mackerel, heads removed and gutted
60-70g (or more to taste) red chillies
A small red pepper, seeded
5tbsp olive oil
A good pinch of salt
Lemon or lime wedges, to serve
For the salad
A handful of coriander leaves, washed and dried
A handful of flat parsley leaves, washed and dried
1-2 ripe tomatoes, diced
1 mild red or green chilli, thinly sliced
129-150g broad beans, cooked
2 spring onions, thinly sliced on the angle
1tbsp olive oil
Juice of 1 lime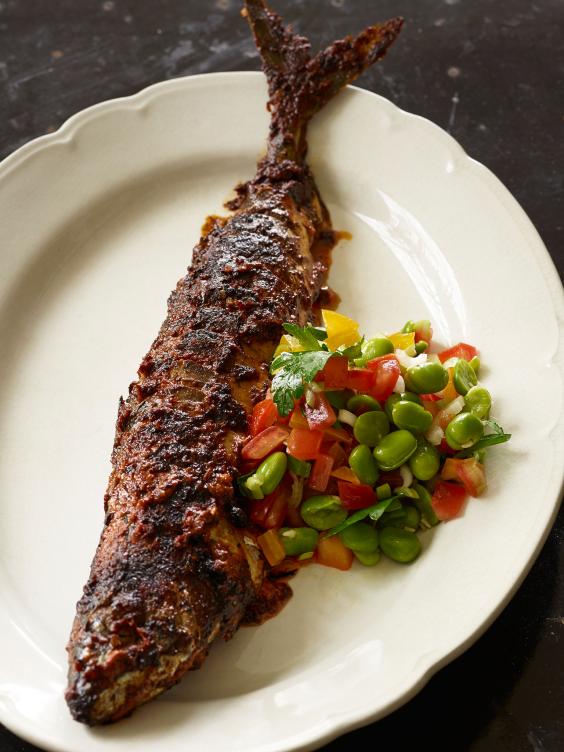 In a blender or liquidiser, blend the chillies, red pepper, olive oil and salt until smooth. Score the mackerel about five times on each side, then mix with the piri marinade in a bowl. Transfer to a tray and refrigerate until required.
You can cook the mackerel under the grill, in a very hot oven, or on the barbecue, although they do tend to stick with the marinade unless you lay them on some foil and close the barbecue lid to get the temperature really hot.
Cook the mackerel using any of the above methods, but not for too long – 5-6 minutes will do. Baste the fish with any excess marinade as they are cooking.
To make the salad, just toss all of the ingredients together and season to taste. Serve the fish with the salad on the plate or separately.
Mackerel on toast with pickled gooseberries
Serves 4
Gooseberries and mackerel have always had a culinary affiliation, the berries' acidity and the oiliness of the mackerel are a perfect marriage. If you can find the red dessert gooseberries, even better – or do a mixture.
You will need to allow 2-3 days for the gooseberries to pickle.
4 small mackerel fillets
A little vegetable or corn oil for frying
Plain flour for dusting
Salt and freshly ground black pepper
4 slices of sourdough or country bread, small enough to fit the mackerel
120-150g gooseberries
Enough cider vinegar to cover the gooseberries
1tbsp caster sugar
1tbsp of rapeseed oil
A handful of small salad leaves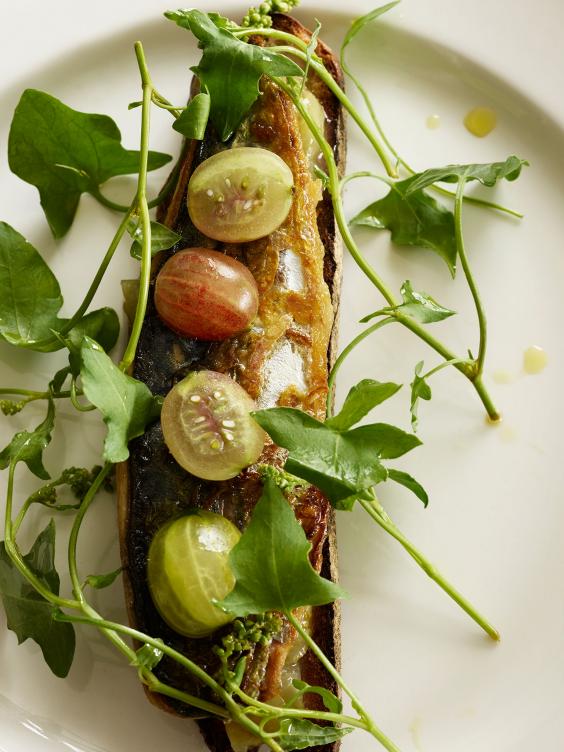 A couple of days ahead of time, cut the gooseberries in half, then mix the cider vinegar and sugar together and mix with the gooseberries in a non-reactive bowl. Cover with clingfilm and leave to lightly pickle for 2-3 days.
Drain the gooseberries in a strainer and reserve the liquid. Mash about half of the gooseberries with a fork and put to one side.
Season the mackerel fillets and lightly dust the skin with flour, shaking off any excess. Heat a little vegetable oil in preferably a non-stick, or trusty frying pan and cook the mackerel, skin-side down, first for about 1½ minutes on each side, crisping up the skin.
Meanwhile, toast the bread and spread with the mashed-up gooseberries; lay the mackerel on top with the skin side up. Put the toast in the centre of your serving plates and scatter the leaves and remaining pickled gooseberries on and around. Spoon a little of the pickling liquid and rapeseed oil over the leaves.
Reuse content