I was never a big fan of yoghurt when growing up; it always seemed so very dull. But, as with food culture in general, it has improved, moved up in the world, even. And a good thing, too, as yoghurt is enormously flexible in the kitchen – not least as a healthier replacement for high-fat ingredients like milk or cream.
It's probably used most frequently in Asian and Indian cuisine. But, to be honest, I find it a useful ingredient to have in the fridge for all sorts of sauces, dressings and marinades. It is one of those all-round kitchen helpers.
Tandoori John Dory
Serves 2-4
Making tandoori dishes at home isn't that difficult – you just need a very hot oven (though if you do have a wood- burning oven, all the better).
You can apply a tandoori marinade to most fish, from simple mackerel to a sophisticated fish like John Dory. The latter I am particularly fond of, as it is similar to the fish used for tandoori pomfret – and gives that wonderfully mellifluous name to this dish.
You can serve this as a part of a main course selection or on its own with a coriander, mint and onion salad.
1 large John Dory weighing about 1kg, or two smaller ones
For the marinade
3tbsp natural yoghurt
2tsp ground cumin
The juice of ½ a lemon
2tsp garam masala
½tsp ground turmeric
1tsp chilli powder
1tbsp finely grated root ginger
3 cloves of garlic, peeled and finely grated or crushed
Blend all of the ingredients for the marinade and season to taste.
Score the John Dory 4 or 5 times on both sides, lay in a non-reactive tray, mix well with the marinade, cover and store in the fridge overnight.
Pre-heat the oven to 240c/gas mark 8. Place the John Dory in a roasting tray and bake for about 12-15 minutes.
Serve whole on a serving dish or board and let your guests help themselves.
Salmon and samphire salad with fennel and yoghurt dressing
Serves 4
This is an interesting way to prepare salmon for a salad, as it normally just gets poached and flaked. I find that you get great results from these smaller nuggets of fish by cooking them on a high heat and then introducing honey to the pan, to help the caramelisation process and boost the flavour.
300-350g salmon fillet, boned, scaled and skinned (reserve skins)
2-3tbsp clear honey
Vegetable or corn oil for frying
Salt and freshly ground black pepper
80g samphire, trimmed of any woody stalks
A couple handfuls of small salad leaves such as nasturtium, chickweed, silver sorrel or rocket
For the dressing
½tbsp cider vinegar
150g natural yoghurt
1tbsp chopped fennel or dill tops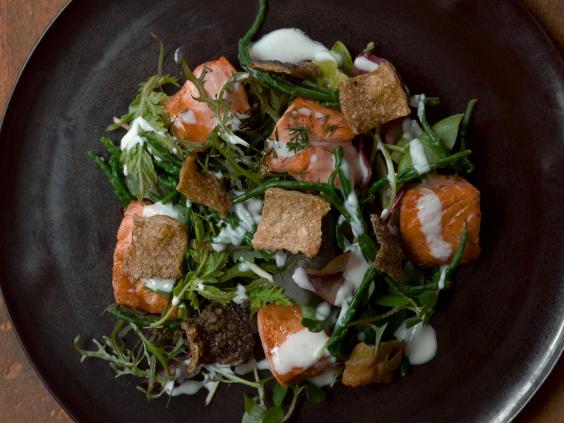 Scatter the salmon skin with salt and leave for 30 minutes. Then cut the salmon fillet into roughly 2cm squares. Wash the salt off, then dry on some kitchen paper. Cut the skin into 3-4cm squares or strips. Heat about 1cm of oil in a deep sided frying pan and fry the skins on a fairly high heat until crisp, then remove with a slotted spoon onto some kitchen paper and lightly season whilst they are still hot.
Blanch the samphire in boiling water for 10 seconds then drain and refresh under the cold tap.
Whisk all of the ingredients for the dressing together with any juices from the salmon and season to taste.
Heat a large, preferably non-stick frying pan until almost smoking. Season the pieces of salmon, add a tablespoon of oil to the pan and cook the fish on a high heat for 2-3 minutes, moving the pieces around the pan so that they colour evenly, then add the honey to the > pan and continue cooking for 30 seconds or so, keeping the pieces of salmon pink. Transfer to a tray or plate.
To serve, arrange the salmon, samphire and leaves on serving plates, spoon over the dressing and scatter the crispy skin on top.
Crispy lamb with Labneh
Serves 4
Labneh, or laban as it's also known, is a strained-yoghurt cheese that is simply delicious, and quick to make.
You can eat it just as it is, or else seasoned, flavoured or simply sweetened with honey as a dessert – so be sure to make a bit extra and keep it in the fridge for another dish.
300-400g lamb belly
1tbsp vegetable or corn oil
A handful of mint leaves, washed, with large ones torn in half
A handful of coriander leaves, washed
50-60g whole blanched almonds, lightly toasted
1tbsp or so of extra virgin olive oil
For the labneh
500g thick natural yoghurt
1tsp cumin seeds, lightly toasted and chopped
½tsp dried chilli flakes
Grated zest of 1 lemon
Sea salt and freshly ground black pepper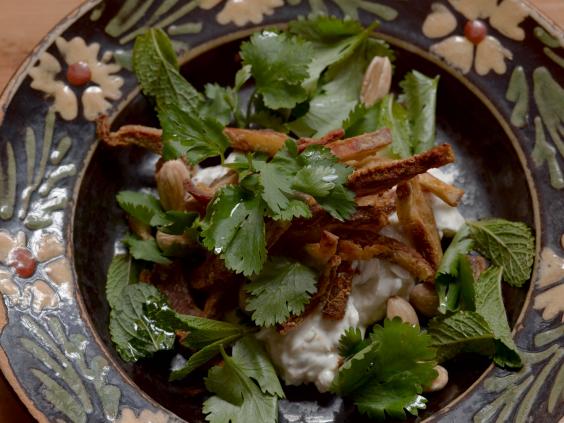 Make the labneh a day in advance. Line a strainer or colander with a double layer of muslin. Pour in the yoghurt, fold over the edges and place over a bowl in the fridge for about 24 hours. It will set to the consistency of a very-soft goat's curd or cheese. Once set, fold in the cumin, chilli and lemon, and season to taste.
Meanwhile, put the lamb belly in a pan, cover well with water, add ½tbsp of salt and bring to the boil. Cover and simmer very gently for 1-1½ hours or until tender, then remove from the liquid, leave to cool and refrigerate overnight.
Once cool, cut into thin strips about 3-4cm long.
To finish, heat the oil in a large, preferably non-stick frying pan and cook the lamb on a medium heat until crisp, stirring as it's cooking. Drain on kitchen paper and scatter with a little sea salt.
To serve, spoon the labneh onto the centre of cold serving plates. Scatter over the lamb, almonds and herbs then spoon over a little olive oil.
Yoghurt scones
Makes 12
You can use these as savoury scones, adding chopped soft green herbs and grated cheddar, or as they are served with traditional clotted cream and jam.
140g spelt flour
150g plain flour
1½ tsp salt
1tbsp baking powder
115g unsalted butter, chilled and cubed
310g Greek yoghurt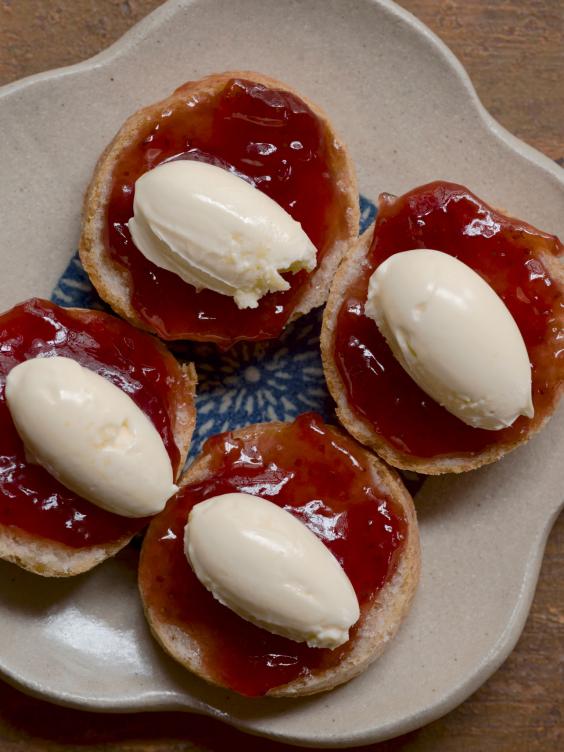 Preheat oven to 230c/gas mark 8. Sift the flours, salt and baking powder into a bowl. Add the butter and rub between your fingers until the mixture is a fine breadcrumb-like consistency. Add the yogurt and mix to a smooth dough.
Transfer the dough onto a lightly floured work surface. Roll out with a lightly floured rolling pin to about 2cm thick. Cut into 10 or 12 scones, or smaller if you wish. Place the scones on a lightly greased or non-stick baking tray, leaving about 3cm between each one.
Bake for 15-18 minutes, until golden. Eat them hot or at room temperature.
Reuse content