The shops are full of squashes and gourds at the moment with Hallowe'en only just passed. But they aren't just there to perk up your kitchen or windowsill. They can be put to great culinary use – and brighten up a dinner table like nothing else.
Beware, though, not all squashes and gourds are born equal: they can drastically vary in quality, as the ratio of edible flesh to skin and seeds can sometimes go awry.
Ask your greengrocer to give you a bit of guidance as to which ones are best to cook with, and which are best left as ornaments only.
Pheasant and squash curry
Serves 4
At this time of year, some lucky people may have an excess of pheasants in their freezer. If not, though, you'll likely get them from the shops or your butcher.
The thighs are perfect for a curry and the breasts I quite like bashing out into an escalope and coating in crumbs and serving with a fried egg on top.
20 or so pheasant thighs
1 x 600-800g squash, peeled, seeded and cut into rough 2cm chunks
4 onions, peeled and sliced
2 medium green chillies, deseeded and sliced
1tbsp ghee
1 tbsp tomato purée
1 litre chicken stock; a good cube will do
1tbsp chopped coriander leaves For the marinade
6 cloves of garlic, peeled and crushed
50g root ginger, scraped and finely grated
A good pinch of saffron
200g thick yogurt
4 cloves
For the spice mix
1tsp black peppercorns
The seeds from 12 cardamom pods
A small piece of cinnamon or cassia stick
1tsp cumin seeds
1tsp fennel seeds
1tsp ground turmeric
1 small butternut squash, peeled, seeded and cut into chunks
To garnish
2tsp pumpkin seeds
A handful of coriander leaves, washed
Mix all of the ingredients together for the marinade then mix with the pheasant thighs, cover and marinate for at least an hour.
Meanwhile, put all of the ingredients for the spice mix in a cast-iron frying pan and heat them over a medium heat for about 3-4 minutes, turning them regularly with a spoon until they are lightly browned.
Transfer to a mortar and pestle and coarsely grind the spices.
Melt the ghee in a thick-bottomed pan and gently cook the onions and chillies on a low heat with a lid on for 5-6 minutes, stirring every so often until soft.
Add the spices, tomato purée and chicken stock, bring to the boil and simmer for 10 minutes.
Add the pheasant and the marinade, cover and simmer gently for about 20 minutes, topping up with a little water if necessary. Take a ladle of the sauce and blend in a liquidiser until smooth and return to the pan.
Add the squash and continue simmering for another 15-20 minutes or until the squash is cooked. The pheasant should be tender now and the sauce quite thick; if not, continue simmering.
Stir in the coriander and transfer to a serving dish. To serve, scatter the pumpkin seeds on top and accompany with basmati rice.
Squash crisps with a spiced squash dip
Serves 6-8 as a snack
Good as party nibbles, or serve them as a starter in among a selection of other seasonal dishes. You could up the quantity of the dip/purée itself and serve it as a stand-alone starter, like a hummus-type thing.
1-2 medium-sized butternut squash, peeled, halved and seeds removed
Vegetable or corn oil
Salt
For the squash dip
500g butternut squash peeled, halved, seeded and chopped into chunks
1-2 medium red chillies, trimmed and finely chopped
100ml rapeseed oil
Salt and freshly ground black pepper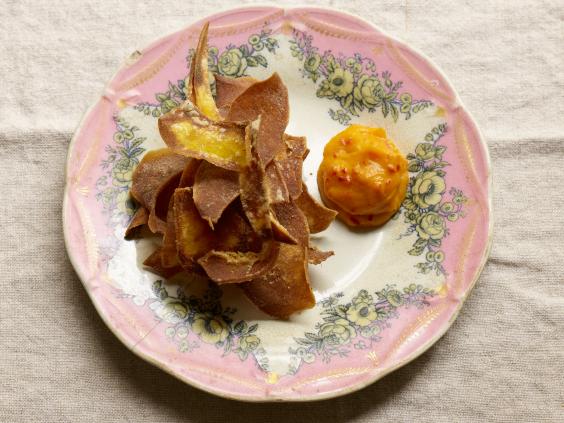 For the dip: Preheat the oven to 175C/gas mark 4. Toss the chunks of squash in half of the rapeseed oil, in a baking tray, season and bake in the oven, covered in foil, for about 30 minutes, or until tender. Stir in the chilli and leave to cool a little. Blend in a liquidiser or food processor, slowly adding the rest of the oil until smooth. Re-season if necessary; transfer to a bowl until required.
For the crisps: Using a sharp mandolin or peeler, slice the squash as thinly as possible lengthways, rinse well and then pat them dry with a tea towel.
Meanwhile, heat about 8cm of vegetable or corn oil to 180C in a deep-fat fryer or heavy-based saucepan.
Fry the squash slices in the hot fat a few at a time, stirring to ensure that they don't stick together. They will take a while to colour (do not over-colour them) and may appear soft while they are still in the fat. Once they have been drained they will dry out and crisp up. Sprinkle with salt and leave them to dry somewhere warm but not hot.
Butternut burnt cream
Serves 4-6
This is a savoury version of the classic British burnt cream which also has similarities with the French crème brûlée. Or is it the other way round? I forget.
200g butternut squash flesh, cut into rough 2cm chunks
600ml whipping cream
8 egg yolks
60-70g caster sugar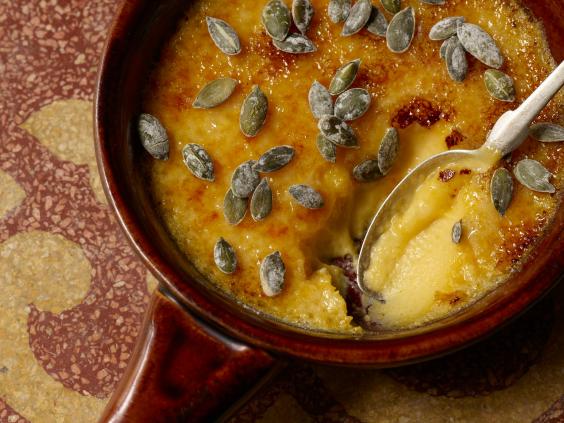 Start making this the day before you want to eat the burnt creams. Put the squash in a saucepan, just cover with water, bring to a simmer and cook with a lid on for about 10-12 minutes until the squash is tender. Drain the squash, then blend in a liquidiser until smooth.
Bring the cream to the boil and simmer gently, whisking occasionally, until it has reduced by a third. Meanwhile, mix the egg yolks with 1 tablespoon of the caster sugar.
Pour the reduced cream on to the egg yolks and mix well. Return the mixture to the pan and cook over a low heat, stirring constantly without allowing it to boil, until the mixture coats the back of a spoon.
Remove from the heat and mix with the squash purée. Pour into 4 or 6 individual heatproof gratin dishes, like ramekins, and leave to cool overnight in the fridge. To serve, sprinkle an even layer of caster sugar over the cream and caramelise under a preheated hot grill, or with a blowtorch.
Squash salsa
Serves 4-6
This salsa can be used for just about anything you want. It is, however, particularly great as a fresh garnish for grilled fish, meat or vegetables.
500g firm fleshed squash, peeled and cut into rough 1cm dice
1 small red onion, peeled, halved and finely chopped
80ml red wine vinegar
150ml olive oil or pumpkin seed oil
Salt and freshly ground black pepper
1-2tbsp chopped coriander
2tbsp pumpkin seeds, toasted and chopped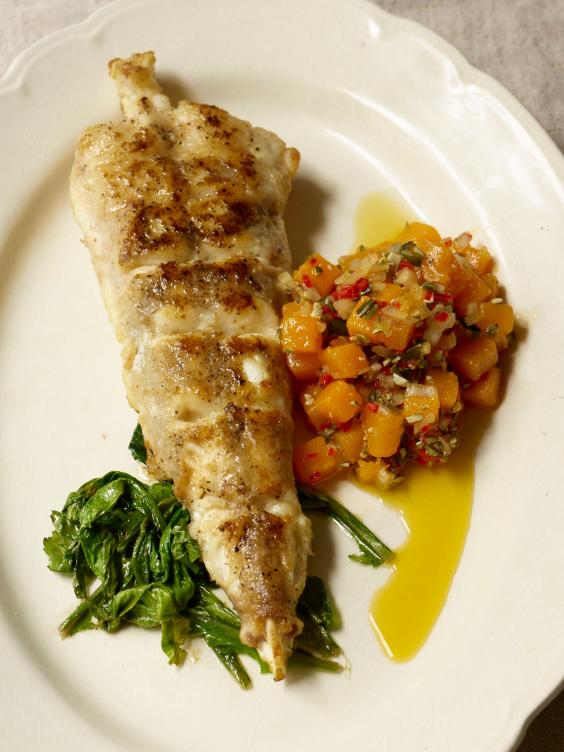 Simmer the red onion in the red wine vinegar for about 2-3 minutes or until the vinegar has evaporated; then remove from the heat.
Meanwhile, blanch the pumpkin or the butternut squash in boiling, salted water for approximately 2-4 minutes until just tender; then drain and leave to cool.
Mix everything together and season to taste; you may need a little more oil, depending on the consistency.
Reuse content