At this time of year, you might find you have lots of leftover Christmas produce. I read an interesting statistic that most households, wealthy or poor, could easily save 30-50 per cent each Christmas if they bought a bit more sensibly, picking up what they actually needed, instead of what they think they need.
Food does tend to get used up, of course, but often not in the most creative of ways. So here are some ideas to make the best of what is in your fridge.
Griddled red onions with pomegranates
Serves 6-8
I love grilling onions, especially red ones, as they colour up so nicely. You can serve onions cooked like this with many things, but my favourite trick is to do it Turkish-style with sumac scattered over them.
5-6 large red onions, peeled, cut into 1cm-thick slices
100-120ml pomegranate molasses
The seeds from 1 pomegranate
2-3tbsp olive oil
Cook the onion slices for about 7-8 minutes on each side on a medium heat in a heavy-based frying pan or a griddle pan rubbed with a little oil.
Meanwhile, mix the molasses, pomegranate seeds and oil together. Arrange the onions on a serving dish and spoon over the sauce.
Pork Tonnato
Serves 6-8
This is a porky version of the classic Italian dish Vitello Tonnato, which is an odd-sounding but quite delicious recipe.
To be honest, pork has more flavour generally than veal, so try to keep it slightly pink.
It would traditionally have anchovies on top, as well, but the cauliflower salad has anchovies in it, so I've left them out – the choice is yours.
1 loin of pork weighing about 1 kilo, tied, and with the fat removed
2-3tbsp capers, rinsed
A handful of flat parsley, washed
200g can of good-quality tuna, drained
200g mayonnaise
A couple of pints of milk
1 bay leaf
A couple of sprigs of thyme
4 cloves of garlic, peeled
10 black peppercorns
1tbsp sea salt flakes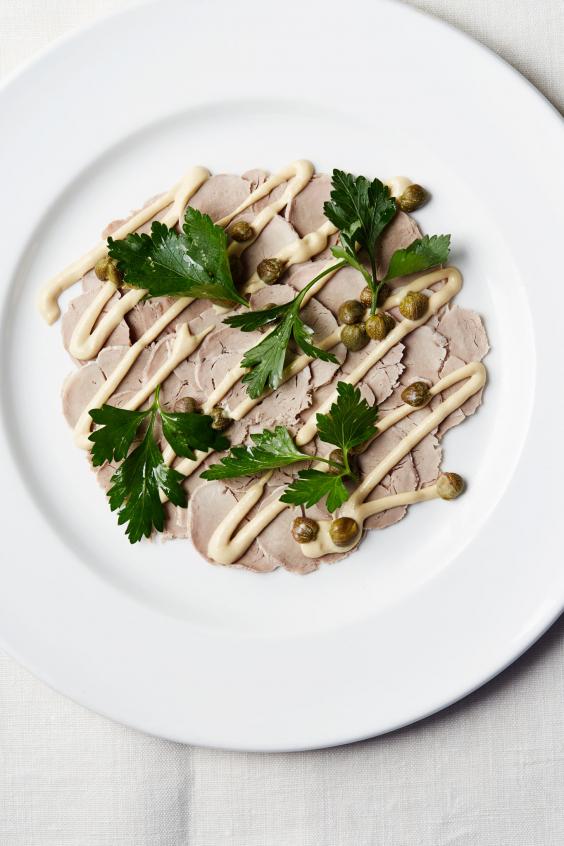 Put the milk in a saucepan large enough to hold the pork.
Add the bay leaf, thyme, garlic and peppercorns; add salt, bring to the boil, and simmer gently for about 15 minutes.
Drop in the pork and simmer gently for about 15 minutes; remove from the heat and leave to cool in the milk.
Meanwhile, blend the tuna and mayonnaise in a liquidiser until smooth, adding a little water or milk so it's a spooning consistency.
The pork will be easier to thinly slice when it's been refrigerated for a while, preferable overnight, but with a good knife you should be able to thinly slice it at room temperature.
To serve, thinly slice the pork and arrange on a serving dish.
Using a piping bag or a spoon, drizzle the mayonnaise over the pork, then scatter over the capers, followed by the parsley.
Cauliflower and anchovy salad
Serves 6-8
You can use one type of normal white cauliflower for this, or do a mix of green and/or Romanesco. You could also use Spanish pickled anchovies, instead of canned ones, which would give a very different flavour – up to you.
2 small heads of cauliflower, or a mix, cut into florets, and leaves reserved if in good condition
For the dressing
1 small can of anchovies in olive oil, drained and chopped (oil reserved)
3-4 shallots, peeled, halved and finely chopped
60ml cider vinegar
2tsp Tewkesbury or Dijon mustard
80-90ml olive oil
80-90ml vegetable or corn oil including the oil from the anchovies
The juice of 1 lemon
Salt and freshly ground black pepper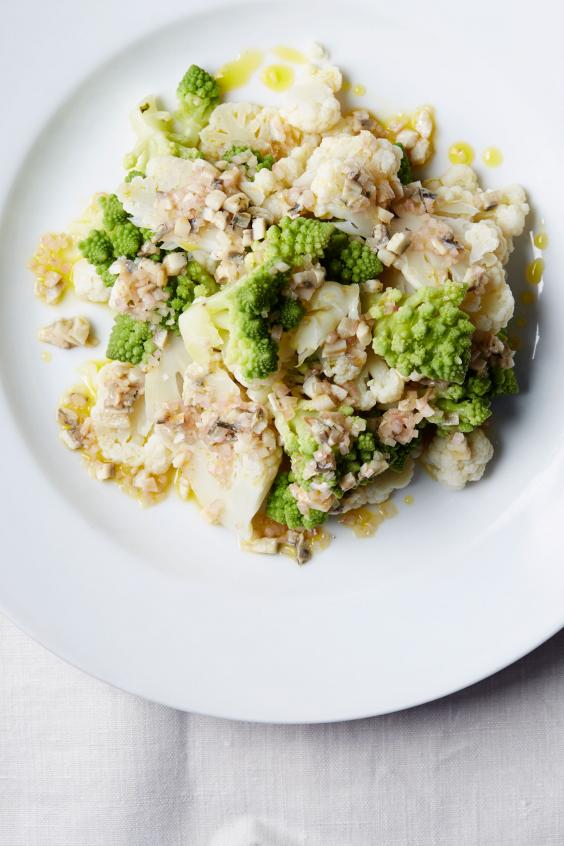 Cut any large florets in half so they cook evenly. Bring a pan of salted water to the boil and cook the florets for a few minutes, keeping them a little undercooked, then drain in a colander.
Meanwhile, mix all of the ingredients together for the dressing and season to taste. Put the dressing with the warm cauliflower in a bowl and mix well. Stir every so often as the cauliflower is cooling down to get flavour into the florets. Serve at room temperature.
Ham, parsnip and mustard salad
Serves 6-8
You will probably have some ham left from the Christmas or New Year period and very likely a few parsnips, too. If not, the shops are open, so why not?
300-350g good-quality cooked ham, cut into 1-2cm chunks
4-5 medium parsnips, peeled, quartered and root removed
250-300g mayonnaise
2-3tbsp whole grain mustard
2-3tbsp chopped chives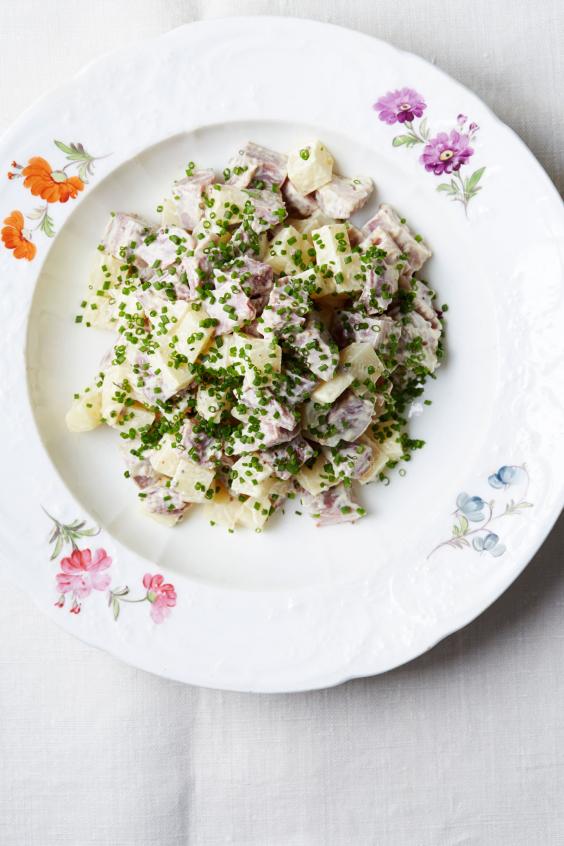 Cook the parsnips in boiling, salted water for about 5-6 minutes, until just tender, then drain and leave to cool.
Meanwhile, mix the mustard with the mayonnaise (and add more mustard if you wish).
To serve, cut the parsnips into chunks the same size as the ham and mix with the ham and mayonnaise; season to taste. Transfer to a serving dish and scatter over the chives.
Reuse content