Lazy weekends. A lie-in. These things call for something a little different, a little better, than your standard grab-and-go breakfast. I love creating dishes that aren't obviously breakfast food, but are wonderful to eat in the morning.
You can do so much with the first meal of the day. When I'm at my house at the seaside, I often incorporate fish into my breakfast, especially if I've had a good haul in my crab and lobster pots the day before. More often than not I include eggs somewhere, too. Or I make use of the small batches of curry sauce I keep in the freezer so I can knock up a kedgeree for my guests in double-quick time. Breakfast can be the best meal of the day – make the most of it.
Rosti with smoked salmon, horseradish and sour cream
Serves 4
The most difficult part of this is making the rosti potatoes – or, at least, that's what people think. In fact, it's dead simple if you have small blini pans. Failing that, you can make one large rosti and quarter it to serve.
1kg large, floury baking potatoes, such as King Edward, parboiled for 10 minutes in their skins; remove the skins after cooking and cooling
1 small onion, peeled, halved, thinly sliced
2-3tbsp vegetable or corn oil
60g butter
8 slices of good-quality smoked salmon, or slice your own
4tbsp crème fraîche
1tbsp freshly-grated horseradish
Grate the potato into a bowl, mix well with the onion and season.
Heat a non-stick frying pan with a tablespoon of oil. Add the potato mixture to the pan, gently pressing it with a spatula or fish slice and cook for about 4-5 minutes, until crisp. Then flip it over, add some butter and cook for the same amount of time – until crisp – then keep warm in a low oven.
To serve, transfer the rosti on to serving plates, then arrange the salmon on top, spoon the crème fraîche on, and finally scatter on the horseradish.
Poached duck's egg on toast with sprouting broccoli
Serves 4
Like asparagus, sprouting broccoli is a great seasonal vegetable to serve at a smart breakfast or brunch. And it qualifies as 'healthy', too. You can use duck's or hen's eggs for this – up to you.
About 16 small, tender sprouting broccoli, ends trimmed if woody
4 slices of bread, cut about 1cm thick
4 medium free-range duck's eggs
2-3tbsp rapeseed oil
Salt and freshly ground black pepper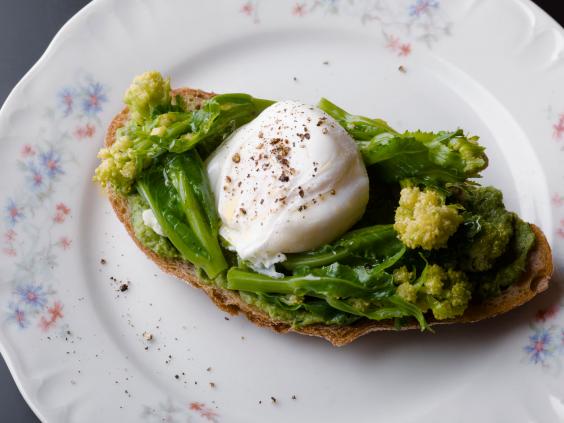 Cook the broccoli in boiling, salted water for 3-4 minutes, or until tender. Remove with a slotted spoon and cut the heads from the stems; return the stems to the water and cook for a few more minutes until soft enough to purée. Blend the stems in a liquidiser or small food processor, then return to a pan, season and heat up.
Meanwhile, toast the bread and poach the eggs. To serve, place the toast on warmed serving plates, spoon the hot broccoli purée over the toast, arrange the broccoli heads on top and then > place an egg on the broccoli. Season, spoon a little rapeseed oil over, and serve.
Herb omelette with chicken livers and wild garlic
Serves 4
A good, non-stick frying pan is an essential piece of equipment for omelette making. Gone are the days of proving your (non-stick) pan for hours with salt and oil like I used to in hotels as a young chef, thank goodness.
Be sure that the chicken livers are fresh and haven't been frozen, as there is a world of difference in the texture between frozen and fresh.
Timing is essential if you are attempting to make a lot of omelettes, so keep them a little undercooked to allow for reheating.
150-180g fresh chicken livers, cleaned
A tablespoon or so of olive or rapeseed oil for frying
A handful of wild garlic leaves
12 medium eggs, beaten
6tbsp chopped soft green herbs (chervil, chives, parsley, tarragon)
90g butter
Salt and freshly ground black pepper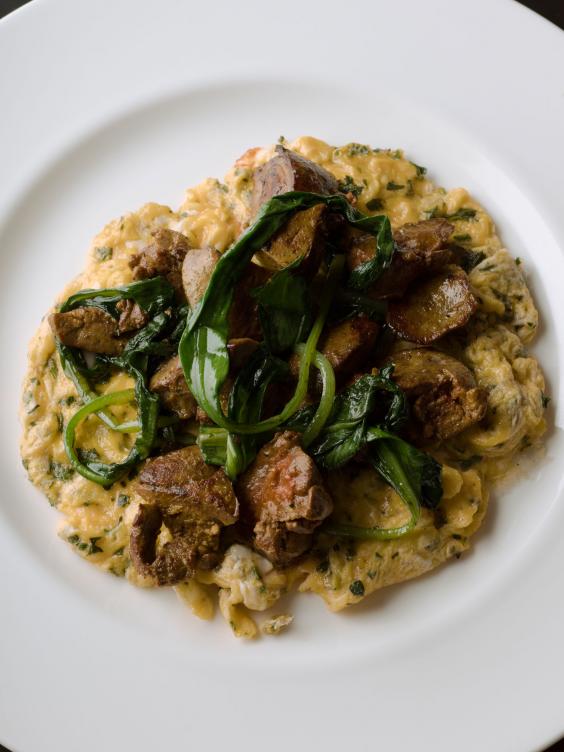 Season the eggs with salt and pepper and mix in the herbs.
First, cook the livers: heat a heavy or non-stick frying pan, add a tablespoon of oil, season the livers and fry on a high heat for a couple of minutes, turning them as they are cooking and keeping them pink. Stir in the wild garlic leaves and put to one side while you are making the omelettes.
To serve, rub a little butter into a medium non-stick frying pan, heat gently, then add a quarter of the egg mixture for one person. Lightly stir with a rubber spatula or wooden spoon until the egg begins to set, then leave over the heat for 20 seconds. Remove the pan from the heat and slide the omelette flat on to a cold plate to prevent it cooking any further.
When the omelettes are all cooked, warm them through in a moderate oven for a couple of minutes, reheat the livers on the stove and scatter them over; serve immediately.
Steak and eggs
Serves 4
This is a real cowboy's breakfast. Perfect if you are in a meaty mood.
4 steaks cut from a sirloin or rump, weighing about 150g each
Salt and freshly ground black pepper
Oil for brushing and frying the eggs
4 free-range hen's eggs
8 anchovy fillets, halved lengthways
4 medium pickled walnuts, diced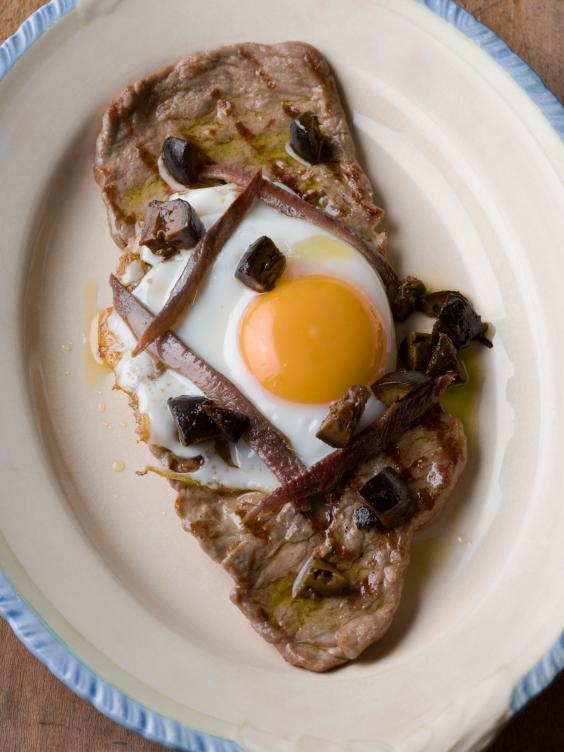 Bash the steaks with a steak hammer until they are about half a centimetre thick. Preheat a ribbed griddle or heavy frying pan and lightly brush with oil. Your steaks and eggs are going to take about the same time to cook so you will need to multi-task on the stove here. Season the steaks and grill for 30-40 seconds on each side and fry the eggs at the same time.
To serve, transfer the steaks to warmed serving plates, place the egg on top, then arrange the anchovies on the eggs and scatter the pickled walnuts over.
Reuse content