We are big fans of versatility in this column, as regular readers will attest, and dishes don't come much more flexible than meaty pasta. It is a meal with boundless possibilities in which you can use anything from pork, beef, game or even offal.
It won't cost an arm and leg, either. Robust, meaty pasta is often better with dried pasta – my favourite being cipriani or filotea, both of which cook in just a couple of minutes and have a really light texture.
You can freeze it, too. I always keep small batches of pre-cooked meaty pasta sauces in the freezer, packed flat in freezer bags, so I can quickly defrost them in water if needs be.
Rabbit lasagne
Serves 4
Lasagne is such a comforting dish and the addition of rabbit makes it that bit more luxurious. Though, that said, you can use just about any game for this.
If you do use rabbit, get your butcher to remove all of the meat from the carcass and freeze the fillets from the saddle, as they are too good and tender to chop or mince up.
8 sheets of fresh lasagne, cooked for 2 mins in boiling salted water and drained
For the meat sauce
The meat from 3-4 rabbits, coarsely minced or chopped by hand
6 rashers of streaky bacon, finely chopped
A little vegetable or corn oil for frying
1 medium onion, peeled, halved and finely chopped
2 cloves of garlic, peeled and crushed
1tsp chopped thyme or oregano leaves
4 sticks of celery, peeled if necessary and finely chopped
Salt and freshly ground black pepper
2tsp flour
2tsp tomato purée
100ml white wine
750ml-1ltr hot chicken stock
For the cheese sauce
50g butter
50g flour
500ml hot milk
Salt and freshly ground white pepper
4tbsp freshly grated Parmesan
2-3tbsp double cream
First, make the rabbit sauce. Heat some oil in a large frying pan, then season and fry the meat and bacon on a high heat, stirring every so often until it's lightly coloured (you may need to do this in a couple of batches).
Drain the meat in a colander, then heat the rest of the oil in a saucepan and gently cook the onion, garlic, celery and thyme for 2-3 minutes until it softens.
Add the rabbit, flour and tomato purée and stir well, then gradually add the wine and stock, bring to the boil, season and simmer for about an hour until the sauce has thickened and is just coating the meat; then remove from the heat.
Meanwhile, make the cheese sauce. Melt the butter in a pan and stir in the flour, then gradually whisk in the hot milk to make a smooth sauce. Season and simmer very gently for about 30 minutes, giving it a good whisk every so often (a diffuser plate will come in useful here). Stir in the Parmesan and cream and re-season. Remove from the heat and leave to cool a little.
Preheat the oven to 200C/gas mark 6. Take a 4-5cm-deep gratin dish or similar, spoon a layer of meat in the bottom of the dish, using about a third of the mixture, then lay on the lasagne, then a layer of meat and more lasagne. Keep doing this until you have used the meat and end up with a layer of lasagne on the top.
Spoon the sauce on top and bake in the oven for about 30-40 minutes, until the top is nicely glazed.
Schinkennudeln
Serves 4
This is a recipe from Tom Parker Bowles' new book, Let's Eat Meat, published by Pavilion, which I am very fond of.
300ml sour cream
2 large egg yolks
100g gruyère, finely grated
150g good-quality smoked ham, chopped or torn or cut into strips
300g dried tagliatelle or flat thickish noodles
Sea salt
6tbsp fresh white breadcrumbs
25g butter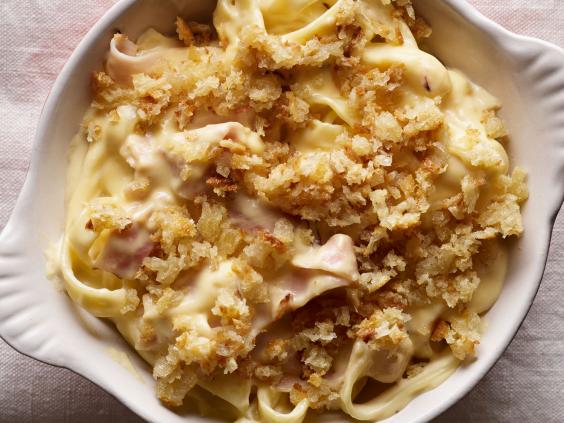 Preheat the grill to a medium-high heat. Put the sour cream in a bowl, then whisk in the egg yolks and stir in the gruyère and ham.
Cook the tagliatelle in boiling salted water until it is al dente, then drain and return to the pan. Stir in the cream and ham mixture and season.
Warm a wide, flameproof dish, large enough to hold the pasta, then tip in the pasta and sauce, scatter over the breadcrumbs, dot with the butter and grill for 4-5 minutes, or until the crumbs have browned.
Gnocchi with pheasant and chestnut ragout
Serves 4
To make this, you will need the meat from 2 or 3 pheasants.
For the pheasant ragout
The meat from 2-3 pheasants, diced into rough ½-1cm pieces
1 large onion, peeled, halved and finely chopped
4 cloves of garlic, peeled and crushed
3 sticks of celery cut into ½cm dice
100g pancetta or smoked streaky bacon, cut into rough ½-1cm dice
A few tablespoons of vegetable oil for frying
1tbsp plain flour
1tbsp tomato purée
1tsp chopped thyme or oregano leaves
100ml red wine
750ml hot beef stock
230-250g can of chopped tomatoes
16 or so chestnuts, lightly roasted and peeled or use vacuum-packed chestnuts
For the gnocchi
600-700g large floury potatoes, baked in their skins, peeled and mashed
1 large egg yolk
125g potato flour
1tbsp olive oil
Salt and freshly ground white pepper
A good pinch of freshly grated nutmeg
To serve
70g freshly grated Parmesan or pecorino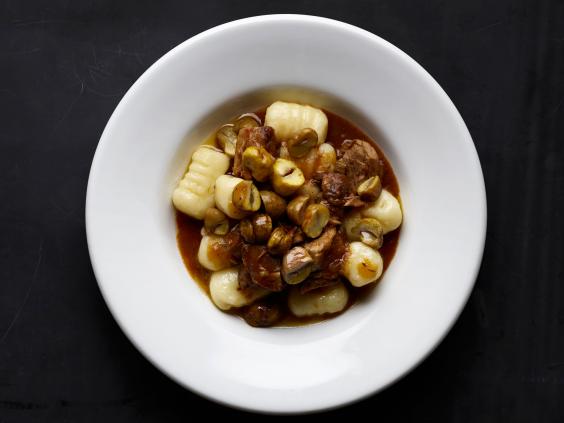 Heat a little vegetable oil in a large, heavy frying pan. Season the pheasant and fry in a couple of batches on a high heat for 3-4 minutes, until it has coloured, then transfer to a plate or dish.
Meanwhile, gently cook the celery, onion, garlic and pancetta in a tablespoon of the vegetable oil for 3-4 minutes without allowing it to colour, then stir in the flour and cook on a low heat for a minute.
Stir in the tomato purée, chopped tomatoes and thyme, then gradually add the red wine and hot beef stock, stirring constantly to avoid lumps forming.
Bring to the boil, add the pheasant meat, season and simmer gently for about 1 hour or until the meat is tender, adding the chestnuts, halved or whole, about 10 minutes before the meat is done.
Now make the gnocchi. Gently mix all the ingredients together and season to taste with salt, pepper and nutmeg. Roll the mix into balls about the size of a 10 pence piece, then with a fork, flatten them slightly, and roll them into a rough, tubular shape. Now leave them to rest.
Bring a large pan of salted water to the boil and cook the gnocchi for 3 minutes, then carefully drain and toss in some butter.
Serve in warmed pasta bowls or plates with the sauce spooned over > the gnocchi. Serve the grated Parmesan or pecorino separately.
Pappardelle with lambs' kidneys and hedgerow garlic
Serves 4
Most offal can be incorporated into pasta dishes – chicken or duck livers and kidneys from either lamb or ox will give you a really economical pasta dish.
If you live in the countryside, you may well know where to find hedgerow garlic, which is like skinny wild garlic and goes very well here. If not, garlic chives or the long Chinese garlic chives will do.
4 servings of pappardelle, fresh or dried
8 lambs' kidneys, halved
A little olive oil for frying
For the sauce
4 small shallots, peeled, halved and finely chopped
2 cloves of garlic, peeled and crushed
Salt and freshly ground black pepper
A couple of good knobs of butter
1tbsp plain flour
100ml marsala
100ml chicken stock
60g butter
A handful of hedgerow garlic leaves (or garlic chives) washed, dried and torn in half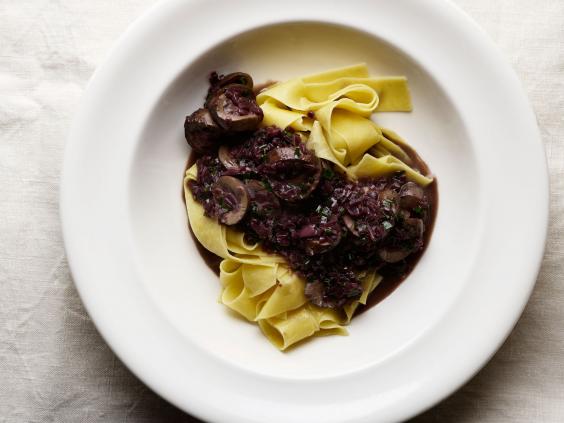 To make the sauce, heat the butter in a small, heavy saucepan and gently cook the shallots and garlic without colouring them.
Add in the flour then gradually add the marsala and stock and simmer on a low heat for about 20-30 minutes, until it reduces and thickens.
Add the butter and hedgerow garlic and continue cooking for a few minutes until the garlic leaves have wilted and the sauce has thickened a little more; then remove from the heat.
Cook the pappardelle in boiling salted water, according to the manufacturer's instructions, then drain.
While the pappardelle is cooking, season the kidneys, heat the oil in a frying pan and cook them on a high heat for a couple of minutes, colouring them on the outside but keeping them pink inside.
Transfer the kidneys to a chopping board and slice thinly. Now combine with the sauce and season if necessary.
Mix the pappardelle with about half of the sauce and transfer to warmed plates; then spoon over the rest of the sauce.
Reuse content