A quick hop off my scooter to say hi to Damien Hirst outside Scott's in London a while back resulted in a collaboration at the newly opened Pharmacy 2 restaurant. Some of you may remember the old one in Notting Hill; this one is over the water in Lambeth, in Damien's relatively new gallery in Newport Street.
The venue is a little off-piste, in an up-and-coming area which is actually so central that you wonder why it wasn't developed years ago. The menu is also a tad off-piste, as we have quite an international crowd visiting the gallery and of course the locals to feed, and we try to offer them all something a bit different.
Shaved butternut squash, asparagus and Treviso salad
Serves 4-6
This is a healthy and colourful salad that dovetails with the current trend for raw food. The great thing about it is that it takes just a few minutes to knock up, and looks and tastes really impressive. Our Wye Valley asparagus was extra-extra early this year, which I'm sometime cautious of – but the flavour was fantastic.
For the dressing
1tbsp cider vinegar
½ small chilli, finely chopped
4tbsp rapeseed oil
Salt and freshly ground black pepper
A handful of treviso or other radicchio leaves, washed and dried
250g butternut squash, thinly shaved with a peeler
3-4 thick stems of asparagus, shaved lengthways
100g soft goat's cheese
1-2tbsp pumpkin seeds, lightly toasted
Whisk all of the ingredients together for the dressing and season to taste. Toss the treviso, squash and asparagus in half of the dressing, season and leave to stand for 5 minutes so the flavours meld.
Arrange on individual serving plates or a sharing bowl, then spoon over the rest of the dressing and scatter over the cheese, broken into little nuggets.
Morning market noodles
Serves 4
There are many versions of this street food broth, and at Pharmacy 2 I've put it on the brunch menu, utilising other ingredients on the menu like pork crackling, prawns and minced pork. What you put in the broth is up to you but a good home-made meaty stock is a good starting point.
For the soup
4 poached eggs
250g fresh noodles like udon or egg noodles, cooked
8 or so large raw sea water prawns with the shell and heads on, peeled and shells reserved for the broth
4 spring onions, thinly sliced on the angle
A small piece of root ginger (30g) finely shredded
1 red chilli, thinly sliced
For the broth
150g piece of neck or shin of pork
The shells from the prawns
4 cloves of garlic, peeled
1 onion, peeled and quartered
10 black peppercorns or Sichuan peppercorns
A small piece of root ginger, scraped and roughly chopped
2 lime leaves
2ltrs chicken stock
To garnish
Pork scratchings or pork crackling broken into pieces
A few sprigs of coriander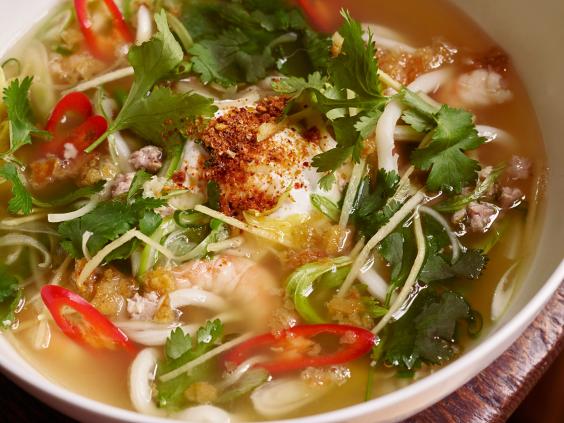 To make the broth put all of the ingredients in a large saucepan, bring to the boil and simmer very gently for an hour. Strain through a fine-meshed sieve into a clean pan, and put the piece of pork on a plate to cool a little.
Check the strength of the stock and simmer further to strengthen if necessary. Chop the piece of pork into small pieces and put into warmed serving bowls. Reheat all of the other ingredients in a pan in the broth for 30 seconds, then divide between the serving bowls and scatter the crackling and coriander on top. Serve immediately.
Lamb pie
Serves 4
This and the duck curry with apple pakoras are the most popular dishes on our menu. I use a length of hollowed-out lamb leg bone for the pie funnel, which gives it an interesting visual aspect; I'm sure your butcher will cut a few for you. There are kidneys and sweetbreads in here, but if they're not to your guests' tastes it's up to you whether you include them or not.
Vegetable or corn oil for frying
Salt and freshly ground black pepper
600g neck of lamb fillet, cut into 3cm cubes
2tbsp plain flour
6 lamb kidneys
8 lamb sweetbreads
25g butter
1 small onion, finely chopped
1tsp tomato paste
Glass of good red wine
150ml stout
A sprig of thyme
Half a bay leaf
1.5ltrs lamb or beef stock (or good-quality stock cubes will do)
About 1tsp cornflour (optional)
For the pastry
225g self-raising flour
1tsp salt
85g shredded beef suet
60g butter, chilled and coarsely grated
1 medium egg, beaten, to glaze
Hollowed out lamb leg bone, chopped into 4cm lengths (optional)
Heat the vegetable oil in a frying pan. Season and lightly flour the neck of lamb with half a tablespoon of the flour, then fry it in 2 or 3 batches until browned. Do the same with the kidneys and sweetbreads separately and put to one side.
Heat the butter in the base of a pot or pressure cooker if you have one. Fry the onion for a few minutes until soft. Add the remaining flour and the tomato paste, and stir over a low heat for a minute. Slowly add the wine and stout, stirring to avoid lumps. Bring to a simmer, add the thyme and bay leaf; simmer until it's reduced by two-thirds then add the beef stock and the pieces of lamb, bring back to the boil, close the lid and cook for about 40 minutes (in a pressure cooker) or until the meat is tender.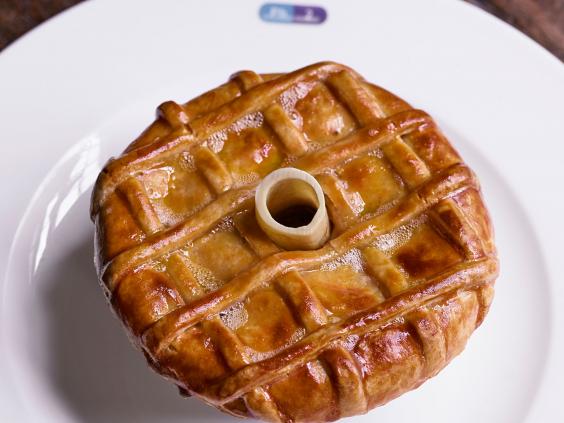 When the meat is cooked, remove the pieces; put to one side to cool a little. The sauce should have reduced to a nice thick consistency. If not, mix a little cornflour to a paste with water, stir into the sauce and simmer for a few minutes until it thickens. Stir in the kidneys, sweetbreads and set-aside lamb, and leave to cool, then use to three-quarters fill four individual or one large pie dish.
Meanwhile make the pastry. Mix the flour and salt with the suet and butter. Mix in about 150-175ml of water to form a smooth dough and knead it for a minute. Roll on a floured table to about 1cm thick and cut out to about 1cm larger all the way round than the pie dish or dishes you are using.
Brush the edges of the pastry with a little of the beaten egg and lay on top of your pie, pressing the egg-washed sides against the rim of the dish. Cut a small slit in the top of each pie and insert the bone, if using, to allow steam to escape, and brush with beaten egg. You can put a trim around the edge of the dish with a strip of leftover pastry. Leave to rest in a cool place for 30 minutes.
Preheat the oven to 200C/gas mark 6. Bake for about 30-40 minutes until nicely coloured, and serve immediately.
Reuse content