Barbecuing techniques have moved on in leaps and bounds since I was young. Nowadays I often hear people talking about the various ways they barbecue, slow cook, and even the types and mixes of wood they use. It's nice that we have progressed from burning burgers and sausages on a bit of charcoal. And, I mean, why not smoke your Sunday lunch overnight for the following day's family meal?
I recently acquired a Kamado Joe, which does everything a normal oven barbecue and smoker does, plus a little bit more on top. It is a really a great piece of kit, though, it has to be admitted, a pricey one too.
Spring chicken with lemon, honey and cardamom
Serves 4
Spring chickens or poussin are perfect barbecuing material and pretty easy to find at good butchers and supermarkets. To prepare them for barbecuing, you need to cut through the back bone with a heavy chopping knife and score the legs a few times down to the bone, so the heat gets through and they cook evenly.
4 spring chickens, prepared as above
The juice and grated zest of 3 lemons
4tbsp olive or corn oil
The black seeds from 30 cardamom pods
Sea salt and coarsely ground black pepper
100-120g clear honey
A few hours before you barbecue, put the chicken in a non-reactive tray with the lemon, oil, cardamom and seasoning. Turn every half anhour or so until your barbecue is lit and you are ready to go. Cook the chickens on a medium heat for about 10-12 minutes on each side, spooning or brushing some honey on top every so often. Keep an eye out for burning, and move them to a cooler part of the barbecue if necessary. Serve with salad of your choice. I've used red onion and fennel (see below).
 
Red onion and fennel salad
Serves 4
2 bulbs of fennel, quartered and very thinly sliced
1 red onion, peeled and thinly sliced
2-3tbsp olive oil
2tbsp cider vinegar
Mix the sliced fennel and red onions with the oil and vinegar, whisked together, then season to taste.
Leg of lamb
Serves 6-8
Get your butcher to bone out your leg of lamb completely and leave it flat, not rolled up and tied. Depending on how many people you are serving, half a leg may well be enough.
1 leg of lamb, boned
A handful of rosemary, chopped
2tbsp fennel seeds, crushed
Sea salt and freshly ground black pepper
2-4tbsp olive oil
4-6 cloves of garlic, crushed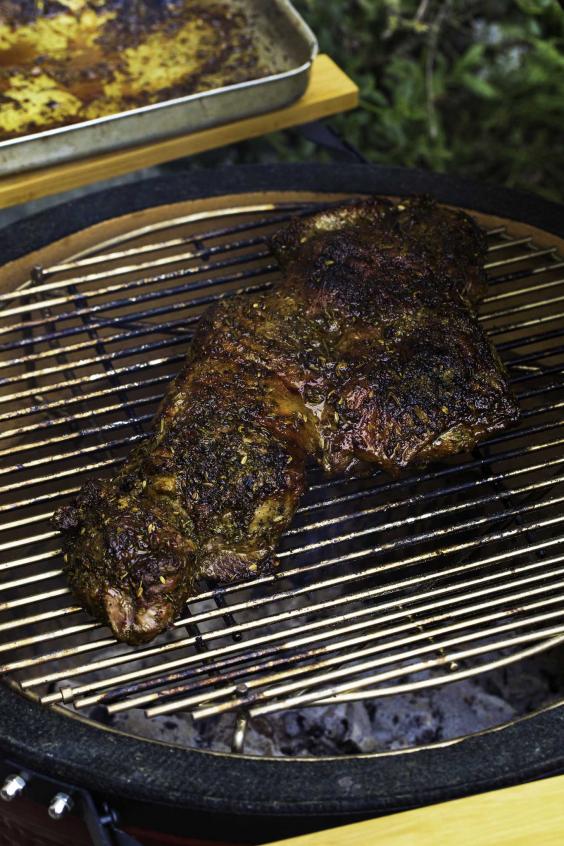 Put the leg of lamb in a non-reactive tray with all of the marinade ingredients, mix well, rubbing them into the lamb then cover with cling film and leave in the fridge overnight.
Light your barbecue and cook the lamb for about 20-30 minutes, with the lid on > if it has one, turning it every so often and keeping it pink.
To finish, put the lamb on a board and slice it up or cut it into chunks. Serve with the fennel and red onion salad.
Aubergine and squid with miso
Serves 4
In this dish, all the elements can be cooked on the barbecue, so all that remains is to whip up something like a miso dressing with some herbs to bring all the flavours together.
You could use cuttlefish here instead of squid, if your fishmonger can get hold of it.
400-450g cleaned weight of squid with the tentacles
2 aubergines, cut into ½cm thick slices
Salt and freshly ground black pepper
A little vegetable or corn oil for brushing
1-2 medium green chillies, thinly sliced
A handful of coriander, washed
For the dressing
2tbsp miso paste
1tbsp rice wine vinegar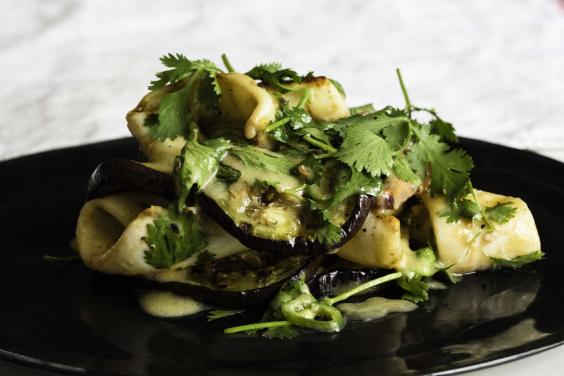 Pre-heat your barbecue. Cut the squid into pieces roughly the size of the aubergine slices. Warm the miso paste in a bowl over a pan of simmering water so it melts, then remove from heat, whisk in the vinegar and put to one side.
Start by barbecuing the aubergines, cooking them for roughly 3-4 minutes on each side and seasoning them lightly as they cook, then transferring them to a tray.
Brush the squid with oil and season, then cook it very briefly on the hottest part of the barbecue for a minute or two on each side, maximum. You don't want it getting tough. If it's curling up during cooking then stick a frying pan or tray on top of it.
Once cooked, mix the squid with the aubergines, dressing and chillies. Tear some of the coriander up, mix it in, then arrange on a serving dish with the rest of the coriander on top.
Sweet potato flatbreads
Serves 4
Sweet potatoes on the barbie are great – you can wrap them in foil and cook them as the barbecue is heating up, which saves you turning the oven on.
There are various types of flatbreads you can use for this – from the large Turkish sheets to simple Mexican tortillas or, if you are a bit of a baker, you can make your own.
4 medium-sized sweet potatoes
3tbsp vegetable or corn oil
1 large onion, peeled, halved and finely chopped
3 cloves of garlic, peeled and crushed
2 medium chillies, trimmed and sliced
30-40g root ginger, scraped and grated
1tsp ground cumin
1tsp cumin seeds
1tsp fenugreek seeds
1tsp black mustard seeds
Salt and freshly ground black pepper
To serve
A handful of coriander, chopped
4-6 flatbreads, depending on size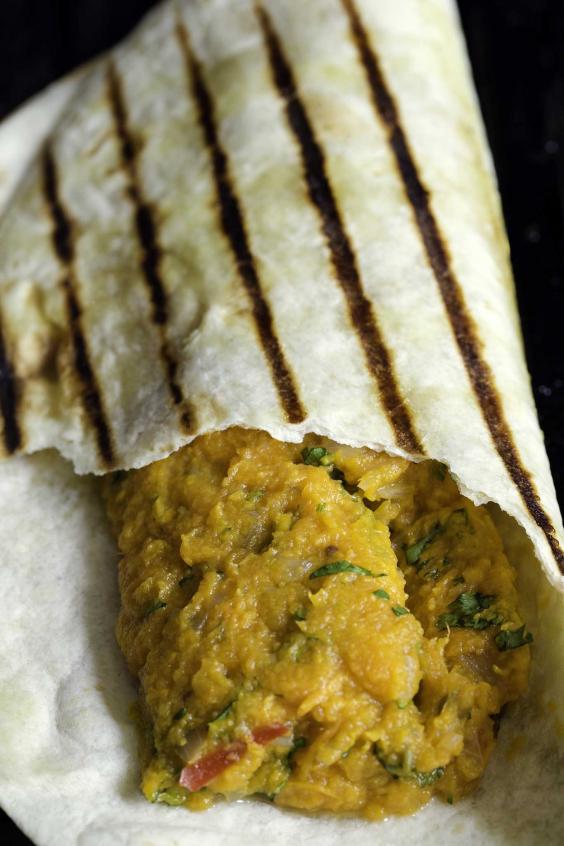 Wrap the sweet potatoes in foil and put them on the barbecue for an hour or so until soft; cooked this way, you don't have to keep too close an eye on them. Alternatively, you can cook them without foil, but you will need be more attentive, and turn them every so often.
Meanwhile heat a saucepan on the stove or barbecue with the oil in and add the onions, garlic, ginger and spices and cook on a medium heat for 3-4 minutes, stirring every so often. Add a cup of water and continue to simmer for a few more minutes or until all the liquid has evaporated.
Halve the sweet potatoes and leave to cool a little, then scoop them out into a bowl and mix with the onion mixture and coriander, and season to taste.
To serve, cut your flatbreads into even-sized pieces (tortillas you can leave whole). Spoon the sweet potato mixture into the centre of the flatbreads and fold them in half. Simply grill them on the barbecue on the coolest part for a few minutes on each side and serve immediately.
Reuse content