The garlic season is about to begin – and I'm not just talking about the bulbs you buy in a supermarket, which have been hanging around in a warehouse for months. I'm talking fresh garlic, straight out of the ground, and its leaves and bulbous shoots (known as scapes).
Mark Botwright at the South West Garlic Farm provides us with all of the above as well as his black garlic, which I wrote about last year. It's a relatively short season, but even when it's nearing its finish you can still make good use of the buds and flowers, either deep fried or scattered as a garnish.
Garlic doesn't have to be offensive, and when it's fresh it's less pungent and smelly than the dried stuff.
Clams with ramsons
Serves 4
Razor clams are one of my favourite shellfish and they are becoming more popular. They have a fantastic texture somewhere between a squid and a scallop. Cured pork, such as bacon or chorizo, also partners well with razors.
12 or so large razor clams
½ a glass of white wine
70-80g unsalted butter
A couple of handfuls of wild garlic leaves
Salt and freshly ground black pepper
Rinse the razor clams in cold water then place in a large saucepan with the wine and cover with a tight-fitting lid. Place on a high heat for about a minute or until just open, then remove from the heat.
Remove the meat from the razors, cut away the dark sack in the centre and then give them a quick rinse where the sack was to remove any potential grit. Cut each of the razors into three pieces.
Heat the butter in a large frying pan and reheat the pieces of razor clam for a minute or so then add the wild garlic for 30 second until wilted.
Reheat the shells under a grill or by pouring boiling water over them, then arrange the shells on serving plates, spoon in the clams and wild garlic and serve.
Garlic-shoot soup with snails
Serves 4
Snails and garlic are a perfect marriage, although if you are a bit squeamish about snails you could leave them out. There are a few online companies that sell freshly cooked snails, which are far superior to the canned ones.
1 large or 2 small leeks, roughly chopped and washed well
½ head of new-season fresh garlic, roughly chopped
60g butter
40g flour
1.5 litres vegetable stock
Salt and freshly ground black pepper
A handful of green garlic shoots or wild garlic leaves to finish
2tbsp double cream to finish (optional)
12 cooked snails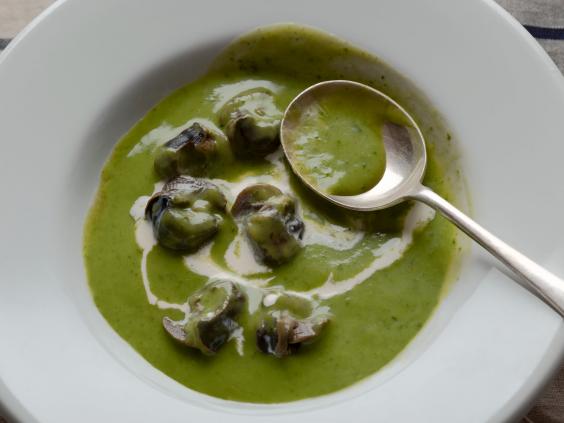 Heat the butter in a pan and gently cook the leeks and garlic for 4-5 minutes with a lid on, stirring every so often. Stir in the flour then gradually add the stock, bring to the boil, season and simmer gently for 45 minutes. Add the garlic shoots or wild garlic and continue to simmer for 5 minutes.
Blend in a liquidiser until smooth then re-season and adjust the > consistency with a little water or more stock if necessary. Add the snails and cream (if you wish) and serve.
If you're not eating the soup immediately, cool it down over a bowl of iced water so that it keeps its green colour.
Crispy fried squid with garlic, curry leaves and almonds
Serves 4
This is inspired by a dish they serve at Yauatcha with soft-shell crab. You could also use cuttlefish, which will work equally well.
200-250g squid, cleaned and cut into rough 2-3cm squares
50-60g self-raising flour (preferably gluten free)
120-150ml milk
Salt and freshly ground black pepper
Vegetable or corn oil for deep frying
2 medium green or red chillies, very thinly sliced
4 large cloves of garlic, thinly sliced
40g flaked almonds
A small handful of curry leaves, fresh, frozen or dried
1 lime, quartered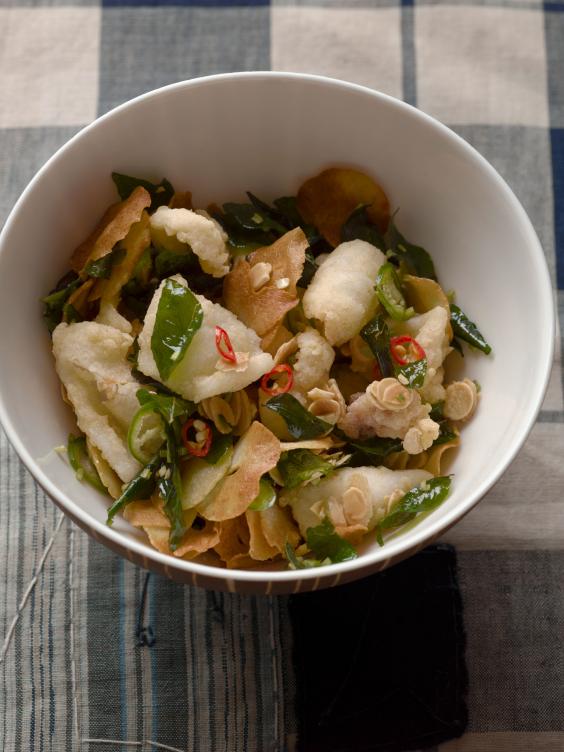 Preheat about 8cm of oil to 160-180C in a large, thick-bottomed saucepan or electric deep-fat fryer.
Deep fry the garlic, almonds and curry leaves for 20-30 seconds or so, stirring as they are cooking until the almonds and garlic are very lightly coloured and crisp then transfer to some kitchen paper ensuring you remove all of the bits so they don't burn. You can always carefully strain the oil and return it to the heat.
Have three containers ready, one with the flour, seasoned well with salt and pepper, one with the milk, and the third for the finished squid. Coat the squid in the flour, shaking off any excess then pass it through the milk and finally back through the flour, again shaking off any excess and into the third container.
Deep fry the squid in a couple of batches for a couple of minutes, stirring with a slotted spoon until lightly coloured then transfer on to some kitchen paper.
To serve, mix the squid, chillies and the almond mixture together in a bowl then transfer to individual bowls or one large serving dish.
Grilled lamb cutlets with garlic scapes
Serves 4
Garlic scrapes are the shoots with buds that grow above the ground. If you grow garlic at home you may well ignore the green shoots and buds – but don't. The shoots, buds, leaves and bulbs all have their uses in the kitchen. If you can't get hold of scapes you could use wild-garlic buds or even spring onions.
8 or 12 French-trimmed lamb cutlets, depending on size
Salt and freshly ground black peppe
A little vegetable or corn oil for brushing
For the purée
A handful of garlic or wild-garlic leaves, roughly chopped
A handful of young spinach leaves
2tbsp double cream
To serve
12 or so garlic scapes
A couple of knobs of butter
First make the purée: bring a pan of salted water to the boil, add the spinach and garlic leaves and simmer for a minute or until the spinach is tender. Then, drain in a colander pressing out any excess water. Blend in a liquidiser (or, if you have one, a NutriBullit is even better) until smooth.
Heat a ribbed griddle pan or heavy frying pan. Season and lightly oil the cutlets and cook on a fairly high heat for about 3-4 minutes on each side, depending on thickness and keeping them nice and pink.
While the cutlets are cooking, cook the garlic scapes in boiling salted water for 1-2 minutes until tender, then drain in a colander and toss the butter in a pan and season. Put the cream in a pan and boil it until it's reduced by about half then add the spinach purée and simmer to reheat it for a minute or so and season.
To serve, spoon the purée on to warmed serving plates, place the cutlets on top and scatter the scapes over.
Reuse content