For most people in the UK, Easter food is only about one thing: chocolate. Now, as much as I like chocolate, I think that's a shame, because an Easter lunch or dinner can be just as much fun as Christmas. With a bit of forethought, it can be a real family celebration with good food and great wine. It may not come naturally to us Brits to throw an Easter party but I say, why not?
Wild Rabbit and St George's mushroom broth
Serves 4
A couple of years ago, I managed to get into what I call 'the Easter rabbit press saga' when it was put about that we were using unethically-farmed wild rabbits in the restaurants. In fact, we only ever use wild rabbits which have been culled, but still whenever I write a rabbit recipe, I remember the row. Another thing to note is that the other main ingredient here, St George's mushrooms, are rather erratic – certainly with the weather as it is – but if you know a good forager, it is worth asking for these meaty white mushrooms (if you don't, use cultivated mushrooms instead).
1 wild rabbit, skinned and oven-ready
1 onion, peeled and roughly chopped
1 leek, roughly chopped and washed
10 black peppercorns
1 bay leaf
A few sprigs of thyme
6g butter, plus a couple of knobs more
50g flour
1½ltrs chicken stock
Salt and freshly ground white pepper
100-120g St George's mushrooms, cleaned and sliced if large, otherwise halved or quartered
Leaves from a few sprigs of tarragon
60ml double cream
Remove the legs and shoulders from the rabbit and place in a saucepan with the onion, leek, peppercorns, bay leaf, thyme, stalks from the tarragon and stock. Remove the fillets from the saddle and freeze (save these for a salad at another time). Chop the bones into 3 or 4 pieces and add to the pot.
Bring to the boil and simmer for about an hour, or until the meat is tender. Remove the legs and shoulder and place on a plate to cool. In a clean pan, melt the butter and stir in the flour on a medium heat. Gradually whisk in the stock (you need to do it in stages to prevent lumps forming).
Bring to the boil, season and simmer gently for 30 minutes. Remove the bones and blend the soup with a hand blender or liquidiser to give it a nice silky finish. Meanwhile, melt the two knobs of butter in a frying pan and gently cook the mushrooms for 2-3 minutes without colouring them.
Remove all of the meat from the legs and shoulders and tear into pieces; add to the soup with the cream and tarragon. Season to taste, then simmer for a minute or so before serving.
Chocolate pancakes
Serves 4
I've used Willie Harcourt-Cooze's 100 per cent Venezuelan black chocolate here but if you can't get hold of that, you could use any high-cocoa chocolate.
For the pancakes
250ml milk
120g flour
1 small egg
1tsp caster sugar
3-4tbsp grated 100 per cent Venezuelan black chocolate
Vegetable oil for frying
For the chocolate sauce
125g dark chocolate buttons
125ml double cream
30ml milk
To serve
4 balls, vanilla or chocolate ice-cream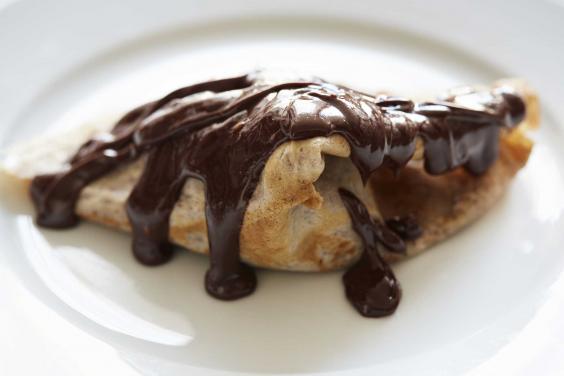 Whisk all of the ingredients together for the pancakes, along with one third of the milk, until smooth. Whisk in the remaining milk, then strain the lumps out, if necessary. Heat a non-stick frying pan, rub with a little vegetable oil, then pour in a little pancake mix, immediately tilting the pan so that the mixture spreads evenly. Turn after 1 minute with a spatula or palette knife.
If you need to make a large quantity of pancakes, make them in advance and stack them up between squares of greaseproof paper. When you're ready to serve them, reheat in the oven for a minute or so. Batter keeps in the fridge for up to two days; just re-whisk it before using.
While the pancakes are cooking, put the chocolate buttons in a bowl, bring the cream and milk to the boil and pour on to the chocolate, stirring until the chocolate has melted. Remove from the heat and cover the bowl with clingfilm to keep warm.
To serve, reheat the pancakes in the oven, place a ball of ice-cream just off the centre of each pancake and fold into a triangle. Place on a serving plate and pour over the chocolate sauce, then serve to your guests.
Crispy goose egg with creamed bacon and wild garlic
Serves 4
Farmers are rearing lots of different eggs for the Easter season nowadays. What makes me particularly happy is that you can now get goose eggs at this time of year with (relative) ease. Why am I so fond of them? Because if you are making a substantial starter or brunch dish, they are hard to beat.
If you can't find goose eggs, then crack two hen's eggs into a cup before frying, it will give you a more substantial dish to serve to guests.
4 goose eggs
2tbsp olive or rapeseed oil
A couple of good knobs of butter
100-120g diced streaky bacon or pancetta cubes
A handful of wild garlic leaves, washed
150-200ml double cream
Salt and freshly ground black pepper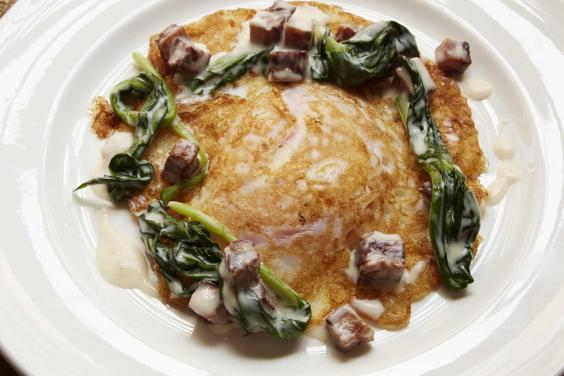 Heat a non-stick frying pan on the stove with a tablespoon of the oil until it is almost smoking. Fry the goose eggs on a high heat, one or two at a time, depending on how big your pan is, making sure to get the bottoms nice and crispy; add a knob of butter towards the end of the cooking, then flip them over and cook for another 20 seconds or so on the top, then slide on to a baking tray. Do the same with the rest of the eggs.
While the eggs are cooking, heat a frying pan and gently cook the bacon on a low heat for a couple of minutes, add all of the cream, season and then simmer for a minute until it starts to thicken, then stir in the wild garlic until it begins to wilt; when it does, remove it from the heat.
To serve, reheat the eggs under the grill or in the oven, making sure to keep the yolks runny, transfer to warmed serving plates and spoon over the creamed wild garlic.
Sprouting broccoli and quail's egg salad with shaved Berkswell cheese
Serves 4
I like to give sprouting broccoli the same treatment as I give to asparagus. The sprouting stuff is such a fine and versatile vegetable – so very unlike its lumpen cousin, the large-headed broccoli – that it deserves that extra bit of care.
For the salad
25g or so of sprouting broccoli, trimmed of any woody stalks
12 quails' eggs
A handful of small tasty salad leaves
100-120g Berkswell or another hard shaving cheese
For the dressing
1tbsp cider vinegar
1tsp Tewkesbury mustard
2tbsp rapeseed oil
2tbsp vegetable or corn oil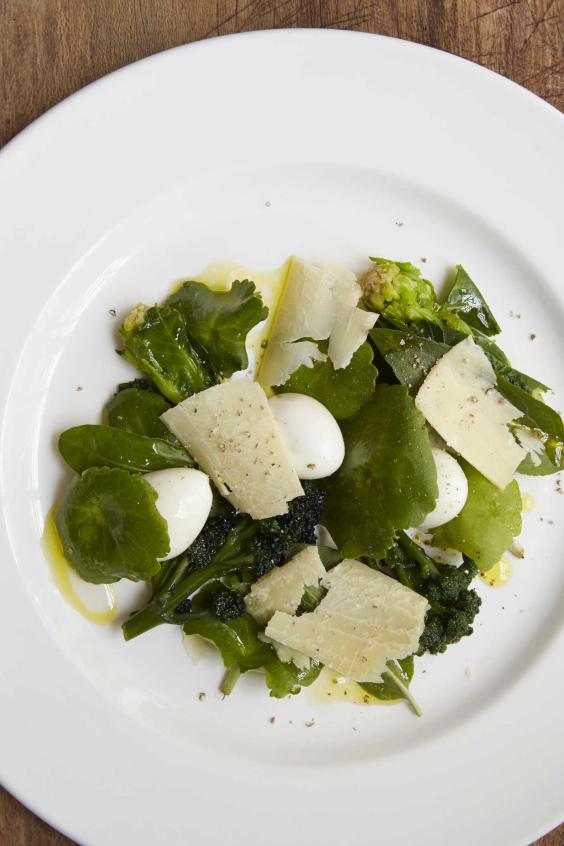 Bring a pan of water to the boil and gently place in the quails' eggs using a slotted spoon (doing it this way should ensure the eggs don't break). Simmer gently for a minute, then drain in a colander and refresh in cold water for 30 seconds. Now carefully peel before they get too cold. Cook the sprouting broccoli in boiling salted water for a couple of minutes until just tender, but not soft, then drain. Cut it in half or trim down if large.
Whisk all of the ingredients together for the dressing and season to taste.
To serve, arrange the leaves, broccoli and quails' eggs on serving plates, season and then spoon the dressing over. Using a small sharp knife or a peeler, shave the cheese into thin slices over the salad and serve.
Reuse content