Raise your hand up if you know the difference between a swede and a turnip? It can, after all, be a tad confusing. In England, we call the large orange vegetable a swede and the smaller white one a turnip, with 'bashed neeps' being mashed swede; but if you are in Scotland, a swede is a turnip and a turnip is a swede.
Head spinning yet? Well don't worry too much, because whatever you call them, some things are in no doubt: both are versatile vegetables and can be used for all sorts of accompaniments, starters or as part of a main dish, cooked or raw – so make the most of them.
Haggis and neep croquettes
Serves 4-6
These make a great snack to go with drinks, or you could serve them as a starter with a herb mayonnaise.
250g floury potatoes for mashing, peeled and roughly chopped
250g swede, peeled and roughly chopped
180-200g good-quality haggis, broken or chopped into small pieces
2-3tbsp flour
2 small eggs, beaten
50-60g fresh white breadcrumbs
Salt and freshly ground white pepper
Cook the potatoes and swede in separate pans full of boiling salted water; then drain, mix together and return to the heat for a minute to dry them out and evaporate any excess water.
Preferably using a potato ricer, mash the potatoes and swede, then season and mix well with the haggis. Mould the mixture into cylinder shapes about 3cm long and just a little slimmer than a wine cork.
Have the flour ready in a dish and carefully roll the croquettes in it, holding them carefully with your fingers and shaking off any excess. Next roll them in the beaten egg, and finally roll them in the breadcrumbs.
Preheat about 8cm of oil to 160-180C in a large thick-bottomed saucepan or electric deep-fat fryer.
When the oil is hot, fry the croquettes a few pieces at a time for 3-4 minutes, until they are golden, and drain on some kitchen paper. Serve immediately.
Neep, tattie and mutton broth
Serves 4
Mutton is the best cut of lamb to use for a broth like this as it will give it a lovely meaty flavour. Neck fillet would be preferable as it will cook a little more evenly, but see what your butcher can get you.
200g neck of mutton fillet, cut into rough 1cm dice
½tsp chopped thyme leaves
1 onion, peeled, halved and finely chopped
2 litres lamb or chicken stock, or made from a couple of good-quality cubes
100-120g swede, peeled and cut into rough ½cm cubes
1 small turnip, peeled and cut into rough ½cm cubes
1 medium baking potato, peeled and cut into ½cm cubes
Salt and freshly ground black pepper
1tbsp chopped parsley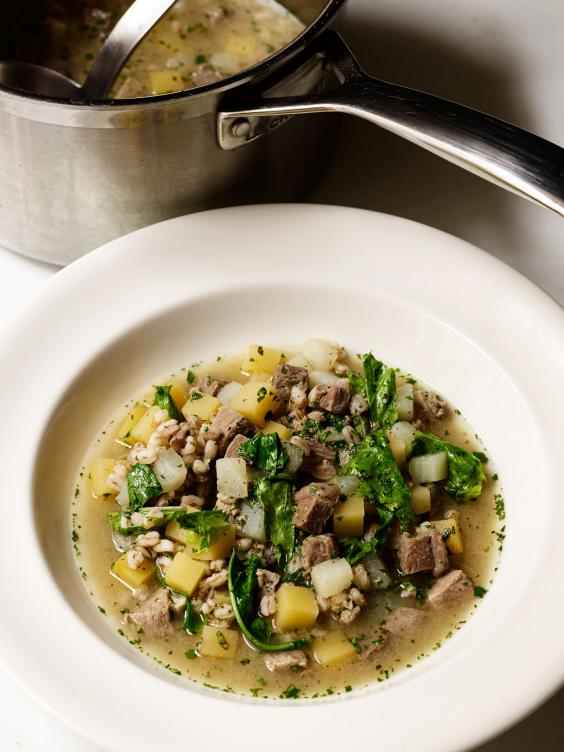 Put the mutton, thyme and onions into a large pan and cover with the stock. Season, bring to the boil and simmer for an hour or so, or until the mutton is tender. Add the vegetables and simmer for another 15 minutes.
Add the parsley and simmer for a further 5 minutes, check the seasoning and serve.
Grilled partridge with baked swede and blackcurrant sauce
Serves 4
When small berries like elderberries and blackcurrants are in season, I tend to freeze some for the autumn and winter months as they are useful for sauces. But you can buy them preserved in cassis, too. I've treated the partridge here like a classic spatchcocked chicken, which basically means it is flattened. If you don't fancy doing this yourself, ask your butcher to.
4 oven-ready partridge
A little oil for brushing
1 large swede, peeled
For the sauce
2 shallots, peeled and finely chopped
A good knob of butter
2tsp flour
½tsp tomato purée
60ml port
250ml beef stock
40-50g frozen elderberries or blackcurrants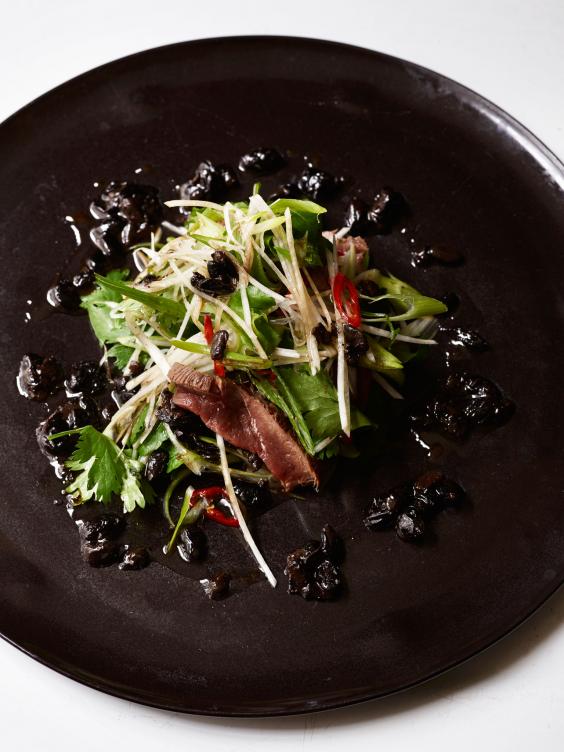 Preheat the oven to 200C/gas mark 6. Cut the swede into 4cm-thick slices then with a 7-8cm round pastry cutter, cut the slices into discs. Place them in a tight-fitting ovenproof dish or pan, season and brush with butter.
Bake in the oven for about 1 hour, brushing every so often with more butter and turning them a couple of times during cooking. Once they are cooked (test with the point of a knife), remove from the oven and keep warm. If they are beginning to colour too much on top, cover with foil.
Meanwhile, lay a partridge on a chopping board with the breasts facing up. Take a heavy chopping knife and insert the point into the open cavity of the bird. Cut along the backbone, then open it up and flatten out the partridge with your hands.
With the point of the knife, carefully remove the breast bones from underneath, and discard. Cut away any excess bone either side of where you made the first cut. Cut the knuckles from the drumstick and trim the pointy ends of the wing bones. Flatten the bird a little with your hand. Repeat with the other 3 birds.
To make the sauce, melt the butter in a thick-bottomed pan and gently cook the shallots for a minute or so until lightly coloured. Add the flour and tomato purée and stir well over a low heat for a minute. Gradually add the red wine, stirring to avoid lumps forming, and then gradually add the beef stock. Bring to the boil and simmer very gently for about 20-25 minutes, giving the occasional whisk, until the sauce has reduced by about two-thirds and thickened. Add the elderberries or blackcurrants, cover and keep warm.
On a ribbed griddle pan or under a hot grill, season and cook the partridge for about 7-8 minutes on each side. Test the leg joint with the point of a knife to ensure they are cooked.
Turn the swede cake out on to a chopping board, then cut into equal wedges, or you can cut into circles with a pastry cutter. Serve the partridge resting on the swede with a spoonful of sauce on the plate
Wild duck, turnip and black beans
Serves 4
You can use wild duck or mallard for this as they are both in season. Or you can simply buy duck breasts. You can get salted Chinese black beans from Chinese supermarkets – they normally come in a round cardboard container and contain ginger which gives the dressing a nice flavour.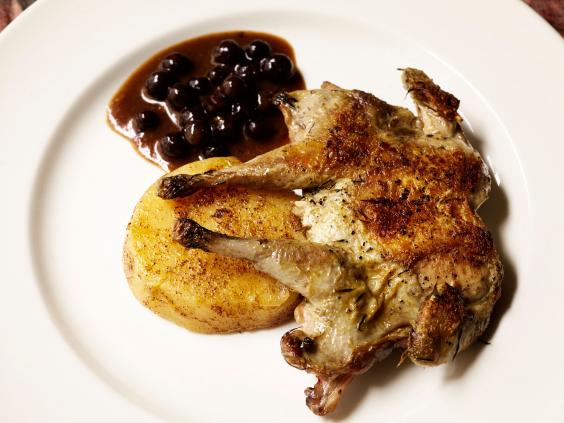 2 oven-ready wild ducks
A couple of knobs of butter
Salt and freshly ground black pepper
1 large turnip, peeled, thinly sliced and cut into matchstick-like sticks
100-150g small salad leaves and herbs
For the dressing
2tbsp Chinese salted black beans, rinsed
2tsp soy sauce
1tbsp rice vinegar
2tbsp groundnut oil
Preheat the oven to 200C/gas mark 6. Rub the ducks with a little of the butter and season. Roast for 30 minutes, keeping them pink, then leave to rest.
Remove the breasts and the legs from the ducks. Cut away the meat from the legs and shred into pieces. Mix all of the ingredients together for the dressing.
To serve, toss the leaves with the dressing, turnip and shredded leg meat and arrange on serving plates. Thinly slice the duck breasts and arrange over and in the salad.
Reuse content