There is a huge repertoire of soups you can make for the hot summer months, many of them chilled variants of the wintery ones we all know and love. They are summer in a bowl. There is one rule, though: a chilled soup must be fresh and zingy and have ingredients which can be cooked quickly and cooled fast.
Summer bean soup
Serves 4-6
You can use any seasonal beans for this and even a few yellow ones as a garnish. If you grow your own, it's a great way to use up a bumper crop, rather than boring all your friends by serving them as an accompanying veg.
1tbsp vegetable or corn oil
1 leek (both green and white parts), washed and roughly chopped
1.2ltrs vegetable stock
Salt and freshly ground black pepper
100g freshly podded peas (or frozen ones will do)
300g beans (broad, runner, Bobby etc, trimmed)
Crème fraîche to serve (optional)
Heat the oil in a pan and gently cook the leek for 3-4 minutes, stirring occasionally until soft. Add the stock, season and simmer gently for 10-12 minutes.
Put about a quarter of the peas and beans to one side for the garnish and add the rest to the soup and simmer for another 10-12 minutes, or until tender (frozen peas will only need a couple of minutes extra, once the soup comes back to a simmer).
Blend the soup in a liquidiser until smooth, then taste and adjust the seasoning. Strain through a sieve if you wish (some blenders do a better job than others). Cool the soup down in a container over ice, or in a sink with ice packs.
Cut the reserved beans into small, even-sized pieces and cook in boiling salted water for a couple of minutes until tender, then drain and refresh under cold water and mix together.
Pour the soup into chilled bowls and scatter the beans on top with a spoonful of crème fraîche in the middle.
Serve hot or cold.
Spiced tomato and prawn soup
Serves 4-6
Try to buy the best and largest prawns possible for this. Do that and the dish will look stunning.
1 red onion, peeled and finely chopped
2tbsp rapeseed oil
½tsp cumin seeds
1 medium red chilli, chopped
500ml vegetable stock
500g ripe tomatoes, roughly chopped
1 firm tomato, finely chopped
A handful of coriander leaves, chopped
1tbsp olive oil
4 large seawater prawns, heads removed and shelled (reserve both shells and heads)
Salt and freshly ground black pepper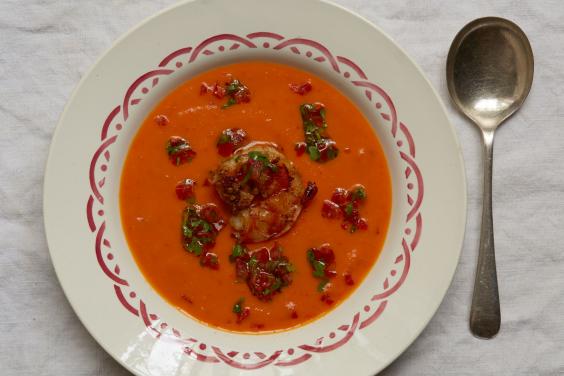 Gently cook the red onion, cumin seeds, chilli and prawn shells in the rapeseed oil for 2-3 minutes until soft, then add the vegetable stock, bring to the boil and simmer for 15 minutes; add the tomatoes and simmer for another 10 minutes.
Remove from the heat and blend in a liquidiser until smooth; strain through a sieve into a clean bowl. Leave to cool as per the other soups.
Mix the chopped tomato with the olive oil and coriander and season to taste. Season the prawns, heat a griddle or frying pan, rub with a little oil and cook the prawns for a minute or two on each side.
To serve, spoon the soup into soup bowls – it is much better if these have been cooled in advance – place the prawns in the centre and spoon the tomato mixture around them.
Potato and chive soup with smoked salmon
Serves 4-6
This is a good way to use up salmon trimmings left over from another dish. But it works equally well without.
1 onion, peeled, halved and finely chopped
1tbsp vegetable or corn oil
1.2ltrs chicken or vegetable stock
500g large new potatoes, peeled and sliced, plus a couple of whole ones just peeled then boiled
½tbsp olive oil
Salt and freshly ground black pepper
2tbsp chopped chives
A couple of slices of smoked salmon (optional), diced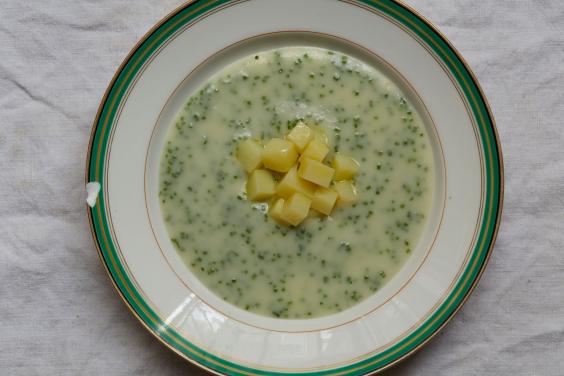 Gently cook the onion in the oil for about 2-3 minutes until soft, then add the stock and sliced potatoes; season and simmer for about 10 minutes until the potatoes are just falling apart. Blend the soup in a liquidiser until smooth, then chill as per the other soups.
Cut the cooked whole potatoes into rough 1cm dice and mix with some of the chives and olive oil and season. Mix the rest of the chives with the soup and re-season.
If the soup is too thick, add some more stock or milk. Pour the soup into chilled serving bowls, spoon the diced potatoes in the centre and scatter the salmon around, if using.
Parsley soup with poached quails' eggs
Serves 4
If you grow parsley at home this makes a cheap summery soup that you can serve hot or cold. Often Asian and Mediterranean shops sell big bunches of parsley at very reasonable prices.
1 leek, roughly chopped and washed
1tbsp vegetable oil
1tbsp flour
1.5ltrs vegetable stock
Salt and freshly ground black pepper
A few handfuls of parsley (or a large bunch), washed with the thicker stalks removed and put to one side
12 quails' eggs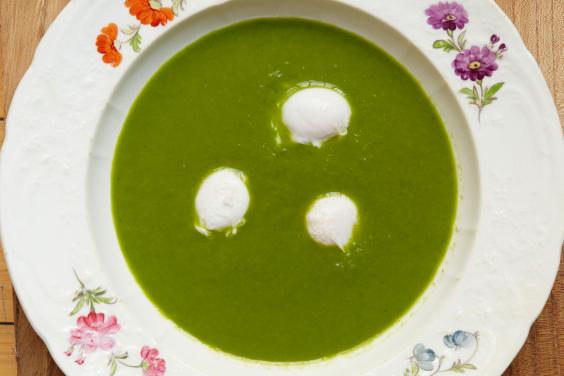 Gently cook the leek in the vegetable oil in a covered pan for 4-5 minutes until soft, stirring every so often.
Add the flour and stir well, then gradually add the vegetable stock and season. Bring to the boil; add the thicker reserved parsley stalks and simmer gently for 20 minutes. Add the rest of the parsley and simmer for 3-4 more minutes only.
Blend until smooth in a liquidiser, then strain through a medium-grained strainer (a fine-meshed sieve will not work as well).
To keep the green colour, you need to cool the soup down as quickly as possible, so put the bowl of strained soup over another bowl of iced water or in a sink of cold water with some ice packs. Re-season if necessary and refrigerate.
Meanwhile, while the soup is cooling, bring a pan with about half a litre of water to simmering point. Put the vinegar into a bowl and carefully – with a small, sharp kitchen knife – crack the quails' eggs into the vinegar, using the point of the knife to initially crack the shell.
Have a bowl of cold water ready to transfer the eggs into once poached.
Pour the eggs and vinegar into the pan of simmering water and continue to simmer very gently for about 30 seconds or until you can see the whites of the eggs have set. Take the eggs out carefully with a slotted spoon and place into the bowl of cold water.
After a minute, remove the eggs on to a plate, trim them and return to a container of clean water until required.To serve, pour the soup into chilled soup bowls and place the eggs in the soup.
Reuse content