In the UK, we still lag behind the US when it comes to brunch and yet it's a great way to eat. Instead of inviting your friends for lunch or dinner, have them for a relaxed weekend brunch. Even if you haven't necessarily planned a big meal, it's a lovely and pretty convenient way to try out some new recipes and put a few different dishes together.
There are endless things you can serve for brunch as light portions, or in the more traditional American style – as big and heavy as you like. I'm not a huge fan of the overwhelming portion sizes you often get in the States at the brunch table; I reckon it's much more fun to have a selection of smaller, interesting dishes to share.
Squash and smoked haddock chowder
Serves 4-6
This doesn't necessarily have to be a brunch dish, it can be served at any meal really, even in a flask for a shooting or fishing trip.
A good knob of butter
1 leek, roughly chopped and washed
1ltr fish stock
A piece of butternut squash weighing about 400g, peeled
1 bay leaf
300g naturally-smoked haddock fillet
1tbsp chopped parsley
3tbsp double cream
Ground white pepper
1-2tbsp toasted pumpkin seeds to serve
Cut half of the squash into rough 1cm cubes and put to one side. Cut the other piece in half again and thinly slice it. Melt the butter in a pan and gently cook the leek and sliced squash for a few minutes with the lid on, f until soft. Add the fish stock, bay leaf and smoked haddock. Bring to the boil and simmer for 5-6 minutes.
Carefully remove the haddock from the pan with a slotted spoon and put to one side. Simmer the soup for another 15 minutes. Remove the bay leaf and blend in a liquidiser until smooth. Strain through a fine-meshed sieve into a clean pan. Add the diced squash and simmer very gently for 6-7 minutes, until tender.
Meanwhile, remove the flesh from the skin of the haddock, checking for bones, then flake it into the soup. Stir in the double cream and parsley and bring back to the boil before serving. Scatter over the pumpkin seeds.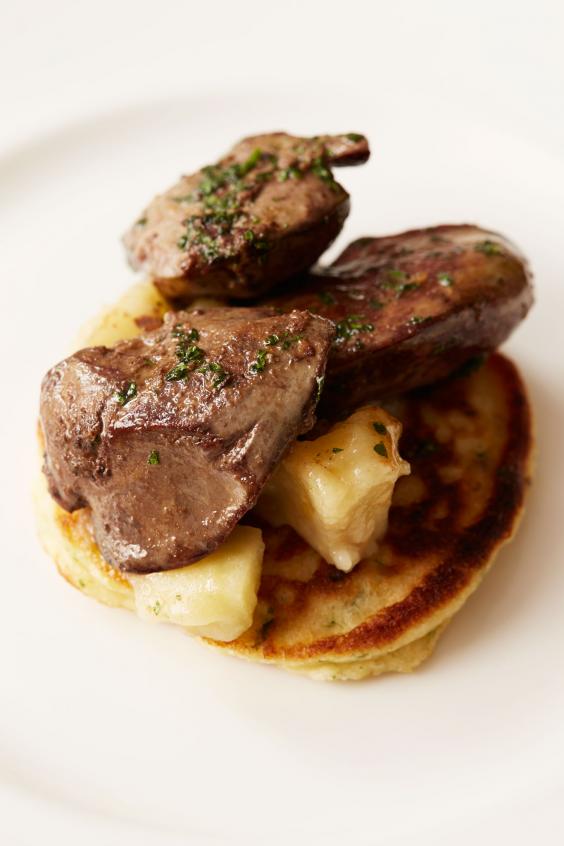 Corn pancakes with duck livers
Serves 4
You can use duck or chicken livers for this dish; it's up to you. Do make sure the livers are fresh and not frozen though, as the texture can then be very mushy which ruins the experience.
For the pancakes
150g gluten- and wheat-free self-raising flour
2 eggs, beaten
150-200ml milk
120g cooked sweetcorn kernels, roughly chopped
To serve
300g duck livers, trimmed
Salt and freshly ground black pepper
1tbsp vegetable or corn oil
A good knob of butter
Put the flour into a mixing bowl, mix in the eggs and enough of the milk to form a smooth, thick batter, then stir in the corn and season.
Heat a griddle pan or non-stick frying pan and rub it with a little vegetable oil. Drop spoonfuls of the mixture into the pan and let them cook for 3 minutes, until bubbles rise, then turn them over and cook for another 2-3 minutes; remove. Put them on to some kitchen paper while you're cooking the rest of the batch.
Meanwhile, heat the oil in a frying pan, season the livers and fry them on a high heat for 3-4 minutes, turning them as they are cooking and keeping them nice and pink. Add the butter at the end.
To serve, warm the pancakes through in the oven, under the grill or back in the pan, place on serving plates and spoon the livers and juices over.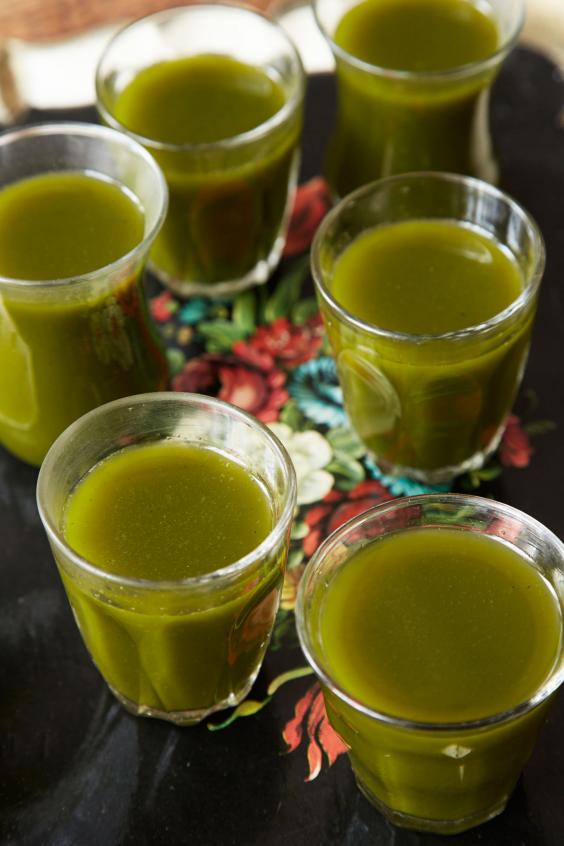 Pineapple verdita
Serves 6-8
Our cocktail crew served this at a tequila dinner I hosted a couple of months back. It's a strain of the sangrita drink, which means 'little blood', and is served as a kind of customary partner to a shot of 100 per cent agave tequila. It acts as a non-alcoholic palate cleanser between sips of the tequila.
Sangrita traditionally is made from the leftover juices from the fruit salad bowl of local Mexican fruits like papaya, mango, pomegranate, tangerine and cucumberf and spiced up with red pepper powder and lime juice.
1ltr pineapple juice
A couple of handfuls of coriander, including the stalks, washed and dried
A couple of good pinches of salt
A handful of mint leaves, washed
100ml agave nectar
2 medium green or red chillies, or a mixture, trimmed
50ml lemon cordial
200ml grapefruit juice
The juice of 2 limes
Blend the ingredients in a liquidiser and strain through a sieve. Serve slightly chilled.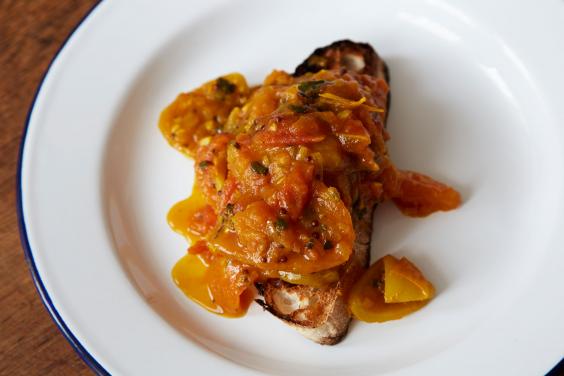 Curried tomatoes on toast
Serves 4-6
This will certainly wake you up when you have an early weekend brunch. Serve it as a course on its own or do small toast portions in a selection of brunch dishes. You can also use green tomatoes for this.
3tbsp vegetable oil or ghee
1 medium onion, peeled and finely chopped
4 large garlic cloves, peeled and crushed
½tsp chilli powder
1tsp turmeric, or 2tsp freshly grated fresh turmeric root
2tsp brown mustard seeds
1tsp fennel seeds
500ml vegetable stock
600-700g firm tomatoes, quartered
Salt
2tbsp freshly shredded coriander leaves
4 slices of bread about 1cm thick
Heat the oil or ghee in a heavy-bottomed saucepan and gently fry the onion, garlic and spices for 3-4 minutes without colouring. Add the stock and simmer gently for 20 minutes, until the liquid has reduced by half.
Add the tomatoes and simmer for about 10 minutes, stirring every so often until the tomatoes soften a little, then stir in the coriander leaves and re-season if necessary.
Toast the bread on both sides and serve with the tomatoes spooned on top.
Reuse content