The UK's annual burger day has arrived.
To celebrate, Shortlist magazine is hosting an event, complete with a range of burgers and craft beers, at Battersea Power Station in London. But if you can't get to the capital, burger joints - including Byron, Dirty Burger and Honest Burger - across the country are offering 20 per cent off to help you join in the fun. In honour of the second nationwide day we've found some unusual ways to cook burgers, which should tickle your taste buds and give you a few ideas to try at home.
Car-B-Q
If you happen to have a spare car that you can hook up to some griddle plates, a Car-B-Q could be your answer to how to cook the best burger. As part of the national burger day pre-celebrations black cabs descended on Battersea Power Station to give it a go. The taxi engines were revved to hit 200 degrees so the prime beef patties could be cooked to perfection.
Beer braised burgers
For those of you who like a beer with your burger, now you can have both - in the same dish. Beer braising involves stewing the patty in beer, to give the meat a rich and unique taste, before finishing off with a quick pan fry. Not only does the technique add flavour, but the broth left behind can be used as a sauce for fries on the side.
Sous vide burgers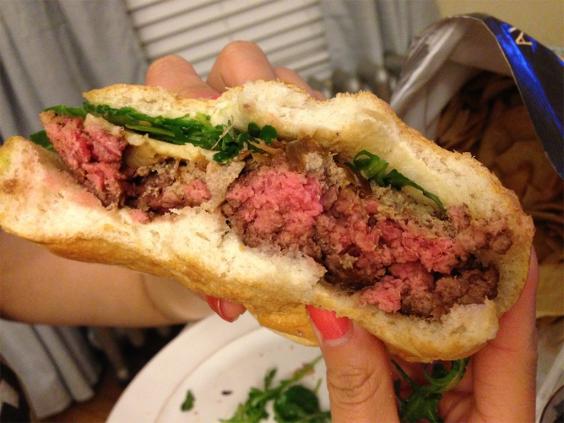 For something a little easier to do at home, why not try sous vide? Translated as "under vacuum", it is meant to produce some of the moistest meat around, but be prepared for a long wait. Cooking times of up to four or five hours are not uncommon. The meat is sealed in an airtight plastic bag and then left in hot water; once cooked, because none of the juices are lost, the burger will be succulent and incredibly flavoursome.
Deep fried burgers
An ultimate guilty pleasure must be the deep-fried burger. Big on flavour- and calories - this method is not for the faint hearted. Two patties are smothered in batter before being dipped in hot boiling oil, an optional extra is smoked cheese and with this method the more on the burger the better. It's probably best not to try this burger before any form of physical exertion.
Steamed burgers
Possibly the healthiest way to prepare a burger is by steaming. Usually used for vegetables and fish, the method is popular for those who want the great taste of a burger, without all the extra calories associated with frying. Trying this method at home could not be easier, simply use an old shallow can, add the patty, immerse in boiling water and cook until done to your liking.
Cheese stuffed burgers
Cheese stuffed burgers allow you to really experiment with one of your favourite foods. Options can range from soft cream cheese to more pungent blue varieties. The simplest way to create your feast is by taking two thin patties, adding the cheese of your choice between, and frying or grilling.
Reuse content