If any dish has a claim to being the national dish of Great Britain, surely it's fish and chips. Rising prices and anxiety about fish stocks may have reduced its popularity of late, but a new venture in Norwich could change all that.
Hot Chip – which is the brainchild of the Crossley family, of Somerleyton Hall in Suffolk, and Toby Marchant – is based on a great, and very simple, idea. Portions of chips are served, along with great-quality, eclectic toppings. And unlike the classic British chippy where the fish is the main act, here the focus is on the chips. Ingredients are well-sourced and mostly local.
Inspired by Hot Chip's elevation of the humble potato to star status, I've come up with a few twists of my own.
The chips
At Hot Chip they fry their chips in locally-produced rapeseed oil. I'm a big fan of rapeseed – it's high in omega 3 and doesn't leave that aftertaste that some vegetable and corn oils do.
Allow approximately 200-250g of potatoes per person. Peel your potatoes, then cut them into roughly 1cm-thick slices, then slice these into roughly 1cm-wide chips. Wash the chips in water, then drain on kitchen paper.
Preheat the rapeseed oil to 120C in a deep-fat fryer. Blanch your chips two or three handfuls at a time until they are soft but not coloured (approximately 3-4 minutes). Remove from the fat and drain. You can store the chips in this state in the fridge for up to a couple of days.
To serve the chips, re-fry them in hot oil (160-180C) for a further 3-4 minutes until they are crisp, season lightly with salt and serve immediately with your topping.
Sweet potatoes with mint choc chip
Serves 4-5
This idea may sound crazy, but it came about when the Hot Chip guys were telling me about a sweet-chip option they were playing with that seemed a tad too complicated. I suggested using sweet potatoes as the chip – and why not just use some good-quality mint chocolate melted down with cream?
4-6 large sweet potatoes, cut as above or in wedges
50-60g self-raising flour (preferably gluten-free)
Rapeseed oil for frying
2-3tbsp shelled pistachios, lightly toasted
For the topping
250g good-quality mint-flavoured chocolate
250ml double cream
Put the sweet potatoes in a pan of cold water, bring to the boil and simmer for about 6-7 minutes, or until they are tender. Drain in a colander and leave to cool.
Meanwhile, break up the chocolate and put it in a clean, dry, heatproof bowl with the cream. Put the bowl over a pan of simmering water, stirring every so often until the chocolate has melted and the sauce is hot. Remove from the heat and cover the bowl with clingfilm to keep hot.
To serve, dust the potatoes with the flour, shaking off any excess and fry them in hot oil as above. Serve with the chocolate sauce poured over and the pistachios scattered on top.
Grizzly Bear
Serves 4-6
This is one of the items from Hot Chip's menu – a cheesy ham sauce poured all over chips. It's got great, pungent flavours and – as its name hints – satisfies even the heartiest appetites.
Potato chips, prepared as before
70g butter
1 onion, peeled, halved and finely chopped
250ml hot milk
250ml hot chicken stock
50g flour
1 small bay leaf
200ml double cream
1 bunch of spring onions, trimmed, washed and roughly chopped
100-120g cooked ham, chopped
150g grated mature cheddar
Melt the butter in a thick-bottomed saucepan and gently cook the onion for 2-3 minutes without colouring, then stir in the flour and cook on a low heat for 30 seconds.
Gradually mix in the milk and chicken stock, using a whisk to avoid lumps forming, then add the bay leaf, season, and simmer very gently for 15 minutes.
Add the double cream and continue simmering for about 5 minutes, until the sauce is quite thick – or continue simmering gently until it has a thick coating consistency.
Remove the bay leaf and stir in the ham, spring onions and three-quarters of the cheddar and simmer for another couple of minutes. Season to taste then pour over the chips with the rest of the cheese on top and serve.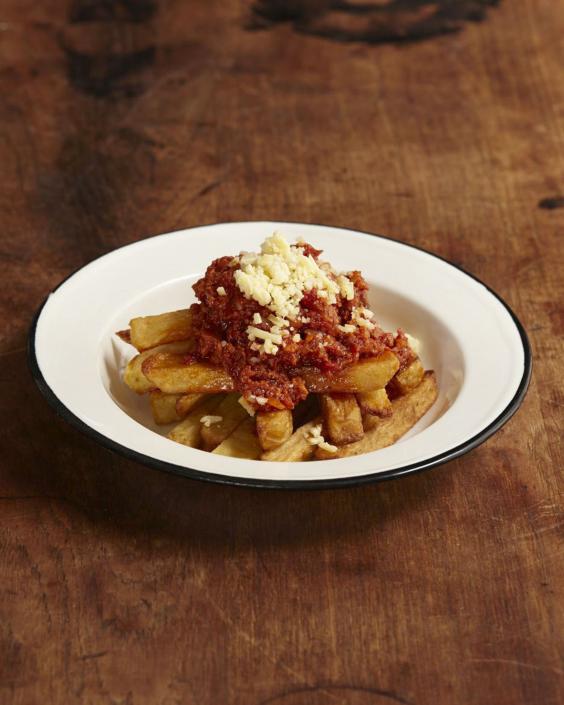 A Hot Norfolk Broad
Serves 4-6
Buy grilling chorizo for this and not the cured, slicing chorizo as its too hard in the sauce. The fresh cooking chorizo can be skinned and the meat broken up or chopped so it ends up like mince.
Potato chips, prepared as before
1 onion, peeled, halved and finely chopped
250g cooking chorizo, broken up
400g or 1 can of chopped tomatoes
300ml chicken stock
120-150g grated manchego or another hard cheese
A handful of chopped coriander
Put the onion in a heavy-based saucepan with the chorizo and cook it on a medium heat for 6-7 minutes, stirring as it's cooking so the meat breaks down.
Add the tomatoes and stock, season, and simmer gently with a lid on for about 30 minutes. The sauce should be quite thick - if not, continue simmering until it thickens.
Add the chopped coriander and remove from the heat. Serve the sauce over the chips and scatter the cheese on top.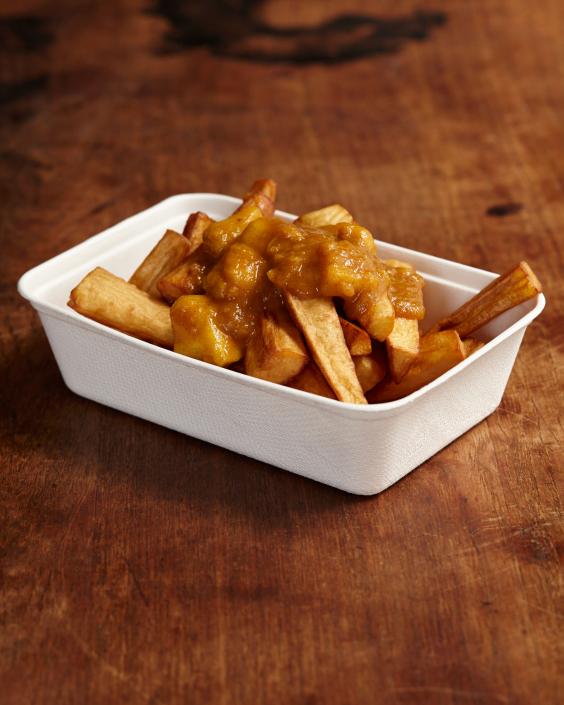 Parsnip chips with curry and apple
Serves 4-6
A spicy little number that works really well with the sweetness of the parsnips. You can make it as spicy or mild as you wish just by adding more chilli.
You don't really need to peel the parsnips if they are nice and clean, as the skins give the parsnip chips a nice character.
4-5 large parsnips, trimmed
A good knob of butter or ghee
4 medium shallots, peeled and finely chopped
2 cloves of garlic, peeled and crushed
A small piece of root ginger, peeled and finely grated or chopped
1 small red chilli, sliced
¼tsp ground turmeric
1tsp ground cumin
½tsp cumin seeds
1tsp curry powder
½tsp fennel seeds
½tsp fenugreek seeds
A few curry leaves
A pinch of saffron threads
100ml stock (¼ of a good-quality cube will do, dissolved in that amount of hot water)
100ml double cream (optional)
Salt and freshly ground black pepper
1 cooking apple, peeled, cored and roughly chopped
Cut the parsnips into 10cm-lengths then into large 2cm-thick chips. Put them in a pan of cold salted water, bring to the boil and simmer for about 5 minutes until tender, then drain.
Melt the butter in a heavy-based pan and gently cook the shallots, garlic, ginger and chilli without colouring. Add all the spices and cook for another minute to release their flavours.
Add the stock, bring to the boil and allow it to reduce by half. Next add the apple and continue simmering for about 10-15 minutes until the apple has disintegrated.
Coarsely blend half of the sauce in a liquidiser or with a stick blender until smooth and pour back into the pan. Adjust the seasoning, if necessary.
Finish the parsnip chips as per the potato chips in hot fat and serve with the sauce poured over.
Reuse content