This week I've been eating. . . egg, ham and peas
There are many things I like about Berners Tavern. I like that it lives in Ian Shrager's new Edition Hotel just north of Oxford Street in London and that, with its chandelier inspired by the one in Grand Central station in New York and sky-high ceilings, it feels like a most un-­taverny tavern.
More than both of those things, though, I like the fact that the kitchen, just visible to diners, is in the hands of serial restaurateur and chef Jason Atherton. As well as being wonderfully off-message, he's also a raging talent.
His food here is inventive and stylish. I loved lots of things. But one dish made me smile even before I'd tasted it. A starter of "egg, ham and peas" took an unusual form. Out came a soft, deep-fried Clarence Court duck egg on a patch of zingy green mushy peas, accompanied by crisp blades of Cumbrian ham. It was classic Atherton: clever, well executed, amusing, and jammed with flavour. bernerstavern.com
Dom Pérignon & Jeff Koon
In November 2012, a sculpture by Jeff Koons sold at Christie's in New York for $33m. He is a man in demand, is Jeff. So maybe we shouldn't be oh-so surprised to learn that the  made-to-order sculpture he designed to encase Dom Pérignon's 2003 vintage cost $20,000. The Balloon Venus, in typical Koonsian inflatable-balloon style, is the coolest thing ever to happen to a bottle of wine, I reckon. I just wish it didn't cost as much as a deposit on a house. domperignon.com/dpballoonvenus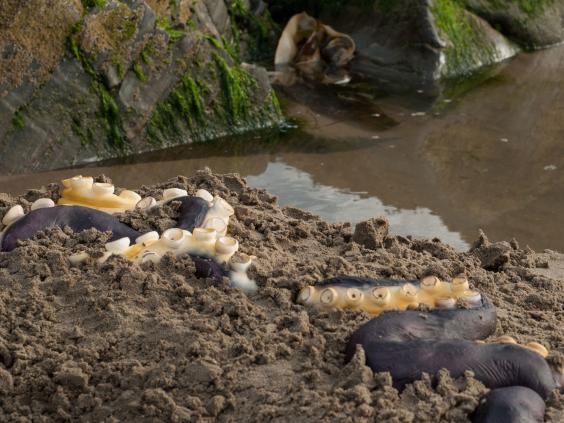 Kraken Rum Tentacle
My first thoughts on seeing the picture above were pitched somewhere between a quizzical "Eh?" and an incredulous "Surely not!" But surely it was – a 30ft tentacle was indeed found on the beach at Portmeirion in Wales at the weekend. Before you get all hot under the collar, though, and start making oaths never to go paddling again, I should say it was actually a fruitcake, and a rum-soaked one, too. The "tentacle cake" was commissioned by Miss Cakehead, the event organiser known for her gory food campaigns, for Kraken Rum, which had an event space at Festival No 6 at the weekend. Mercifully it tasted, so I am told, more boozy than fishy.
Megaro Bar
Not so long ago, the reason most people went to King's Cross was to leave it on a train. Nowadays, though, it is distinctly upwardly mobile. Just look at its newest bar, Megaro. It's a hipster home away from home. Theatre-style seats line the walls; there's much use of red curtains. They serve a short, sweet bar menu, veal cheek croquettes are the standout, and the cocktails are riffs on classics. The best? A borscht Bloody Mary that dances a jig across your tongue. megarobar.co.uk
After Eight Dessert
I have a whole lot of love for After Eights. No, really. They are my madeleines: ever reminding me of Christmas and my grandmother. The new After Eight dessert pots, however, remind me only of the day at primary school when I ingested some PVA glue. They are bad, bad, bad. Goodbye, childhood memories. £2, sainsburys.co.uk
Reuse content