I have three lobster pots just off the beach in Dorset and they can be quite productive. It's really quite satisfying to catch a few lobsters, especially as you can create some interesting dishes with them.
Buying a lobster can be an expensive business but used cleverly, it can be stretched out for a good few meals. If there are two of you with a half kilo of lobster, you could create a little feast with a lovely three- or four-course lobster supper.
It's best to buy a live lobster and cook it yourself. The RSPCA recommends putting it to sleep before plunging the lobster into boiling salted water – you can do this by putting it in the freezer alive for half an hour. For the dishes I'm discussing, simmer the lobster for 10 minutes, then remove from the water and leave to cool naturally, or plunge it into cold water to stop the cooking.
Lobster with mange tout and ginger
Serves 2
I had a crack at growing mange tout this year and I must say they had quite a good yield, though a few of them went over and turned into peas. The nice thing when you grow something like this, is you feel like you should make an effort and not just serve them as a side dish.
Home-grown mange tout or sugar snaps paired with lobster fresh out of the sea certainly gave this humble vegetable a nice lift.
½tbsp vegetable or corn oil
50g mange tout or sugar snaps, trimmed
A small piece of root ginger, finely chopped or grated
2 spring onions, thinly sliced on the angle
½tbsp soy sauce
A handful of pea shoots (optional)
6-8 thin slices of lobster
Salt and freshly ground black pepper
Heat the oil in a frying pan and quickly stir fry the mange tout, ginger and spring onions for a minute, stirring them as they are cooking. Next, mix in the soy sauce and pea shoots and cook for 20 seconds or so, then stir in the lobster, remove from the heat and arrange on serving dishes.
Lobster and mushroom stew
Serves 2
You can use any seasonal mushrooms for this and even add some dried Chinese black fungus for colour and texture.
1 large shallot, peeled, halved and finely chopped
A good knob of butter
1tsp flour
100ml white wine
250ml fish stock or the lobster broth
120-150g wild mushrooms, cleaned and cut into even-sized pieces
½tbsp chopped chives
A few slices of lobster from the tail and/or claws
Salt and freshly ground black pepper
Gently cook the shallot in the butter for a minute, then stir in the flour and gradually stir or whisk in the wine and stock; bring to the boil and simmer gently for about 15 minutes.
Add the mushrooms, season to taste, cover with a lid and continue simmering for another 5 minutes. Drop in the chives and pieces of lobster and simmer for a minute to heat through the lobster, then arrange in warmed serving bowls.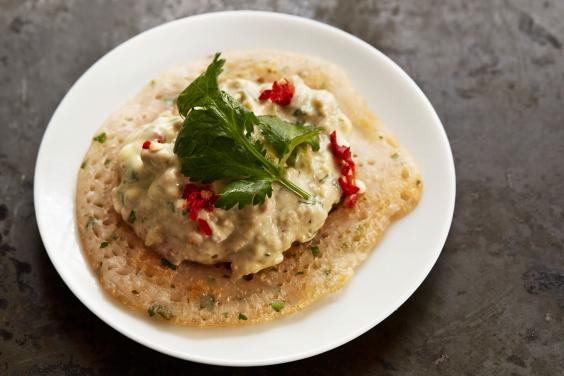 Lobster drop scones
Serves 2
Occasionally, you will come across a female lobster that when you cook it has a lot of black-looking gunk in and near the head. Don't be alarmed, this is unformed roe or coral and can be put to good use. If you have overcooked your lobster, it will be bright red – cooked to perfection or slightly under and it will be black.
Ideally, use this roe to make these drop scones, but if your lobster doesn't contain any, don't worry, it won't alter the taste, it just changes the colour of them a little as they cook.
The meat from about a quarter of a cooked lobster
The brains and meat scooped out of the head of the lobster
1tbsp good-quality mayonnaise
A good pinch of cayenne pepper
Some diced chilli
A couple of sprigs of coriander
For the drop scones
60g gluten- and wheat-free self-raising flour
1 small egg, beaten
100-120ml milk
The unformed coral/roe from the lobster, if it has any
Put the flour into a mixing bowl, mix in the egg and enough of the milk to form a smooth, thick batter, then stir in the roe and season.
Heat a non-stick frying pan and rub it with a little vegetable oil. Drop a couple of tablespoonfuls of the batter into the pan and let the scones cook for 3 minutes, until bubbles rise, then turn them over and cook for another 2-3 minutes.
You will have some extra mix here if there are just two of you eating, so keep the mix in the fridge or make teaspoon-sized ones and freeze them for a snack.
While the drop scones are cooking, cut the lobster into four slices. Mix the brains and meat from the head with the mayonnaise and cayenne pepper.
To serve, place a drop scone on to a small serving plate, spoon some of the mayonnaise on top, then a couple of slices of the lobster on the mayonnaise, and a sprig of coriander on top.
You can also added some diced chilli in there, too, if you fancy a little extra kick.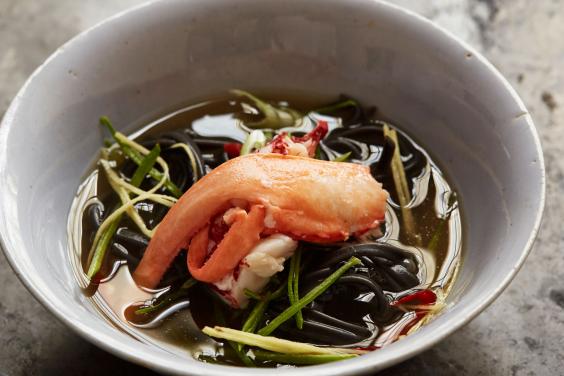 Lobster broth with noodles
Serves 2-4
The lobster shells never go to waste in my house, they get turned into a clear broth like this, or a bisque which goes in the freezer for a rainy day. I've made this into a kind of Asian broth: you can vary the ingredients by adding Asian mushrooms and/or pea shoots and the like – it's up to you. I've used gluten-free, black, udon-style noodles here, but normal udon or ramen noodles would be fine – or even black-ink pasta.
For the broth
The shells from one lobster, chopped and rinsed under the cold tap
1ltr fish stock
1 small onion, peeled and roughly chopped
2 cloves of garlic halved
Peelings from the root ginger (used later)
To serve
Some slices of lobster tail or claw meat
A small piece of root ginger, peeled and finely shredded (save peelings for broth)
A few sugar snaps or mange tout, shredded
23-30g black noodles or udon
Put all of the ingredients for the broth in a saucepan, bring to the boil, skim and simmer very gently for 45 minutes. Strain the broth through a fine-meshed sieve into a clean saucepan, then season to taste.
Cook the noodles according to the manufacturer's cooking instructions, then drain. Put the ginger in the broth and simmer for a minute, then add the chilli, mange tout and lobster; remove from the heat. Arrange the hot noodles in a bowl, place the lobster pieces on top, then pour the broth and garnish over and serve.