On 17 March, the bars of Britain will rock with fake Irishmen in green skyscraper hats and ginger leprechaun beards, waving tricolour flags and holding black-and-white pints of Guinness: a colourful celebration, not of Ireland of course, but of the cultural appropriation of Irishness.
There's nothing new about this. The first St Patrick's Day Parade was in 1762 in New York City, and it's become an annual spectacle, as non-Irish people of all nationalities march down Fifth Avenue, channelling their inner Shane McGowan or Sinead O'Connor. A mild London version is scheduled for this Sunday, 15 March (a shame they couldn't get the day right, it's the 17th) with "crazy giant creatures, fun community floats, vibrant dance groups and Irish bands" processing through the streets from Green Park to Trafalgar Square. Brendan Behan, thou shouldst be living at this hour.
Over the years, much of Irish culture has been commodified and anglicised: the concept of "the craic", the Irish pub (all those Finnegans Wakes and Durty Nellies, springing up from Holborn to Hawaii), Irish humour vulgarised into Mrs Brown's Boys, Irish step-dancing evolved into Riverdance, Irish stout into "cream ale". And now, amazingly, they've made poteen acceptable in cocktail bars.
Poteen! – it's spelt poitin in Irish, it means "little pot", part of the distilling process, and it's pronounced "potcheen" – has a formidable reputation. It's been talked about, over 400 years, with a mixture of dread and respect. It was basically moonshine – distilled from potatoes, barley, grain, treacle, sugar beet, even crab apples – and invariably hit insanely high levels of alcohol-by-volume: 80 or 90, whereas standard high-street spirits, such as gin and vodka, hover around the 40-45 mark.
That strength, that alcoholic purity, was awe-inspiring but seriously dangerous. When I was young, my Irish cousins told me about weekend poteen binges in Galway that had left one participant blind and another falling into his fireplace, unable to extricate himself. Rumours that poteen can make you literally "blind drunk" persist. I was advised to take it with milk, to check its purity level: if it curdled the milk, it was unsafe. (Yes, you had to be that careful.)
I tried a couple of shots one evening, pouring it over chunks of ice. It burned my throat like a flame-thrower but the taste was hard to identify: a grainy flavour, suggesting Smirnoff and petrol. I went groggily to bed and woke at 4am with a raging thirst, whereupon I drank two pints of water – and stayed locked in an alcoholic stupor until lunchtime as the diluted moonshine coursed like a virus around my bloodstream.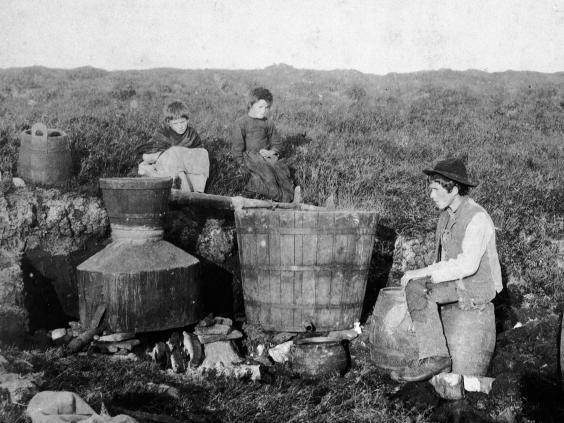 It was a drink that enlivened the rural community. When I lived, for a while, in a village beside the River Shannon, the local butcher would sometimes reach beneath his counter and flourish a lemonade bottle like a magician's rabbit, saying, "Willya have a drop of the craythur on this cold morning? Just to get the circulation going?" Locals swore that it was a wonderful disinfectant to pour over sores or wounds. The only time I attended an Irish hunt, with the Galway Blazers, little glasses of the toxic grog were handed up to the riders meeting outside the Oasis Bar, to bolster their tally-ho spirits.
Its history has been a furtive, secretive, under-the-counter one. In 1661, a law was passed in Ireland, saying distillers must pay a tax on spirits produced for private use. The home stills, even the ones located in the depths of the countryside, were suddenly subject to government levy. Unsurprisingly, the home distillers failed to co-operate, and in 1760 a further law made it illegal to operate a still without a licence.
The poteen still was basically a "wash" of fermenting barley (or potatoes or whatever) in a small copper pot, heated by turf fires, preferably in wet or cloudy weather to disperse the smoke, and distilled along pipes and tubes over several days. The idea of the poteen outlaw, brewing up his raw, explosive nectar on the hillside, took root in Irish culture. Remember the Pogues' song "Fairy Tale of New York", in which the old man in the drunk tank sings "The Rare Ould Mountain Dew"? That song is all about the national grog:
"There's a neat little still at the foot of the hill
Where the smoke curls up to the sky,
By a whiff of the smell you can plainly tell
That there's poteen boys close by.
For it fills the air with a perfume rare
And betwixt both me and you
As home we roll, we can drink a bowl
Or a bucketful of mountain dew."
It was declared legal in 1997, provided its alcohol content was reduced, and now several Irish companies make it and sell it through Dublin pubs and off-licences. The first was Coomara, which in October 2013 sold "wild berry" and "orchard-fruits" poteen to 70 branches of Tesco, marketing it as a cocktail base.
The idea has taken off. This St Paddy's Night, the Reverend JW Simpson retro-cocktails bar off Tottenham Court Road will host an Irish poitin masterclass, in which a moonshine expert called Charlie McCarthy will explain how the stuff can be "incorporated into a range of delicious cocktails" and ask guests to try out their own creations.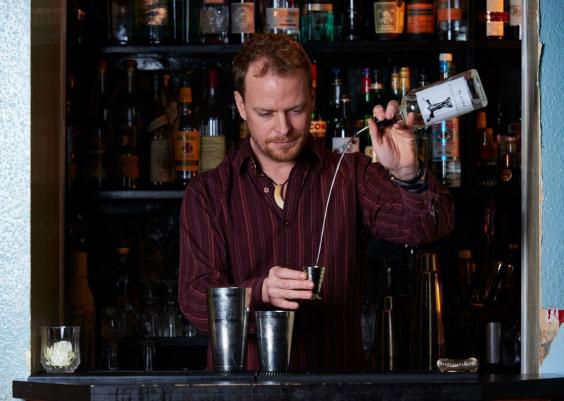 If you want to try the pure spirit, look in the Ali Baba's Cave that is Gerry's Wines and Spirits in Soho. "We sell just one poteen," said Marcus Dickinson, "It's called Teelings – £30.95 for half a litre. It's made from barley, not potatoes, and tastes like rhum agricole. It's a good product, very strong and very niche. Me, I just sip it, but it would work very well in the equivalent of a rum punch."
On the Whisky Exchange website, which lists a handful of poteens, purist commentators grumble about Teelings: "This isn't poteen. It's just a white unaged corn whiskey," says one. Another brand, Glendalough Premium Poteen, is incontrovertibly authentic, since it's made in County Wicklow using sugar beet and malted barley and aged in "virgin Irish oak", but the Celtic Poteen brand condemns itself with its very name – the Celtic Spirit Company of Anglesey.
Some purists will despair of poteen becoming a partner for mixers and fruit punch. Some will simply marvel at the way it's gone posh and acceptable and exclusive. And not only is it legally available – dressed up in exciting new glass livery and selling for £30 – but in 2008, it was accorded Geographical Indicative Status by the EU council and parliament, which means that – as with champagne in Champagne and parmesan in Parmigiano – only poteen made in Ireland is to be considered the Real Stuff.
It now has protected status, backed by law – a sign that Ireland is emphatically proud of a drink that used to horrify civilised tipplers with its rough, abrasive, fiery attack; but which must have seemed a perfect emblem of the rebel spirit, as it flowed through the tubes and alembics of its distillation, while its makers blinked in the turf smoke on the hills in the Cavan or Wicklow moonlight, and waited, and waited, for the first drops to fall.
Reuse content