One of my favourite cookbooks, French Provincial Cooking by Elizabeth David, does not contain a single photograph. First published in 1962, it is embellished with gorgeous drawings by the Italian artist Renato Guttuso. These do not depict the finished dishes but evoke the ingredients – piles of vegetables, fish on the slab and so on. The result is an exquisite volume that delights the eye and entertains the mind, but it probably would not be published today – at least in that form.
This is the view of cookery maven Prue Leith. "In my day, you could still buy a good cookbook in paperback with no pictures at all," she told the Radio Times. "I doubt if that would sell today…" Her insistence that "the look of the book dictates the sale" is supported by a posthumous work from my culinary heroine. Published in 2013, Elizabeth David on Vegetables is a selection of recipes culled from her eight books and heavily illustrated with specially commissioned glossy photos. It is hard to say what might have been the reaction of La David, who was fastidious about illustrations, but it has to be admitted that the reformulation is effective. I found myself more tempted to make soupe au pistou or potage crème de petits pois by the tempting snaps than the evocative line drawings of Guttuso.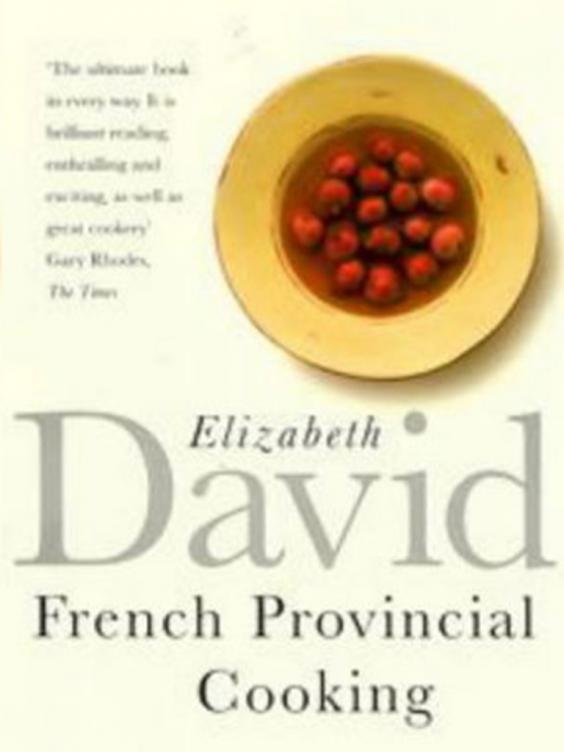 It seems that our minds have been reconfigured to induce a salivary reaction when our eyes are seduced by a high-quality food photograph. The latter has to be in colour, as the black and white images in the Constance Spry Cookbook (1956) are the reverse of alluring, especially the meaty ones. Similarly, early colour photos, as seen in the works of Fanny Cradock, don't do much for the appetite (though this repulsion could the result of her fondness for lurid food colourants). But almost all the photography in today's cookbooks has an atavistic appeal to one of our two fundamental appetites. No wonder it is called food porn.
I scarcely ever have a problem with food photography. Often a picture of a dish will tempt me into trying, say, Rick Stein's fresh broad beans with black sausage and garlic shoots or Sam & Sam Clark's black rice cuttlefish and preserved lemon (both are excellent). Where my gorge rises is when a publisher tries to broaden a book's appeal with gooey shots of the creator. "Chuck out any cookbook that has the author smiling on the cover," advises a foodie friend (Rick Stein being a rare exception to this sound maxim).A recent volume from one of London's foremost restaurateurs, which was packed with gruesome snaps of his rictus, found itself heading for the local Oxfam shop a matter of minutes after it arrived in our house.
Worse still are the lifestyle shots, where we are expected to be entranced by the author's utensils, kitchen and offspring. Of course, I find myself utterly indifferent to such accoutrements, except… well, there is this Argentine cook called Francis Mallmann, who recently produced a barbecue book called Mallmann on Fire, full of transporting shots of conflagrations, charcoal piles and custom-made griddles. In short, it is a dream compendium for any man who fancies himself at the barbecue. Much of the photography was done at Mallamann's own island in a Patagonian lake. (According to the publisher, he is "the reigning star of food television in the Spanish-speaking world.")
Since I haven't managed to obtain the requisite gung-ho equipment – such as a parrila (grill) and chappa (griddle), not forgetting the horno (brick oven) – I admit that I have yet to cook a single recipe in this big glossy book. Still, a guy can dream about two-inch bone-in rib-eye steak, pork steaks with roasted baby grapes, grilled carrots with ricotta… 
Food porn? Perish the thought. These are just explanatory photos of extramural culinary procedures. The idea that they might excite gents of a certain age is the merest piffle.
Reuse content