For generations the Jones family had turned the soil around their home in North Shropshire, supplying wheat to an increasingly tough market. A living linked to global price fluctuations and the whims of the weather, and a crop that could only be a commodity. When young Stephen enrolled at agricultural college as a bright 18-year-old, not certain if or how to take on the mantle, he was hungry for more.
Jones junior experimented with an exotic seed that few people had heard of, and fewer still knew how to pronounce. "Dad let me have a corner of a field that was tricky to get the plough into or something," Jones recalls on the farm near Shrewsbury. "Nothing that stood out to say that it would work. I think he viewed it as my little project."
Ten years later, after trials, rotations and doomed harvests, he has emerged as Britain's quinoa king, standing at the forefront of a revolution in an industry and the tastes of a nation. For years, the ancient Andean staple of the Incas has fuelled the health-conscious middle classes – as well as ridicule and snobbery thanks to its extreme wholesomeness and mouthful of a name. But now quinoa is thrusting into the mainstream – and the skies above England.
"When I started in 2005 I saw the problem of growing quinoa in the UK being how to market it," Jones, now 28, says in one of his fields. He strips a head of quinoa from a chest-high plant, which has turned from leafy green to a dry, grey-brown. When he rubs the flower in his hands, it falls apart, leaving a fine seed in hishand palm. It's ready to harvest, and 10 minutes in hot water will turn it into a versatile superfood rich in protein and minerals.
"Now marketing isn't a problem because quinoa sells itself," he adds. "The challenge is growing enough."
50 best foods for healthy living
50 best foods for healthy living
1/50 Digestion

Live yoghurt - Many with digestive issues avoid dairy, but live yoghurt may be worth a shot, as it is full of gut-friendly bacteria. Because the lactose in live yoghurt is effectively broken down, it is gentler on the system than milk.

Rex

2/50 Digestion

Chia seeds - Just two tablespoons of chia seeds provide a third of your recommended daily intake of fibre.

notahipster, Flickr

3/50 Digestion

Sauerkraut - Fermented foods like sauerkraut (fermented cabbage) is packed with probiotics, aiding digestion.

Qwerty Binary

4/50 Digestion

Lentils - High in insoluble fibre, lentils are great for digestion, as well as being regarded as beneficial in alleviating irritable bowel syndrome and diverticulosis.

Rex Features

5/50 Digestion

Buckwheat - Despite the name, buckwheat is completely wheat and gluten free and a great, high fibre alternative to anyone with a wheat intolerance.

Getty Images

6/50 Immune system

Oranges - Citrus fruits such as oranges are high in Vitamin C, which helps to prevent colds and infection.

Getty Images

7/50 Immune system

Mushrooms - Shiitake mushrooms have been shown in studies to boost the production of white blood cells, thus improving the body's ability to fight infection.

powerplantop, Flickr

8/50 Immune system

Clams - Contain zinc and selenium, which helps to slow the body's immune response and control inflammation.

9/50 Immune system

Garlic - Packed with antioxidants, garlic was used to fight gangrene in World War I, but more practically can help to keep colds at bay. It is also quite anti-inflammatory and anti-fungal, and used to treat everything from psoriasis to athlete's foot.

10/50 Immune system

Broccoli - One cup of broccoli provides you with almost 100% of your RDA of vitamin C, which is thought to stave off colds and other illnesses. It is also rich in vitamin A, K, folate and potassium. Cruciferous vegetables such as broccoli contain a sulphurous compound that studies show can lower the risk of cancer.

Getty

11/50 Skin, hair and nails

Avocado - The good fats in avocado hydrate the skin, while omega 9 can help reduce redness. Avocado is also rich in vitamin E, which helps guard against sun damage and vitamin C, which helps produce elastin and collagen for skin firmness.

Getty

12/50 Skin, hair and nails

Sunflower seeds - a handful contains more than a third of your daily vitamin E needs.

F Ceragioli via Wikimedia Commons

13/50 Skin, hair and nails

Pumpkin - One of the richest sourcs of Vitamin A, which is essential for the formation of connective tissue, i.e. skin.

Getty Images

14/50 Skin, hair and nails

Olive oil - The monounsaturated fatty acids in olive oil plump the skin for a more youthful look, plus antioxidant polyphenols may curb ageing free-radicals.

SAIF DAHLAH/AFP/Getty Images

15/50 Skin, hair and nails

Green tea - Polyphenols in green tea could help to offset sun damage.

Getty Images

16/50 Weight loss

Cinnamon - This spice is a great additive for breakfasts and bakes if you are trying to cut sugar and sweeteners, and it is also thought to help balance blood sugar.

Getty Images

17/50 Weight loss

Apples - Apples are high in pectin, a soluble fibre that helps to keep you feeling fuller for longer.

Getty Images

18/50 Weight loss

Eggs - One of the best sources of protein, eggs help to keep you energised and prevent unhealthy snacking, while providing a host of vitamins and minerals for general good health.

Getty Images

19/50 Weight loss

Tuna- High in protein, low in saturated fat and rich in omega 3, tuna is a fantastic option for maintained weight loss. The omega 3 in oily fish improves the body's response to insulin, lowering metabolism and helping to prevent the dreaded sugar spikes.

Getty

20/50 Weight loss

Oats - High in fibre for slow-release energy, oats also are thought to lower cholesterol.

Getty Images

21/50 Heart health

Beetroot - This is a good source of iron and folic acid. It is also rich in nitrates, which help to reduce blood pressure.

Raimond Spekking

22/50 Heart health

Garlic - High in manganese, selenium and antioxidants, garlic is thought to help lower blood pressure and reduce cholesterol.

Getty Images

23/50 Heart health

Asparagus - Rich in the amino acid asparagine, which serves as a natural diuretic and helps rid the body of excess salts. This is beneficial for people have high blood pressure or other heart-related diseases.

Getty Images

24/50 Heart health

Salmon - Studies have found that eating oily fish such as salmon can lower blood pressure and reduce cholesterol. Rich in Omega-3 fatty acids,

Getty Images

25/50 Heart health

Pomegranate - Rich in vitamins A, C and E, and high in fibre, pomegranates are thought to help protect against heart disease. A 2004 study showed evidence that daily consumption helped to alleviate narrowed arteries and reduce cholesterol.

Getty Images

26/50 Brain health

Mackerel - Oily fish including mackerel is rich in Omega 3, which studies have suggested is linked to a reduced risk of dementia, schizophrenia and depression, as well as enhanced memory.

Getty Images

27/50 Brain health

Hazelnuts - HIgh in Vitamin E, which studies say can help to prevent cognitive decline in older people.

Getty Images

28/50 Brain health

Blueberries - low in calories and high in antioxidants, blueberries are regarded as a nutritional powerhouse. Some studies have found a link between blueberry consumption and improved spatial learning and memory.

Getty Images

29/50 Brain health

Cacao - Contains phenylethylamine, which acts as a mild mood enhancer, and a 2009 study shows signs that it can help to reduce stress. However, adding sugar and milk to cacao to make your favourite chocolatey treat offsets any health benefits - try to keep it as close to its natural state as possible.

Keith Welle via Wikimedia Commons

30/50 Brain health

Pumpkin seeds - Just a handful of pumpkin seeds a day provide your total RDA of zinc, which is important for enhancing your memory.

31/50 Energy

Sweet potatoes - Starchy veg like sweet potatoes are a great source of low-GI carbohydrates for slow-burn, long-lasting energy. Sweet potatoes are also rich in soluble fibre and vitamins A, C and B6.

Getty Images

32/50 Energy

Beef - Low energy levels are often a sign of iron deficiency or anaemia. Lean cuts of beef are a good source of iron, as well as being a protein powerhouse to aid muscle development and stamina.

Getty Images

33/50 Energy

Brown Rice - Complex carbohydrates like brown rice break down into energy-boosting sugars more slowly than white rice, meaning more energy for longer, and more balanced blood sugar levels - i.e. no nasty sugar crash within hours of eating.

Arria Belli, Flickr

34/50 Energy

Bananas - A great source of energy that keep sugar levels balanced, plus the sweet taste will help to satisfy cravings.

Getty Images

35/50 Energy

Quinoa - This supergrain contains more protein than rice or any other grain, ideal for building muscle, along with being a nutrient-rich source of carbohydrates.

AFP/ Getty Images

36/50 Bone health

Sardines - Sunshine is the best source of bone-building Vitamin D, but if a British summer doesn't allow for that, sardines are a surprising source, as well as being rich in calcium.

Getty Images

37/50 Bone health

Brussel sprouts - Just three-quarters of a cup of this divisive winter vegetable provides your RDA of vitamin K, which is essential in helping the absorption of calcium for healthy bones.

Getty Images

38/50 Bone health

Chickpeas - High in protein and fibre, chickpeas are also packed with iron, phosphate, calcium, magnesium, manganese, zinc and vitamin K, which contribute to building and maintaining strong bones.

Scott Teresi, Flickr

39/50 Bone health

Spinach - If dairy isn't your thing, spinach could be your saviour - a cup of cooked spinach contains a quarter of your calcium needs.

Getty Images

40/50 Bone health

Almonds - Rich in potassium, which prevents the excretion of calcium in urine, as well as being rich in protein and other nutrients for maintaining bone health.

M.Verkerk/J.J.G.Claessens/Creative Commons

41/50 Men's Health

Prawns - Rich in zinc, which is essential for sperm quality and fertility.

Getty Images

42/50 Men's Health

Tomatoes - high in lycopene, an antioxidant which, according to the World Cancer Research Fund, can help reduce the risk of prostate cancer. Strangely, cooked and tinned tomatoes are recommended, as the lycopene is more readily absorbed.

PIERRE ANDRIEU/AFP/Getty Images

43/50 Men's Health

Brazil nuts - High in selenium, which boosts the immune system and strengthens the thyroid gland.

Quadell

44/50 Men's Health

Cauliflower - Rich in vitamin C, potassium and boron, which is said to aid in increasing testosterone levels and muscle-building.

Getty Images

45/50 Men's Health

Turkey - With obesity an escalating problem for men, turkey is a great swap for your morning bacon. HIgh in lean protein, it is full of B vitamins, which can aid in lowering cholesterol.

Getty Images

46/50 Women's Health

Walnuts - These nuts contain antioxidants and phytosterols that may help reduce the risk of breast cancer.

Getty Images

47/50 Women's Health

Green beans - Low in fat, bean are a great source of protein and fibre and can also help to guard against breast cancer and heart disease. Isoflavones in beans, chickpeas and lentils help with the regulation of hormones, easing PMS and menopause symptoms.

Getty Images

48/50 Women's Health

Flax - One of the oldest sources of fibre in the world, flaxseed can ease digestion as well as providing omega 3 fatty acids. It is also thought to be of help with menopause, but some experts say it should be avoided if pregnant.

Sanjay Acharya via Wikimedia Commons

49/50 Women's Health

Cranberries - Rich in anthocyans, red berries such as cranberries help to play a role in cell repair and are thus thought to reduce cancer risk. Also high in vitamin C and folic acid, essential for women of childbearing age, and cranberry juice is a fantastic way to get rid of cystitis.

Getty Images

50/50 Women's Health

Tofu - A great source of phytoestrogens, which can help with the symptoms of menopause and polycystic ovarian syndrome (PCOS).

Getty Images
Jones looks up to survey hundreds of acres of quinoa, their heads swaying gently in the late-summer breeze. Only the hedgerows place the scene in the Welsh borders rather than the uplands of Bolivia or Peru. By next weekend, Jones and his British Quinoa Company will complete a record harvest: more than five hundred 500 tonnes of the nutty little seed, enough to fill millions of the salad boxes and protein pots, now flying off the shelves of his biggest customer.
Two years ago, Jones achieved his first viable commercial crop, and got an email. "The initial inquiry was just for a few tonnes," he says. Pret A Manger, the sandwich giant with more than 300 UK stores and 300,000 customers a day, had only just introduced quinoa to its menu, putting imported seed in a couple of salads. Customers chomped through 1.7 tonnes of it a week and demand has spiralled since. Last year, Pret bought Jones's entire crop, and now sells 4.4 tonnes of it every week. Yet the bulk of the quinoa we eat in ever greater quantities – in salads as well as cakes, porridges and biscuits – is still shipped from as far afield as its native South America. In 2012, Britain imported 1.7 million tonnes of the stuff, the largest chunk of it from Bolivia. In 2014, imports grew to 10.5 million tonnes, and stood at almost seven million in the first half of this year alone. Peru has now become Britain's biggest supplier, accounting for more than half of last year's imports.
Evidence of this new, mainstream demand is clear in supermarkets and restaurants. Chicken merchants Nando's added a quinoa salad to its menu in April. Tesco now sells 20 quinoa products, many contained in the pre-cooked pouches that have swiftly become a supermarket staple (Uncle Ben's launched its own quinoa pouches this summer). Marks and Spencer takes a quarter of the Peruvian import and at Waitrose, which shifts quinoa in 30 products, the seed rivals couscous as its best-selling "grain" after rice.
Waitrose says it is considering buying British but for now home-grown seed accounts for a tiny fraction of what we consume. Jones is confident there's scope to shift the balance. Early on in his tests, he identified a sweet spot in the market, where demands for health foods and locally grown foods meet at a vast reserve of further potential discovery. Over a lunch of quinoa and avocado salad in hisJones's mum's kitchen, The Independent's photographer tries the seed for the first time – and later takes a bag home. "People are still seeing it on the high street and saying, 'What the hell is quinoa?'," Jones says. "That's really good for us."
It's also why the well-nourished players in a flourishing trade are confident that they are dealing with more than a fad. "I love looking at Google Trends," Jones says. "If you search, for example, goji berry, you see a big spike in mentions and then it falls down to nothing. But quinoa over the past 10 years has gone up, up, nice and steadily. For me that's natural growth and it means longevity."
British farmers agree in growing numbers. And Jones has competition from an unlikely place: Essex. Peter Fairs is now Britain's second biggest quinoa grower, but he was also the first. "I started in about 1986," the 71-year-old says from his farm, west of Colchester. "In those days we didn't have foodies on TV telling us what to eat." Fairs faltered at first, giving out 1,300 samples of "Mother Earth" grain at a trade show in 1989. "Unfortunately, it didn't have the delicious nutty flavour we were telling people it had," he remembers. "It was bitter and I think we put 1,300 people off."
Britain wasn't ready for quinoa but the pheasants and partridges on Fairs' farm loved it. So he began mixing it with kale – another health food before its time – and marketed it to shooting estates as a cover crop. About eight years ago, during the early fad phase, he had another go at humans, and began selecting and breeding varieties to remove the bitterness. His breakthrough came in 2013, the same year as Jones. "It's a bit like the race to the Pole," Fairs says. "But we get on well. We're competitors but we can learn from each other."

Fairs sells his crop – 300 tonnes of it this year – to Hodmedod's, a Suffolk-based online shop. Managing director Nick Saltmarsh believes quinoa is well on the way to matching the status of couscous or even rice. "As UK production increases and becomes more efficient, the price will inevitably come down and make it more affordable too," he says.
Today, Tesco's standard, uncooked quinoa costs £7.84 per kilo, while couscous is just £1.40, less than brown rice. Hodmedod's sells Fairs' Essex quinoa for £9.98 per kilo for its smallest bag (500g), while Jones's bags, outside the Pret supply, go for £8.70 per kilo via his website and a handful of local shops.
If scaling up is key to cracking an even bigger market, Jones may have the edge. His other smart move was to acquire the license to grow not just any quinoa, but a particular variety optimised for European conditions at a Dutch university. Because, as he found in those early experiments, quinoa that thrives high up in the Andes doesn't love Shropshire. Jones got some of the new seed and after further trials, and a disastrous 2012 harvest that almost made him quit, he knew it would work.
If other British farmers want to grow the Dutch variety, they have to sell their crop to Jones, and get a decade of expertise in return. Jones started with one outside grower last year but now, under the British Quinoa Company, he works with 16 farmers from Lincolnshire, Kent, Somerset and beyond. Together they have added more than 600 acres to the 230 Jones cultivates himself. "It's a lot more hassle than wheat but the people who do it tend to be farmers who are up for a challenge," he says. "It's also more exciting and – when you get it right – more profitable."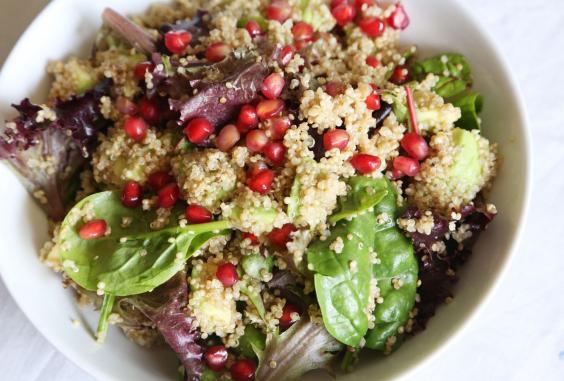 Jones also represents a new generation of young farmer who isn't content to shift grain as if it were gas or oil. They use new technology and marketing skills to add value to their land by putting a name to their produce. "A lot of farmers out there are struggling, you have to push the boundaries," Jones says. Charlie Beldam, who is also 28, grew up on his father Richard's farm in Worcestershire. Five years ago, during his own stint at agricultural college, he began pressing rapeseed, which he already grew, to create Cotswold Gold, a gourmet oil. He now sells almost 200,000 bottles a year in more than 300 outlets, as well as supplying dozens of top chefs. "We get about three new shops or restaurants a week from Twitter alone," he says. Jones, too, is big on social media, using it to attract new customers and growers. All of which is good or bad for Peruvians and Bolivians, depending whether they export quinoa to Britain, or just want to eat like they have for more than 4,000 years. Two years ago, rising demand in the West sent global prices spiralling beyond the reach of ordinary Bolivians. The market has calmed down since but concerns about sustainability remain, even before you look at issues such as food miles.
Despite the growth of British quinoa, imports continue to rise, forcing entrepreneurs to find new ways to stand out. Patricia Estivariz came to Britain from her home in La Paz, the Bolivian capital, 12 years ago to learn English. She fell in love and never went home. After a failed attempt to import alpaca knitwear, she set up Punku Quinoa Foods from her Essex home and began selling Bolivian-made quinoa cookies. She can't source enough. "It's amazing because Bolivia is well-known for being a poor country and having corruption," she says. "Seeing something positive coming is really rewarding, and so is knowing that it will benefit poor farmers."
Meanwhile, attitudes have changed to a food that for many had become a byword for worthier-than-thou eating. Henry Dimbleby began selling quinoa in superfood salads in 2004 when he opened the first branch of the Leon restaurant chain. "I think it's the pronunciation that irritates people," he told me in 2013. "It feels socially exclusive because people look at it and think they'll be judged if they say it wrong. But who cares?"
Nick Saltmarsh thinks we have moved on. "I think as a nation we're pretty used to foods from around the world with exotic names," he says. "I once heard someone refer to couscous as 'coo coo'." Jones got round the name issue by choosing to say "KWIN-oah". Others are quick to correct him, suggesting "KEE-nwah". The Quechua people of the Andes know it as kinua or kinúwa (the Spanish turned it into quinoa) which they say is more like "Kee-NOO-ah". So there.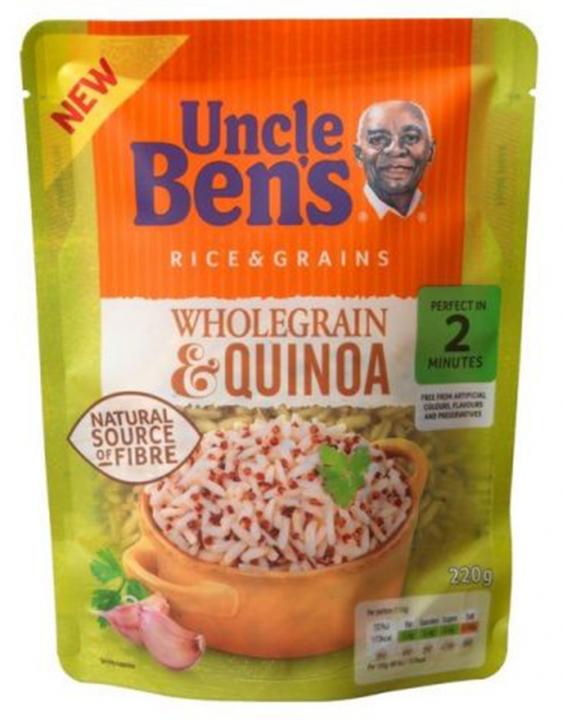 However you say it, Jones thinks demand has leapt over the snobbery hurdle. But you don't have to look far for enduring scepticism, even in middle-class food circles. Shirin Kouros, an Iranian-Swiss entrepreneur from Texas, encountered early resistance to the quinoa juggernaut when she opened her first Good Life Eatery in Chelsea, West London, of all places, in 2013. But she now has three stores and booming demand, particularly among men, who, she noticed, had been harder to convince. "It's just a matter of letting people taste it," she says. "You wouldn't expect a quinoa muffin or burger to taste good, but they do."
Even Edward Jones, Stephen's father, is on board. He was quick to realise the potential in the crop, and has been key to its success, but he was slower to put it on his dinner plate. "I'm not that keen on cold meals," he says at his barn, where his mountain of wheat still overshadows Jones's quinoa hill. He ate a pork pie before Stephen served up his salad. "I do eat the salads but I prefer it when it's cooked up with some onions and other things, or in a chocolate cake." He has no plans to make his first visit to the nearest Pret, in Birmingham or Chester, however. "I'm afraid I'm not very keen on towns either," he says. 
The family is buoyed by the success of the quinoa company, and the farm is more secure than it has been for years. Jones is already experimenting with other alternative crops, including buckwheat and Ethiopian teff, as well as oca, a pink little potato-like tuber. But quinoa is king in Shropshire for at least the next generation to farm these fields. How far can he take it? "We'll keep growing until it stops being fun," he says. "But we're not there yet."
Reuse content