The Royal Sonesta Hotel in the heart of New Orleans's French quarter lands you in the essence of what you think of when imagining New Orleans. On the brilliantly named Bourbon Street, peopled by every kind of social misfit imaginable, out of each and every one of the dozens of bars comes loud and lively music, with trumpeters and trombonists blasting out just the kind of melodic jazz invented here.
I am in New Orleans on a mission. Three years ago, I visited the famed soul-food restaurant Sylvia's, in Harlem, New York, where we had smothered fried chicken, the most charming waitress and, to top it all, our Sunday brunch was accompanied by a live gospel choir. Ever since then, it has been my dream to bring the flavour of that experience to London. Now, finally, my plan is in action and I hope to open a new restaurant in the City, to complement my restaurants The Cinnamon Club and Roast.
As I discover, soul food – the cuisine associated with the African-American legacy dating back to the slave trade – is just one part of the southern US culinary offering. I have come with Wyatt Shevloff, the chef I have recruited for the new restaurant, and our first of 20 meals in three-and-a-bit days starts here, at the Sonesta hotel's R'evolution, the city's fanciest restaurant. Its chef-owner John Folse is Louisiana born and raised, but has travelled the world and worked in the kitchens of such culinary stars as Anton Mossiman and Michel Roux. R'evolution is quite the celebrity haunt. Will.i.am and the entourage from the TV series Entourage have come and gone by the time we sit down, but rappers Outkast are in tonight.
We begin with turtle soup, which is intense, dressed with devilled eggs and layered with orange and Madeira. Wyatt has been perfecting his version back in London (he once cooked it for some deeply sceptical southern US friends, one of whom, upon tasting it, declared it "the truth"). But this one, with the complexity and layering of flavours you would never imagine from the classic local broth made with andouille sausage and shrimps, sets him recalibrating.
Iqbal Wahhab's trip to New Orleans
Iqbal Wahhab's trip to New Orleans
1/6 The magic of Southern cooking

Iqbal Wahhab with 'queen of creole food' Leah Chase

Simon Marthinsen

2/6 The magic of Southern cooking

Fancy a cocktail? A waitress pours drinks at a bar in New Orleans

Simon Marthinsen

3/6 The magic of Southern cooking

Chef John Folse says: 'We roasted and steamed oysters because we couldn't afford shuckers to open them. Poverty and evolution made us experimental with food.'

Simon Marthinsen

4/6 The magic of Southern cooking

Putting the final touches to a dish at Cochon

Simon Marthinsen

5/6 The magic of Southern cooking

Some of the sweet treats on offer

Simon Marthinsen

6/6 The magic of Southern cooking

Serving up soul food in the kitchen of a restaurant in New Orleans

Simon Marthinsen
A triptych of quails follows – one chargrilled, one roasted with andouille stuffing and one deep-fried. They look and taste stunning. In any other city, you might imagine the chef would be aiming for Michelin stars (except for the fact that there is no sommelier in sight – instead your order your wines from an iPad), but the atmosphere and service is far from snooty – plenty of the backslapping you would shudder to experience at Le Gavroche.
Southern food, Folse says, is not just about what is on the plate but the manner in which it is served. "Southern hospitality is known the world over. We're big huggers and we share our tables – that's foreign to most cultures. With entertainment, we let our inhibitions go."
Folse, now near 70 but with the energy of a 30-year-old, tells me how his own experience of poverty was his culinary inspiration and driver. "We grew up in the swamplands of Louisiana and we had to make the most of any ingredients we could come by. If we caught fish, we would fry it at night and then enjoy music and dance. It was simple food, but prepared with love."
London celebrates and enjoys so many national cuisines and is always so eager to devour new additions to our eating spectrum that we end up creating such hybrids as Japanese tacos. But more than ever, we are returning to authenticity. An authentic rendition of the culinary heritage of the American South is a gap I am taking a£2m gamble on, and I am currently pitching for a site close to the City for a launch this summer.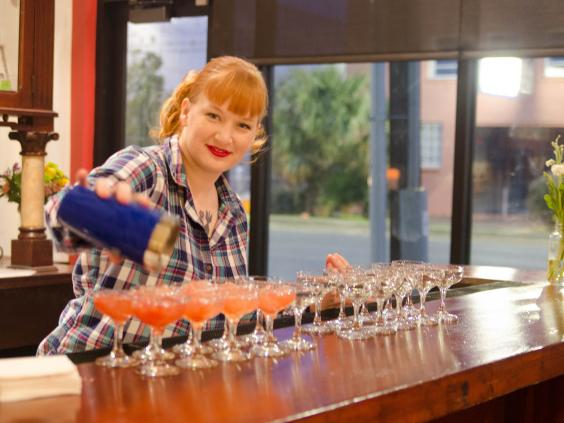 I ask Folse how much of that authenticity he brings to his high-end restaurants. "We don't hide our stories and we don't hide where our food comes from. We roasted and steamed oysters because we couldn't afford shuckers to open them. Poverty and evolution made us experimental with food."
If you've watched the great film Chef, there is a scene where its star and director, Jon Favreau, takes his son on a initiation rite to visit Café Du Mond, where our eating journey the next morning begins. The craziness of last night's (every night's) party on Bourbon Street has been hosed down, but trombonists are already puckering up at 9am as we head towards the institution favoured by locals and tourists alike, 24 hours a day.
At this vast expanse of space, established in 1826 in an old French market, the menu is stuck on a tin holding the napkins essential for what is to unfold. But we already know what we are here for, as do most visitors: deep-fried pastries called beignets, and coffee with chicory. Yep, that's pretty much all they serve, I'd imagine more than a thousand times a day, though with some reluctance they introduced juices in 1988.
These pastries symbolise the many different cultural influences this region has had over the centuries. When the French colonised Acadia, part of what we know as Canada, in the 17th century, they used that as a base to acquire further parts of northern America, most notably Louisiana, where their settlers became known as cajuns. Nothing is more Acadian than a beignet – a square, deep-fried choux pastry smothered with powdered sugar. After one mouthful, we are all covered with the stuff, and the napkin box rapidly depletes.
Our next stop is Dooky Chase's, trading since 1941 (though it had to close for two years following damage from Hurricane Katrina) and still presided over by the Chase family – including Leah Chase, who still cooks at 92. Her utter dedication to sticking to the script of unfettered creole cooking has earned her a reputation as its uncontested queen.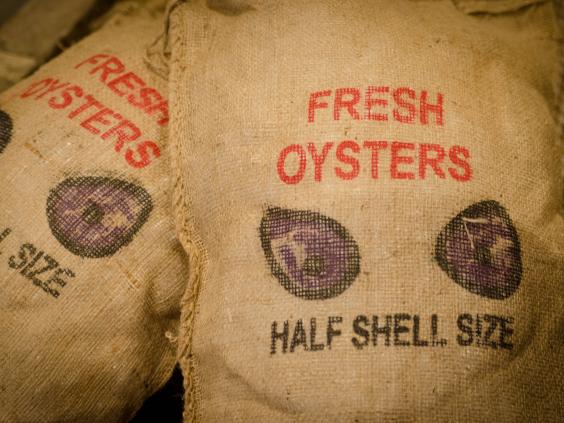 We queue for ages but are entertained by the walls, covered with pictures of President Obama tucking in there, a birthday message from Pope Benedict and countless lifetime achievement awards. Two local men queuing behind us tell us they save up once every month to come and dine here.
Gumbo, the essence of creole cooking, is an intensely flavoured broth cooked with shrimps, chicken and spicy sausage with rice, and here it is in a league of its own, as is Leah Chase's famed fried chicken. I ask Chase what is it that makes her establishment so special. "It's about how you treat people," she says. "When people come to dinner, sometimes they're tired, sometimes they're depressed. Your job is to make them happy."
What is becoming clear as the journey unfolds is that, while I have found a chef who can recreate the food in London, our bigger challenge will be to replicate the spirit of southern hospitality without it being false or contrived. Both Chase and Folse tell us, unprompted, that we have that spirit within us, but it will need to be the focus of our next visit.
That evening, we make a pit stop at Cochon. Based in a converted warehouse with a lively open kitchen, chef Donald Link reminds us of the importance of spice in cajun cooking – here, even the cocktails are vindaloo hot. We try fried alligator. People who say it tastes like chicken must be eating better chickens than I do, as this meat is much more complex and absorbs spices, where chicken more often gets covered in them. Unlike the black pudding variety, boudin here takes the French offal sausage and gives it a cajun twist by deep frying. We fall in love with it.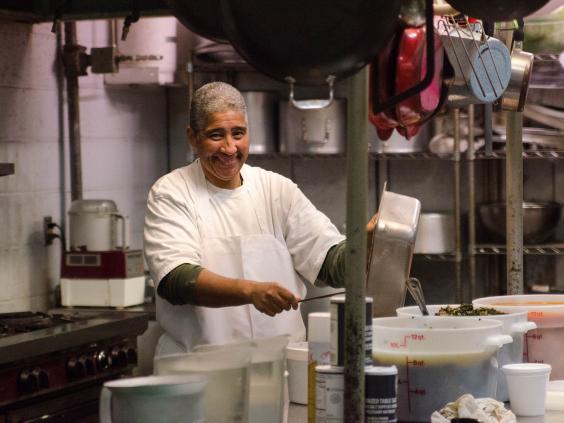 The next morning, we drive 600 miles to visit Memphis BBQ in Tennessee. No restaurant has won as many barbecue competitions as this one, including world's best barbecue for four of the past five years. This is pig region, so I defer to Wyatt when he digs into a rack of dry-rub ribs, which makes him look like Adam Richman in Man Versus Food, when he virtually cries with joy at what he is eating.
Into Memphis proper and, when we tell the man taking us to our rooms at the Sheraton where we've just been, he shakes his head. "That's not barbecue!" I tell him we have reservation that evening at Rendezvous. "Now that's barbecue," he promises us.
The vast restaurant seating more than 700 people still manages to have a queue outside. We meet Rendezvous's third-generation owner, who shows us pictures of guests ranging from Frank Sinatra to the Rolling Stones. Where are the pictures of local hero Elvis Presley? Did he not come here? "He only wanted to hire the whole place out and we never let him," he says.
By now, Wyatt is bursting at the seams, but he manages his final plate of ribs, while I just about manage a plate of smokey chicken. The food isn't really what makes this place appealing – it's the lively, vibrant atmosphere of people who have been coming here with their families for decades.
And that really is one of the many beauties of what we witness on our journey: the essence of Southern food is Southern hospitality. People and not plates make that happen. Is London ready for this? I'm as keen as you are to know the answer.
discoveramerica.com; neworleanscvb.com; memphistravel.com
Reuse content