This week I'm going raw with my recipes. The single most important thing when preparing dishes without the use of any direct cooking is quality of ingredients. I can't stress this enough! The fish needs to be fresh as hell and used within 48 hours of its departure from the deep blue; vegetables should be used within hours of being harvested.
I have been lucky enough to work with some incredible folk who get us the freshest produce. The Bean family from St Martin in Cornwall – Chris, his son Dylan and daughter-in-law Mutsuko – have been very important to my restaurants since we had the opportunity to start working together eight years ago.
Chris leads a fleet of five day-boats, including his first, the Lady Hamilton, which he bought back in 1972. We have a very simple arrangement whereby we agree to take a 10kg box of whatever he catches. At 3am, his team on shore are packing our fish, which was landed an hour before, and by 4am a courier will collect the haul of glistening mackerel, pollock, whiting and red mullet, and get the fish to us before 10am in time for us to prepare for the lunch menu.
When you get to work with produce as perfect as this, it makes life easier. It is best not messed with – best, in fact, served raw, with a little help from salt, citrus and sweetness to create a savoury umami.
This week's recipes are super-easy and best prepared as what I like to call snacks; each person should get three to four bite-sized portions. They are an impressive way to start a special evening entertaining friends with a bottle of something sparkling.
Robin Gill is chef-restaurateur of The Dairy, The Manor and Paradise Garage (@robingillchef)
Robin Gil's fresh, raw food
Robin Gil's fresh, raw food
1/8

Robin mixes the ingredients for his cured mackerel 'tacos' with pickled wakame

Paul Winch-Furness

2/8

The key is freshness and keeping everything chilled

Paul Winch-Furness

3/8

Season the mackerel with nori powder, fresh lemon juice, chopped dill, and nori crème fraîche

Paul Winch-Furness

4/8

Robin seasons his mackerel 'tacos' with nori powder

Paul Winch-Furness

5/8

Cured mackerel 'tacos' with pickled wakame

Paul Winch-Furness

6/8

Robin has access to his own honey from five beehives on The Dairy's rooftop

Paul Winch-Furness

7/8

Rooftop honey and bianchetti truffle: 'This is a classic example of seasonality; it screams spring!'

Paul Winch-Furness

8/8

Beef rump tartare with sour onions and rock oyster

Paul Winch-Furness
Cured mackerel 'tacos' with pickled wakame
You should find wakame and nori – two types of edible seaweed – in most large supermarkets or any healthfood store. They're great just to have in your larder and can be used in many ways as a seasoning. You can use any oily fresh fish for this: red mullet, mackerel…
The key is freshness and keeping everything chilled. The pickle and crème fraîche can be made in advance a day before. You could use kohlrabi rather than the mooli. I like to use Cornish caviar to top off this dish, but I have also enjoyed it very much without.
Preparation: 30 mins
Serves 4
150g fresh sea mackerel (filleted, skinned and pin-boned)
50g rock salt
120g sugar
200ml water
200ml rice-wine vinegar
50g dried wakame
4 sheets dried nori, cut small with scissors and blended into a fine powder in a high-speed blender
100g crème fraîche
1 large white mooli, cut into 24 thin slices on a mandoline
3 sprigs fresh dill, picked and chopped
Lemon juice, salt and black pepper, to taste
1 small tub Exmoor caviar, if using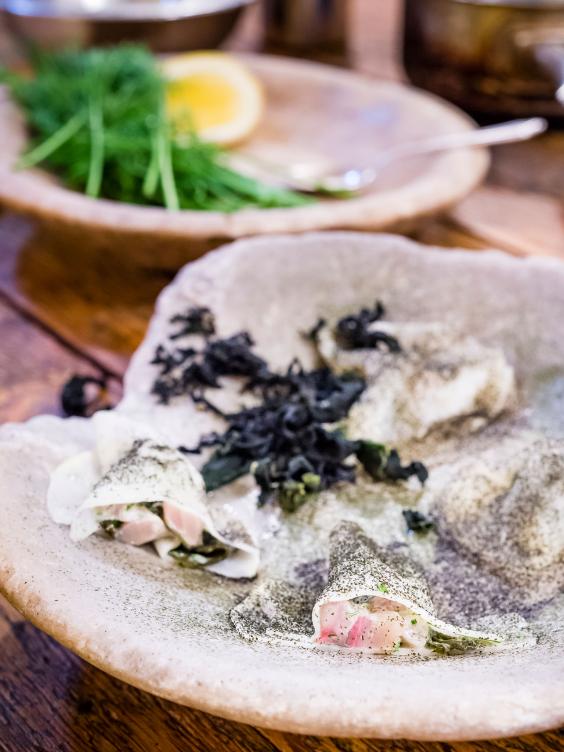 Place the mackerel skin-side down in a flat tray, cover with the rock salt and leave to marinate for 15 minutes. Wash gently under a cold tap, pat dry and refrigerate until required.
For the wakame pickle , combine the sugar, water and rice-wine vinegar in a pan and bring to the boil; add the wakame to the boiling liquor then remove from the heat, drain and reserve the liquor, and chill.
Whisk together 5g of the nori powder, crème fraîche, and salt and lemon to taste.
Place the sliced mooli on a flat tray and season with salt and 30ml of the wakame pickle liquor.
Cut the mackerel into small dice pieces, season with a pinch of the nori powder, a squeeze of fresh lemon juice, the chopped dill, a spoon of nori crème fraîche and fold through. Put a teaspoon of the mix into the centre of a slice of mooli, add a pinch of the wakame pickle and seal over the top with another sheet of the mooli. Repeat this process until you have the desired quantity. Season the top with more nori powder and a mound of caviar and serve on chilled plates.
Fresh curd and Jerusalem artichoke with rooftop honey and bianchetti truffle
This is a classic example of seasonality; it screams spring! It's basically nature shouting ingredients at me and begging me not to get too cheffy and just put the stuff on a plate and leave it alone. I'm lucky enough to have access to our own honey from our five beehives on The Dairy's rooftop, which is light and tastes of elderflower; this brings a stunning floral sweetness to the fresh curd that we make from Ivy House Farm cream, but you can easily buy great fresh curds from any decent deli or supermarket. I use spring white truffle in this recipe but you could shave a fresh raw mushroom and drizzle a little truffle oil instead.
Preparation: 10 mins
Serves 6
150g fresh goat's curd
4 tsp honey (ideally with the comb)
30g toasted buckwheat
200g fresh Jerusalem artichokes, scrubbed clean with water and a brush
50g fresh bianchetti truffle (optional)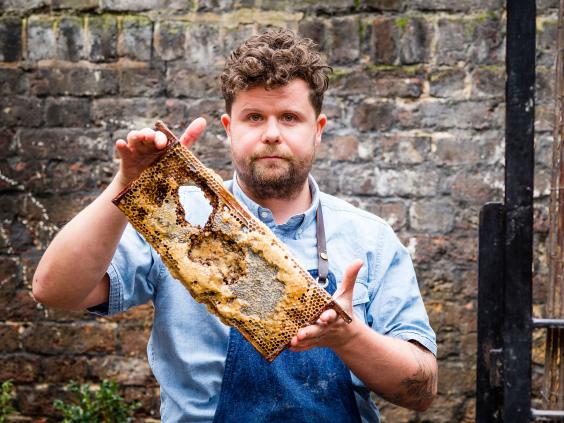 Malden salt, black pepper and fresh lemon juice, to taste Season the curd to taste with salt, pepper and lemon juice, then spoon the curd on to the base of a plate. Spoon over the honey and sprinkle over the toasted buckwheat. Slice the Jerusalem artichokes as thinly as possible – I use a truffle slicer or you could use a cheese grater or mandoline – and place over the top. Season with salt, pepper and lemon, and finish by scattering the fresh truffle over the top.
Beef rump tartare with sour onions and rock oyster
You could use any prime cut of beef for this dish. I prefer a rump that has been aged for 60 days because I like a really intense, almost cheesy flavour, and the ageing helps to make the beef more tender. The onions can be prepared in advance. I love to serve this with a pale ale or an IPA.
Preparation: 30 mins
Serves 4-6
For the Sour onions
300g Roscoff onions, peeled and cut in half
100ml good-quality pale ale
90ml white-wine vinegar
10g salt
20g caster sugar
1 bay leaf
5 black peppercorns
For the Oyster emulsion
100g shallots, peeled and sliced
200ml dry white wine
130g fresh shucked rock oysters, juice reserved
100g banana shallots
150ml grape seed oil
For the Beef tartare
250g beef rump, trimmed and diced
1 tbsp Dijon mustard
1 tbsp capers
1 tbsp caper juice
10ml extra-virgin olive oil
Salt and fresh black pepper, to taste To serve
1 bunch watercress, picked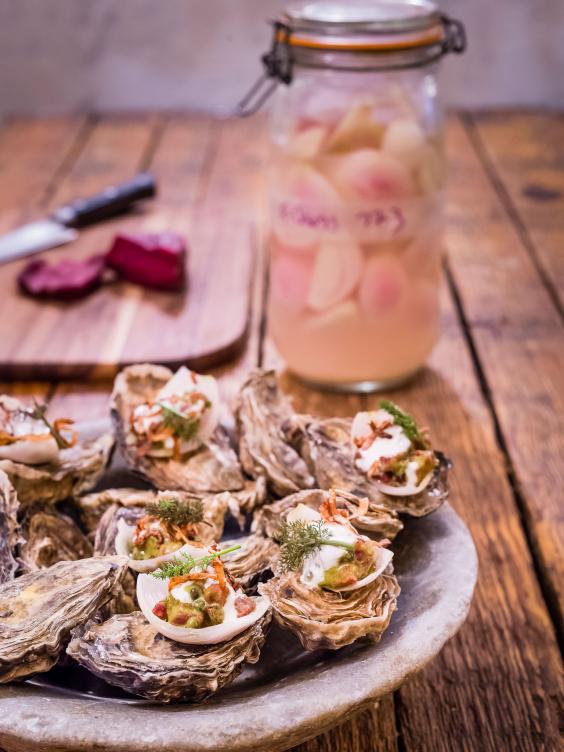 For the sour onions, place all the ingredients except the onions in a pan and bring to the boil, add the onions and reduce the heat to a simmer, cook for 2 minutes, remove from the heat and cool to room temperature in the liquor.
For the oyster emulsion, add the shallots to a saucepan, pour over the white wine, place on a medium heat and boil until all the wine has evaporated, then remove and chill. Next, add the shallot mix and oysters to a high-speed blender and blitz until smooth. Now add the oil gradually to the blender until the mix becomes a mayonnaise consistency. At the end, add some of the oyster juice to loosen the mix. Keep the mix refrigerated until ready to serve.
Place the chopped beef in a mixing bowl, add all the tartare ingredients, season to taste with salt and pepper and a spoon of the oyster mayo.
Separate the inner petals from inside the sour onions, chop them fine and add to the tartare mix. Spoon a generous portion of the oyster emulsion inside the onion shells and spoon in the beef mix, then top with watercress.
Reuse content