To most people, a crumbling concrete pillar in the middle of a room would be a turn-off. Not to Russell Norman. He's scanning the wreckage of an old All Bar One in London's Notting Hill for anything he might salvage for his latest venture, which he is installing in its stead: a fourth Polpo restaurant. "There's not a lot," he smiles ruefully, lamenting the lack of potential from the site. "I try to re-use as much as possible." The bar is "pretty decent", so that can stay, and the row of Butler sinks are "right up my alley". Plus there's a "good timber floor". Then he spots the pillar and relaxes…
"This is where it gets interesting," he says. "Normally, when operators find stuff like this, they'll box it in neatly. But we found a box and stripped it back to this concrete support, which I'm going to pretty much leave as it is. A big ugly obelisk in the middle of the room that might cause a few raised eyebrows – it's the sort of thing I really enjoy looking at. I'm a massive fan of Brutalist architecture; it pleases me to be able to include Brutalist details in the restaurants."
This shouldn't come as a surprise: this is, after all, a man, who refers to Farrow & Ball pejoratively and who turned exposed breeze blocks and concrete in his Ape & Bird pub into a feature wall with pretty lights and framed pictures of birds. ("It was slightly frowned upon," he admits.) He calls it his "perverse idea of beauty; I like emphasising the ugly."
It is a theme he returns to again and again; the French, he reminds me, call it "jolie laide, literally, pretty ugly". He even emails me a piece he's written for British Airways' High Life magazine this month on the subject. But perverse? The popularity of his seven existing London joints, which include Mishkins, a "kind of Jewish deli", and the Brooklyn-esque Spuntino, would suggest not. It might sound eclectic for a small group, but they all share the same vibe – a tasty, buzzy one that won't break the bank.
"I also try to create experiences rather than just restaurants. Very few people come just for the food – they come for the atmosphere, the crowd, the décor, the cocktails, the music, and the food, too, of course, but it's the whole package that's important," explains Norman. "One of the most flattering things anyone has ever said is that they feel 'transported' when they come to our places."
Half-an-hour later and we're standing on Tottenham Court Road in central London, gazing up at the sky. We're on our way to Ape & Bird, on Shaftesbury Avenue, to finish our chat somewhere more peaceful than a building site; but first he wants me to admire the 1960s monolith that is Centre Point. To be fair, I've never noticed what a striking scalloped pattern the windows make from that angle. Then again, like the vast majority of the 499,999 other customers his Polpo group serves each year, I'm already sold on the Norman vision.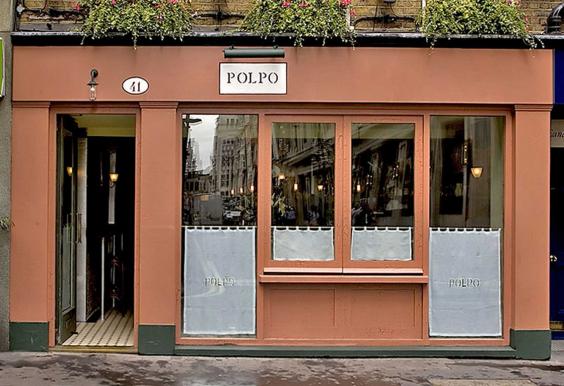 At 48, this one-time drama teacher and father of three, who lives in Blackheath with his wife Jules, a teacher, has taken less than five years to establish himself as one of the UK's most successful restaurateurs. And all without ever donning a chef's apron. Indeed, he is now "The Restaurant Man", to borrow the name of the recent BBC series that saw Norman offer advice to six hopefuls trying their luck in the crowded catering scene. Odd, then, to think that he was barred from even entering the kitchen growing up.
"My stepfather had very strict rules about what children should and shouldn't do. We weren't allowed to go into the kitchen at all, and we certainly weren't allowed to open cupboards or fridges or anything like that." The upshot was that he took up food as a hobby as a student in Sunderland, "keeping tabs on what was in season" at Jacky Whites' market. "I wasn't an adventurous cook; I used to love one-pot dishes, but I certainly got into food then."
A decade or two later, and Norman, who had been working as operations director of Caprice Holdings (which runs the Ivy and J Sheekey among others), used backing from his friend Richard Beatty to open his first restaurant (the pair met at Sunderland Poly – "in a disco").
Polpo was thus launched in London's Soho in 2008, just as recession bit. Modelled on the spit-and-sawdust bacari (wine bars) of Venice, the restaurant, which serves decent-value small plates of Venetian-inspired food, immediately offered something different from its rivals. Not least its now-infamous decision not to accept bookings, in the evenings at least, which has spawned something of a queuing phenomenon. And yet, Norman insists, "I hate queuing. No, really, I do.
"I stopped taking bookings because the tables were full of people who had made them months in advance and were coming into town for a special occasion, and they were usually quite disappointed that the restaurant was unfancy, unsophisticated, the music was loud, and the staff were scruffy and had tattoos. So the restaurant was full of people who didn't 'get it' and weren't enjoying themselves, and the people who were coming in off the street couldn't get a table. But I never, hand on heart, wanted anybody to queue. It's ridiculous."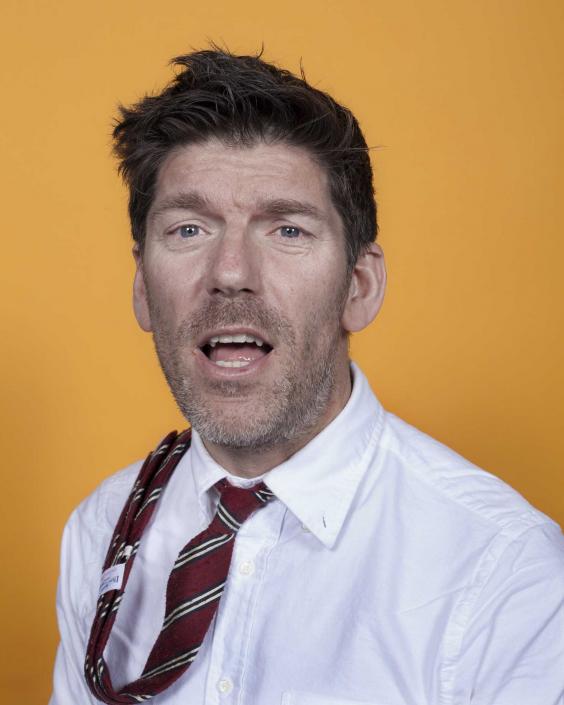 Chances are, the good people of Notting Hill won't have to when the new site opens in late May, because with 120 covers – double that of the other Polpos – it should be the perfect neighbourhood restaurant: one where residents can actually get a table. If anything, Norman is a little too worried about the area's status as "residential central rather than business central", making this his riskiest venture yet. "This is untested. Opening on the edge of Zone One is something we haven't done before."
Before we head into town, I try firing one of his favourite Restaurant Man questions back at him, asking how many covers a day he's banking on. "Here? Oh gosh. I don't know. I know it won't be as busy on a Monday, Tuesday and Wednesday as Soho, where you have seven days of business. In places like Notting Hill, I fully expect people to behave themselves on school nights and then let their hair down a little bit towards the weekend." Possibly even at a separate upstairs bar, although that's strictly "phase two".
I'm slightly surprised he can't give a more accurate answer, given his biggest grievance during the BBC series was when those he was helping weren't on top of the numbers.
"Restaurants fail because people don't know what they're doing," he tells me. "They think a restaurant is a dinner party with a till and it simply isn't. You have to apply strict business structures in order for it to work and if you don't start with that and you start with airy-fairy hearts and minds then you get into trouble. If it doesn't work on a spreadsheet; it's not going to work in real life," he concludes. "Numbers never lie."
Even if he can't tell me cover numbers now, I'm sure those spreadsheets exist back at Polpo HQ. With all of the restaurant's financial risk sitting on Norman and Beatty's shoulders – "We've self-funded with a bit of support from our banks; we have personal guarantees on the loans" – they are the last people to rush into something. "We've never taken the VC king's shilling," he adds, despite being "regularly" stalked by the sorts of venture capitalists usually lurking behind a restaurant roll-out.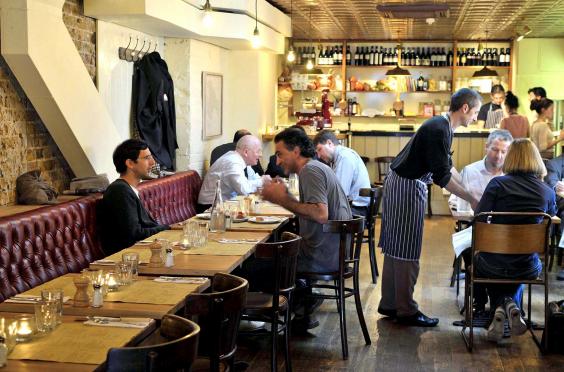 Not that this a roll-out, which in my bitter experience – think Browns, Carluccio's, Strada, Yo! Sushi – inevitably kills a good restaurant. Repeat not, not, not. It is, Norman insists, simply a fourth version of a very popular restaurant that yes, will look, feel, and taste the same as the other three Polpos in Soho, Covent Garden and Smithfield. "People always use the word 'rolling'," he visibly bristles. "We aren't rolling. We're just opening. Our infrastructure is tiny. There's me, my business partner Richard, the managing director Luke [Bishop] and chef director Tom [Oldroyd]. There's just the four of us. And we still traipse across town to pick up tiles and visit a little old man in Lexington Street to get him to treat them. We're not a company k with a massive team of people looking for sites and replicating the same restaurant." For him, his trade is a mixture of science and art: "Opening and running restaurants is a science, but building them is an art. It's the design and ergonomics and sourcing of beautiful early-20th century bank counters from Bath," he gestures to the bar behind him, "then bringing them up the M4."
If you really wanted to kick him in the ribs, not that I do, then there's always the "c" word: would it bother him if people called it a chain?
"Um," he takes a slow, deliberate sip of his double-shot cappuccino, which he's drinking in Ape & Bird's back bar. "I think there's a derogatory connotation with the word chain. Um. But," pause, "it will be our fourth Polpo. So it is. I need to be careful what I say, but it's sometimes used in a derogatory way to describe restaurants that are opened for reasons of commerce only. And the reason I react against the word 'chain' is because that isn't what we're doing. What we've done is open restaurants at our own pace. We're not the sort of company that would be able to open and operate more than 15 sites. And we have eight already."
Which doesn't mean he disapproves of that other "c" word: commerce. He's clear that his sites have to make money or they don't have a future, hence the dig at the dinner-party dreamers.
This is why, once Polpo Notting Hill is open, Norman will be heeding official Restaurant Man advice. "I think it's really dangerous to assume success. We'll put all our efforts into making it a success and then after three or four months we'll look at the figures, look at the response, look at the business generally, and see whether there's an appetite within us and also within London for maybe a fifth Polpo."
And yes, they've identified potential areas. "But we've promised ourselves, Richard and I, that we won't rush into anything."
They won't, for that matter, be looking outside the capital. "If I'm nervous about opening in Notting Hill, five Tube stops away from Oxford Circus, I'm even more nervous about opening in Manchester, Bristol and Liverpool." As for overseas, "We've thought about it. And it's a lovely daydream to have each time I go to New York or Venice. Particularly Venice. Coals to Newcastle tickles me pink." But those vital numbers just don't – and won't – stack up.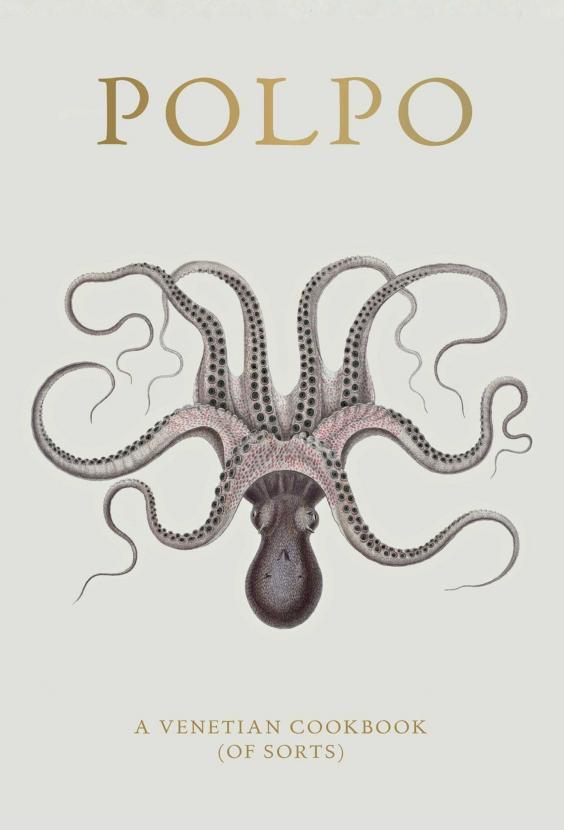 This leaves talk of something in Deptford, in south-east London – "Not a Polpo, but something else that would work in a big industrial space" – plus the whopping 5,000sqft they're taking in Soho's Porn Alley, sorry, Walker's Court, which Soho Estates is cleaning up and redeveloping. Their site will form the basement and ground floor of a new theatre; and no, it won't be a Polpo. Needless to say, Norman is brimming with ideas but won't be drawn because everything hinges on how the "restaurant topography" changes in the meantime.
Whatever he opens, I'm willing to bet that his preferred "c" word will feature strongly. That's concrete, obviously.
Russell Norman's steps to having a successful opening
1. You must do your numbers. If it doesn't work on a spreadsheet, it is not going to work in real life.
2. Always stick to what you know. There is no point trying to second-guess what people will like.
3. Recruit front-of-house staff who have good communication skills and a good attitude. Experience is less important than you think – it can be trained. Attitude cannot be trained.
4. On the menu, if a dish has more than three main ingredients, it is too complicated. Keep it simple.
5. In a restaurant, service is as important, if not more so, than food. You can rescue an average food experience with excellent service, but no amount of good food will rescue a bad service experience.
6. Just because you are a good cook or a great host, it doesn't mean you can open a restaurant. So many restaurants fail because they are opened by enthusiastic amateurs who think it's just a dinner party with a till. It's not.
7. Restaurants are less about food than they are about people. Customers, staff, the friends you arrive with, the people around you… they all contribute far more to your enjoyment and experience than you realise. (Although it is important that the food isn't disgusting.)
8. A good restaurant should make you feel better about yourself and the world around you when you leave, than you did when you arrived.
9. A good menu is one that makes it difficult to choose because you like the sound of everything. Bad menus make it difficult to choose for exactly the opposite reason!
Fiona Hanson
Reuse content