A quick Google of this year's – and 2013's – "best restaurant in the world", Catalonia's El Celler de Can Roca, yields many spectacular dishes. But few are more intriguing than its "gyrating" dessert: a sourdough ice cream with cocoa pulp, fried lychee and Jerez vinegar meringue (a motor beneath the ice cream causes the novelty "gyration"). Online reviewers call the dish "fun and inventive" and "delicate and moreish", and it's rumoured to be a favourite of Mark Zuckerberg.
But the ice cream stands out for another reason: it takes the sourdough bread "cult" of recent years to its natural conclusion, by using sourdough as an ingredient and flavouring in something beyond just bread. This idea is catching on in the UK, where a cluster of restaurants, bakeries and breweries are spiking everything from chocolate and pasta to croissants and beer with sourdough's fermented notes and robust texture.
One such place to explore sourdough ice cream, London's The Ledbury, is another of the world's best restaurants (it was ranked number 20 this year). Head chef Brett Graham describes the ice cream, made with darkly toasted breadcrumbs, as tasting like "salted caramel toast" – slightly yeasty, slightly salty, and sweet – with a "silky smooth" texture.
The first of two dishes Graham serves with the ice cream was inspired by Provençal flavours of olives, herbs and, of course, rustic sourdough bread. Topped with shards of caramelised sourdough bread, the ice cream is accompanied by figs brushed with olive oil, thyme, caramelised black olives, honey jelly and vanilla cream. It only appears on the menu when figs are at their best, however, from mid-August to late September.
The second is a playful plate occasionally offered as an extra to diners visiting the kitchen: crispy sourdough toast is piled with whipped butter and marmalade, and a scoop of the sourdough ice cream. "It's just a fun way of doing toast," says Graham. "Especially with foreigners, we're like, 'You've come to England, you've got to have some marmalade on toast'," he adds with a laugh.
Bristol restaurant Flinty Red accentuates sourdough's savoury possibilities by using it as the base for pasta. Head chef Matt Williamson experimented with sourdough pasta as a way to use excess "starter" (the fermented goo of flour and water from which the bread is made) that was lying around the kitchen. The dough created a gentler flavour and pleasantly chewier texture than conventional egg pasta (as well as a paler colour). These qualities lend the pasta – handmade in short shapes like a "folded over" cavatelli – to unctuous sauces such as borlotti beans mashed up with duck and olive oil, or wild boar sausages in a creamy tomato base.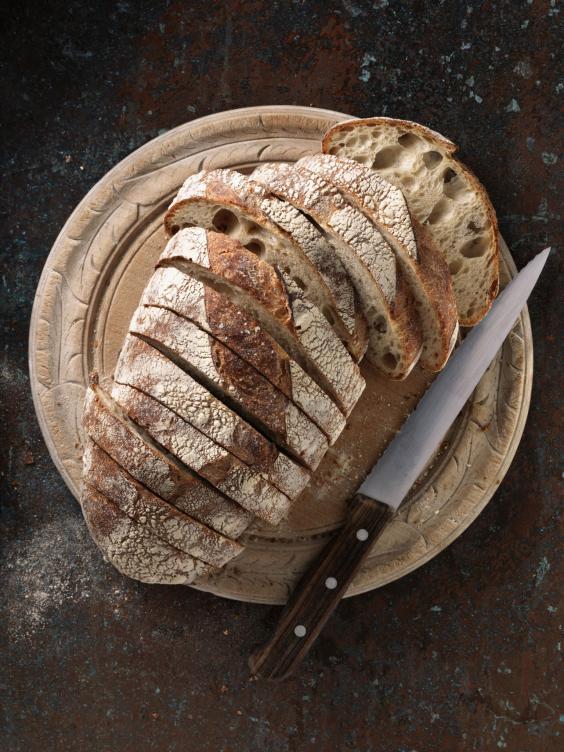 Williamson is often on the lookout for dishes that will enable him to put his leftover starter to use. In winter, sourdough crumbs are put through passatelli (a dumpling-like pasta served in broth), and sourdough is currently the hero of an olive oil torta: a sweet cracker served alongside an espresso granita. The main reason why Williamson continually turns to it is that it is "a really lovely, natural thing – a living thing that's in your kitchen."
It is precisely this aliveness – and the resulting unique depth of flavour – that led Bristol's new Stock Exchange Bakery and London's Crosstown to use sourdough in their pastries. Both were frustrated with the ubiquity of conventional pastries – for Stock Exchange, croissants; for Crosstown, doughnuts – and saw a gap in the market for something different.
"The sourdough starter does definitely bring a unique robust element to the croissant," says Georgie Turner, head baker at Stock Exchange, which uses starter in all its pastries, including cinnamon buns. "You get a deeper flavour… a slight sourness mingled with a sweetness," she says, adding that the croissant's texture has more bite to it than its French sibling's fall-apart flakiness, and is consequently more filling. Adam Wills, co-founder of Crosstown, looked to sourdough because he wanted his doughnut base to be as much a part of the eating experience as the toppings, rather than something that "just dissolves in your mouth".
Both compare sourdough to a child when describing the exacting process of caring for it. "You are constantly feeding your starter, looking after it, nurturing it, and you want it to always be at its best," says Turner, adding that it's "more art than science", because the tweaks you make each day, such as adding flour, are done on feel rather than specific measurements. The fact it is high-maintenance is a good thing because this works like a built-in quality control system: only the invested and talented can keep their starter healthy and balanced.
This requisite commitment and skill has resulted in a cult-like veneration of sourdough. One such self-professed sourdough addict is Chris Brennan, founder of Pump Street Bakery in Orford, Suffolk, who decided to incorporate sourdough bread into his chocolate because of striking similarities in the processes of making the two products: both result from the "identical" workings of a pair of yeast and bacteria, which form acids in the cocoa beans or dough.
The first of Pump Street's two bars featuring bread is made with dark chocolate and white sourdough, and sprinkled with sourdough breadcrumbs and sea salt; the second, milk chocolate and rye sourdough, and also dusted with crumbs. Brennan says neither tastes sour – though the rye bar is the sharper of the two, due to that bread's more pronounced general flavour – but they have got a distinctive flavour: "this wheaty edge that tells you that there's some sourdough bread in them." This comes from grinding the bread into the chocolate at the beginning of the process, rather than merely scattering crumbs on top at the end, which brings texture but little else.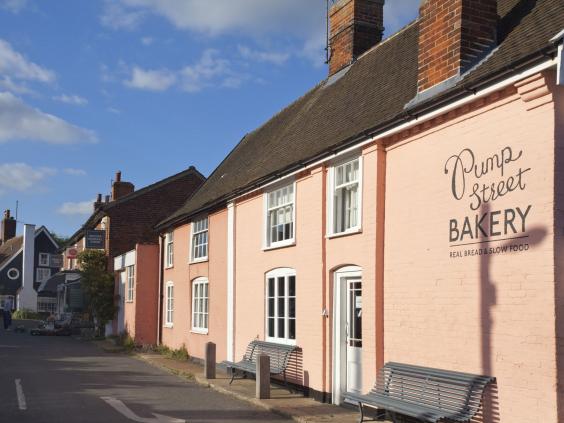 Brennan suggests the increasing use of sourdough in foods is attributable to a more general rise in interest in fermentation, which is tied to a demand for natural processes. Others agree. These fermented flavours are far more interesting, says Williamson, because they create a complex "sweetness and sourness" that develops over time via an organic process, rather than through adding things such as vinegar or lemon juice. It's a reinvention of something humans have been doing for thousands of years, explains Brennan, and it features a double whammy of yeast and bacteria fermentation. This is probably why sourdough is more easily digested than other gluten products.
Sourdough has also made its way beyond food and into one of the most celebrated fermented drinks of all time: beer. Sour varities made with wild yeasts have been gaining traction in the craft beer world, but it wasn't until Andrew Cooper of The Wild Beer Co spoke to Tom Herbert of Hobbs House Bakery a few years ago that he began experimenting with Herbert's nearly-60-year-old starter – in his beer.
It was no small task. One year of trialling different beer styles followed before they found a formula that worked: a high-wheat base mixture is left with the starter to ferment in oak barrels for six months. The resulting drink's delicate sourness "works better with people who have a pretty open mind about food and flavour…and appreciation for wine or cider… more than a traditional beer drinker," says Cooper. It was the brewery's bestselling beer when they recently showed at the London Wine Fair.
Cooper concludes by telling me of his plans to use the beer to make a sourdough bread, a move representing "the full circle, from bread to beer to bread". The intriguing plan hammers home the versatility of sourdough – a dynamism at the heart of its popularity. Others are equally enthused about its possibilities. "I think bakers and chefs are always striving to find some special or magical ingredient," explains Turner, "and that's how sourdough works. You think, 'Maybe if we add a little bit of culture here, those elements might come together and take it to another level'."
Reuse content