Call to mind St. Patrick's Day and you're likely to conjure images of large groups of rowdy students, stag parties and soggy looking leprechauns vomiting up green beer in the street.
It seems that anyone with a distant Irish cousin twice-removed is more than happy to jump on the St Patrick's bandwagon, but step away from the green beer and novelty hats and you'll find there are many more ways to enjoy what is traditionally a day of feasting and family.
Homesick shamrocks and all-round foodies rejoice: here is a selection of the best ways to enjoy the food and drink of the Emerald Isle in London this week.
Poitin masterclass at Reverend JW Simpson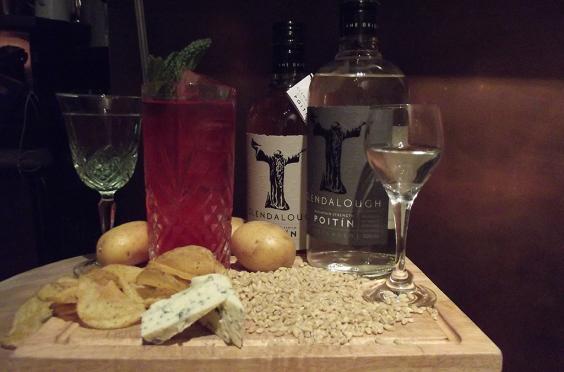 Home to the Rev himself until the 1980s, this moody basement bar has a history of playing host to all manner of scandal and debauchery - apparently. These days, it's an atmospheric, bluesy joint with no real food but a superb drinks list.
In honour of the Emerald Isle, Reverend JW Simpson will be hosting an Irish Poitin Masterclass on Tuesday 17 March as part of its ongoing series of Spirited Sermons.
For those who are yet to be introduced, Poitín is a traditional Irish distilled beverage which was discovered in the sixteenth century. It was banned for 300 years due to its negative connection to Moonshine - making JW Simpson's the perfect spot for celebrating it.
Landmarks across the world go green for St Patrick's Day
Landmarks across the world go green for St Patrick's Day
1/10 Pisa, Italy

The Leaning Tower of Pisa in Italy, floodlit green to celebrate St Patrick's Day

2/10 London, England

The London Eye floodlit green to celebrate St Patrick's Day

3/10 Edinburgh, Scotland

Green lights are shone against Edinburgh Castle in Scotland

Gareth Easton/PA Wire

4/10 Rio de Janeiro, Brazil

The Christ the Redeemer statue atop Corcovado hill in Rio de Janeiro is illuminated in green to celebrate Saint Patrick's Day

AFP PHOTO / YASUYOSHI CHIBAYASUYOSHI CHIBA/AFP/Getty Images

5/10 Dublin, Ireland

Government buildings in Dublin are illuminated in green to mark St Patrick's Day

Brian Lawless/PA Wire

6/10 Glasgow, Scotland

Glasgow's SSE Hydro Arena is illuminated green. It is among more than 100 international landmarks turning green to mark St Patrick's Day

Chris James/PA Wire

7/10 Cardiff, Wales

Wales Millennium Centre in Cardiff lit green to celebrate St Patrick's Day

8/10 Dublin, Ireland

Christ Church cathedral in Dublin is illuminated in green for the St Patrick's Day

9/10 Edinburgh, Scotland

The Edinburgh Airport control tower in Scotland illuminated green as it is among more than 100 international landmarks turning green to mark St Patrick's Day

10/10 Dublin, Ireland

Clery's department store on O'Connell Street in Dublin is illuminated in green ahead of the St Patrick's Day festival
The evening promises an amusing and informative insight into the history and tasting notes of the original Irish moonshine, with stories, cocktail making and solid craic.

Spirited Sermons are every Tuesday at Reverend JW Simpson, 32 Goodge Street, W1T 2QJ. Arrival from 6pm, masterclass and cocktail making and partaking from 6.30pm-10pm. £25 + booking fee including 3 cocktails. http://www.edibleexperiences.com
St Patrick's Day Party without the tat at The Sun Tavern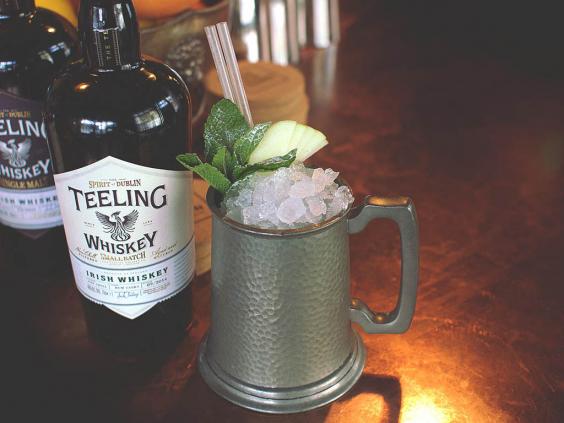 With a huge range of Irish Whiskies, Poitin and a bar manager straight from Gallaway, The Sun Tavern in Bethnal Green is the perfect place to raise a toast to Ireland's Patron Saint.
Recently reopened to the public, this traditionally Irish bar boasts the largest collection of Poitin in the UK - some of them scarily strong. Tuesday's festivities will include special cocktails and Irish folk music and the usual selection of locally brewed ales.
The bar manager's real life Irish father will be cooking up Irish Stew and Cabbage and Bacon. What's more, the food will be served free of charge throughout the celebrations, so prepare for a scrum. Prices are more than reasonable too, with cocktails starting at £5 each.
441 Bethnal Green Road, London E2 0AN, Free entry, all day.
Afternoon Tea with a difference at Lancaster London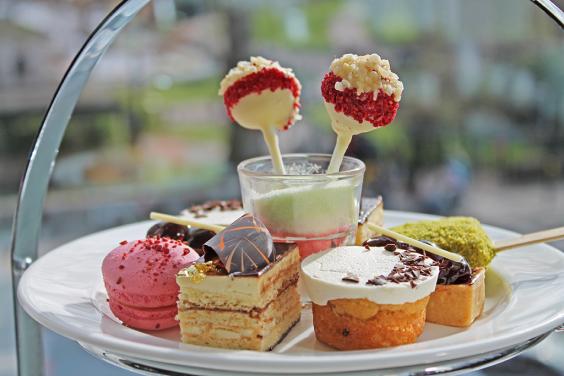 For those searching for a more sophisticated way to celebrate, Island Grill at Lancaster London are offering an Afternoon Tea with a difference this St. Patrick's Day.
Move aside from fruit scones and crumpets in favour of Irish-themed treats such as Jameson Whiskey Macaroons and Guinness Top Cupcakes. Set overlooking Hyde Park, the hotel is an oasis of calm and the perfect remedy for any Poitin induced hangovers. The Island Grill restaurant will also be offering an Irish inspired set menu which includes favourites such as Klonakiltie black pudding hash with poached duck egg and a red wine jus; Hearty Irish stew with lamb, leek & potatoes; and Beetroot, chocolate and of course, Guinness cake.
Afternoon Tea for two costs £30 and two courses from the set menu are priced at £12.50; three courses for £15.50.
Lancaster Terrace, London W2 2TY
Guinness and Oysters week at Great Northern Hotel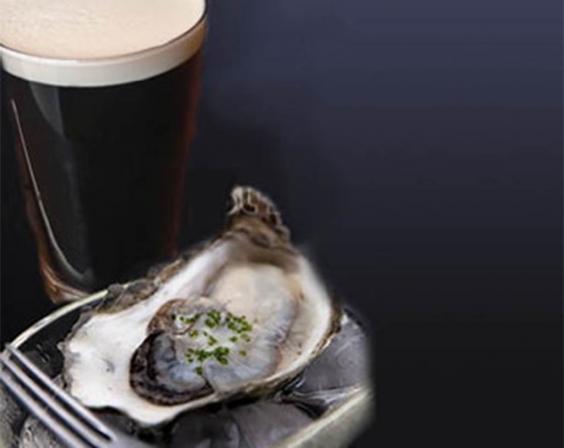 What better way to accompany a shamrock topped pint of Dublin Guinness than with a smattering of fresh Oysters? To celebrate St Patrick's day, the GNH bar within the Great Northern Hotel at King's Cross will be hosting a celebration of the two for the whole week of March 16-22.
Those with acquired taste buds will enjoy the combination of bitter ale and fresh salty seafood - since Galway is a little far, these Colchester Rock Oysters are sourced from Essex, so no stress for paranoid stomachs. For those whose idea of a good time doesn't involve swallowing cold living sea creatures, rest assured: hearty steak and Guinness pies will also be available through the week.
Serving of 12 Oysters from £18, Steak and Guinness pies from £5. Great Northern Hotel, Kings Cross St Pancras Station, Pancras Road, London N1C 4TB
www.gnhlondon.com/
Seek out traditional Irish hospitality at Waxy O'Connor's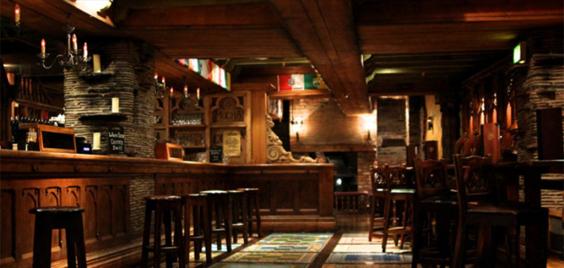 Culinary snobberies aside, you just can't beat a traditional Irish pub for a good night out. One of London's best is Waxy O'Connor's in Rupert Street, which serves Irish classics such as Mutton Pot Stew and Crock of Mussels all year round.
Not one to restrict the party to 24 hours, Waxy O'Connor's will be celebrating its "St Patrick's Week" from March 14 - 21st with live music and a celebratory atmosphere guaranteed. The bar is worth a visit for its decidedly Irish layout alone - a maze of six levels connected by sneaky staircases and passages which become more ridiculous with the addition of alcohol. The stout tasting board (£5) should help with that.
Waxy O'Connor's: 14-16 Rupert Street, London, W1D 6DD
http://www.waxyoconnors.co.uk
Reuse content