1. Aspinal of London, £185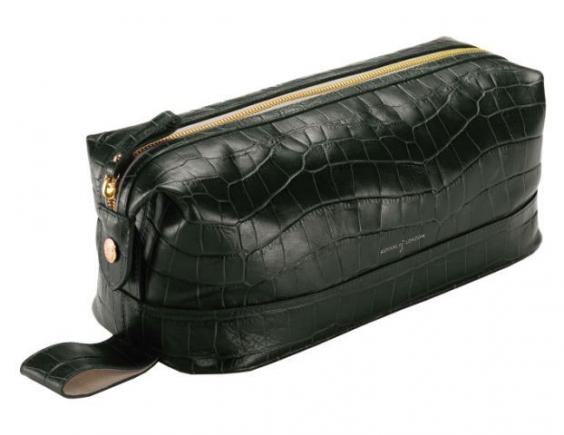 Mock crocodile skin is the statement of choice at Aspinal. Its slick wash bag in forest green is more than fit for the modern gent, with plenty of swish features. Handmade from the finest Italian leather and with a sumptuous silk interior, it's as classy as it is practical.
2. Liberty, £40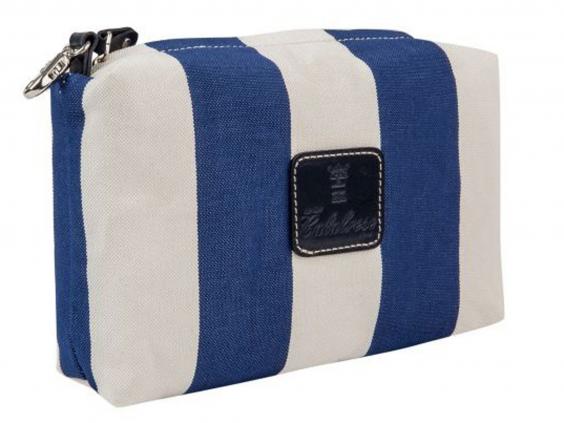 Exaggerated royal blue and cream racing stripes courtesy of Liberty are instant winners here. An eye-catching exterior is matched on the inside by a smart leather lining and there's enough space for all your travel essentials.
3. Boots, £6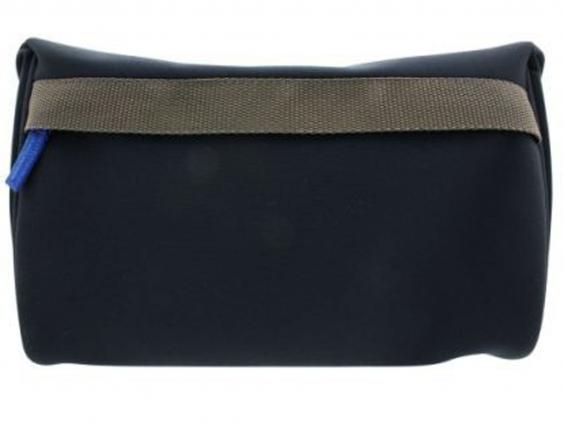 This bag in black with a kick of khaki is ultra-bold. Its wide shape should provide enough room for all your toiletries, at little cost. The tough fabric is waterproof and will prevent too much wear and tear.
4. Marks & Spencer, £17.50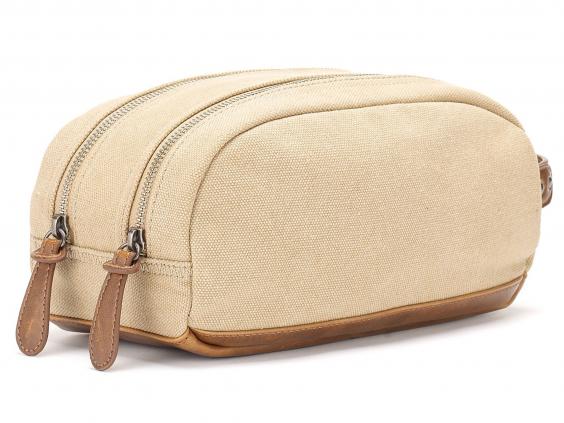 With spring and the summer holidays around the corner, this fresh-looking bag in warm vanilla with a caramel trim is just the ticket. Its many compartments make it perfect for carrying around all your toiletries with ease. It also features inside pockets and a comfortable side grip.
5. Alphabet bags, £20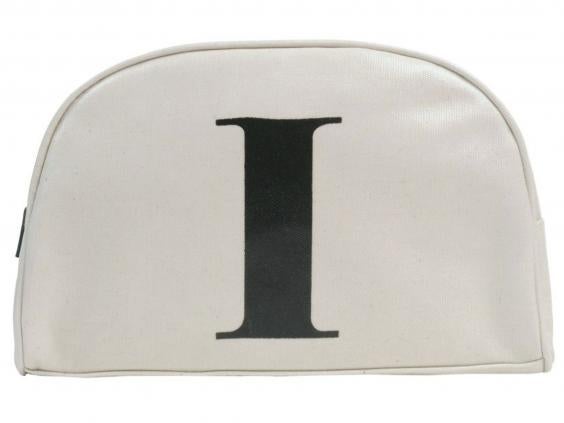 Alphabet Bags allow you to personalise your wash bag with an initial letter, making them a good gift for that hard-to-buy-for man in your life. The simple, clean design should have wide appeal.
6. Otis Batterbee, £60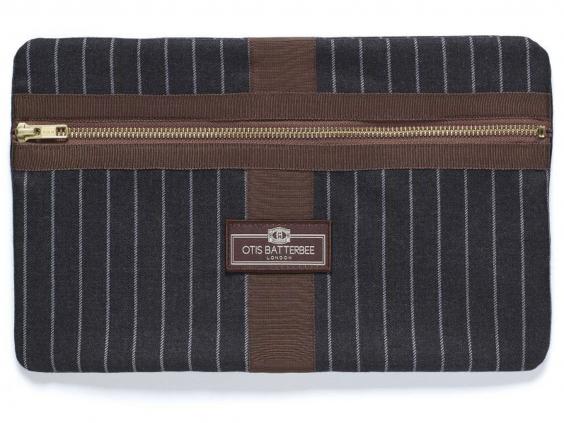 Pinstripes take us back to early Savile Row tailoring and these envelope wash bags are suitably suave. Made from pure wool in charcoal grey with contrast panels and a waterproof lining, they give a neat modern twist to a timeless classic.
7. Truffleshuffle, £20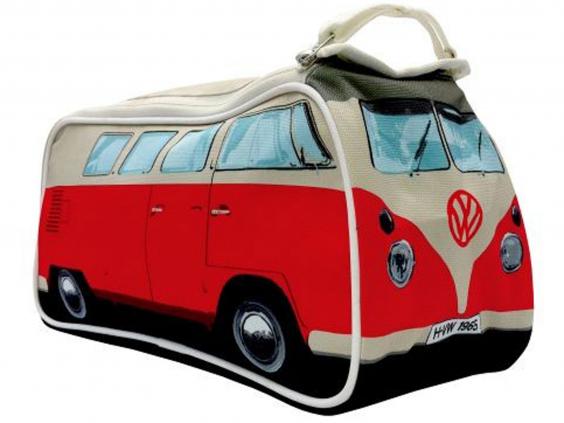 Pack up the VW and hit the road, but don't leave this retro travel bag behind. It is designed to look like a classic camper-van and its draw-back roof fastening is as quirky as its hub caps are shiny. Made from a sustainable fabric and easy-to-clean fabric it should be long lasting. Plus you won't need a tax disc or MOT to get it on the road.
8. Paul Smith, £99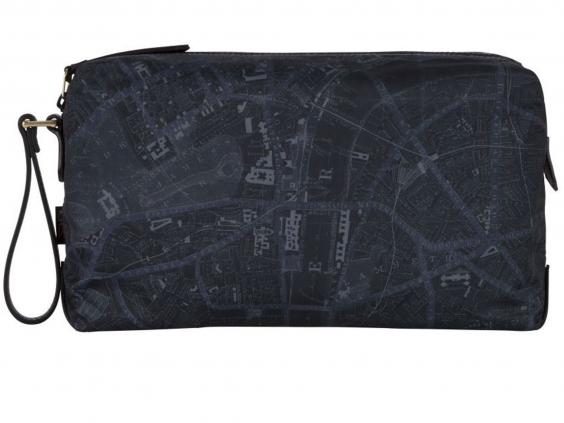 A 2D map of London is emblazoned across this midnight blue wash bag. Leather piping and chunky zip handles give it a sophisticated feel, and it has a waterproof fabric that not even the Thames can touch. But don't restrict its use to the capital – this bag promises to take you global.
9. Men-u, £11, Menkind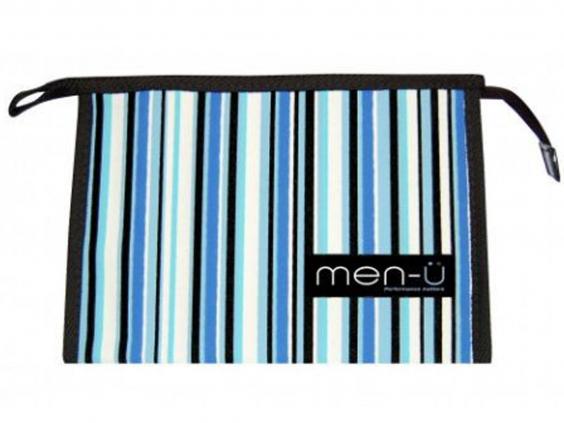 There's nothing understated about Men-u's offering: vibrant nautical stripes in powder blue and turquoise make this bag stand out from the crowd. And a water-resistant outside should keep it looking sharp, no matter what you throw at it or in it.
10. Briggs & Riley, £60, John Lewis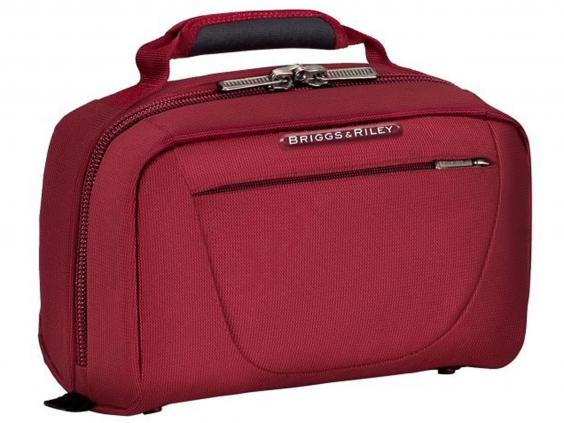 There's something warming about Briggs & Riley's wash bag with its fiery crimson exterior. Designed to look like a miniature suitcase, it is made from an abrasion-resistant fabric and should withstand even the most stressful journey. Plus you can buy luggage to match.