Daylesford Farm harvest, Cotswolds
Today
It's spring harvest time! In the Cotswolds, Lady Bamford's Daylesford Farm is embracing the new season with a special "Easter Fun for Children" class at the on-site cookery school. Aimed at urban denizens seeking a trip to the country, it teaches about the connection between farm and food. The young pupils harvest their own seasonal fruit and veg, then collect eggs and milk from the working farm. To finish, they'll make hot cross buns and decorate Easter eggs. £50, suited to six- to 11-year-olds, daylesford.com
Heston's Cravings, London SW7
Throughout Easter holidays
If you want to understand our appetites, a new exhibition at the Science Museum explains all. Heston Blumenthal has created a craving experiment with food scientist Charles Spence. You can touch 3D-printed mice, sniff a scientific smell kit, and "chew" "bread" in the interactive displays; there's even a section on the gut and pooing. Free, 10am-7pm, sciencemuseum.org.uk
Baking at Leiths, London W12
Wednesday
Teen foodies can learn the essentials of baking at the chef-filled Leiths School of Food and Wine in west London. They'll make orange cheesecake brownies, lemon-syrup loaf cakes and buttermilk soda bread. The afternoon will be spent in a cupcake-decorating challenge. £95, 10am-3.30pm, leiths.com
The best foodie Easter events
The best foodie Easter events
1/12 Heston's Cravings, London SW7

Throughout Easter holidays

If you want to understand our appetites, a new exhibition at the Science Museum explains all. Heston Blumenthal has created a craving experiment with food scientist Charles Spence. You can touch 3D-printed mice, sniff a scientific smell kit, and "chew" "bread" in the interactive displays; there's even a section on the gut and pooing. Free, 10am-7pm, sciencemuseum.org.uk

Science Museum

2/12 Baking at Leiths, London W12

Wednesday

Teen foodies can learn the essentials of baking at the chef-filled Leiths School of Food and Wine in west London. They'll make orange cheesecake brownies, lemon-syrup loaf cakes and buttermilk soda bread. The afternoon will be spent in a cupcake-decorating challenge. £95, 10am-3.30pm, leiths.com

3/12 Brighton Food Festival

Wednesday to Easter Monday

The folks behind the Rockinghorse Children's Food Festival are staging an Easter egg hunt at the Brighton Food Festival (where there are also beer, cider and wine festivals). There are also food trails around the Lanes and Kemp Town, and themed dinners to enjoy, such as a pop-up at the aquarium. Free, brightonfoodfestival.com

Julia Claxton

4/12 'Odd Bits' pop-up, Manchester

Good Friday and Easter Saturday

For food-loving teens and parents seeking an idiosyncratic dining experience, the Buttery in Manchester's Levenshulme aims to show off the best British foods, as well as Manchester produce, through its one-off events. Its Easter Odd Bits pop-up restaurant boasts a first course of calf's brain with capers and black butter. Also delectable-sounding is the fish course of cod cheeks and chips. Afters rival the mains – cue blood-orange lardy cake with roast rhubarb and vanilla ice cream. £30 for five courses, 7pm, buttery.org.uk

5/12 Chocolate weekend, Bristol

Easter Saturday and Sunday

Bristol's debut Taste Chocolate weekend will offer children's activities and a cookery theatre with chefs such as Kelly Sealey of Bordeaux Quay making miso brownies, as well as exhibiting a bevy of chocolatiers, bakers and street-food vendors. Sure to be popular with little ones is Bertha's Sourdough Pizza, a buttercup-yellow Land Rover selling wood-fired pizza. Free, 10am-4.30pm, Brunel Square, tastechocolate.co.uk

6/12 Seaside festival, Broadstairs

Easter Saturday to Easter Monday

If you're pining for the seaside on the bank hols, make your way to Kent's Thanet. Not only does Broadstairs glitter with seven golden sandy beaches, but the festival itself will have stalls with Kent cider, local blue cheeses and cockle popcorn. Free, 10am-5pm, broadstairsfoodfestival.org.uk

7/12 Egg hunt, London W8

Easter Sunday

Public Easter egg hunts are on the up in the capital. Kensington Roof Gardens, a whopping 1½ acres of verdant greenery in the sky, is putting on a trail among its flamingos and foliage. The hunt is led by a giant Easter bunny. And the most coveted trophy is a humongous egg from Choccywoccydoodah. 11.45am, virginlimitededition.com/en/the-roof-gardens.

8/12 Edinburgh street food

Easter Sunday

The Cowgate in Edinburgh welcomes back the Old Town Street Food Festival for a spring extravaganza. There are eight street-food vendors, a real-ale bar, pop-ups and two music stages should you want to bust a move after indulging in some gluttony. Free, 12pm-11pm, facebook.com/events/786975684725438

9/12 Country show, Northamptonshire

Easter Sunday and Monday

From ferret racing to enticing regional produce, the provincial country show comes into its own at Easter. One of the first of the year is in the grandiose grounds of Kelmarsh Hall. Alongside the countryside events, there's a food festival. From £13 (free for 15s-and-under), kelmarshcountryshow.co.uk.

Mark Ridley

10/12 Baking with Bertinet, Bath

Thursday and 9 April

Bertinet Kitchen, the Bath cookery school run by the lauded French chef Richard Bertinet, is putting on Easter sessions for children. Youngsters can discover the art of baking "real" bread with a parent, granny or grandpa – £190 for 1 adult, 1 child, Thursday – or participate alone and refine their patisserie skills: £35, 9 April, thebertinetkitchen.com

11/12 Sconeathon, Suffolk

11 April

Heard of a Sconeathon? By popular demand, it's now in its third year. Nestled along the Suffolk coast on the National Trust's Dunwich Heath and Beach, the Coastguard Cottage's tea room attracts scone-adoring fans, who can muse over 30 sweet and savoury varieties. Free, three scones for £3, 10am-5pm, nationaltrust.org.uk/dunwich-heath-and-beach

Jamie Boswell

12/12 Street-food festival, Birmingham

11 April

Village Square on Kings Heath's high street will play host to street-food collective BrumYumYum, offering a vibrant day out. Highlights include Umami dishing up katsu curry, Buddha Belly selling Thai fare, and Low n Slow – try the brisket chilli cheese in brioche. Free, 12pm-6pm, brumyumyum.com
'Odd Bits' pop-up, Manchester
Good Friday and Easter Saturday
For food-loving teens and parents seeking an idiosyncratic dining experience, the Buttery in Manchester's Levenshulme aims to show off the best British foods, as well as Manchester produce, through its one-off events. Its Easter Odd Bits pop-up restaurant boasts a first course of calf's brain with capers and black butter. Also delectable-sounding is the fish course of cod cheeks and chips. Afters rival the mains – cue blood-orange lardy cake with roast rhubarb and vanilla ice cream. £30 for five courses, 7pm, buttery.org.uk
Wild-garlic foraging, Carmarthenshire
Easter Saturday
Spring's most exciting arrival, alongside St George's mushrooms and spring lamb, is the pungent wild garlic, a recherché cheffy ingredient. In the Towy valley in Carmarthenshire, the award-winning Welsh chef Margaret Rees will lead a spring forage and wild-garlic bake to teach folk how to identify the garlicky delicacy and transform it into soups, sauces, pesto and dishes. A tapas taster lunch is served, too. £55, 10am-3pm, gooddayout.co.uk
Chocolate weekend, Bristol
Easter Saturday and Sunday
Bristol's debut Taste Chocolate weekend will offer children's activities and a cookery theatre with chefs such as Kelly Sealey of Bordeaux Quay making miso brownies, as well as exhibiting a bevy of chocolatiers, bakers and street-food vendors. Sure to be popular with little ones is Bertha's Sourdough Pizza, a buttercup-yellow Land Rover selling wood-fired pizza. Free, 10am-4.30pm, Brunel Square, tastechocolate.co.uk
Brighton Food Festival
Wednesday to Easter Monday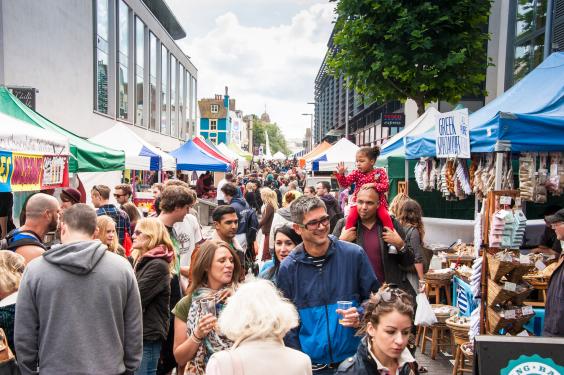 The folks behind the Rockinghorse Children's Food Festival are staging an Easter egg hunt at the Brighton Food Festival, pictured above (where there are also beer, cider and wine festivals). There are also food trails around the Lanes and Kemp Town, and themed dinners to enjoy, such as a pop-up at the aquarium. Free, brightonfoodfestival.com
Seaside festival, Broadstairs
Easter Saturday to Easter Monday
If you're pining for the seaside on the bank hols, make your way to Kent's Thanet. Not only does Broadstairs glitter with seven golden sandy beaches, but the festival itself will have stalls with Kent cider, local blue cheeses and cockle popcorn. Free, 10am-5pm, broadstairsfoodfestival.org.uk
Egg hunt, London W8
Easter Sunday
Public Easter egg hunts are on the up in the capital. Kensington Roof Gardens, a whopping 1½ acres of verdant greenery in the sky, is putting on a trail among its flamingos and foliage. The hunt is led by a giant Easter bunny. And the most coveted trophy is a humongous egg from Choccywoccydoodah. 11.45am, virginlimitededition.com/en/the-roof-gardens.
(A rival adventure is at the Bank of England Museum, where children will seek out chicks and eggs hidden around the museum. 10am-4.30pm, Tomorrow to Thursday and 7-10 April, bankofengland.co.uk)
Edinburgh street food
Easter Sunday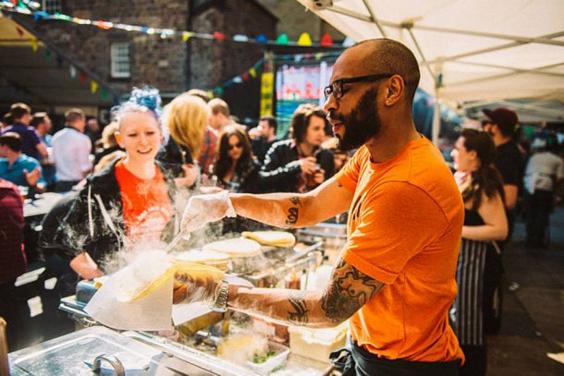 The Cowgate in Edinburgh welcomes back the Old Town Street Food Festival (pictured above) for a spring extravaganza. There are eight street-food vendors, a real-ale bar, pop-ups and two music stages should you want to bust a move after indulging in some gluttony. Free, 12pm-11pm, facebook.com/events/786975684725438
Liverpool Food and Drink Festival
Easter Sunday and Monday
An edible garden, children's zone and market are just a few of the attractions on offer at Liverpool's spring festival in Sefton Park. For coffee-geek parents there is Adams & Russell, selling hand-roasted Java and Brazilian Santos while bread-heads can check out Dough It Yourself. From £5 (under-14s free), liverpoolfoodanddrinkfestival.co.uk
Country show, Northamptonshire
Easter Sunday and Monday
From ferret racing to enticing regional produce, the provincial country show comes into its own at Easter. One of the first of the year is in the grandiose grounds of Kelmarsh Hall. Alongside the countryside events, there's a food festival. From £13 (free for 15s-and-under), kelmarshcountryshow.co.uk.
(Another spring show is the Gamekeeper's Fair on the Catton Estate in Derbyshire. Expect a food village of fresh game, butchery, pies, and artisan cheese. From £8, under-15s free, 11-12 April, bascgamekeepersfair.co.uk )
Sconeathon, Suffolk
11 April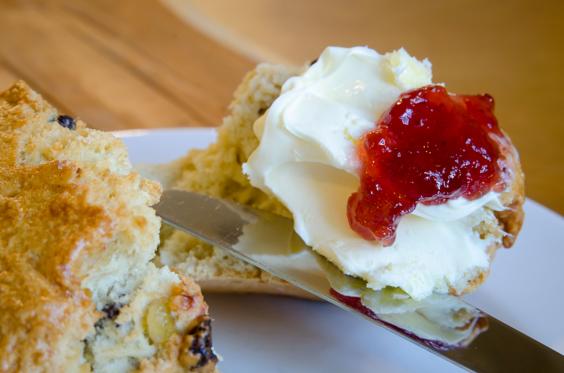 Heard of a Sconeathon? By popular demand, it's now in its third year. Nestled along the Suffolk coast on the National Trust's Dunwich Heath and Beach, the Coastguard Cottage's tea room attracts scone-adoring fans, who can muse over 30 sweet and savoury varieties. Free, three scones for £3, 10am-5pm, nationaltrust.org.uk/dunwich-heath-and-beach
Baking with Bertinet, Bath
Thursday and 9 April
Bertinet Kitchen, the Bath cookery school run by the lauded French chef Richard Bertinet, is putting on Easter sessions for children. Youngsters can discover the art of baking "real" bread with a parent, granny or grandpa – £190 for 1 adult, 1 child, Thursday – or participate alone and refine their patisserie skills: £35, 9 April, thebertinetkitchen.com
Street-food festival, Birmingham
11 April
Village Square on Kings Heath's high street will play host to street-food collective BrumYumYum, offering a vibrant day out. Highlights include Umami dishing up katsu curry, Buddha Belly selling Thai fare, and Low n Slow – try the brisket chilli cheese in brioche. Free, 12pm-6pm, brumyumyum.com
Reuse content