My advice if you are ever asked to write about the Hard Rock Café and sent there for lunch is not to order three courses and a beer, and to avoid the Oreo cookie cheesecake with an Oreo cookie crust, topped with an Oreo cookie. Because it will kill you and the words will flow about as freely as the spinach and cheese dip you spooned into your mouth as a starter when you ran out of Parmesan crisps.
Too late for me, alas. I had decided I needed to go big if I was going to understand the enduring and unlikely appeal of a global restaurant chain that served its first burger – now the Original Legendary Burger (lettuce, patty, onion ring, bacon, cheddar, tomato, special sauce, brioche bun) – in London almost 45 years ago.
This week, Hard Rock International, which now has 189 cafés, hotels and casinos in 58 countries, is in a legal battle between its owners, a Native American tribe called the Seminole, and Robert Earl, the British tycoon behind Planet Hollywood. Earl still owns unauthorised Hard Rock Cafés in Mexico.
The Seminole, which bought the chain from Britain's Rank Group in 2007, want them gone and claimed a victory when a Cancun branch closed this week (Earl declined to comment other than to call the company's statement "misleading").
That anyone would want to co-opt the Hard Rock brand is testament to its pulling power, but why does a chain that makes Pizza Hut look cutting edge not only survive, but flourish? I grew up in London and now work two miles across Hyde Park from the Piccadilly branch, where there is a permanent queue outside. I had never been tempted to join it until yesterday.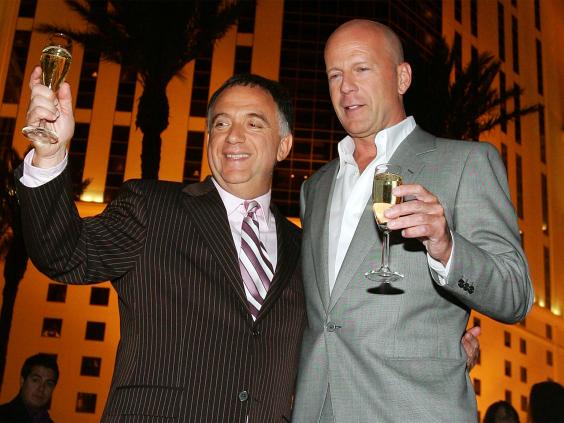 It's easy to sneer at Hard Rock. But it's also fun. When I ask colleagues in an email if anyone has been to one, typical replies include "once when I visited London with my family at about 16. I've hated myself for it ever since" and "I thought it was cool (please note, I am from a small town in Sussex)". One respondent says he was dumped in the London branch, but was still too traumatised to recall the details. There are no reports of good food.
An Irish friend got a job in the Dublin branch when it opened 10 years ago. "They sent in this crack squad of hard rockers from all over the world to train us, including an old-timer called Johnny Storm," he says. "They kept claiming loads of celebs would come which was hilarious because it obviously wasn't 1976. Samantha Mumba and the "Thong Song" guy were the biggest we got – back when they were a brief showmance couple. They put them at the VIP table!"
Apart from a man who looked uncannily like Des Lynam, there are no celebrities at the London flagship today. But there is a lot of their stuff. Eric Clapton was a regular here after hungry Americans Isaac Tigrett and Peter Morton opened the place in an old Rolls-Royce showroom in 1971. In 1979, Clapton donated his guitar, which is still screwed to the wall. Pete Townshend soon followed suit, helping to seal the café's cult status at a time when the burger was still exotic (McDonald's didn't arrive in Britain until 1974).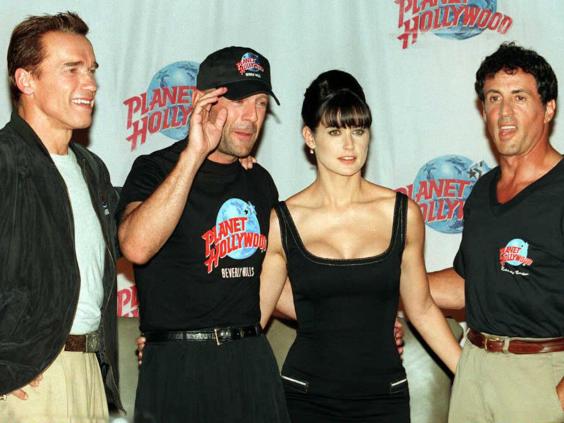 I can see guitars formerly owned by Bob Dylan and Ronnie Lane, of Faces fame. There's a brown flannel suit worn by Clapton and some Elton John specs. A Spanish tourist wearing leopard-print jeans and Reeboks poses for a photo in front of a black velvet coat worn by Jimi Hendrix. TVs show music videos featuring Led Zeppelin and Survivor, as well as an advert for the Hard Rock Hotel in Ibiza. Nothing appears to date from any later than 1990.
The food comes quickly and actually isn't bad, despite its weight (the cheesecake could capsize a small boat). Nor is it cheap; my dip, burger, Budweiser and cheesecake set me back £38.76 with service. Yet the place is packed. Tourists, mostly, and a lot of them British. Lisa and Michael Lee are down from Bath with their children, Kaitlin, who's seven, and Nathanial, 12. "It's the end of the holidays, we're off to Chessington tomorrow and it's a little treat," Michael says. "You should have the macaroni cheese!" Kaitlin adds.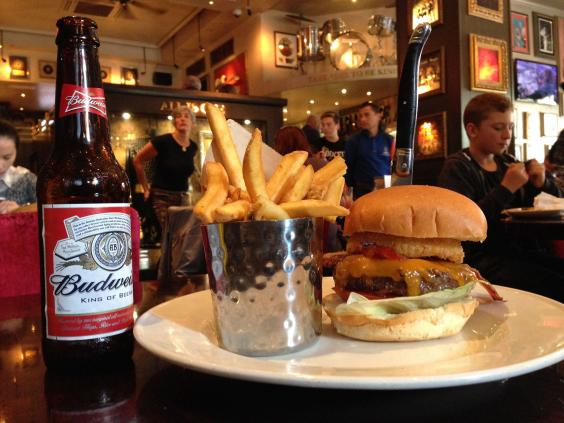 At the next table, Jenny and Steve from Berkshire are eating with their grandson, Jake. It's his 12th birthday and he blushes when the waitress asks the entire restaurant to sing "Happy Birthday" as his chocolate molten cake arrives. Granny and grandpa met in 1978 and have come here almost every year since, usually with a child or grandchild. "It's not stuffy like a lot of places," Steve says before the family heads on to the Mamma Mia! matinee. "Jake, tell this man what you said when you were eating," he adds. Jake, who started with the ribs and brisket combo, replies: "I said it was the best meal I've ever had."
Jake may later hesitate to admit that he went to the Hard Rock Café as a kid. Or he'll come back with his own children and grandchildren. Either way, far-flung licensing disputes notwithstanding, chances are there will still be a queue along Piccadilly.