Tom Sellers has a simple message for "all the haters" out there. Because, yes, despite his stellar year, not everyone is a fan; or perhaps it's the success that's to blame. After all, the 26-year-old has gone from hosting a few pop-ups to running a modish, waiting-list- only restaurant in just eight months. And did I mention the Michelin star?
But for the record he wants to say thank you to his critics, those negative bloggers, snarky TripAdvisor posters, and disgruntled vegans. "They just drive me on," he adds. "It's like anything; you turn the negatives into positives."
His attitude explains a lot – mostly how someone quite so young can have achieved quite so much in quite such a short time. Before opening the £2m restaurant Story, Sellers worked with some of the world's greatest chefs, globe-hopping from London's Tom Aikens, to Thomas Keller's French Laundry and Per Se in the US, before a crucial stint back here with Adam Byatt at Trinity in Clapham, south-west London, before winding up in Copenhagen with – who else? – Noma's "genius", René Redzepi.
It also, perhaps, goes some way towards explaining those "haters". You don't get so far, so fast without ruffling some feathers. "I think there's an old brigade that are not so keen on young chefs opening up. I think they feel like we haven't earnt our stripes." That plus the boiling-point hype that preceded Story meant Sellers "was conscious that I couldn't open a restaurant quietly, because of where I'd worked, and what I'd done, and my age".
This explains the, er, unusual location: on the site of an old public convenience in the no-man's land between Borough and Bermondsey in south-east London. "Essentially we had the vision that we would be a destination restaurant, so wherever we put ourselves, people would come." The area's foodie vibe helps, as does seeing the Shard framed in the floor-to-ceiling windows, which when combined with a liberal use of stripped wood, give the small venue the feel of a Nordic sauna.
"It's safe to say we've found a nice little spot. It's a great part of London," Sellers says. He has just the one backer: Byatt put up all the cash. "And I put me in. That's worth more than any money, no?" he smiles, adding: "I'm joking," not entirely convincingly.
It would be naïve not to expect some arrogance, although I should state that he did a masterful job of keeping it in check during our interview. Self-doubters simply don't get – or take – the chances that Sellers, who left school at 16 and didn't go to catering college, has had. Nor do they make a decent fist of bossing 30 people around, including 14 chefs. "It's 30 different challenges every day," is how he puts it.
Despite the sultry poses and obligatory tattooed forearms, Sellers isn't in it for the "rock'n'roll lifestyle" that is "part and parcel of what I do on a daily basis". No, he's there, up to 18 hours per shift, because, "When I started cooking, I fell in love. It's as simple as that. It was like a girlfriend, and then nothing else mattered." He also "fell" into food. "I never had this dream of wanting to be a chef growing up. I just pissed about at school a lot, didn't enjoy it. When I left I just started cooking part-time and washing dishes. And the rest is history."
He peppers his mini-masterclass in how to get ahead with enough sage advice to fill k a book, which, come to think of it, might be one of the numerous "other commitments" he is also squeezing in. Not that he'll say anything beyond that because, "Now, more than ever, as chefs have become cool you get more media opportunities, whether that be television, commercial, endorsement, publishing." He does reveal he's just filmed something for the BBC, but won't let me disclose what it is. I'm left imagining endorsements galore, even clothing deals to get that hipster chef vibe in your own kitchen. "You'd be surprised; there's lots of things happening," is as far as he'll go.
But he knows it's the day-cum-night job that counts, insisting that for him a restaurant "is a lifetime project not an overnight" one. "A restaurant is a business. It's very easy, in this day and age, to forget that and for people to think that it's a vanity. But it's not; it is a business, a real-life business. However self-rewarding it can be as a chef, the end goal is to have a restaurant that's successful, not only in notoriety and accolades but in terms of a functioning business that's profitable." It all boils down to a "balance between being this maverick who pushes boundaries and wants to inspire others, to knowing your limitations."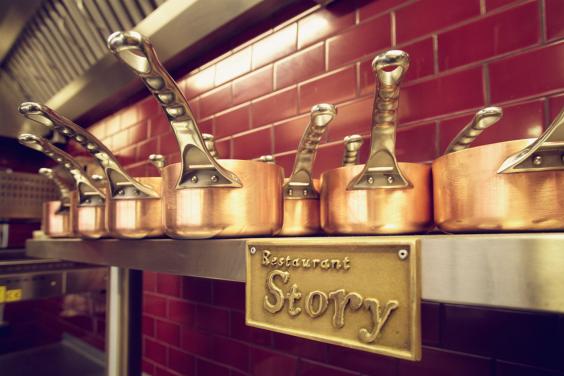 Despite being constantly fully booked – Story releases tables a month ahead – Sellers reckons he can top "an amazing first year with a better year two, and a better year three" and still keep progressing. Thinking big, he draws parallels with each new model of the iPhone. "They're always working on the software, the stuff inside. It's the same for us."
What he really wants is to disprove the doubters, who said that eating at Story would be a one-off experience to "tick off the list" (he can quote their exact phrases). "I think people come back," he counters. Although his trademarks stay, notably the beef-dripping candle that melts down as it heats up, he tinkers with the tasting menu (available as six or 10-course versions) and has just swapped a mackerel dish for one with pig and langoustine. Yet he insists he doesn't think food is the most important thing about his restaurant. "I truly believe the way we make our guests feel, [means] the first thing you'd want to do is come back."
In any case, there are still plenty of first- timers yet to tick it off. The evening of our interview, Keira Knightley is due in, while the legendary American restaurateur Wolfgang Puck has recently been by for lunch. Other industry greats to have eaten there include Gordon Ramsay, Jason Atherton and Daniel Clifford.
Although reviewers notice the Nordic influence, Sellers says he's worked hard to create his own style. Not that he'll describe it. "We are what we are." What he will say is that we "100 per cent play with what we've got. We don't go and put bananas on the menu. We are an English restaurant that works with English produce." He plays with the stories behind his dishes, which is why he plumped for calling the joint Story in the first place.
The narrative theme is fairly hammered home, from the groaning bookshelves and authentic-looking Dickens tomes that are dotted on each of the 13 tables, down to the tales that describe the dishes. Endless stories about provenance, so beloved by the trade, "show love and care", Sellers thinks, and so what if you get "people who go, 'I don't give a shit about that stuff. Just give me the food, I want to eat it'?"
What's clear is that Sellers has done a lot of growing up these past 12 months, which have had their downs as well as ups – at one point he switches off my tape and grabs my pen, forbidding me from talking about some of the hiccups. He's not one to dwell, it's all about turning those negatives into positives, after all. And grabbing those chances while he's still sizzling-hot. "In three years' time there's gonna be a new kid on the block, that's for sure.
"There's part of striking while the iron is hot. But it's also about having the patience and integrity to wait. Sometimes the longer you wait, the more will come."
I, for one, wouldn't want to bet on how this story will end up.
Story is located at 201 Tooley Street, London SE1, tel: 020 7183 2117
Four more restaurants who opened their doors this year
By Zander Swinburne
The ex street-food operation
Lisa Meyer, 30, founder of Yum Bun
Why did you decide to open Yum Bun this year? In January we were entering our third year as a street-food business, but we wanted to work on what we had in the warmer, and less logistically stressful, environs of a shop. I was then invited by Jonathan Downey to take over a space next door to the Rotary Bar & Diner in the City. It was compact, in a good location and next to a bar!
Which restaurateurs have inspired you? The buns were inspired by David Chang's Momofuku, but the style of the shop was drawn from the small bars I love in Japan. I wanted Yum Bun to be a place to pop into for a quick, affordable but lovingly prepared bite.
What has been the most difficult aspect? It is a very small shop, and at times we ask a bit too much of it!
Is there anything you'd do differently if you could? Have a bigger shop and improve the work flow. I am currently looking for a new space and can't wait to try out new things.
31 Featherstone Street, London EC1, tel: 07919 408 221
The former pop-up wine bar
Charlotte, 29, and Michael, 30, Sager-Wilde, co-owners of Sager & Wilde Wine Bar
What made you decide to open Sager & Wilde? We had the idea three years ago, and after living abroad for a couple of years, we moved back to London. Doing the pop-up, we soon realised it could be a viable business venture and immediately started looking for a permanent property.
What has been the most difficult aspect?
Being married and being business partners: living together, working together, socialising together, spending every minute of every day together… it takes a lot of compromise and patience!
What's been the high point of the year?
Getting to spend time with Michael's old boss and mentor Rajat Parr while he was visiting from San Francisco. He's one of the best sommeliers in the world and is now an extraordinary winemaker. And he parties hard.
What's the best advice anyone gave you?
Don't take business advice from your mum. She thinks you're awesome and will succeed in anything, no matter what.
193 Hackney Road, London E2
The haute-cuisine start-up
Adam Stokes, 32, head chef and co-owner of Adam's restaurant
What made you decide to open Adam's restaurant?
Having spent five years honing my style up in Scotland, where my team and I held a Michelin star and four AA Rosettes, I decided now was a good time to start my own restaurant.
What has been your highlight of your year?
Without doubt the birth of my son Jenson, closely followed by receiving a Michelin star in my own restaurant, which happened the following month, after only five months of being open.
What has been the most difficult aspect?
The constraints of the space we took over: from the design to the build to the running of the restaurant, we have had to be very clever with the space – especially storage.
What's been the biggest lesson you've learnt from opening your own restaurant?
Get help, don't try to do too much yourself. You can very easily find that your focus is taken away from the main selling point of the business.
21a Bennetts Hill, Birmingham, tel: 0121 643 3745
The Big-Name Opening
Neil Borthwick, 32, head chef and co-owner (alongside Angela Hartnett) of Merchant's Tavern
When did you decide to open your own restaurant?
Five years ago; my co-founders and I talked about opening a restaurant with a relaxed environment and fantastic food. Fine dining is going out of fashion and people are a lot savvier now because of all the cooking shows on TV.
What has been the most difficult aspect of running your own restaurant?
All the things you take for granted when you work for others: the systems put in place that you don't notice.
What advice would you give to anyone thinking about starting their own restaurant?
Forget about your social life. I haven't had a full day off.
You had a cycling accident and ended up in an induced coma in 2012…
I was on my bike, not wearing a helmet and managed to fall off, landing on my head. It was a harsh lesson to learn. I'm so grateful that my friends and business partners have stood by me throughout. If anything, the challenges of starting a restaurant from scratch have helped get me back into the swing of things again.
36 Charlotte Road, London, EC2, tel: 020 7060 5335