For most, the thought of barbecuing immediately brings to mind sizzling sausages, charring rump steaks, and browning chops. The grill is, quite simply, synonymous with meat.
I often feel sorry for non meat-eaters during barbecue season. I want to weep for veggie pals forced to have another sad Portobello mushroom in a bap as the rest of us dig into juicy quarter pounders.
Neither does Quorn, and its various mockmeat relatives, overly appeal. Those dry, grey patties look about as appetising as the charcoal over which they are cooked.
But it doesn't have to be this way. Might we have prematurely written off just what the barbecue can do with common or garden veg? Sure, some of the options might take a little more effort than throwing some shrimp (or hot dogs, or drumsticks) on the barbie, but it's worth it.
One man who agrees that vegetarian grilling has perhaps not fulfilled its potential is Ross Dobson, the author of a new cookbook Fired Up Vegetarian: No Nonsense Barbecuing. As an Australian, he knows a thing or two about what makes a decent barbie, and despite not being a vegetarian, he maintains that vegetables can give meat more than a run for its money on the grill. "One of the best ways to cook vegetables is to grill them," says Dobson. "Simple grilled fennel, aubergine or courgettes spring to mind. And many of these veggies that barbecue particularly well are also in season when we are more inclined to barbecue."
In the book, you'll find everything from rice paper rolls to exotic dips; bountiful salads to exciting skewers (not here the usual rotation of haloumi, tomato, courgette, repeat). A number of world cuisines are included, mainly because, as Dobson points out, India, South-east Asia, and parts of the Middle East have long traditions of vegetarianism, so naturally have some exciting options. "I really wanted to avoid a book of token recipes," he says. Meanwhile, Marks & Spencer has just unveiled its biggest range of veggie  barbecue products yet, the highlight being the new Edgy Veggie burger, which the company spent years developing and is made of soya, lentils, mushrooms and beetroot.
Rather than the thin, highly processed, often frozen offerings that we are used to, this burger is a tasty beast that doesn't try to imitate the real thing. M&S is also selling corn on the cob pieces, and haloumi wedges that can be used in place of burgers.
"We've seen a big rise in people looking for veggie options because they are reducing the amount of meat they eat, not just because they're catering for veggie friends," says a Marks & Spencer spokesman. "Similarly, some people want lower-calorie choices and these burgers have fewer calories and less saturated fat than the average beefburger."
Vegetarians will even find themselves better catered for at restaurant barbecues. At Café 1001 in east London's Brick Lane, along with the burgers and kebabs that sizzle away on the daily outdoor barbecue are haloumi and aubergine burgers, breadcrumbed veggie burgers, and Portobello mushrooms filled with Parmesan cheese, butter and cherry tomatoes in a bun.
Others are even moving away from just serving up variations on burgers. At The Ship in Wandsworth, south-west London, a new introduction is chargrilled cheese quesadillas cooked on the barbie.
"We wanted to be a bit different, and you can pick this up like a burger," says Michelle Hogan, of The Ship. "I have one just about every day. They taste really summery because they're cooked on the barbecue, and the jalapeño peppers gives them quite a kick. It's a wonderful combination of tastes."
So perhaps it's high time we put a little bit more thought into alfresco dining this summer. Your taste buds (and cholesterol levels) will thank you for it.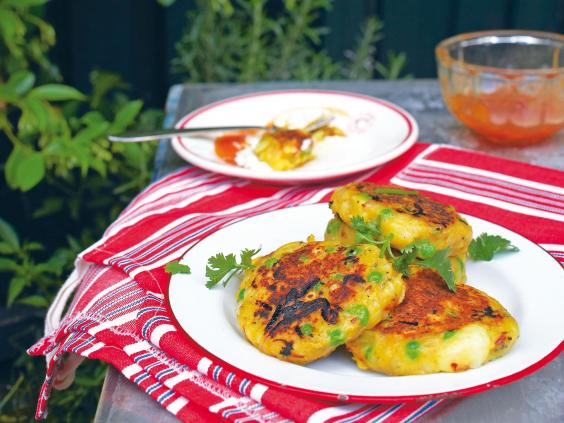 All recipes from 'Fired Up Vegetarian: No Nonsense Barbecuing 'by Ross Dobson. Published by Murdoch Books; £14.99
Haloumi, mint and preserved lemon cigars
Serves 4-6
6 filo pastry sheets, each measuring 44 x 28cm
200g block haloumi cheese
2 tablespoons finely chopped mint leaves
2 tablespoons olive oil
12 thin strips of preserved lemon rind
Sea salt, for sprinkling
Lemon wedges, to serve
Lay the filo sheets on top of each other. Cut the stack in half lengthways, then cut across in half to give 24 smaller rectangles of pastry. Lay the rectangles on top of each other and cover with a damp cloth. Cut the haloumi into 12 thin fingers.
Combine the mint and olive oil in a bowl.
Lay two filo rectangles on top of each other and brush with some of the oil from the bowl. Put a piece of haloumi on the short end of the pastry, top with a strip of preserved lemon, then fold the sides of the filo over the haloumi and roll up into a cigar shape. Repeat to make 12 cigars.
Preheat the barbecue hot plate to medium.
Cook the cigars on the hot plate for 4-5 minutes, turning often, until the pastry is golden and charred. Sprinkle with a little sea salt and serve hot, with lemon wedges on the side.
Tangy Sweet Potato Salad
Serves 4
1 medium-sized sweet potato, sliced into rounds 5mm thick
2 tablespoons rice bran oil
1 teaspoon caraway seeds
2 dill pickles, finely chopped
3 tablespoons roughly chopped mint leaves
1 large red chilli, finely chopped
2 tablespoons apple cider vinegar
60ml extra virgin olive oil
1 teaspoon caster sugar
Preheat the barbecue grill to medium. Put the sweet potato, rice bran oil and  caraway seeds in a bowl  and toss to coat the sweet potato well.
Tumble the sweet potato rounds over the grill, then use tongs to spread them out so they don't overlap. Cook for 8-10 minutes on each side, or until caramelised and tender.
Place the hot sweet potato in a bowl. Add the dill pickles, mint and chilli. In a small bowl, combine the vinegar, olive oil and sugar, then drizzle the mixture over the sweet potatoes, gently stirring to combine. Set aside for 30 minutes for the flavours to infuse. Season to taste with sea salt and freshly ground black pepper and serve.
Naked samosas
Serves 4
4 medium-sized russet (Idaho) or King Edward potatoes
2 tablespoons light olive oil, plus extra for brushing
Half a teaspoon black mustard seeds
1 onion, thinly sliced
1 garlic clove, finely chopped
2 teaspoons finely grated fresh ginger
Half a teaspoon cumin seeds
1 teaspoon fennel seeds
75g frozen peas, thawed
Quarter of a teaspoon ground turmeric
2 teaspoons sea salt
Quarter of a teaspoon chilli powder
Half a teaspoon garam masala
Half a cup finely chopped coriander, plus extra to garnish
Mango chutney, to serve
Plain yoghurt, to serve
Peel and wash the potatoes. Cut each into 8 pieces and place in a saucepan. Cover with cold water, bring to the boil and cook for 15 minutes, or until just tender. Drain well, then tip the potatoes out on to a clean chopping board to cool and dry.
Put the potatoes in a large bowl and roughly mash them.
Heat the olive oil in a frying pan over high heat. Add the mustard seeds and cook until the seeds start to pop. Add the onion and cook, stirring, for 4-5 minutes, or until golden. Now add the garlic, ginger, cumin seeds and fennel seeds and stir-fry for one minute, until aromatic. Mix the peas through.
Pour the onion mixture over the potatoes. Add the turmeric, salt, chilli powder, garam masala and coriander. Stir together using a large spoon, making sure the ingredients are really well combined. Cover and set aside at room temperature for an hour or two for the flavours to develop, or refrigerate until needed.
Using slightly wet hands, divide the mixture into eight equal portions, then form into balls. Gently pat down into discs or patties.
Pre-heat the barbecue hot plate to high. Brush  with a little olive oil to  lightly grease.
Cook the patties on the hot plate for 10 minutes on each side, or until they have a golden crust. Serve warm, garnished with coriander leaves, with chutney and yoghurt on the side.
Reuse content