The cauliflower might not be an ingredient that has you instantly salivating, but it's a greatly underrated vegetable that has so much flexibility in the kitchen.
Hot, cold, raw or blended, the cauliflower lends itself to all sorts of preparations, both as a starter or as a main accompaniment. I've often bought a single cauliflower and made two or three meals out of it. You will find British cauliflower available most of the year these days, so we must be starting to appreciate its culinary appeal.
There's a certain addictive sweetness to cauliflower if you get it cooked to perfection; if undercooked it doesn't release its sweetness and if overdone, you can basically just bin it.
Roasted cauliflower with black garlic
Serves 4-6
You might have seen black garlic in specialist shops and wondered what on earth to do with it. The South West Garlic Farm, near where I live in Charmouth, produces it. The garlic bulbs there are very slowly dried at a low temperature for a month, then dried at an ambient temperature for another week. This process lightly caramelises the natural sugars in the garlic cloves and they turn a charcoal-like colour.
It can be used in soups, sauces, crushed into a mayonnaise or simply tossed into a vegetable dish like this.
1 head of cauliflower, cut into large florets and saving the outer green leaves and stems
2-3tbsp rapeseed oil
60g butter
1 bulb of black garlic with the cloves separated
2tbsp chopped parsley
Salt and freshly ground black pepper
Preheat the oven to 220C/gas mark 7. Cook the cauliflower florets and outer leaves in boiling, salted water for about 4-5 minutes, so that it's still a little firm, and drain.
Heat the olive oil in a roasting tray in the oven, add the cauliflower and season. Roast, giving the occasional stir, for about 10-12 minutes, or until lightly browned and then, at the last minute, stir in the butter, black garlic and parsley.
Transfer to a serving dish, pouring over the oil and juices from the roasting tray.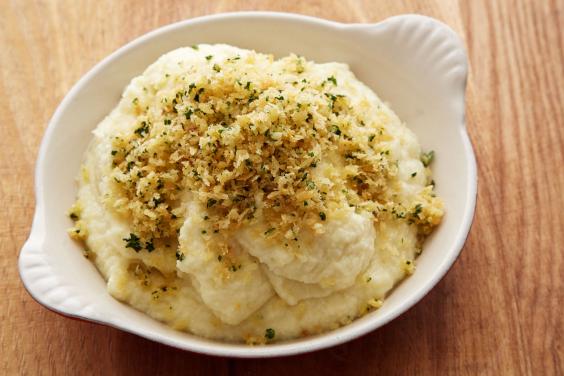 Cheesy cauliflower mash
Serves 4-6
You often see cheap cauliflowers in markets and this is just the kind of thing you should do with such a bargain: extreme comfort food for grown-ups and kids.
1 large cauliflower, cut into even sized-pieces, leaves and all, washed
100ml double cream
Salt and freshly ground white pepper
150g finely grated cheddar
A couple of good knobs of butter
50-60g fresh white breadcrumbs
2tbsp chopped parsley
Cook the cauliflower in boiling, salted water for about 8-10 minutes until tender; drain. Blend until smooth in a food processor then transfer to a pan, add the cream, two-thirds of the cheese > and season to taste. Brown the breadcrumbs under a medium grill and briefly leave to cool, then mix with the parsley and the rest of the cheddar.
To serve, reheat the cauliflower, transfer to a warmed serving dish and scatter over the crumb mixture.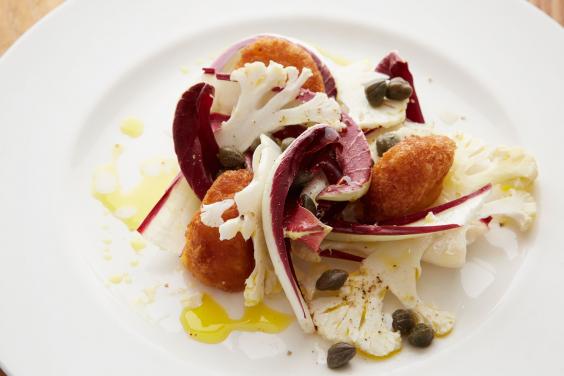 Cauliflower, Treviso and caper salad
Serves 4
Raw, thinly-shaved cauliflower makes a great salad with a sweet vinegar dressing like white balsamic or chardonnay. For variation and texture, I pan-fry florets and add them. If you can't find treviso, then use radicchio.
1 head of cauliflower, trimmed, cut into florets and washed
1 head of treviso or radicchio, trimmed, washed and dried
2tbsp capers
2tbsp olive oil for frying
Plain flour for dusting
For the dressing
3tbsp white balsamic or a vinegar-like chardonnay
4-5tbsp olive oil
Salt and freshly ground black pepper
Thinly slice half of the florets, keeping them intact as much as possible, and put them into a container with the dressing vinegar and a little of the olive oil; season.
Cut the rest of the cauliflower into small pieces and cook in a pan of simmering water for 2-3 minutes, then drain.
Heat the olive oil in a preferably non-stick or heavy frying pan. Season and dust the blanched cauliflower with flour and fry in the oil for 4-5 minutes until golden, turning as it cooks; then remove and drain on some kitchen paper.
To serve, arrange the treviso, fried cauliflower and slices of cauliflower on serving plates. Mix the rest of the oil with the vinegar and capers and spoon it over the salad.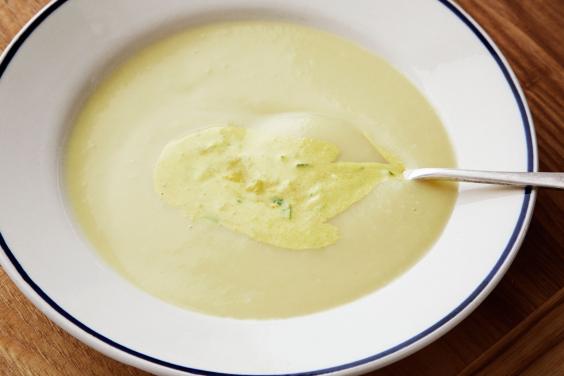 Curried cauliflower soup
Serves 4-6
A creamy cauliflower soup makes a great winter warmer and the addition of a few Indian spices gives it a real kick, too. You can add your own favourite curry spices to this or simply use a good curry powder.
1 medium onion, roughly chopped
The white of 1 medium leek, roughly chopped and washed
2-3 good knobs of butter
1 small- to medium-sized cauliflower, roughly chopped, with the dark outer leaves and stems
1ltr vegetable stock (a good cube will do)
500ml milk
Salt and freshly ground white pepper
For the curry cream
½tbsp vegetable or corn oil
1 large shallot, peeled, halved and finely chopped
1 small red chilli, finely chopped
½tsp ground cumin
½tsp cumin seeds
1/3tsp turmeric
½tsp ground fenugreek
½tsp black mustard seeds
2tbsp crème fraîche or yoghurt
Melt the butter in a heavy-based saucepan and with the lid on gently cook the onion and leek, without colouring, for 2-3 minutes, until they are soft. Add the cauliflower, stock and milk. Season, bring to the boil and simmer for 35 minutes, or until the cauliflower is soft. Blend in a liquidiser until smooth and strain through a fine-meshed sieve; season again if necessary.
Meanwhile, heat the oil in a pan and cook the shallot and spices on a very low heat for 2-3 minutes, stirring every so often so they don't burn. Transfer to a small bowl to cool. Once cool, stir in the yoghurt or crème fraîche.
Serve the soup in warm bowls with the curry cream spooned on top.
Reuse content