For those of us who couldn't make it out to Brazil, what better way to really get into the football spirit than by having your taste buds tingled by the local flavours of the team you're watching?
Check out our selection of recipes.
Bitterballen
Sunday 29 June: Netherlands VS. Mexico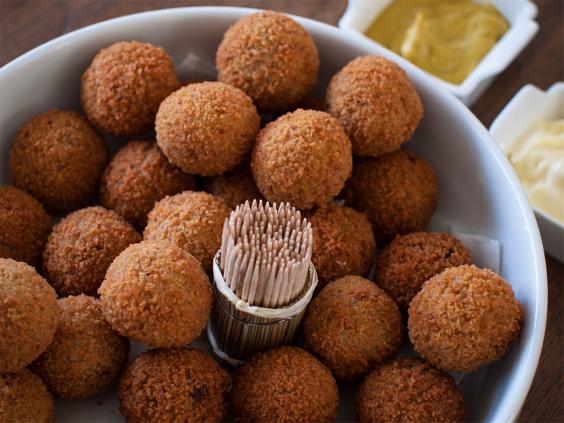 This is one of Holland's favourite snacks, and are often served as an aperitif. These crispy, bite-size balls of meaty gravy are delicious dipped in some savoury mustard.
Ingredients
1 stick of butter
1 cup of flour
3 cups of beef stock
3 tablespoons of onion, minced
1 tablespoon of fresh parsley, minced
2 cups of shredded cooked beef
Salt & Pepper
Nutmeg
For the breading
1/2 cup flour
2 eggs, beaten
2 cups bread crumbs
Make a roux with the butter and the flour (slowly melt the butter in a skillet or pan. When melted, add the flour little by little and stir into a thick paste). Slowly stir in the stock, making sure the roux absorbs the liquid. Simmer for a couple of minutes on a low heat while you stir in the onion, parsley and the shredded beef. Taste, add pepper and salt and a pinch of nutmeg. Taste again and adjust if necessary.
Pour the meat gravy into a shallow container, cover and refrigerate for several hours, or until the gravy has solidified.
Take a heaping tablespoon of the cold, thick gravy and quickly roll it into a small ball. Roll lightly through the flour, then the egg and finally the breadcrumbs. Make sure that the egg covers the whole surface of the bitterbal. (If it doesn't, the filling will spill out into the fryer and you will be left with a hollow shell, and a messy fryer!). Set each ball aside on a plate. When done, refrigerate the snacks while the oil in your fryer heats up to 375F.
Fry five to six balls at a time, until golden brown. Serve on a plate with a nice grainy or spicy mustard.
Recipe by Nicole Holten at The Dutch Table
Guacamole
Sunday 29 June: Netherlands VS. Mexico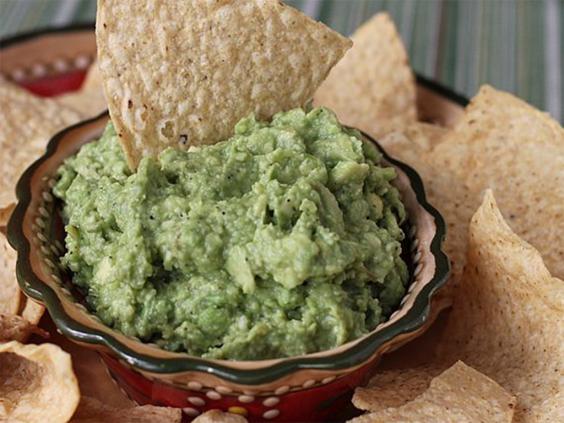 The perfect dip for all that originated with the Aztecs in Mexico has remained an essential part of the Mexican cuisine ever since. Make sure you have enough tortilla chips to dip - you will hardly want to run out to the shops for more during what looks to be a very tense match.
Assemble the ingredients: avocados, kosher salt, freshly ground black pepper, & garlic powder.
Cut avocados in half lengthwise and twist to separate the halves. Whack the pit with the wider base of a knife blade and twist to remove the pit.
Score the flesh of the avocado with the sharp end of a knife in a grid-like pattern to create cube shapes. Scoop out the pieces with a spoon.
Sprinkle the cut avocados with salt, pepper, and garlic powder. Garlic powder, not fresh garlic, as powder works better in guacamole. Fresh garlic has too much bite to it and can overpower the mild avocado flavour; garlic powder is milder and blends in more easily.
Use a potato masher or pastry blender to mash the avocado to the desired consistency.
If making a small portion with a single avocado, just use a fork to mash the avocado on a small plate.
If you prefer your guacamole with some additional ingredients, any or all of these can be stirred in: chopped cilantro, tomatoes, onions, or peppers.  Some people also like to stir in salsa, hot sauce, or sour cream.
Recipe by Monica Matheny on The Yummy Life
Choripán with chimichurri
Tuesday 1 July: Argentina VS Switzerland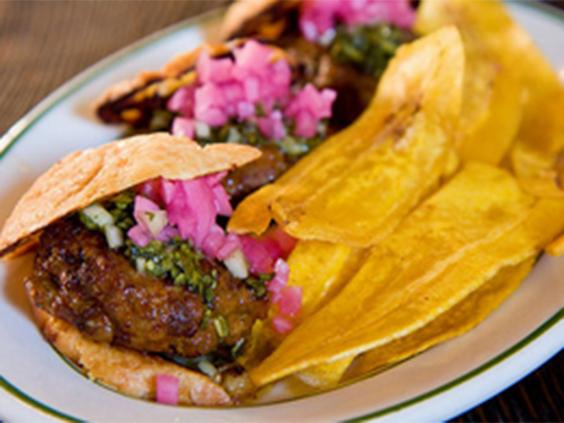 Choripán is a grilled sausage, which in Argentina, is eaten with bread. Pair this traditional sausage with the delicious parsley chimichurri sauce, bringing the buzzing, cosmopolitan capital city of Buenos Aires straight to your living room.

Ingredients for the chimichurri (makes 1 cup)
1 cup of parsley leaves, washed and dried
6 cloves of garlic, minced
1 tablespoon of dried oregano
1 teaspoon of crushed red pepper flakes
1/2 cup of white vinegar
1/2 cup of olive oil
Salt
Pepper
Preparation of the chimichurri
Put all ingredients in the bowl of a food processor and press repeatedly until a coarse puree is formed.
Ingredients for the chorizos
6 chorizos
3 French bread baguettes
Preparation of the choripán
Preheat the grill.
Cut the baguettes in half and then lengthwise.
Click repeatedly the chorizos and grill them until cooked through and even a little charred.
Place the baguettes open on the grill for 30 seconds.
Put a chorizo in each piece of bread like as if a hot dog.
Serve the choripán with chimichurri.
Recipe by Enriqueta on MamasLatinas
Rosti
Tuesday 1 July: Argentina VS Switzerland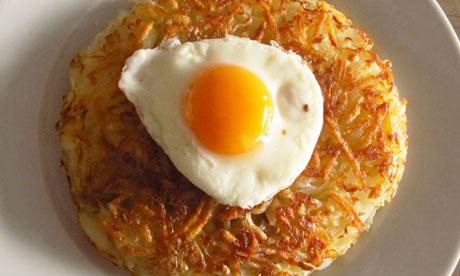 Though Rosti was once a breakfast favoured by farmers in the canton of Bern, the dish has now made its way to become recognised as a national dish. It is common to place some spinach, or even a sunny-side up fried egg on it so give it a try to spice up these crispy little snacks from Switzerland.
Ingredients (serves four as a side dish, two as a main course)
2 medium-sized waxy potatoes
1 tbsp butter
1 tbsp goose fat
Parboil the potatoes in salted water until just tender, but not soft. Allow to cool, and chill for at least a couple of hours.
Coarsely grate the potatoes and season. Heat half the fat in a small, heavy-based frying pan until sizzling, and then add the grated potato, allow to cook for a couple of minutes and then shape it into a flat cake, pressing down as lightly as possible. Allow to cook for a couple of minutes, then gently shake the pan to loosen the potato.
Continue to cook for about 10 minutes until golden and crisp, then place a plate on top of the pan and invert it so the cake sits, cooked-side up, on the plate.
Add the rest of the butter and goose fat to the pan and, when hot, slide the potato cake back into the pan the other way up. Cook for another 10 minutes, then serve.
Recipe By Felicity Cloake as featured in her new cookbook Perfect Too
Mac and Cheese
Tuesday 1 July: Belgium VS USA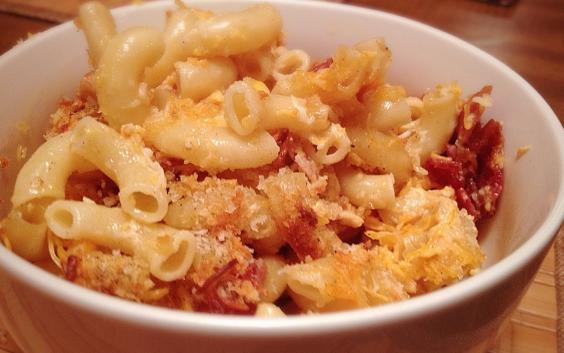 This is a true comfort food dish - why not serve your Mac and Cheese in little cups for each of your football (turned foodie) guests to enjoy?
Ingredients
2 lbs elbow macaroni
1 stick butter
12 oz bacon
3 cups cheese, shredded (you can use just cheddar, or mixed cheese)
3 tbsp Dijon mustard
½ cup panko bread crumbs
Salt and pepper to taste
For the roux:

2 tbsp butter
2 tbsp flour
1 tbsp milk
2 tsp bacon drippings
Cook macaroni till al dente (about 10 min), then drain. Rinse macaroni thoroughly, then set aside.
Cook bacon till crispy, and then chop. Save 2 tsp bacon drippings for your roux. Set aside.
Place 1 stick of butter and Dijon mustard in a pot on low to medium heat. Mix together well. Cook until butter is fully melted, and then turn off heat and set aside.
Make the roux by adding flour, milk, and bacon drippings in a sauté pan on low heat. Whisk till everything is mixed together and turns a slightly thick consistency. Turn off heat and set aside.
Butter a large casserole dish. Place some of the macaroni on the bottom layer of the casserole dish, with a little bit of the Dijon mustard mixture, cheese, roux, and chopped bacon. Then, salt and pepper to taste. Repeat this till the casserole dish is full. Make sure all is mixed together. Top with panko bread crumbs.
Bake at 350 degrees for 25 to 30 minutes.
Recipe by Nisa Burns on Parade
Belgian Waffles
Tuesday 1 July: Belgium VS USA
Known to French-speakers on its home turf as gaufre or gauffre and to Flemish speakers as suikerwaffel, this fluffy sweet treat is just what you've been looking for. Those in Antwerp tend to eat theirs with a light dusting of powdered sugar, or even topped with some whipped cream and strawberries.
Ingredients
2 cups all-purpose flour
2 teaspoons baking powder
½ teaspoon salt
4 large eggs, separated
2 tablespoons sugar
½ teaspoon vanilla extract
4 tablespoons unsalted butter, melted
2 cups milk
non-stick cooking spray
1. Preheat the waffle iron according to the manufacturer's instructions.
2. In one medium bowl sift together flour, baking powder, and salt.  Set aside.
3. In a second bowl use the wooden spoon to beat together the egg yolks and sugar until sugar is completely dissolved and eggs have turned a pale yellow.
4. Add the vanilla extract, melted butter, and milk to the eggs and whisk to combine.  Combine the egg-milk mixture with the flour mixture and whisk just until blended.  Do not over mix.
5. In third bowl, beat the egg whites with an electric mixer until soft peaks form, about 1 minute.  Using the rubber spatula, gently fold the egg whites into the waffle batter.  Do not over mix!
6. Coat the waffle iron with non-stick cooking spray and pour enough batter in iron to just cover waffle grid.
7. Close and cook as per manufacturer's instructions until golden brown, about 2 to 3 minutes.  Serve immediately.
Reuse content