A man who gets paid $4,000 to slice a single leg of ham says he has devoted his "body and soul" to his craft.
Florencio Sanchidrián has cut jamon for everyone from Barack Obama to the King of Spain, and says the secret to his success is knowing the product "inside out".
He told Munchies that he knows everything about the pig, from its birthplace, to where it was stored, along with the humidity and air temperature.
He said the key to being a good cortador de jamones is to "try to manipulate the joint as little as possible and when serving the meat, help people appreciate it with all of their senses".
When asked if he had ever been pitted with an usual request mid-slice, Sanchidrián recalled an instance involving one of the world's greatest actors and directors.
"I remember Robert Redford asked me if he could cut the ham himself. He loved it and tried four different parts of it. He said it was outstanding."
No stranger to quirkiness, he's even been filmed slicing a whole leg while a guitarist thrums a traditional Spanish tune. 
The Spaniard, who considers himself an ambassador for his country's much loved Iberian ham, cuts the meat every year across all five continents to educate people on its prominence. But what's the big deal?
"Iberian pigs are a native Spanish race of black pigs that are raised and bred only in the south west of the country in the Iberian Peninsula. 
"A huge number of them live freely or partially roam free and make the most of the resources of the land, where they graze acorns and grasses. Feeding on these plants is what gives each piece its characteristic colour, flavour, aroma, and fatty texture that melts in the mouth."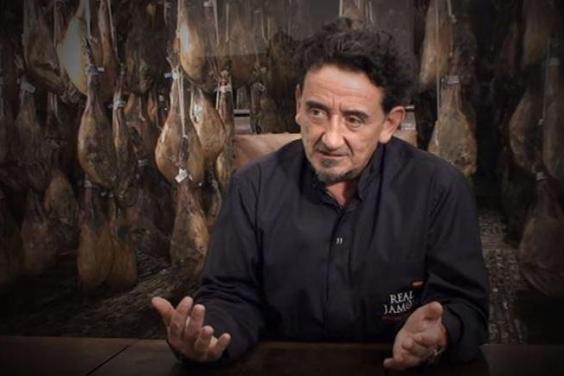 Compared to other hams like Italian prosciutto it also has a more complex curing process and timespan which can take "anywhere between 18 to 36 months, which is twice or more than the maturation time of a regular serrano ham".
Other than being recognised as one of the four gastronomic jewels of cuisine, Iberian ham is also great for your health. Unlike other red meats, it contains a large number of mono-unsaturated fatty acids which help to lower cholesterol and improve cardiovascular function.
"It's a product that stands out for its high nutritional value, providing the body with natural antioxidants, protein, and numerous essential minerals and vitamins. 
"It is a pleasure for all of the senses."
Reuse content