I'm not entirely sure why gooseberries aren't as popular as other seasonal British fruits like rhubarb or cherries. Perhaps it's the way they look – a bit like a big hairy grape with veins that look ready to burst. Or perhaps it's because when eaten raw, they can be so tart you can't help but pull a face. However, a sprinkling of sugar and a bit of heat mellows out the acidity, giving the berry's natural flavour plenty of room to shine.
They come into season towards the end of May, and by June you should see plenty for sale in farm shops and supermarkets. As the season progresses, small green gooseberries will grow in size and eventually turn red, purple, yellow or golden, with softer skins and a sweeter flavour. They can also be found growing in the woods free to anyone who happens upon them – just make sure you wear some gloves to avoid their occasionally sharp barbs.
Once you've got a punnet or carrier bag full of firm, unbruised gooseberries, don't be tempted to eat them raw. Save them for dessert, turn them into a preserve or even use them to flavour cocktails. The berries stand up well to long periods of cooking and are relatively forgiving so long as you don't let the pan dry out, which make them great for experimenting with. However, if you'd prefer to follow in the footsteps of some seriously talented chefs before getting all Heston with them, these are some of the best recipes to get started with.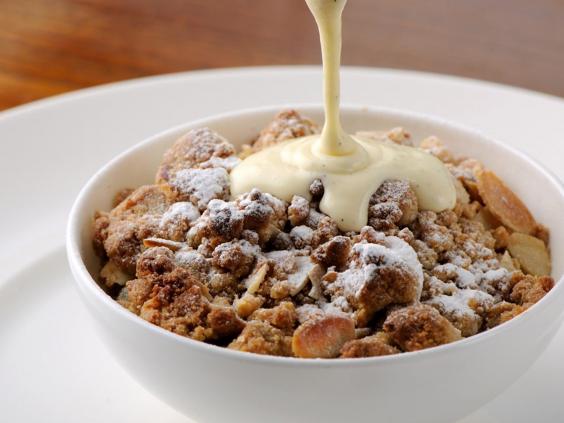 Celebrate the arrival of gooseberry season by attempting Dominic Chapman's sublime gooseberry crumble recipe over the summer months. Make your own custard as Dominic suggests - cheats never prosper!
Most gooseberries tend to end up in a crumble. It's a simple, crowd-pleasing dish that takes less than an hour to prepare, and ensures the fruit stays in the limelight by keeping the ingredients list to a minimum. A scattering of brown sugar, a little lemon juice and a pinch of cinnamon is all that's needed to break down the berries, while the crumble is given a luxurious twist with the addition of almonds and hazelnuts. After twenty minutes in the oven, it's bubbling and ready to serve – and if you're going the whole hog as Dominic Chapman does, that gives you plenty of time to make your own custard. 
Ingredients
Serves 4
125g of muscovado sugar
85g of ground almonds
​250g of flour
​125g of butter, cold
40g of flaked almonds
35g of hazelnuts, nibbed
nutmeg
560g of gooseberries
1 tbsp of lemon juice
​100g of brown granulated sugar
½ tsp cinnamon
For the custard
​350ml of double cream
​350ml of full-fat milk
1 vanilla pod, split
​125g of sugar
4 egg yolks
Preheat the oven to 200°C/gas mark 6. Start by making the crumble topping. In a large bowl, rub together the sugar, ground almonds and flour until it resembles fine breadcrumbs.  Dice the butter and rub into the flour until the mix looks like rough breadcrumbs, taking care not to make the crumbs too fine.
Add the flaked almonds, nibbed hazelnuts and nutmeg and mix together. Reserve in the fridge until required. Top, tail and wash the gooseberries. Place the gooseberries, sugar, lemon juice and cinnamon into a serving dish and cover with crumble mix.
Place in the oven for approximately 20 minutes. The crumble should be golden brown and bubbling when ready. Meanwhile, for the custard, in a large pan, combine the cream, milk and vanilla pod and bring to the boil. In a mixing bowl, whisk together the egg yolks and sugar. Once combined, pour the cream mixture over the egg mixture and mix together. 
Return to the heat and bring to 82°C, stirring continuously until thickened and smooth. Pass through a sieve into a jug and serve alongside the gooseberry crumble.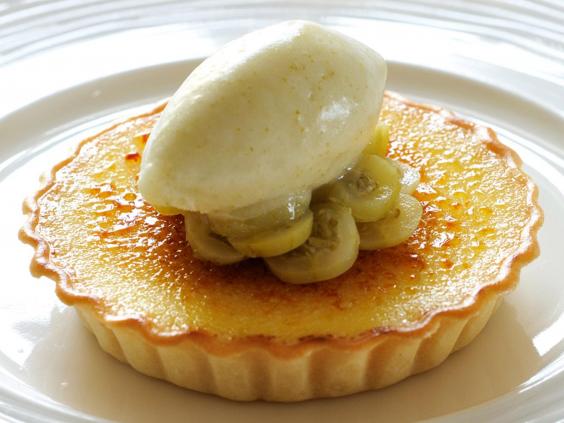 This tart recipe is a wonderful way to herald the glorious gooseberry season in Britain, which runs from late May through August. Nathan Outlaw pairs this delicious tart with a gooseberry and ginger sorbet, making this dessert a perfect summer treat.
Nathan Outlaw might be known for cooking fish but he's no one trick pony, as he demonstrates here with this early summer dessert. Gooseberries come in the form of both sorbet and custard tart here, so it's a great way to use up any trimmings. The sorbet – which is given an extra kick thanks to a glug of ginger beer – can be made in advance, as can the homemade pastry for the tart. The custard is infused with thinly sliced ginger, while the sliced gooseberries on top of the tart are baked in sugar until just tender.
Ingredients
Serves 6
For the filling 
100g of gooseberries
30g of caster sugar
225ml of double cream
12g of root ginger, thinly sliced
105g of caster sugar
5 eggs
For the pastry
​150g of butter
​375g of plain flour
3 eggs
150g of icing sugar
pinch of salt
For the sorbet
250g of gooseberries
250g of ginger beer
100g of caster sugar
100g of liquid glucose
First, make the sorbet by placing the gooseberries in a saucepan with the ginger beer, sugar and glucose. Bring to the boil and simmer for 4-5 minutes. Blend the mixture in a blender until smooth, then pass through a fine sieve and allow to cool. Churn the sorbet mixture in an ice cream maker. When it is ready, transfer the sorbet to a freezer-proof container and freeze until ready to serve.
Preheat the oven to 180°C/gas mark 4. To make the pastry, rub the butter into the flour. Whisk 3 eggs and the sugar together and add the salt. Mix the liquid into the flour and bring together into a ball of pastry, being careful not to overwork. Leave to rest in the fridge for 1 hour.
Roll the pastry out to a thickness of ¼cm. Line 6 x 8-10cm loose-based tart tins with the pastry, blind bake for 7-8 minutes, then leave to cool.
To make the gooseberry custard tart mix, first place the gooseberries on a baking tray, sprinkle over 30g of the sugar and cook in the oven for 20 minutes or until just tender. Drain off any juices and slice thinly.
Combine the double cream and sliced ginger in a saucepan and bring up to the boil. Separate the yolk from 1 of the 5 remaining eggs and whisk the other 4 whole eggs and the remaining sugar, then pour the hot cream over the eggs and whisk again.
Place the pre-cooked tart shells on a tray and then carefully pour the custard tart mixture into the cases. Reduce the oven temperature to 170°C/gas mark 3 and bake for 25-30 minutes until the filling is firm in the centre and the top is golden brown.
Scatter some caster sugar across each tart, and brulée with a blow torch. Top each tart with sliced gooseberries and a quenelle of the sorbet.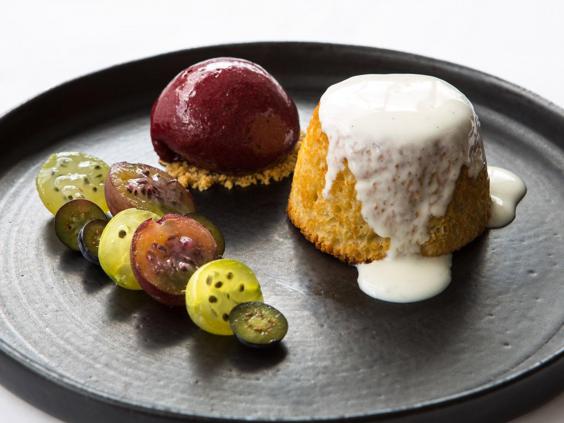 Despite their summer season, gooseberries are best known for lending a sharp juiciness to comforting autumnal dishes such as crumbles and tarts. Paul Welburn's glorious gooseberry pudding recipe makes the perfect summer dessert, with sorbet and yoghurt cleverly used as a lighter, fresher alternative to ice cream and custard.
If you're after something a bit fancier for dessert, try Welburn's ode to summer fruits. A combination of gooseberries and blueberries (you might need to wait a few months until these come into season too), there's a pudding, a jam, a sorbet and a crumble to make, but you can create some elements in advance. The jam hides away in the centre of the pudding (which is topped with a vanilla-infused yoghurt) and the flavourful blueberry sorbet is a perfect partner. Paul finishes the dish with some raw sliced berries – make sure the gooseberries you choose for this are as sweet and juicy as possible.
Ingredients
Serves 6
For the sorbet
125g of sugar
250ml of water
45g of glucose powder
4.5g of sorbet stabiliser
18g of trimoline
500g of blueberry puree​
​For the crumble 
100g of butter
100g of flour
100g of caster sugar
For the jam
​250g of glucose
500g of gooseberries, topped and tailed
1 vanilla pod
7.5g of pectin
250g of caster sugar
For the pudding batter
 
75g of egg white
100g of caster sugar
100g of butter
75g of egg yolk
25g of yoghurt powder
75g of flour
75g of ground almonds
To serve

​200g of natural yoghurt
25g of icing sugar
1 vanilla pod
12 blueberries, halved
12 gooseberries, green and red, halved
Begin by making the sorbet. Bring the sugar, water, glucose, stabiliser and trimoline to the boil in a large pan, then remove from the heat and leave to cool. Once the liquid has cooled, use a hand blender to mix in the blueberry puree. Churn the sorbet mixture in an ice cream machine and store in the freezer until required.
For the crumble, rub together the butter, sugar and flour in a mixing bowl until it resembles breadcrumbs and spread it out across a tray. Bake in the oven at 170°C/gas mark 3 for 20-25 minutes or until golden, mixing the crumble every 5 minutes to ensure even cooking. Once cool pulse in a food processor to a fine crumble consistency and set aside until ready to serve.
To make the jam, bring half of the sugar to the boil with the glucose and cook until it reaches 135°C. Stir in the gooseberries and vanilla and allow the mixture to return to the boil. Mix together the remaining sugar and the pectin, then add this to the pan and cook until it reaches 106°C. Remove the jam from the heat and transfer to a container to cool.
Preheat the oven to 180°C/gas mark 4. Prepare the pudding batter by whisking together the egg whites and sugar to form stiff peaks. Melt the butter and mix it together with the egg yolks and yoghurt powder, gradually folding in the flour and almonds. Once the flour has been fully combined gently fold in the stiffened egg whites
Pipe the pudding mixture halfway up the pudding basins, add a spoonful of the gooseberry jam then top with more pudding mix. Add the puddings to the preheated oven and bake for 10 minutes until golden.
Meanwhile, prepare the yoghurt by simply mixing together the yoghurt, sugar and vanilla in a bowl. Reserve until ready to serve.
Once the puddings have cooked remove them from the oven and turn out onto each plate. Arrange the sliced blueberries and gooseberries on the plate along with a circle of crumble. Top the crumble with a quenelle of sorbet, spoon the yoghurt over the top of the puddings and serve.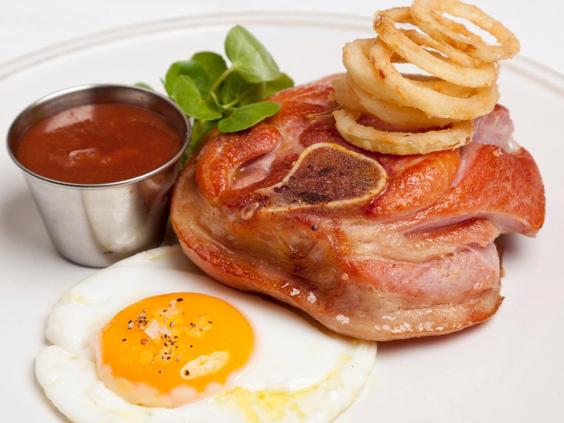 Osso buco is a Milanese dish traditionally made from veal shanks. James Mackenzie matches his gammon osso buco recipe with crispy pickled onion rings, a tangy gooseberry ketchup and, as is customary with this British favourite, a fried egg.
Gooseberries can be used in lots of savoury dishes too, as the tangy fruity flavour contrasts well with rich, salty meats. Mackenzie gives ham, egg and chips a seasonal twist by plating up bone-in gammon steaks with a fried egg, onion rings and a little pot of homemade gooseberry ketchup. It's a good idea to make a big batch of the sauce – you'll be dolloping it on chips, spreading it in sandwiches and getting through a bottle a week before too long.
Ingredients
Serves 4
For the gooseberry ketchup
1 large onion
250g of gooseberries
150g of unrefined caster sugar
100g of dark brown sugar
200ml of cider vinegar
½ tsp ground mixed spice
1 star anise
1 dash of Worcestershire sauce
1 garlic clove
For the pickled onion rings 
2 pickled onions, large
200g of plain flour
200ml of milk
salt
For the gammon
4 gammon leg steaks, with the bone in
4 duck eggs
1 knob of butter
rapeseed oil
To serve
watercress
To make the gooseberry ketchup, peel and chop the onion, pick the stalks off the gooseberries and place all the ingredients in a large saucepan. Bring to the boil and then simmer until a shiny chutney consistency is reached. Blitz, pass through a sieve and reduce a little more if required. Pour the ketchup into a squeezy bottle and refrigerate until cold.
For the pickled onion rings, thinly slice the onions, discard the centres, and pass the outer onion rings through milk, then flour, then dust off the excess flour and repeat. Deep fry until golden and crispy, remove from the fryer onto kitchen paper and sprinkle with a little salt.
Place the gammon steaks on a lightly oiled baking tray and grill for 4-5 minutes on both sides until the fat is nice and golden and crispy.
Fry the eggs in a little rapeseed oil and a knob of butter. Place the gammon on a plate and place the fried egg on top, then garnish with blobs of the gooseberry ketchup, the deep fried pickled onion rings and a sprig of watercress.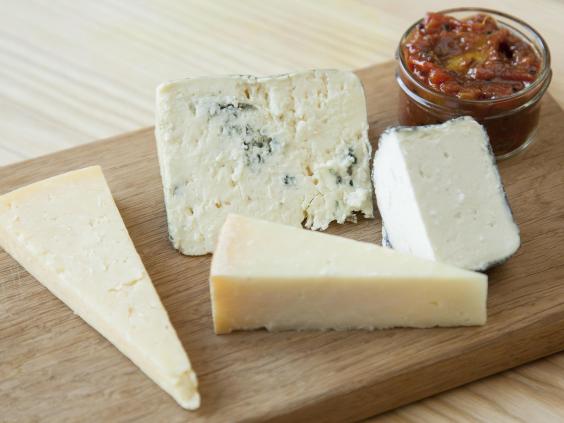 Serve Anna Hansen's fabulous gooseberry chutney recipe with quality crispbreads and a selection of artisan cheeses. She uses frozen gooseberries and greengages for the chutney, so this is the ideal recipe for those who made the most of a fruit glut during peak season.
It's worth putting aside a few gooseberries in the freezer, as they pair so perfectly with other British fruits that come into season towards autumn. That's exactly what Anna Hansen does, defrosting them to throw into a spiced chutney along with plums to serve with cheese. Fennel, coriander, ginger, garlic, cardamom, cloves and all sorts of other delicious flavours combine together to create a condiment that takes pride of place on any cheeseboard.
Ingredients
250g of gooseberries, frozen
200g of greengage plums, stones removed
​50ml of vegetable oil
2 ½ tsp panch poran
1 ¼ tsp fennel seeds
3/4 tsp cumin seeds
2 black cardamom pods
300g of white onion, sliced
3 cloves
30g of ginger
30g of garlic
3/4 tsp chilli powder
1 ¼ tsp ground coriander
3/4 tsp ground turmeric
120g of palm sugar
75ml of white wine vinegar
75ml of water
small crispbreads, preferably Peter's Yard 
Heat the vegetable oil in a heavy-based pan over a medium heat. Add the panch poran, fennel, cumin seeds, clove and black cardamom to the pan and fry until aromatic, then add the sliced onion and cook until golden in colour.
While the onions are frying, blitz the garlic and ginger in a food processor with a small splash of water to form a paste. Add to the pan and cook for a further 5 minutes. Add the chilli powder, ground coriander and turmeric to the pan along with the frozen gooseberries and plums.
Mix well to combine, then add the palm sugar, white wine vinegar and water. Bring up to a boil then simmer for approximately 30 minutes, or until it forms a thick chutney-like consistency.
Remove from the heat and allow to cool. Divide into sterilised jars, seal and store at room temperature for 4-6 months. Refrigerate and use with 2-3 weeks of opening. When ready to eat, serve along side a host of artisan cheeses with good quality crispbreads.
For more seasonal recipes, visit greatbritishchefs.com
Reuse content